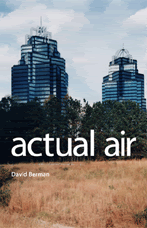 Been meaning to check out this guy, David Berman's, book of poems entitled
Actual Air.
Mostly because Berman (along with Bob and Stephen from Pavement) fronts the indie-folk outfit
The Silver Jews.
BUT also because the photograph on the cover is of two towers in Atlanta that I could see from my street where I grew up. Memories, baby.