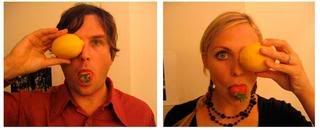 Blake Hazard, one half of L.A.'s songwriting pop duo The Submarines, stopped by the show yesterday and played a couple of tunes for us on the acoustic before doing an eclectic guest DJ set. Not only can the girl can sing, but she can spin some sides. Below are two tracks from Blake's acoustic performance.
Also:
If you're in the L.A. area An Aquarium Drunkard presents
The Submarines
show this coming Monday at
The Echo.
Come on out as this will be the final night of the Subs month-long residency at
the club.