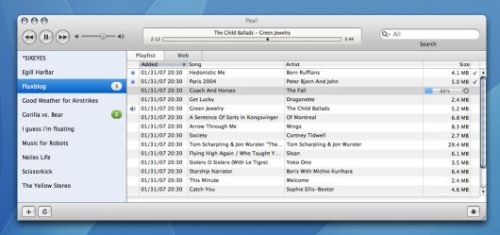 If you run a Mac, and read a number of music blogs, I recommend checking out the new music blog aggregator software component "Peel." You can customize it with your preferred blogs; the details can be found here. At the time of writing this you can download Peel free of charge while it's still in the beta phase. For those who wait until the official launch it will run you a one time fee of $14.95.
Download:
Free: Peel Software
——–
www.getpeel.com
———————————————————————————————————————————-
Happy day, new High Llamas album. London calling, thank you mr. postman. The new High Llamas joint appeared in my mailbox a couple of weeks ago quite unexpectedly. I'm glad it did as I had no idea the gang had anything new on the horizon. Check it.
Elsewhere: read our homeboy marathonpacks' review of Can Cladders here…
Download:
MP3: The High Llamas :: The Old Spring Town
——–
Amazon: The High Llamas – Can Cladders
www.highllamas.com ++ www.myspace.com/highllamas
———————————————————————
+ Visit The Hype Machine for additional High Llamas MP3s