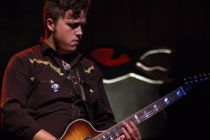 Friday evening, I heard the news that Jason Isbell had left the Drive-by Truckers (via cryptic MySpace blog message), but had hoped it was a belated Aprils Fool's joke, or more probable, a hacked MySpace page. The next day Patterson Hood confirmed Isbell's departure via a lengthy news bulletin on the DBT website's front page.
No word on the reason for the split (aside from the expected pc mumbo jumbo), but the Truckers are set to finish their tour with John Neff filling in on guitar duties, and the band is set to record their 8th album this summer. Isbell will see the release of his solo debut, Sirens of The Ditch, July 10th via New West Records.
Below: Here is one of Isbell's finest moments with the band…..
Download:
MP3: Drive-by Truckers :: Decoration Day
——–
Amazon: Drive-by Truckers Decoration Day

www.drivebytruckers.com ++ www.newwestrecords.com ++ jason isbell music
+ Download DBT via eMusic's 25 free MP3 no risk trial offer
––––––––––––––––––––––––––––––––––––––––––—
+ Visit The Hype Machine for additional Drive-by Truckers MP3s