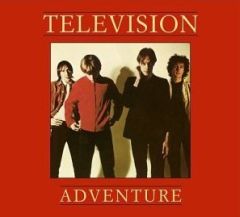 Over the course of the past two weeks I've been celebrating Television's 30th anniversary on my SIRIUS show. Both times I've selected the track "Glory" off the Adventure album as it is all too often overshadowed by the groups unparalleled and seminal debut Marquee Moon. Unfortunate, but certainly a high class problem if there ever was one.
By no means a candidate for the sophomore slump award, Adventure merely suffered from having to stand in the formidable shadow of a true original work of aural art. As prior to Marquee Moon (1977), very few artists were coupling the energy of (the then new) punk movement with the complexities of ambitious jazzy art rock. Simply put, Marquee Moon broke boundaries.
Adventure, a more polished affair, contained some real gems within its 30+ minute frame, including the track below. In fact, the first time I heard "Glory" I was half convinced it was a lost Talking Heads (at the time, my favorite band) b-side. I can't tell you how excited I was that it was not, and that I now had an entirely new band to explore.
Elsewhere: Brooklyn Vegan – Television @ Central Park Summerstage, NYC – Photos

Video: Television – Foxhole (live television appearance 1978)
Download:
MP3: Television :: Glory
———
Amazon: Television – Adventure
+ Visit The Hype Machine for additional Television MP3s
——————————————————————————————————————————–
+ Download 25 MP3s via eMusics no risk trial offer