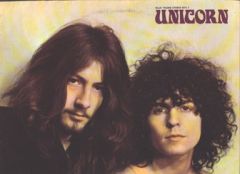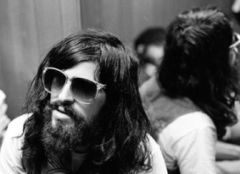 I have long held Devendra Banhart, and his music, at arm's length. While historically not a huge devotee, there are a handful of his songs I come back to time and again, largely thanks to Arthur Magazine's excellent 'freak-folk' comp, Golden Apples of The Sun, that Banhart curated in 2004. (Semi-related side note – Arthur is BACK in business, and will be "be going to press in a week with (their) most beautiful issue ever.")
That being said, I am wayy excited to check out the upcoming (Sept 25th) Banhart record, Smokey Rolls Down Thunder Canyon, in it's entirety, as, so far, the teaser tracks and "Seahorse" video have been fantastic. "Seahorse" is of particular interest, as during its almost ten minute frame it splices together what feel like four different, separate songs, beginning with the low-key "freak folk" Banhart is known for, and ending with a dead-on Jim Morrison rock & roll rave up. For reals.
All sorts of guests are said to have been on hand during the recording of the LP, in California, including, surprisingly, Gael Garcî­a Bernal, and, not so surprisingly, original neo-hippie, Chis Robinson.
Devandra Banhart :: "Seahorse" (off the upcoming LP, Smokey Rolls Down Thunder Canyon)
With all this Devandra talk, I wanted to make sure and plug the pre-rocker Marc Bolan, who, not unlike Banhart, led a weirdo folk outfit, Tyrannosaurus Rex, prior to plugging his electric guitar into an amp with the late sixties re-configured T. Rex. As T. Rex's legacy (rightfully) grows, Bolan's previous psychedelic incarnation slips a little farther back in the story, which is a shame as Bolan's Tolkienian inspired, pastoral, folk jams were not only good, they provided a blueprint for much of what has been considered 'groundbreaking' and 'unique' in the neo-folk genre here in the 21st century. Here are two tracks off the reissued Tyrannosaurus Rex LP Unicorn.
Download:
MP3: Devandra Banhart :: Seahorse
MP3: Devandra Banhart :: Tonada Yanomaninista (myspace rip)
—
MP3: Tyrannosaurus Rex :: Chariots of Silk
MP3: Tyrannosaurus Rex :: Cat Black (The Wizard's Hat)
——–
Amazon: Devandra Banhart – Smokey Rolls Down Thunder Canyon
Amazon: Tyrannosaurus Rex – Unicorn

www.devendrabanhart.com ++ www.myspace.com/devendrabanhart ++ emusic

+ Download Devandra Banhart via eMusic's 25 free MP3 no risk trial offer
——————————————————————————————————————————-
+ Visit The Hype Machine for additional Devandra Banhart & T. Rex MP3s