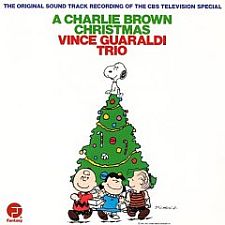 If you have not done so yet, head on over to eMusic and download Vince Guaraldi's classic score for the 1965 Peanuts TV special A Charlie Brown Christmas. Nostalgia inducing holiday instrumental jazz at it's best, this CBS soundtrack is as familiar as the cartoon itself.
Not only does this reign as my favorite Holiday album, but it is also among my very favorite albums, of any genre – ever. It is about as close to perfect as an album can get. The length, material, production…everything. What's more, it's perfect for even those who don't like "holiday music."
+ Vince Guaraldi's A Charlie Brown Christmas available through eMusic's 25 Free MP3 trial offer.
DOWNLOAD:
MP3: Vince Guaraldi :: Linus And Lucy
——–
Amazon: Vince Guaraldi – A Charlie Brown Christmas
———————————————————————————————————————–
+ Visit The Hype Machine for additional Christmas MP3s.