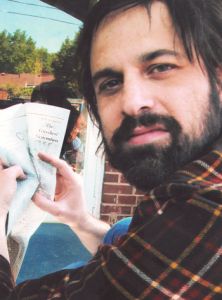 For those who didn't catch it, I want to highlight the interview with the Silver Jews' Dave Berman that Pitchfork Media posted last Friday. According to the interview, the next Joos LP Lookout Mountain, Lookout Sea, will no longer be released in April, as previously scheduled, but "later in 2008." Here is an except below, but I recommend checking out the whole thing.
Pitchfork: You're talking about this album like it's the first one you've ever made.
DB: With the first four records, I kind of felt like I was trying to write the same record over again in different ways, or better. And then [Tanglewood Numbers] I think is my first shot at documenting what life might be like after hell. And so this is me with my footing, and it's smarter than the last record and it's less eager to please. I turned 40 this year. I feel like now, as a writer, I'm just figuring out how to do it. I feel like all those years of not being a working rock musician, I hope has given me a different period in which to be peaking because I really feel like these are the first songs where I'm happy all the way through. I feel like as far as the writing goes, I pretty much feel peerless. I might sound like one of the British bands for a second, but I just don't hear anything that means anything to me. I don't know if this album is necessarily so good, but it's so much better than what's out there. To me, it appears to be really, really good.
Previously: Silver Jew :: The Movie
Download:
MP3: Silver Jews :: Smith And Jones Forever
———-
Amazon: Silver Jews – American Water
www.silverjews.net +++ www.silverjewmovie.com ++ www.dragcity.com