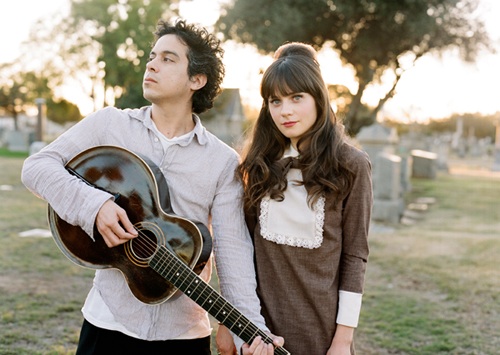 Our Hot Freaks collective is involved (in a curatorial capacity) in this year's Noise Pop festival, held in San Francisco, February 26th – March 2nd. For those not familiar, Noise Pop, now in its 16th year, is a venue based event (think: SXSW, CMJ) boasting some of the our favorite independent artists, performing in some of the finest rooms on the west coast (Great American Music Hall, The Fillmore, etc.).
Topping my list of must-see artists, while in town for the fest, is She & Him, the musical collaboration between actress Zooey Deschanel and folkie M Ward. A fan of Deschanel's acting chops since her work in David Gordon Green's brilliant film All The Real Girls, and Ward since first catching his live show in support of his Transfiguration of Vincent LP, Volume One piqued our interest early on. The first single, "Why Do You Let Me Stay Here?" hints of yesteryear invoking familiar strains of golden coast canyon pop.
Volume One, comprised of two covers (The Beatles "Should Have Known Better," and The Miracles "You Really Got A Hold on Me") and nine originals drops March 18th on the Merge label.
Download:
MP3: She & Him :: Why Do You Let Me Stay Here?
———–
Pre-order: She & Him – Volume One
www.myspace.com/sheandhim ++ www.mwardmusic.com ++ www.mergerecords.com

+ Download DRM free music music via eMusic's 25 free MP3 no risk trial offer
———————————————————————————————————————————