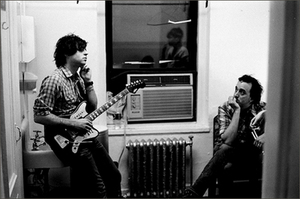 Conventional wisdom of late posits that Adams' fashioning of the Cardinals as his constant band has been a godsend in terms of focusing him. But at what cost? Last year's Easy Tiger was remarkably consistent but also remarkably boring. So does Cardinology continue that trend? Thankfully, the answer is no…with a few caveats.
First, one thing that has been missing in Cardinals-era Adams is any one song that ever jumps out at you. His albums are homogeneous to a fault, eschewing standout tracks for album consistency. Of his Cardinals output the only album to have any stellar stand-outs was Cold Roses, and the band, as it existed on that record, practically imploded upon impact. A good album naturally has songs that serve as stand-outs and some that serve as continuations of the album, or 'filler,' or whatever you want to call them.
Cardinology manages to find Adams pulling together the strengths of his cumulative work and creating a few stand-outs in the process. Don't expect another "Come Pick Me Up" or anything. But opener "Born into a Light" finds Adams doing an (unintentional) uncanny Willie Nelson in his vocals and creates a tight, concise opening track. The style of this album is closest in nature to Cold Roses, but it finds its roots elsewhere. The modified r&b/soul styling of some of Adams' Whiskeytown work ("Fix It," "Like Yesterday"), the memorable choruses and populist rock of Gold ("Go Easy") and even the maudlin glimmering of Love is Hell / 29 ("Stop").
The album is consistent – I honestly don't think there's a bum lot in the bunch. Even the slightly goofy and ham-handed "Magick" has its quirky charm and is a fantastic example of a 'filler' song that isn't annoying or poorly placed. It's an album that is a slow grower – but yet is enticing enough to invite immediate returns. words/ j. neas
Download:
MP3: Ryan Adams :: Go Easy
——–
Amazon: Ryan Adams & The Cardinals – Cardinology
+ Download your music DRM free via eMusic's 25 free MP3 no risk trial offer
——————————————————————————————————————————-