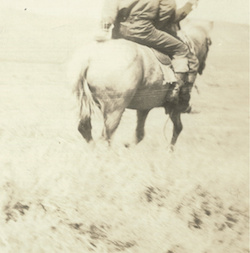 Opening and closing out the third installment of Maison Dufrene are two slow-paced, brooding, psychedelic Americana tunes that may have left you scrapping for a source. If that is  indeed the case, hopefully the following will clear things up.
Put frankly, Bruce Langhorne is a genius. Not only is he the namesake for Dylan's "Mr. Tambourine Man," he also played his way around the Greenwich Village folk scene, worked with friends to compose the soundtrack to Sam Peckinpah's Pat Garrett and Billy the Kid and single-handedly composed every element of the epic soundtrack to Peter Fonda's The Hired Hand.
Fonda's classically forgotten anti-western – turned rediscovered cult masterpiece – was originally motivated by his desire to distance himself from Easy Rider stardom. Both critics and studios dismissed the film upon it's initial release but, in the year's since, it's naturalistic visuals paired with experimental montage sequences and poetic slow-motion have left hard marks in the landscape of filmmaking. The Hired Hand takes a seat up there with greats like Badlands and Jeremiah Johnson.
But the cult success of The Hired Hand would be nowhere near as remarkable if not for Bruce Langhorne's soundtrack. The multi-instrumentalist takes us down sparsely-traveled dirt roads and alongside creeks and groves with Peter Fonda and Warren Oates in the stirrups. He drenches the film in gritty banjo and fiddle and brings it all home with the lonesome echoes of native flutes. Langhorne's score acts as a superb supporting character to an already stellar cast and is the icing on top of a masterwork that was once forgotten and currently garnering appreciation from every angle.
The Hired Hand is available on Collector's Edition DVD and the soundtrack will make it's second limited run on 180g vinyl on Scissor Tail Records on November 11. words / p dufrene
Related: Maison Dufrene III :: Outlaws, Ramblers & Hired Hands (A Mixtape)