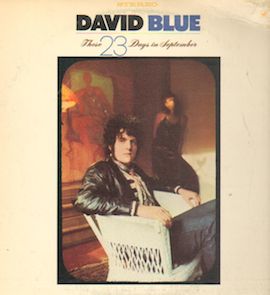 Surfacing in the 60s in New York's Greenwich Village folk scene alongside the likes Bob Dylan, Dave Van Ronk and Eric Anderson was a singer who, if not for his close friendship with the legendary folk hero, you would think was just straight-up copying Dylan.
The story goes that in the early 60s David Blue (under his birthname, David Cohen) appeared on a folk compilation singing old-timey songs that subsequently got him signed to Elektra records. By this time, Dylan had gone electric and when Blue entered the studio to record his first album, his main influence was no longer traditional folk music but now the rich electric keyboards, guitars and organs of the mid-60s folk-rock sound. So basically David Blue's first two records could be featured in a collection titled Highway Blonde Revisited. But it would be impetuous to say they are void of merit. In the liner notes of Blue's 1966 self-titled debut Richie Unterberger recalls his interview with the album's producer, Arthur Gorson:
"I guess that was the sound of the moment that he was looking for," shrugs Gorson when asked about the record's strong resemblance to mid-1960s Dylan. "It was a tough thing for [David], 'cause that's what he knew." It couldn't have been any easier when, according to Gorson, "Dylan would come to the studio and taunt David during the making of the album."
David Blue :: Grand Hotel
Two years later "Grand Hotel" was re-crafted for Blue's sophomore album, These 23 Days of September, adding more orchestration and a little jingle-jangle.
David Blue :: The Grand Hotel