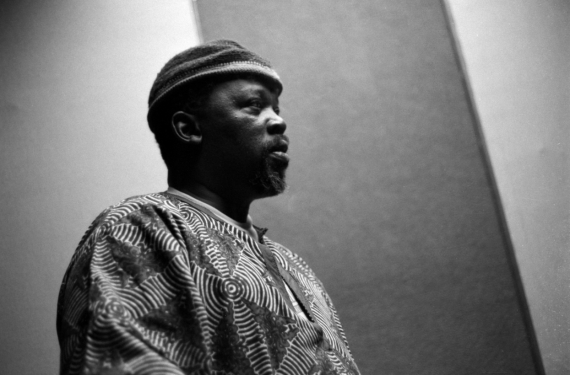 "If he plays a gig in some club, it's the talk of the town for the whole year. Who can afford to pay for so much entertainment?… Well, for those who do not know Dudu Pukwana, he is the heaviest of the heaviest alto saxophone players and for many of us coming from South Africa… THE TEACHER. Go on doing the BOOGIE Bra Dudza." – Joe Malinga (liner notes, One For Dudu)
Here now, "Some For Dudu," a celebration and glance at Pukwana: the teacher, the exile, the saxophonist, the front man, the collaborator, the pianist, the singer and shouter; two hours of calm, frenzy, jazz and beyond.
Playlist after the jump . . .
Dudu Pukwana – "Ko-didi"
Assagai – "I'll Wait For You"
Dudu Pukwana – "Sondela"
Johnny Dyani with John Tchicai & Dudu Pukwana – "Magwaza"
Assagai – "Ayleo"
Gwigwi Mrwebi – "Nyusamkhaya"
Gideon Nxumalo – "Home At Night"
Dudu Pukwana and Zila – "Matume"
Dudu Pukwana – "Flute Music"
Gwigwi Mrwebi – "Mra"
Osibisa – "Inkosi Sikeleli Africa"
Centipede – "Septober Energy Part Two"
Dudu Pukwana And Zila Featuring Pinise Saul – "Ziyekeleni"
Chris McGregor's Brotherhood of Breath – "MRA"
Johnny Dyani with John Tchicai & Dudu Pukwana – "Eyomzi"
Jabula – "Baile – They Are Gone"
Toots & The Maytals ft. Dudu Pukwana – "So Bad"
Dudu Pukwana – "Flute Music" [2]