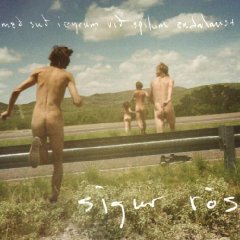 Listening to Sigur Rî³s has always required stepping out of the real world of traffic jams, smog, headaches, and Salinger novels. The grand, idyllic nature of the Icelanders' music has always required a suspension of disbelief, a willingness to enter their world, where all of the most precious moments from this side of the looking glass are distilled down to their essence and painted across new lines of latitude and longitude. Over the course of their decade-long career, the group's world has expanded and become more dynamic, more carefully constructed, and harder to leave. At times, 2005's Takk… seemed so precise and delicate that the listener didn't want to breathe for fear of disturbing the world under the glass.
So it's a bit surprising when Meî° suî° î­ eyrum viî° spilum endalaust opens with "Gobbledigook," a fairy tale of a song that imagines Sung Tongs-era Animal Collective backing up Dave Matthews. The track hurtles along with (daresay) punk energy, the group's vocals stacking and running over one another, percussion crafted out of drums and handclaps and even breathing patterns. At just over three minutes, it's probably the smallest song in the group's catalog, but it's also the most thrilling.
Taking their cues from "Gobbledigook"'s freewheelin' spirit, the rest of the album's eleven tracks play in the space between stained-glass cathedrals and papier-mî¢ché forests. "Innî­ Mér Syngur Vitleysingur," the following track, perhaps best capitalizes on this energy and experimentation. Singer Jî³nsi Birgisson seems more comfortable singing in pocket, stumbling across and almost chanting the song's lyrics. The songs here are much looser than we've come to expect from Sigur Rî³s, showcasing a paradoxically more playful and more realistic side of the dream-poppers. It's a strange record by virtue of its relative normalcy.
Really, to listen to Meî° suî° is to enter the world of Sigur Rî³s as it is still being built, to compare the blueprints to the work in progress, and that's not really a bad thing. "îra Bî¡tur," which features a boys choir from the London Oratory School as well as a sixty-seven piece orchestra, is more content to drape its accompaniment quietly in the background. Where before, the presence of the choir and orchestra would have been glommed loudly onto the top of an already-thick sound, here the group seem more content to allow the disembodied voices and lush strings float near the ceiling heights, barely in the mix. The result, while not as emotionally enthralling as, say, Takk…'s "Sé Lest," is a step forward for the group in terms of taste and restraint. Even Birgisson's vocals, which typically find themselves soaring in triumph, are played down; "All Alright" may be his first foray into singing in English, but you'd hardly guess it from the barely-mumbled delivery.
Ultimately, it's the combination restrained bombast and loose playfulness of Meî° suî° that will make or break the record. Anyone expecting the sonic grandeur and emotional unhinging of any of the group's previous records may be disappointed, but, when taken on its own terms, Meî° suî° proves that Sigur Rî³s are a far more versatile band than we ever imagined them to be, one forever worth the benefit of our doubt. words/marty garner

Download:
MP3: Sigur Rî³s :: Gobbledigook
———–
Amazon: Sigur Rî³s – Meî° suî° î­ Eyrum Viî° Spilum Endalaust
+ Download DRM FREE music via eMusic's 25 free MP3 no risk trial offer
——————————————————————————————————————————