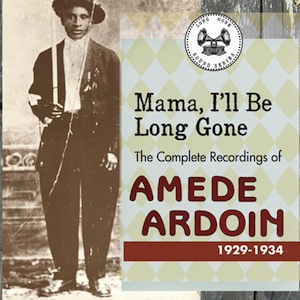 Certain strands of rockist kids grow up saying that their favorite music is "anything but rap or country." For the teenager of the 1990s in Southern Louisiana, the silent addendum to that addendum was "or Cajun or zydeco". The nasal-honked whine and chank-a-chank rhythms of our cultural forebears was anathema to us, as was anyone who cried "ay-ee!" in exultation, comme les cadiens. Acadiana Open Channel, the local access station for the region surrounding Lafayette, regularly broadcast fais do-dos live from Randol's restaurant. Even a passing glimpse of the oldsters two-stepping in their starched Wranglers, filtered through the cheap fuzz of a tax-funded lens, was enough to bring out from us sinking and embarrassed feelings of recognition, an emotion that blew from the screen with enough force to pin back our ears. As we struggled to find the remote, at the forefront of our minds was the unacknowledged fact that these were our people–or, that we teenagers were the people of these people. The only hope was in finding the channel changer, and thus in being able to clap our eyes gratefully on Ren and Stimpy or Fresh Prince of Bel-Air; anything that had syndication.
But something has happened. Blame it on the internet, or on Katrina or the BP spill, or even the Saints winning the Super Bowl. Blame it on the nostalgic zeitgeist, or the actual process of easing into adulthood. Whatever the cause, something has happened. All the embarrassed teens are playing the accordion. While the local music scene in Lafayette has always been oversaturated with pick-up Cajun and zydeco groups looking for modest regional success, the past few years have seen a definite shift in the cultural landscape. The local sound is what's in. Local noise-popsters (and Park the Van signees) Brass Bed are on the verge of releasing a split EP with Cajun group Feufollet, whose sound has been hailed by none less than kingmaker Elvis Costello. When they're not off playing outdoor festivals in Quebec or Minnesota, local heroes Cedric Watson and Bijou Creole play to overflow crowds at the Blue Moon Saloon just off of Lafayette's main drag. Young Cajuns, weaned on punk and garage, have made enough noise with their fiddles and accordions to perk the ears of NPR's Geoffery Himes, who, having caught a Pine Leaf Boys show at New Orleans' Jazz Fest, wondered aloud whether Cajun string bands might break out and become the next big thing, î  la Mumford and Sons.
So it's appropriate that, as a new generation begins to push Cajun music out of the provinces and onto the national stage, Tompkins Square has released this set from Amédé Ardoin, the Depression-era accordion player considered by most to be the godfather of both the Cajun and zydeco genres. Mama, I'll Be Long Gone, which collects for the first time each of the thirty-four tracks recorded by Ardoin, ought to play the same role for young Cajun musicians that Harry Smith's Anthology of American Folk Music did for Bob Dylan and Joan Baez. Like many of the songs captured by Smith, Ardoin's songs have entered what we might call the social domain; songs like "Two-Step de Eunice" and "Les Blues de Prison" have been passed around and reinterpreted for generations, and are genre standards.
Despite being tracked from the original 78s, the songs are remarkably clear, the bits of tape hiss and vinyl crackle only adding to the high lonesome timbre of Ardoin's voice. Though his songs are sung entirely in Cajun French, it's hard to mistake the yelps and pines in "Aimez Moi Ce Soir" for anything but the deep longing of the blues. In The King of Zydeco, his book on the genesis of the r&b-suffused form of Louisiana Creole music, Michael Tisserand reports that Ardoin's voice was powerful enough to make women sit and weep, while the men would simply hang their heads in lamentation.
But Ardoin was first-and-foremost an accordionist, having drawn the attention of record labels by winning an accordion-playing contest in 1929. His giddy lead runs, particularly on the "Amedie Two-Step," weave through his vocal melodies, running circles around and nearly betraying the singer's cries. Many of Ardoin's songs were recorded alongside Dennis McGee, a white fiddler and legend in his own right. The two met as sharecroppers working for the same boss, and were as at home among white audiences as they were playing for black community gatherings. The two play off of one another; McGee's fiddle chases down Ardoin's sprinting accordion in "Two Step de Eunice," and elsewhere lays down a solid rhythm accompaniment to Ardoin's riffing. The pair attracted so many people to their dances that a fence had to be erected between the performers and the dancers, to protect the musicians from the crowd.
Ardoin's comfort and relative audacity as a black man in the pre-war South wasn't without a price. His black neighbors, for instance, resented him for being able to support himself without relying on the backbreaking fieldwork, and he infuriated men of both races by singing flirtatiously to their wives. One night in Eunice, LA, in 1939 or 1940, a white woman wiped the sweat off of Ardoin's face during a barn dance; that night he was beaten and had his throat run over by a Model A. He would die some years later at the state asylum in Pineville, forgotten.
It's tempting to think of Ardoin in strictly these terms, as a Southern bluesman as tormented in life as he was in death. Christopher King motions towards this idea in the liner notes that accompany Mama, I'll Be Long Gone, comparing him to Delta guitarist Charlie Patton. But like Patton, King points out, Ardoin was an entertainer; alone or accompanied by McGee and his fiddle, Amédé Ardoin clacked the keys on his accordion in order to get people up and moving around. Mama, I'll Be Long Gone is best appreciated this way, as intricate dance music being pumped out by a five-foot black Creole with a massive personality.
For a time following Ardoin's disappearance, the accordion fell out of favor among Cajun musicians, who turned towards the fiddles and steel guitars being popularized at the time by Bob Wills and other progenitors of Texas Swing. The oil business, which had been booming for years, had drawn people from around the country to rural Louisiana, people who brought with them a strict devotion to American culture. The Cajun French language and culture was a bîªte noire; kids who spoke French in the public schools were spanked or whipped and made to promise not to speak the language on the school grounds. But in the late 1940s, a nearly-blind white man named Iry LeJeune began perfoming Amédé Ardoin's songs on accordion to the delight of Cajuns just returning home from World War II, alienated and anxious to be reunited to their home culture. It's no stretch to say that LeJeune's popularity–and Ardoin's songs–pulled Cajun culture from the brink of extinction.
In his NPR article, Himes, along with Pine Leaf Boys leader Wilson Savoy, suggests that the possibility of a Cajun musician ever appearing on Top 40 radio is unlikely. Even the Grammys, who have for years now foisted attention upon the region's music, have discontinued their annual award for best Cajun or zydeco recording. With mild exceptions–Wayne Toups backing Alan Jackson on a hit, say, or the occasional Felice Brothers tune–the Cajun accordion only rarely makes appearances outside of its home country. But thanks in no small part to Amédé Ardoin, in Lafayette and environs, the accordion is king. That sound you're hearing, that unmistakable staccato thromb, is the sound of a thousand jaded teenagers giving up their search for control and stepping out onto the floor. words/ m garner
MP3: Amédé Ardoin :: Two Step De Eunice
MP3: Amédé Ardoin :: Aimez Moi Ce Soir
———————
_____________________________________________________________________________________