(Sevens, a recurring feature on Aquarium Drunkard, pays tribute to the art of the individual song.)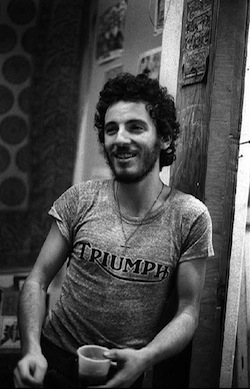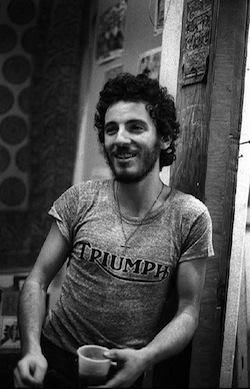 Though it's no fault of his own, any time Bruce Springsteen sings a phrase like "Come on baby, you gotta dream, baby, dream," it's gonna sound hopeful. It's gonna sound like a heartfelt plead, and it's gonna run right up to the border between profound simplicity and simple platitude.
Such is the case in The Boss's live version of proto-punkers Suicide's classic early single "Dream Baby Dream." The New York duo of Alan Vega and Martin Rev made repetitive, sparse electronic music, heavy on atmospherics and bone-scraping vocal yawps. The group would serve as a major influence for several generations of post-punks and no-wavers, from Joy Division and Nick Cave all the way up through Dirty Beaches. The open structure and random shouts of Springsteen's "State Trooper," from Nebraska, are a direct homage to Suicide's "Frankie Teardrop."
The original "Dream Baby Dream" juxtaposes Vega's high-lonesome rockabilly posturing against Rev's minor bassline, half-mic'd keyboards, and an insistent alarm clock clack-track. Vega's reading of the lyrics–several variations on the title phrase–seem at first like a co-option of early rock's saccharine content; Vega sings as if dreaming is an escape whose impotence is known by the singer but not his baby. But Vega's phrasing builds into a nearly-rhythmless mania by the song's end, and the backing track clicks away, unmoved by the singer's shouts. The words are the same ("Dream baby, dream baby, dream baby, dream baby") but the place from which Vega pushes them is primal; the song's ironic opening is annihilated.
Springsteen anthemizes "Dream Baby Dream" without amputating it. His cover, powered by a steady pump organ, closed out nearly every show on his 2005 Devils and Dust solo tour. It's slower than the original, more drawn out; the pump organ is more human than Rev's drum machines, and his rising croon is more recognizably sympathetic than Vega's howl. The paranoia of the original is replaced with a sense of hard-earned conviction; Springsteen's between-syllable gasping and the organ's steady hum exhort the audience to dream, to dream, to dream, as if that's all we've got. It's a near-perfect partner to the menacing bleeds of synth that underpinned that tour's version of Nebraska closer "Reason To Believe," which Springsteen spoke-sang through a hushed and distorted harmonica mic. While the delivery is different, the message is the same: in the dark dim light, dream; in the dissonant distance, dream. words/ m garner
Bruce Springsteen :: Dream Baby Dream (Suicide Cover)