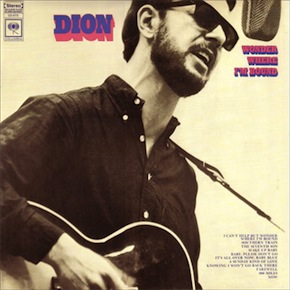 Dion DiMucci may not be a name often associated with underground rock and roll. As the New York teen behind such inner city oldies as "The Wanderer" and "Runaround Sue," Dion is usually branded as representative of the slick, early-1960s pop sound that came to replace teenagers' grittier rock and roll heroes like Elvis Presley or Chuck Berry. Through the years, however, the singer has shown himself a cat of many clothes, whether through rediscovering life as a soft-rock songwriter in the early 1970s or acting muse to Phil Spector's wall-of-sound later in the decade.
DiMucci's peak, however, was probably the most obscured era of his multifaceted career. In the mid-to-late-1960s the singer underwent a serious bout of heroin addiction that temporarily silenced his music and sent him spiraling in search of direction. Sobriety would find him with a hit recording of Dick Holler's topical "Abraham, Martin and John" in 1968, but in the interim Dion recorded off-and-on with legendary Columbia producer Tom Wilson, backed by a razor-sharp band dubbed The Wanderers. The results of these sessions were not to see the light of day until 1969, when they were released among assorted outtakes from earlier in the decade in order to capitalize on the success of "Abraham, Martin and John". The result was the slapdash collection Wonder Where I'm Bound, which is at once the most chaotic and most exciting album in Dion's discography.
Wonder Where I'm Bound makes no secret of its piecemeal construction, careening from panoramic, harmony-drenched folk-rock to backwoods country blues to old unreleased Belmonts-era doo-wop. Somehow, though, it all works. In fact, I daresay that had this album had been purposely constructed in this way, it would have been something of a masterstroke. DiMucci's beautiful voice cuts through the many styles of attack and imbues every cut with a sense of desperate yearning, while the exploration of genres is actually quite in tune with the era's sense of Sergeant Pepper eccentricity.
The record's title track, penned by songwriter Tom Paxton, should have been the piece to return Dion to the radio. The recording has everything the song demands, and while the arrangement is dense, it is not overdone. Meanwhile, DiMucci's own "Now" is vintage folk-rock at its most righteous, featuring a latter-day Everly Brothers arrangement and scratchy guitars. Both this cut and later "Wake Up, Baby" prove that Dion was the real deal, as a songwriter as well as a performer.
The most startling revelation on Wonder Where I'm Bound, however is clearly Dion's treatment of the blues standards "Southern Train," "Seventh Son," and "Baby, Please Don't Go." The story goes that Dion was first turned onto the blues in the early 1960s by the pre-war music of Robert Johnson, and it is obvious that since that point the man has gone back and done some serious listening. Each song is taken in a completely different direction, for while "Southern Train" is constructed around stripped-back bottleneck guitar and gutsy vocals, "Seventh Son" is layered deep with tremolo-soaked electric guitars and a heavy Electric Mud arrangement. It's hard to believe this cat's versatility. Set at the tail end of the record, the nimble piano work and vocal phrasing on "Baby, Please Don't Go" even make it clear that DiMucci has been digging the genius jazz vamps of old Mose Allison.
This lost classic was just re-released in 2010 by Now Sounds Records, and if you have any inclination for 1960s rock and roll you probably owe it to yourself to locate a copy. The biggest wonder of all is how it has managed to stay so far off of people's radars for so long. words/ n rayne
MP3: Dion :: Now
MP3: Dion :: The Seventh Son
____________________________________________________________________________________