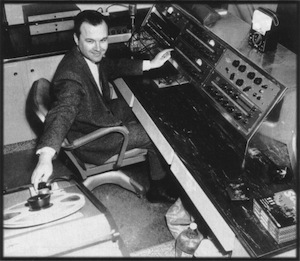 2011 has been the year of two star-bloated tribute albums to Buddy Holly–this year would have been his 75th if the music hadn't died. Every time there's an occasion to contemplate Buddy's behemoth legacy, it's difficult not to mention Norman Petty, the man behind the boards for the Holly recordings between 1956 and 1958. Petty wrote some chart-toppers of his own during the '50s. The spoils of which provided the capital to start his homespun Norman Petty Studios in Clovis, New Mexico. The studio attracted scads of local talent from West Texas and around the Southwest, and over the years, Petty put to tape Buddy Knox, The Fireballs, Roy Orbison and a young Waylon Jennings.
Of course his biggest hits happened with Buddy Holly and the Crickets, and thus his production work became an indelible part of rock 'n' roll history. He had a knack for pristinely clean–almost too clean–recordings that still sounded huge enough to highlight all of the details in Holly's full-on strumming and giggly, range-defying vocal-work. Nevertheless, many in the Holly camp decry Petty as tyrannical, foisting his name onto Holly's songwriting credits and clenching at his money with an iron first (he was the rising star's manager). Buddy's widow once claimed that when the singer asked for unpaid royalties, Petty told him "I'd rather see you dead than to give you the money now."
Regardless, Petty was a remarkable record producer. The man built his own studio in that provincial little town of Clovis way back in the 1950s. He cranked out recordings that rivaled the quality at Sun or any other "big-city" studio. He was an experimental and meticulous engineer, constructed his own machines, and even fashioned an echo chamber in his dad's garage. In 1985, Vi, Norman's wife (and herself a mean piano player), showed off the studio in the gentle, reverent, Paul McCartney-hosted documentary, The Real Buddy Holly Story. To this day the place hasn't changed much and if anything has embraced its podunk roots (if you're driving through Clovis, you can still get a tour). Petty was doing everything the great studio pioneers were but on his own terms and on his planet–in that Macca doc, Holly's NY record label execs laugh it up as they recall having to fly out to Clovis.
Petty's success with Holly lead him to ape his own work again and again, but in that way, Buddy's style had a lasting effect on Petty's aesthetic. There's a small ocean of bands that recorded at that studio before Petty closed up shop in 1969. Several were Petty's own studio creations, and on many post-Holly recordings you can hear echoes of the rock legend's swagger bleeding up through the speakers. A trio of compilations–From the Norman Petty Vaults–came out in 2007, and they do a solid survey of the catalog beyond the hits.
The collections are deep, exhaustive and include plenty of chooglin' instrumentals and goofball reaction pieces to then current musical trends: hear the lyric, "I lived in a house on Nowhere Street/ In a town called L-S-D" from Stu Mitchell & Wes Dakus' Rebels' spooked track, "Acid." But that same backing band cut the tastefully unhinged "And My Baby's Gone" with the Canadian singer Barry Allen, who nails some heart-lifting falsettos in the chorus and is accompanied by a panicked fuzz guitar so biting it could tear through a phone book. The Brit-obsessed group The Trolls, from Pueblo, Colorado, kill it on their 1966 original "I Don't Recall" with catchy Beat harmonies, tweaked out drum fills, and a flute-y, exotic organ lick. Plus, there are plenty tracks across all three comps by The Fireballs. They were Petty's go-to studio band for his controversial overdubs on Buddy Holly's demos and oft-bootlegged "Apartment Tapes" to "meet the demand" for more Buddy after the plane crash (another strike against him for Holly fans). Sometimes their fare is a bit light to really rock, but the band is most indicative of what Petty's going for: clean with a Tex-Mex flair–listen to "Come To Me."
All of Petty's tracks share the low, clean bass that helped make the Holly recordings so gutsy. No matter how gritty or psyched-out the tunes get, Petty makes the songs sound big and pack a punch, which stands as a testament to his craftsmanship as a producer. He supposedly hated psychedelia and the turns rock & roll took in the '60s, but he could make them sound incredible regardless. words/ a spoto
MP3: Barry Allan with Wes Dakus Rebels :: And My Baby's Gone
MP3: Trolls :: I Don't Recall
_____________________________________________________________________________________