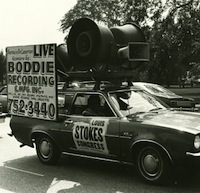 Last December the Numero Group issued the three disc set Boddie Recording Company: Cleveland Ohio; a collection that at 58 tracks spans roughly 15 years of the Ohio label's output. In terms of tone, imagine a hyper-localized version of Nuggets – only one that instead of garage rock concerns itself with the secret history of 60s/70s R&B, Soul and Gospel. In other words, the kind of collection Numero Group has both perfected and built its reputation on.
At the end of the first disc is track #19, "He's Forever (Amen)" by King James Version. To casually cite its gospel-soul as 'a highlight' of the set would be massively short selling it; it's much more than a highlight – it's the reason to show up. Raw and primal, at it's core "He's Forever" exemplifies the essence of how a performance can reach out across space and  time. Recorded in 1971 – lifting its source music from John Barry's "Midnight Cowboy Theme" – "He's Forever" sounds like something Alan Lomax would have captured if he was still digging in the 70s.   All soul, with the ambient atmosphere of a found recording, the track was reportedly delivered live in front of a congregation by two men dressed in the garb of Moses and King Solomon. And it sounds like it.
Provenance: Originally released on 7″ via Soul Kitchen Records,  1971 (the A-side – "He's Coming" – is also featured on the Numero compilation).