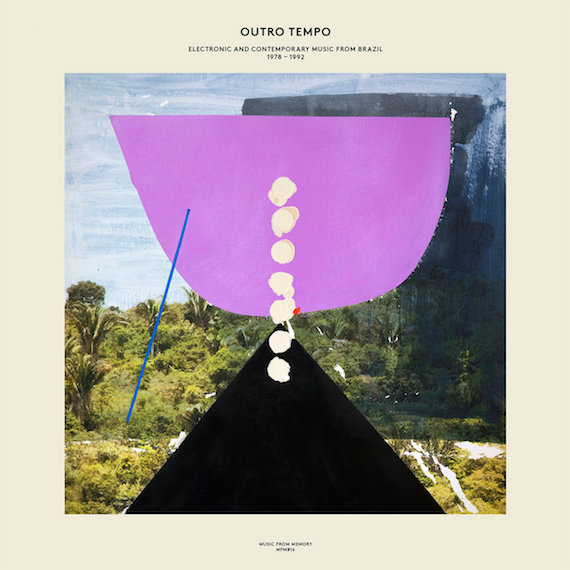 Earlier this year Netherlands-based reissue outfit Music From Memory released the wonderful and exquisitely strange compilation, Outro Tempo: Electronic And Contemporary Music From Brazil 1978-1992. A collection of exotic, otherworldly futurism and electronics, born from the most poignant of circumstances, the assemblage finds traditions and soundscapes blending into a new form. Via the label:
"As Brazil faced the last years of its military dictatorship and transition to democracy, a generation of forward-thinking musicians developed an alternative vision of Brazilian music and culture. They embraced traditionally shunned electronic production methods and infused their music with elements of ambient, jazz-fusion, and minimalism. At the same time they referenced the musical forms and spirituality of indigenous tribes from the Amazon. The music they produced was a complex and mesmerizing tapestry that vividly evoked Brazilian landscapes and simultaneously reached out to the world beyond its borders."
This alternative vision not only fuses jazz, ambient music, and minimalism with indigenous roots, but also naturally evokes the spirit of Tropicî¡lia, a fertile movement of its own, and one whose oceanic guitar meditations find themselves awash in synthesizer and chant in the back half of Nando Carneiro's grandly sweeping "G.R.E.S. Luxo Artesanal / O Camponîªs." It's an intoxicating moment — imagine Bola Sete merged with Caetano Veloso. The art-pop approach toward the traditionally more vocal focused performances can be found in gorgeous fashion in the album's closing track by Luli E Lucina. And further treasures abound, amongst them the industrial no-wave opera that is Cinema, and their track "Sem Teto," the Eastern-leaning dub-pop of Os Mulheres Negras' "Sî³ Quero Um Xodî³," and the patiently rewarding, avant-garde reflections of Marco Bosco's "Sol Da Manhî£." As a whole the collection an embarrassment of riches — from the rainforest percussiveness of Fernando Falcî£o and the misty Blade Runner atmospherics of Anno Luz, to the free-jazz stylings of Bené Fonteles and the pure vocal mastery of Andréa Daltro.
Fearless and bold, Outro Tempo truly offers sounds unlike any heard elsewhere. It's escapism born out of a difficult history, but one that offers an intrinsically positive emotional spirit. words / c depasquale