Listening to the the Atlantic recordings of Ornette Coleman is like listening to the history of jazz in fast forward. From the May 22, 1959 recording of The Shape of Jazz to Come — Coleman's first release for Atlantic and third overall — to the March 27, 1961 session that produced Ornette on Tenor, Coleman revolutionized his artform at least twice. He emerged with one of the most idiosyncratic voices in all of music, then rapidly evolved it. He fundamentally reimagined the way jazz is notated (by eschewing conventional notation entirely) and produced the first fully collective improvisation on an album whose name — Free Jazz — doesn't just represent a fresh movement in the genre; it conjures up an entirely new approach to making and consuming music that's still reverberating nearly sixty years later.
All of which can make approaching The Atlantic Years, which collects the six albums the label released during Coleman's run and four compilations pulled from the same sessions that were released years later, one of them appearing here for the first time on vinyl, a prospect as daunting as the structure of this sentence.
What's more, the narrative of Coleman as a difficult artist persists — in part because of the Pollock-esque mess of connotations that pour out of the phrase "free jazz," and in part because of the way Coleman's art was immediately received, not only by critics (DownBeat famously gave Free Jazz both a five-star review and a zero-star review) but also by fellow jazz musicians; Ted Gioia reports that drummer Max Roach "allegedly punched Ornette in the mouth," and Miles Davis once suggested that Coleman was "screwed up inside" (though he later repented and became a Coleman supporter).
Which is unfortunate, because what made Coleman a challenge to his contemporaries in the late 1950s and early 1960s is precisely what makes him accessible today. Together with trumpeter Don Cherry (who would go on to a brilliant career of his own), Coleman maintains what we could generously call a casual attitude toward the chord changes of his own compositions. The resulting atonality, which must have been grating to ears weaned on Kind of Blue, feels of a piece with even the most sweetened noise-rock that would follow in Coleman's wake. He and Cherry peel notes out of their horns, squeaking in and out of the grooves of tonality as their playing carries them. Transpose Cherry's phrasing in, say, Ornette!'s "W.R.U." to guitar, and it's easy to picture Tom Verlaine and Richard Lloyd (or Nels Cline at his least jazzy, ironically enough).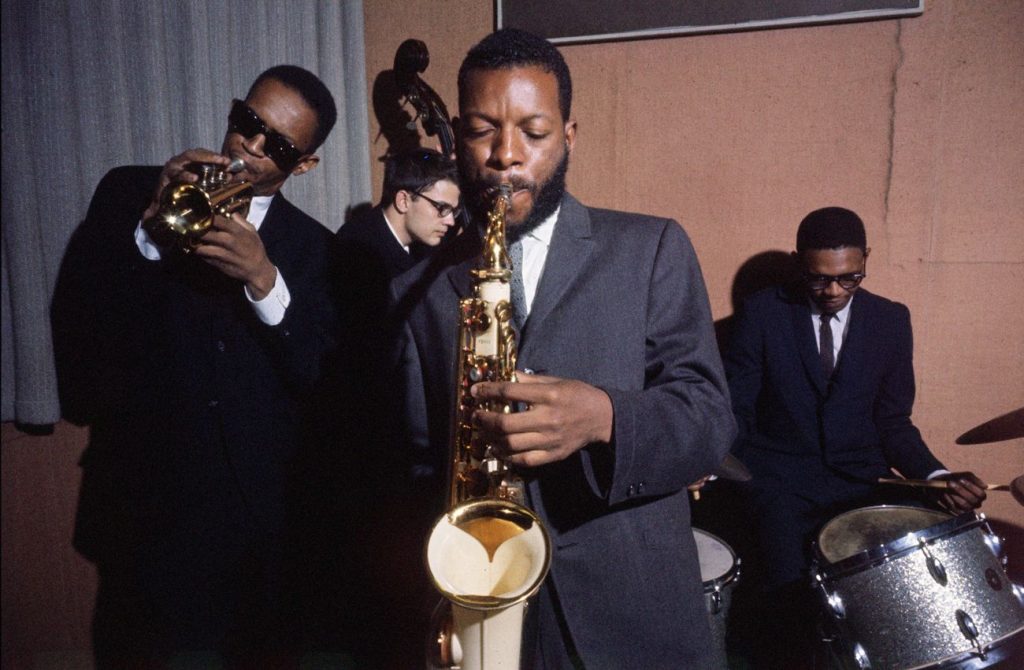 Perhaps more than any of the other mid-century jazz titans, Coleman was interested in making people move.
Perhaps more than any of the other mid-century jazz titans, Coleman was interested in making people move. He was born in Fort Worth, and his earliest gigs were with R&B bands touring across Texas and Louisiana. Those formative nights sweating it out in roadhouses clearly left their mark on his playing; not for nothing does Ben Ratliff declare Free Jazz to be "booty music" in the box set's liner notes. In fact, the staggered way his quartet approaches phrasing would show up decades later; think of the way Radiohead Kid A treat their soundstage like a blank canvas instead of a moving scroll. Coleman's use of repetition and his ensemble's snipped entrances and exits predict classical minimalism and maybe even house music. Even when it isn't swinging (which is much of the time), it's visceral, music whose angularity is meant to goose you; it might be worth remembering that The Rite of Spring was composed as dance music, too.
Those juke-joint days make their presence known in more immediate ways, though. Once it leaves its theme in the dust, Change of the Century's "Ramblin'" rides on a bent-string bassline that Charlie Haden leans into like he's pushing a shovel into earth. Coleman bops along throughout his solo, trilling in and out of playground melodies and squawking along genially before handing it off to Cherry. It's like listening to Little Richard, if all that vocal energy were coming through an alto sax. The quartet frequently staggers through bebop changes like they've spilled into its streets after last call, their joyous shouts reverberating off of the windows.
That sense of sonic community is at the core of the sound Coleman and his quartet developed in this period. In his book Free Jazz, Ekkehard Jost writes, "There is a unity of theme and improvisation in Coleman's music that goes much deeper than just reinterpreting a predetermined set of chord patterns following a fixed number of bars. The nature of that unity is [more emotional]. In traditional jazz, the theme very often functions merely as the purveyor of chord progressions or scales; in Coleman's music it above all determines the expressive content of his improvisations." In other words, with their hands and lips and teeth Coleman and his band give jazz a body, shaking it free of its purely rational governing system. This is a change you can feel in more ways than one. While his music can be immensely moving — hear him take a step away from the ensemble around the eleven-minute mark of "W.R.U." and deliver a brief minor reflection that is absolutely gutting in the chaos of its context — their loose relationship to the theme allows Coleman's songs to develop along more natural lines, drifting from one movement to the next like a pleasant conversation.
To put a finer point on it, this is music performed the way we live, with a series of constantly developing ideas, occasional recapitulations, starts and stops, harmonies and disharmonies. Sometimes this produces chaos, but for all of the intensity and angularity, the music here is rarely noisy. It's bright and cheery (Ornette!'s "T.&T."), or it's tired and blurry (Twins' "Check Up"), or it straight-up cooks (practically everything else). Coleman and his band are gifted conversationalists, each of them out in pursuit of their own thing but never getting beyond earshot of one another, their playing overlapping like a series of loosely cut circles of wax paper stacked atop one another; there's a density in the middle that gives it its shape.
After discussing a handful of new releases at the prompting of a DownBeat critic, Charles Mingus in 1960 offered his unprompted thoughts on Coleman. "It's organized disorganization, or playing wrong right," he said. "And it gets to you emotionally." There's plenty of admiration and some resignation in Mingus' tone, sure, but there's also a sense of wonder. It's not hard to imagine the intermixed confusion and excitement a jazz head picking up The Shape of Jazz to Come and Change of the Century and Free Jazz and Ornette! must have felt. The unfamiliar blasts of noise are what greet you, but the longer you spend in its company, the more the assault of all that sonic plumage begins to reshape you. And then the sound starts to flutter back in, and you don't hear any noise at all. words / m garner
For Heads, by heads. Aquarium Drunkard is powered by its patrons. Keep the servers humming and help us continue doing it by pledging your support via our Patreon page.