Here's the third collection of live recordings from my close to quarter century (!?) as a taper primarily based in central North Carolina.
Recent email conversations with Justin Gage, discussing the depth and breadth of my live archive, sowed the idea for what you will find below – a group of tunes conceptualized as if each were a block of radio station programming. Some thoughts / recollections of the specific shows these tracks were culled from are as follows…
Rayborn Live Archive :: Volume Three (zipped folder)
1 – Bob Dylan – Maggie's Farm (November 1, 1997 – Thomas Wolfe Theatre, Asheville)

Senior year of college, my first time seeing Dylan. I was pretty wild about the then-new Time Out Of Mind but somehow missed the fact that he was cutting through Asheville about a month later. I was off to internet forums trying to find some decent, reasonably priced tickets. Salvation came in the totally unexpected form of a classmate via a Dylan usenet group, someone who I *never* would have guessed would have been into Dylan from being around her in a class the year prior. One never knows! Opening off with a fun re-arrangement one of my personal Dylan faves, well, what's better?
2 – Magnolia Electric Company – No Moon On The Water (March 31, 2006 – Cat's Cradle, Carrboro)
I saw Molina in various setups and settings during the Songs: Ohia / Magnolia Electric Company years. I felt that this particular band on this tour may have been my favorite.
3 – Mount Moriah – Plane (April 4, 2013 – SECCA, Winston-Salem)
"Plane" is kind of a perfect song. Don't know it? Well, we can fix that now. The interaction of Heather McEntire's lyrics and performance as balanced against Jenks Miller's lead guitar work never fails to bring actual goosebumps. Recorded during the short-lived Phuzz Phest in Winston-Salem in the lovely auditorium at SECCA.
4 – Jenks Miller & Rose Cross NC – Poison Pines (May 13, 2013 – The Pinhook, Durham)
Different from Jenks' performance in the prior track, this project (once the "Jenks Miller Band," a name that I could only ever see in my mind as the Steve Miller Band logo but with switched names) was a personal fave – heavy, dark stretched out jams? Yes, please. Recorded on a bill with Chuck Johnson.
5 – Six Organs of Admittance – Journey Through Sankuan Pass (August 19, 2011 – Local 506, Chapel Hill)
As mentioned in the last volume, Six Organs live is one of my favorite things. Every show rules. Here's another taste.
6 – Ghost – Overloaded Ark (May 11, 2009 – Local 506, Chapel Hill)
Ghost always feels huge, grand and total, like something that should only be playing in ancient outdoor theatres. Seeing the band members all pack onto the small stage of Local 506 and then tearing through this broad epic was a wild experience.
7 – Magik Markers – Bonfire (May 15, 2012 – The Pinhook, Durham)
BONFIRE, BONFIRE, BONFIRE. Man, what a classic part of the Markers' catalog. From a late-announced set at the Pinhook in support of Black Bananas maybe a year before Surrender to the Fantasy was released.
8 – Godspeed You! Black Emperor – Gathering Storm (October 4, 1999 – Cat's Cradle, Carrboro)
These early Godspeed shows were so captivating with the dynamics and performances.
9 – Om – Flight of the Eagle (October 16, 2009 – Cat's Cradle, Carrboro)
So loud, so powerful. Om letting it rip in an appropriately sized room through an appropriate system.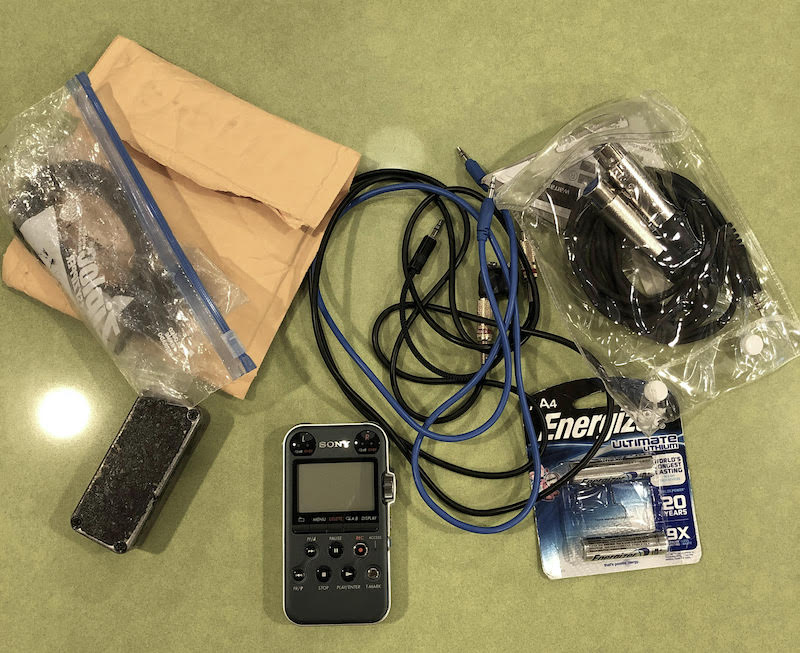 10 – David Byrne – Making Flippy Floppy (October 18, 1997 – Ziggy's, Winston-Salem)
What a wild night. The original Ziggy's was a fun, crazy space – a multi-tiered deck that froze in the winters and roasted in the summer. The second tier was a killer viewing / recording location. A good buddy from college drifted with me to this one and it was an absolute blast. A small room to see such a long-time personal legend for the first time. We rolled up to the club and the parking lot was slammed – we couldn't figure out what was going on, especially as most of the folks milling around were Deadheads. Turns out that there was an add on opener to that night's set in the form of a band who did a lot of Robert Hunter songs. Their set ended, those fans cleared out and suddenly the club was like 1/2 full for the intimate (given the space) Byrne set. A tight band, a crowd where you had some room to move, and a screen on stage where Byrne would go every three or so songs to change outfts. The costuming highlight of the night was a skintight bodysuit of the human body without skin, just musculature – it was for "Psycho Killer," natch. What a showman.
11 – Tortoise – In Sarah, Mencken, Christ and Beethoven There Were Women and Men (May 20, 2001 – Cat's Cradle, Carrboro)
Tortoise sets are so much fun, a chance to see a bunch of *top flight* musicians really tear it up. Always memorable. Here's a capture from the tour in support of Standards.

12 – Mission of Burma – Mica (August 13, 2010 – Cat's Cradle, Carrboro)
Mission of Burma 2.0 shredding out a tight rendition of a 1.0 classic. What's not to love?

13 – Stephen Malkmus & The Jicks – That's What Mama Said [Coloured Balls] (March 27, 2001 – Cat's Cradle, Carrboro)
This Coloured Balls classic was a night-in, night-out winner on the 2001 Jicks tour, always a great chance to jam.

14 – Silver Jews – Slow Education (September 11, 2008 – Cat's Cradle, Carrboro)
If you had told me in 1998 that I would have seen the Joos perform live a few times by 2008 I would have been very surprised. That surprise never ended once you walked into the club each of those nights, it always seemed elusive, magic, like bottling lightning. You knew whatever happened would be special.

15 – Lambchop – Your Fucking Sunny Day (July 24, 1999 – Cat's Cradle, Carrboro)

The last 2-3 songs of this set were one of the wildest performances I've ever witnessed – certainly the most folks I've ever seen playing on the stage of the Cradle at the same time, too. This was Merge's 10th anniversary festival and Lambchop was running through a set of material from the not-yet-released Nixon. They ripped into a few older tracks to close the set out, including this eternal classic, with like 18 folks on stage. It was amazing, as you should be able to hear, here.
Compiled by Cory Rayborn, Esq. — find volumes one here, and two here
Does AD make your listening life better? Help us continue doing it by pledging your support via our Patreon page. Doing so will get you access to our secret stash—including bonus audio, exclusive podcasts, printed ephemera, and vinyl records—and help us keep an independent publication going.