When asked what he's most proud of in his five decade career in music, the answer doesn't come easy for Makoto Kubota. The prolific Kyoto-born singer, songwriter, and producer has never been one to look back at his past work, and like his longtime friend and collaborator Haruomi Hosono, Kubota remains eternally humble, preferring to let the music do the talking. Kubota's involvement with cult noise pioneers Les Rallizes Denudes may incite the most curiosity among Western listeners, but to him it's merely a tiny blip on his long, impressive resume. Some have dubbed him the Japanese Ry Cooder, which perhaps is not an inaccurate way to describe his sensibilities and philosophy as a musician.
Kubota got his start in the Kansai folk scene in the '60s, alongside like-minded musicians as Sachiko Kanenobu and others on the URC label. A friendship with college classmate Takashi Mizutani led to playing in his band Les Rallizes Denudes. Through his Cheech & Chong-esque travels through countercultural America, brushes with worldwide fame in the '70s-'80s with the Sunset Gang and the Sunsetz, and a successful chapter as a prolific producer, Kubota has carved out an idiosyncratic career that's earned him his current status as a cool, elder statesman of Japanese rock. Ultimately, Kubota is simply a lover of music, spreading the gospel of good music across the globe, whether it be through his own music or championing the work of others, like the music from Okinawa traditional minyo music that's so dear to his heart. That's certainly something he can be proud of.
As the coronavirus pandemic rages on around the globe, Kubota has kept himself busy at his home studio in Tokyo. He's finding inspiration from young lo-fi musicians he finds online, while learning how to make music with the latest gears and gadgets, building on his mastery of the MPC he had developed in the '80s. He recently remastered and reissued several of his acclaimed albums from the '70s, including the classic album with the Sunset Gang, Hawaii Champloo.
On the occasion of these latest remasters, we had a long, wide-ranging conversation with Kubota, lasting until the wee hours of the morning. Kubota looked back at his life and many accomplishments, from growing up in a movie theater surrounded by American jazz, seeing the Grateful Dead at a Black Panther rally in Oakland, his friendship with Levon Helm, and eating the last slice of turkey at the Last Waltz. Below are excerpts from the four hour chat—one of very few interviews with Kubota that has been translated into English. | words & translation: y. kitazawa
Aquarium Drunkard: The remastered albums sound great. How did you end up doing the remasters yourself?
Makoto Kubota: In the '70s the idea of mastering didn't really exist in Japan. It was always a source of frustration for me. I would get the recording to sound good on tape, but when it was getting cut onto vinyl I had to stand there and watch silently. If I suggested they raise the levels, they would say no, that's not technically feasible because the needle would jump. The parent companies of record labels were audio companies, like Victor, and there would be complaints coming from the top if we'd done it that way. In Japan it was like that for a while, but gradually mastering became an important thing.
This year Ultravybe bought the master tapes from Trio. They called me up and said, if we're going to do it, let's do it properly. I've been working as a mastering engineer for more than 10 years now, so I asked them to let me do it. Including a few remixed albums, there were a total of maybe 60-70 tracks. I was working on that during the corona lockdown.
AD: Do you want to see these records get reissued outside of Japan?
Makoto Kubota: I don't have a preference for who hears those records. I don't get obsessive over it. My own music is just one part of the relationship I have with music, so I don't consider it to represent who I am. I keep a distance between what I've done and who I am.
AD: So you don't listen to your own music from the past?
Makoto Kubota: No, I had mostly forgotten about it. When I was remastering the albums I was thinking to myself, this is actually pretty good! But I very rarely listen to my past work. Take Les Rallizes Denudes for example. I had forgotten about that part of my life. But when I went to see Sachiko play at Central Park [in 2019] with Steve Gunn and the guys from Yo La Tengo—they all knew so much about the Rallizes. It was a total surprise. The Rallizes have so few official recordings. What's out there are mostly bootlegs.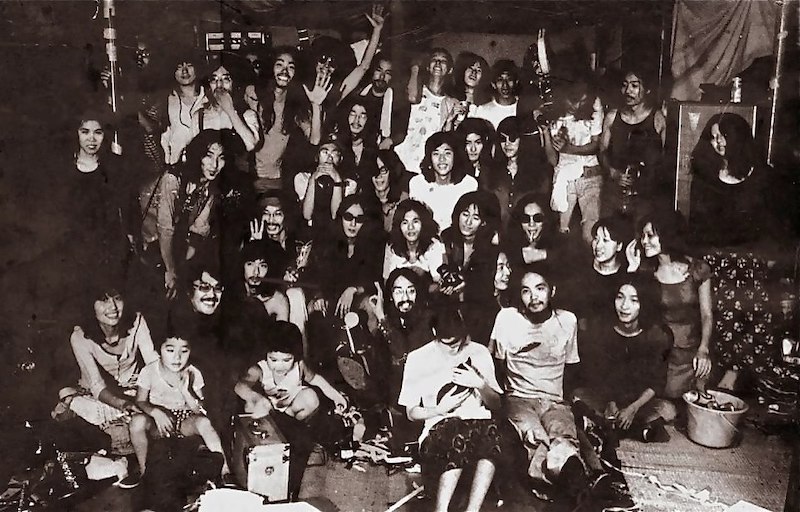 AD: How did you end up playing with Les Rallizes Denudes?
Makoto Kubota: I was in the band for about two or three years near the beginning. The first generation band members were all kind of radical and political. That was their image. Psychedelic, but political. I joined after that iteration of the band. This was in 1970. I must've been about 20.
AD: The radical image had been gone from the band by then?
Makoto Kubota: That image had calmed down by then. It was just me and Mizutani, plus a guy who occasionally did some percussion. But around the same time a former member hijacked a plane and went to North Korea. We were shocked, but it felt like it wasn't our problem. There's a recording we made overnight around that time, and I've kept a cassette of it. It was called Mizutani. In a way that was the first record I ever produced. We did it in one night, starting late and finishing the next morning. Doushisha, the university we were attending at that time, had a broadcast studio. I had done some recording experiments at home with two Sony tape decks, doing ping-pong techniques to copy and dub recordings, so I knew about recording onto tape. But there was no mixer or anything.
AD: Did you already know Sachiko by this time?
Makoto Kubota: I'd met her several times by then.
AD: Did you meet her in the Kansai folk scene?
Makoto Kubota: Yes, though I wasn't really a part of that scene. I couldn't get into it much. But I had actually bought the Gu single. I was a fan. So when I hooked up with URC, I asked if they could introduce me to her. I don't remember if we met right there and then, or if we talked on the phone at first. But Sachiko started to come visit me in Kyoto to hang out. After I came back from America I would set up shows for her, things like that. Later when she was working on Misora in Tokyo, she said I should go visit her during recording. So I did. That was the first time I met Hosono-san. I was like, there's Happy End!
AD: What year was this?
Makoto Kubota: Around 1972, it must've been after I got caught. After I came back from the states I was still living like an American.
AD: What do you mean you got caught?
Makoto Kubota: I got arrested.
AD: Wait, for what?
Makoto Kubota: I was growing marijuana, and giving it to everyone. I brought the American way of life straight back to Japan.
AD: Why did you decide to go to America in the first place?
Makoto Kubota: Oh that's because I loved jazz since I was a little kid. I grew up with a lot of music around me. Country records, like Hank Williams, were lying around the house. And Doris Day. Around middle school I got into Miles Davis. I remember hearing Ray Charles too. My family ran a movie theater. My grandfather started it when he was young, about 100 years ago during the silent movie era. The movie theater was our home. And grandma ran a bar there, mostly just for fun. Inside was a jukebox filled with popular records from abroad. One day I heard Miles Davis, and I was stunned. I never knew that kind of music existed. I became obsessed with jazz. It was around the time when artists started coming to Japan from abroad. I actually saw Duke Ellington when I was a teen, with his famous '60s band, his best band. I could name every member of the band: Johnny Hodges, the incredible soloist. Paul Gonzalves. Harry Carney. Cat Anderson. Cootie Williams. The movie theater business wasn't doing so well around that time, so they started hosting concerts. Dad didn't promote the Ellington show, but he did the Ventures when electric guitar was getting popular. He also did Sam "The Man" Taylor. The mood saxophone was the big thing at that time, and I loved Sam's music. He did The Platters too, among some Japanese stars' shows. My dad, the second generation owner, had friends that were concert promoters, and he would tell them that his son is a big fan of jazz. So I got to see Cannonball Adderley Sextet at their best, with Yusef Lateef and Joe Zawinul, when I was in middle school. I already knew then that I wanted to go to the place where this music came from. Hollywood movies had an effect too, of course. I was basically brainwashed by American culture [laughs]. My mind was filled with things that weren't normally in the heads of Japanese guys at the time.
I still had that mindset when I met the Rallizes. Mizutani would tell me about all the San Francisco bands. Also The Velvet Underground. Basically all about '66-'67 English language psychedelic rock. And I knew then that listening to the records wasn't enough. This music was being made in a completely different world, and I had to go feel the vibration of the air and experience it firsthand.
AD: Where did you stay when you got to America?
Makoto Kubota: I basically split my time between Berkeley and San Francisco, and New York. It was winter in New York, and my neighbor had a place in Astoria, Queens. He worked in Manhattan, and I would take the subway everyday to go hang out in the East Village. I would go buy cheap cutout records. I was into the Vanguard label, like Richard Farina, John Fahey. Richie Havens, I loved him. The Fillmore East was still around then, and I would go there every week. Oh look, Tim Buckley is playing! Judy Collins, Incredible String Band. The Grateful Dead and Jefferson Airplane were already selling out places. Frank Zappa too. So those guys I couldn't see. I saw Taj Mahal though.
With the Dead, I kept thinking that I wouldn't get to see them. They would always sell out or play some far away outdoor location to 10-20 thousand people. It was right when American Beauty came out, and they were starting to get big like that. But as fate would have it, back in Oakland, right before I was to head back to Japan, I came across a poster for a Black Panthers fundraising event. All the top Panthers had been arrested at the time: Stokely Carmichael, Angela Davis. The special guest just happened to be The Grateful Dead. And it was at a high school gymnasium! So I ran to the Panthers' office and, though I was a bit intimidated, I was able to get a ticket.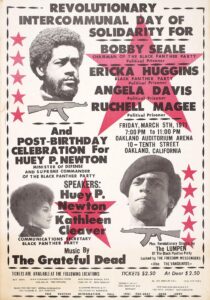 The Black Panther Revolutionary Intercomunal Day of Solidarity for Bobby Seale, Ericka Huggins, Angela Davis. There were speeches too, by Huey Newton and Kathleen Cleaver. The gymnasium probably held about 2-3000 people. The Panthers and their black supporters were up front, listening and cheering at the speakers. The white hippies were in the back. After the speeches all the black folks started to leave, and the white hippies shuffled toward the front. I wouldn't say it was yin and yang, but perhaps it was like oil and water. There were some scuffles during this transition, with some guys getting into arguments. By this time the Dead were already tuning up and doing their soundcheck. For me just hearing those sounds filled the air with happiness, even before they started playing music. There were only about 1000 people left by the time they started playing.
AD: Were the Dead invited to play at the event so the Panthers could gain support from the white hippies?
Makoto Kubota: No idea, I think it was just so they could raise more money. I couldn't really understand what the speakers were saying, though I could see that they had a lot of anger. The concert was only about an hour long. I think they played about ten songs from Workingman's Dead and American Beauty. That was the best I ever saw the Dead. One of the best concert experiences I've had.
AD: Back in Japan, when you were making your first album, Machibouke, did you have a particular sound or style in mind?
Makoto Kubota: In the early '70s I was still hippie-ish. When I got arrested I was placed in a holding cell. That actually gave me the motivation to become a songwriter. I was in there for about two weeks. I read Herman Hesse, and I got really high—just from reading that book. It was a difficult time, but at the same time I think it was exactly what I needed. It was really strange. I couldn't move around, but I was feeling higher than when I was doing drugs. The poetry I wrote at that time became Machibouke. That album exists because of that experience. That said, I'm not too attached to that album. I didn't listen to it for a long time, like I was too embarrassed by it.
AD: Why is that?
Makoto Kubota: It's just not interesting to me, I guess…I still don't listen to it. People tell me that it's good, so I'm like okay, I guess it is.
AD: Do you feel that way about the Sunset Gang albums?
Makoto Kubota: I feel the same way. Hawaii Champroo was a lot of fun though, as a band. I'd say a special kind of magic happened at that particular time with that album. I started working with Hosono with the Sunset Gang. He became a good friend and we always talked about interesting things.
AD: Hawaii Champroo, which was produced by Hosono, blended Hawaiian and Okinawa styles. Hosono's Tropical Dandy, which was released around the same time, had a similar vibe. Were you two talking about making similar albums like that?
Makoto Kubota: They're almost like sibling albums. We were always talking about those things. They're still based on American roots music with some Okinawan, Asian overtones. I went to Okinawa around '73 or '74 and came across the song "Haisai Ojisan" by Shoukichi Kina. I think it was a '71 recording. I was blown away. Hosono was too, when I played it to him. No other musician at the time got it. It was just me and Hosono who got really excited. It must've been like when American musicians first heard reggae. The year Hawaii Champloo came out is when we opened for Clapton. Funny thing is I wasn't that into drugs by then, but a band member almost got arrested for it, and he was on the run. He joined us in Hawaii to record the album, but now he couldn't go back home. So he decided to go on a trip across America. When the Clapton tour got confirmed, he coincidentally had written us a letter, saying that he's washing dishes at a restaurant somewhere in St. Louis. We wrote back, telling him don't be a fool, we're opening for Clapton so you better come back! So he came back, prepared to face arrest. After we did about eight shows, playing at the Budokan twice, he was ready to turn himself in. But by then he was told that his case was closed, and that he was a free man. It was like Cheech & Chong, like a comedy. It was that kind of feeling that was captured on that album. A bit detached from reality.
AD: The Sunset Gang eventually became the Sunsetz, playing music in a completely different style. How did that happen?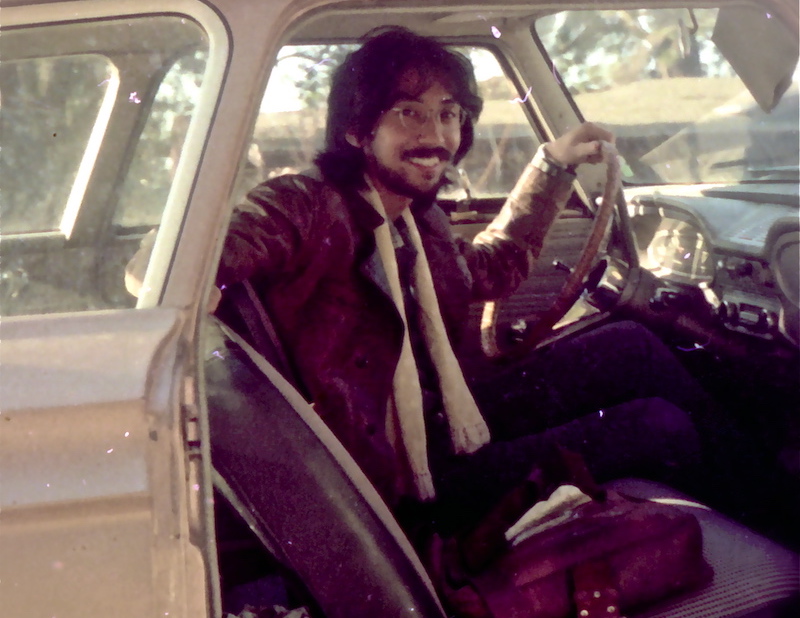 Makoto Kubota: Around the end of the '70s Hosono had entered the YMO era. The way things were going, it felt like we should be making music for the world. I went to the UK for the first time in 1980, in the winter. The music coming from the UK at the time was really vibrant and colorful. America wasn't doing so great at the time, with the so-called Disco Fusion era running out of innovative ideas. There were bands like the Talking Heads coming out of New York, but it was when the Sex Pistols were more successful than a band like the New York Dolls. The UK felt very glittery. Even without any musical skills, just having fresh ideas, haircuts and makeup allowed anyone to become a driving force. It was a weirdly exciting time.
At one point the Sunset Gang were approached by an American manager, wanting to take us to the West Coast. This was 1980, and we were already contemplating the end of the band. I didn't think we could pretend to be the same band just to play music in America in order to appease an Asian American audience. There were Japanese artists playing in America around that time, like Hiroshima, who were Japanese-American, Osamu Kitajima, or a band called East, with Seto-san, who's a good friend of mine. But a lot of these bands played up the images of stereotypes like posing in old Japanese clothing with a biwa in their hand. I didn't think I could play that role. I didn't even know that much about Japan. That was the type of offers we got.
AD: Sunsetz got fairly popular in the UK and in Australia, right?
Makoto Kubota: Yes, in Australia especially. We got on the national charts, number three I think. So of course major labels like ATCO started approaching us, wanting to sign a deal right there and then. If I'd been any younger I'd probably have signed on the spot. But I remember thinking that it was probably the last chance I had of doing this as a full time job, so I was being a bit too careful. For some reason David Bowie took a liking to us. We hung out for an entire week at one point, and he would tell me lots of things, and try to give me advice.
AD: Can you tell me about your relationship with the members of The Band? How did you first meet them?
Makoto Kubota: I was at the show they did for the Last Waltz [at Winterland Ballroom in San Francisco]. They broke up right after that, and Levon would form the RCO All Stars, with guys like Dr. John, Steve Cropper, and Duck Dunn. He had a horn section, too. It really was an all star band. So they had scheduled some dates in Japan. Hiroshi Asada, the promoter who was putting on these shows, asked me to go to New Orleans to report on the band as a preview for the tour. That's when I first met Levon. I think it was 1977, the year after Last Waltz. We got along and he treated me well, feeding me and everything. He could see that I wasn't your typical interviewer. I brought him some records, so he knew that I made music. I met Allen Toussaint at the time as well. As soon as they find out that I'm also a musician, it breaks the ice and becomes easier to talk. Ry Cooder too, I met him around that time as well. I'd tell him about Okinawa music, and he would tell me about Hawaii. We'd exchange our knowledge.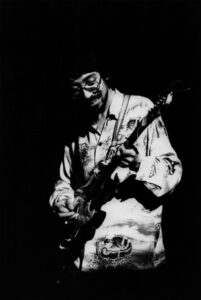 When the RCO All Stars played in Japan, the Sunset Gang opened for them. That's the first time Levon saw me play, and he really liked it. He thought what I was doing was really interesting. So we'd talk about doing something together, and I'd play him songs like "Haisai Ojisan." We went straight to the studio and began recording, with Levon on drums. That song ended up on an album called Second Line, which turned out to be the last Sunset Gang album. It came out in 1979, but it was recorded in 1977.
AD: About 20 years after that, you and Hosono made an album in New Orleans, Harry & Mac, which features Garth Hudson on a few songs.
Makoto Kubota: Hosono was a big fan of Garth Hudson. He really admired his unique musical sense, which gives a nod to American masters like Steven Foster or Gershwin. When we decided to do Harry & Mac, we knew that we wanted Jim Keltner on drums. That was the first thing we discussed. Hosono couldn't come up with many songs, so I ended up writing most of it. At one point Hosono started saying he wanted Garth. We knew that wouldn't be easy, like how do we bring him all the way from Woodstock? We asked our L.A. based studio coordinator, and he got Garth to come out. So we spent three or four days in the studio.
AD: You've been described by music critics as the Japanese Ry Cooder. What do you think that means?
Makoto Kubota: I think we may have similarities in how we see the relationships between the music and the musicians. His relationship to American music is probably similar to the relationship I have with music. There may be similar vibrations in the music we make, too. The way we both became obsessed with Okinawan music. He's really into Joseph Spence and Bahamian music. I love it too. That's not something everyone gets into. We have similar tastes in a way. There's probably a reason why we like those things. My ancestors—and perhaps Ry's ancestors were like this too —were moved around a lot. Through a lot of suffering, they were torn away and transplanted from place to place, and wherever they ended up they would start life anew. I refer to the Old Testament often, like being saved. It's a very Christian way of looking at it. So perhaps Ry Cooder was saved by American blues music. I think Ry and I both have a deep awareness of those things. Why are they singing like that? Where does that voice come from? Those kinds of thoughts are instilled in us, perhaps.
AD: Like a spiritual connection to music?
Makoto Kubota: The connection we're able to have with music, and to be aware of that. To be conscious of it while not speaking about it. Ry is like an Edokko in a sense that he doesn't bother talking about that stuff. He'd rather play guitar if he had the time.
AD: Looking back on your career, what are you most proud of? It doesn't have to be your own music, but could just be something you did with others.
Makoto Kubota: I haven't really thought about that. There's been many things that I enjoyed. But I think it's all been happenstance, including all the Okinawa things, which opened doors to many other things. But it's not exactly something I'm proud of. I just happened to be there. I guess I've been lucky to have been at those places at the right time. I'm not particularly proud of anything I've done personally, but I feel blessed to have had those kinds of connections.
At the time we opened for Clapton in 1975, a Japanese opening band would often get booed off the stage by the Japanese audience. It was a tough gig for a Japanese band to be the opener. But when the Sunset Gang played, we actually got calls for an encore. At the Budokan. So that made us a bit happy. I found out later that it was the first time the promoter had seen a Japanese band get a response like that from the audience. I should be proud of moments like that, but I always realize much later.
When I was at the Last Waltz show, I actually flew in from Japan that day. For some reason, I flew into San Francisco and had to take a domestic flight to L.A., rent a car and drive to Capitol to get a press ticket, and go right back to San Francisco. By the time I got to Winterland they were serving the last of the turkey dinner, down to the last slice. I was the one who got that last slice. If I hadn't eaten that I don't think I would've lasted until the end. I hadn't slept and had barely eaten. So I was the guy who ate the last piece of turkey at the Last Waltz. I'm pretty proud of that, actually!
Top photo by Mitsuru Tsuda | Group shot at Oz in Kichijoji, Tokyo. Photo courtesy of Tami Kawuchi | Color photo taken in Sonoma by Sachiko Kanenobu | Photo with guitar by Yoshinobu Ogawa
Real talk. Aquarium Drunkard is powered by its patrons. Keep the servers humming, snag some exclusives, and help us continue doing it by pledging your support via our Patreon page. For heads, by heads.