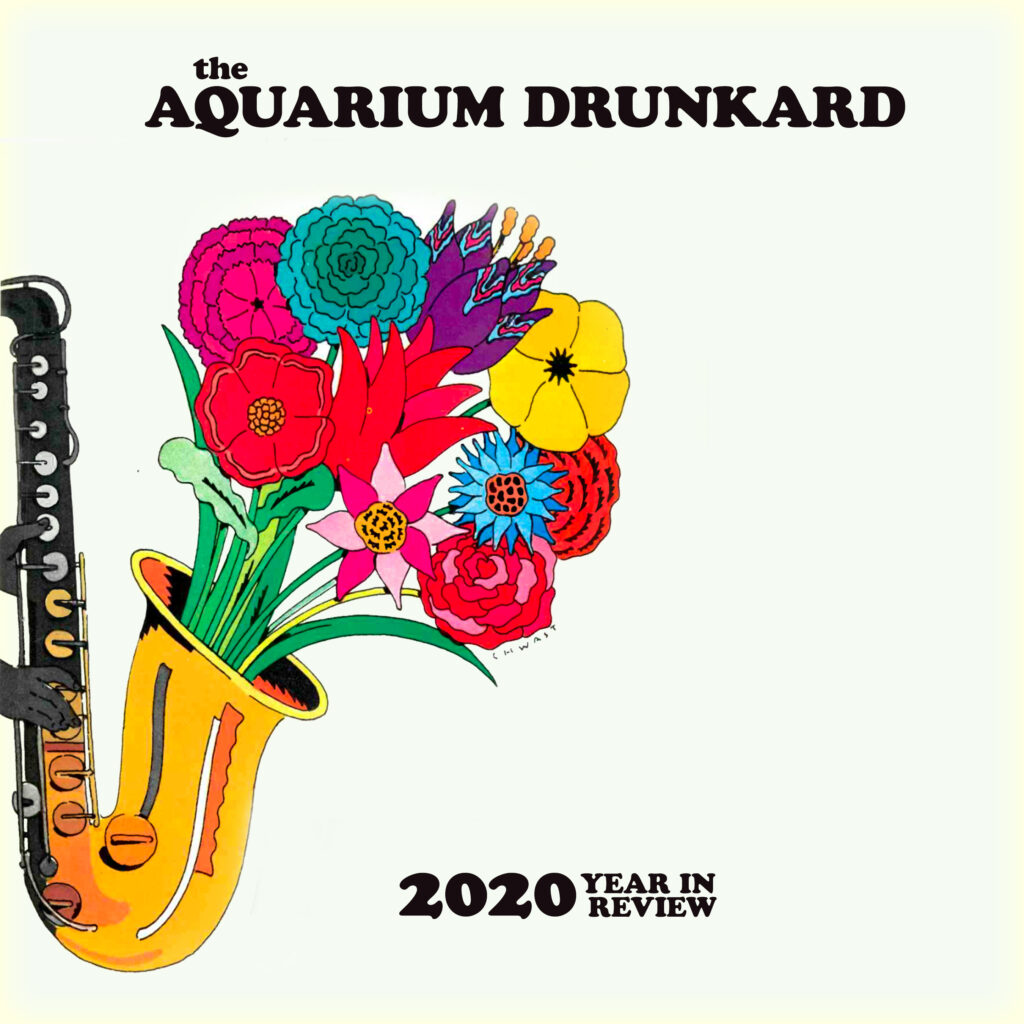 For all the loss and heartache of this cursed year, there were plenty of reasons to be hopeful, and lots of music that moved, soothed, and spoke to us. So here it is, our Year in Review. As always, unranked and sprawling.

But we'd be remiss if we didn't mention a few things first. Aquarium Drunkard turned 15 in 2020. We celebrated with two vinyl collaborations with ORG Music: Lagniappe Sessions Vol. 2 and the homespun Christian psychedelia collection, Jesus People Vol 1: The End is at Hand. We teamed up with Ben Telfer and 44 bands and artists for an Australian fire relief benefit album, The Drop Bear's Song. When the lockdown started, we launched a 24-hour a day pirate radio broadcast. When that ended, the station was reborn as a monthly Dublab feature broadcast every third Sunday, in addition to a weekly episode of Justin Gage's longrunning Aquarium Drunkard Show, every Wednesday at 7 PM California time on Sirius/XMU channel 35. We teamed up with Adult Swim to stream a late-night call-in show, Aquarium Drunkard Presents: The Tonight Zone and first episode of the late night public access-style Aquarium Drunkard Picture Show, with new episodes following. Our weekly podcast, Aquarium Drunkard Transmissions, featured visionary guests all year long—with many more to come in the new one.
Aquarium Drunkard exists because of the passion of its contributors (learn more about them here) and the support of its generous Patreon community. Much more to come in 2021. Only the good shit.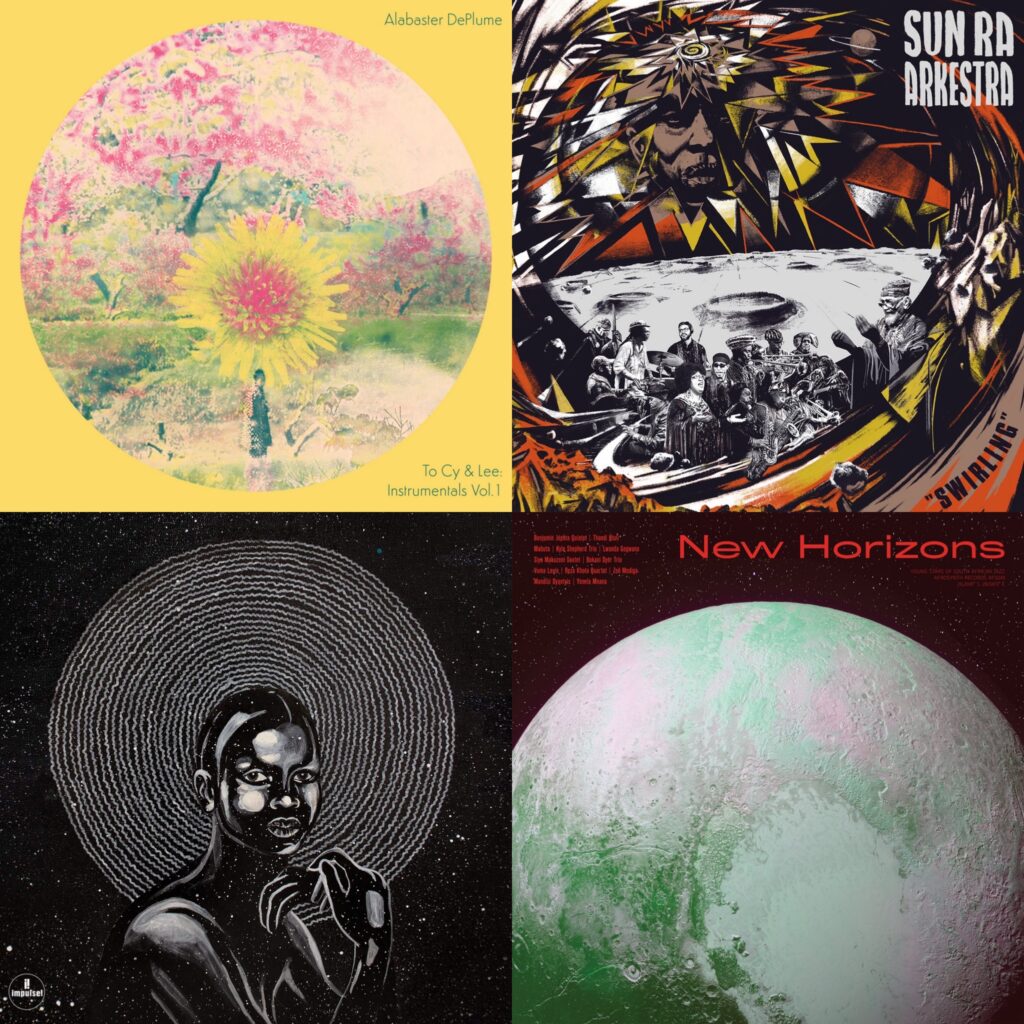 Alabaster DePlume :: To Cy & Lee: Instrumentals, Vol. 1 (International Anthem)
Easily one of the best records to come out in 2020. Listening to these lush, tactile even, ambient jazz recordings has been both a grounding and uplifting experience throughout this tumultuous year. (Bandcamp)
Sun Ra Arkestra :: Swirling/Diaspora Meets Afrohorn :: Jazz: A Music of the Spirit, Out of Sistas' Place (Strut/Ahmedian)
Two albums that draw from and expand Sun Ra's generative legacy. Led by 96-year-old alto-saxophonist and Marshall Allen and staffed with Arkestra mainstays, Sun Ra Arkestra returned with its first album of swinging blues and mystical free jazz since 1999; meanwhile, former Ra student and sideman Ahmed Abdullah, who teaches a course on the man himself at the New School, puts his combo through its myth-science paces over at Sistas' Place. (Bandcamp)
Shabaka and the Ancestors :: We Are Sent Here By History (Impulse!)
London-based jazz pillar Shabaka Hutchings juggles a diverse and impressive music oeuvre through his three primary projects: The Comet Is Coming, Sons of Kemet, and Shabaka and the Ancestors. We Are Sent Here By History showcases Hutchings effortlessly painting a canvas of spiritual jazz with strokes influenced by African and Caribbean sensibilities.
New Horizons: Young Stars of South African Jazz (Afrosynth)
Stretching over two lps from the cosmic to the terrestrial, via the Johannesburg label Afrosynth Records, New Horizons scans a wide swath of contemporary SA jazz. Rooted in tradition, headed for the stratosphere. (Bandcamp)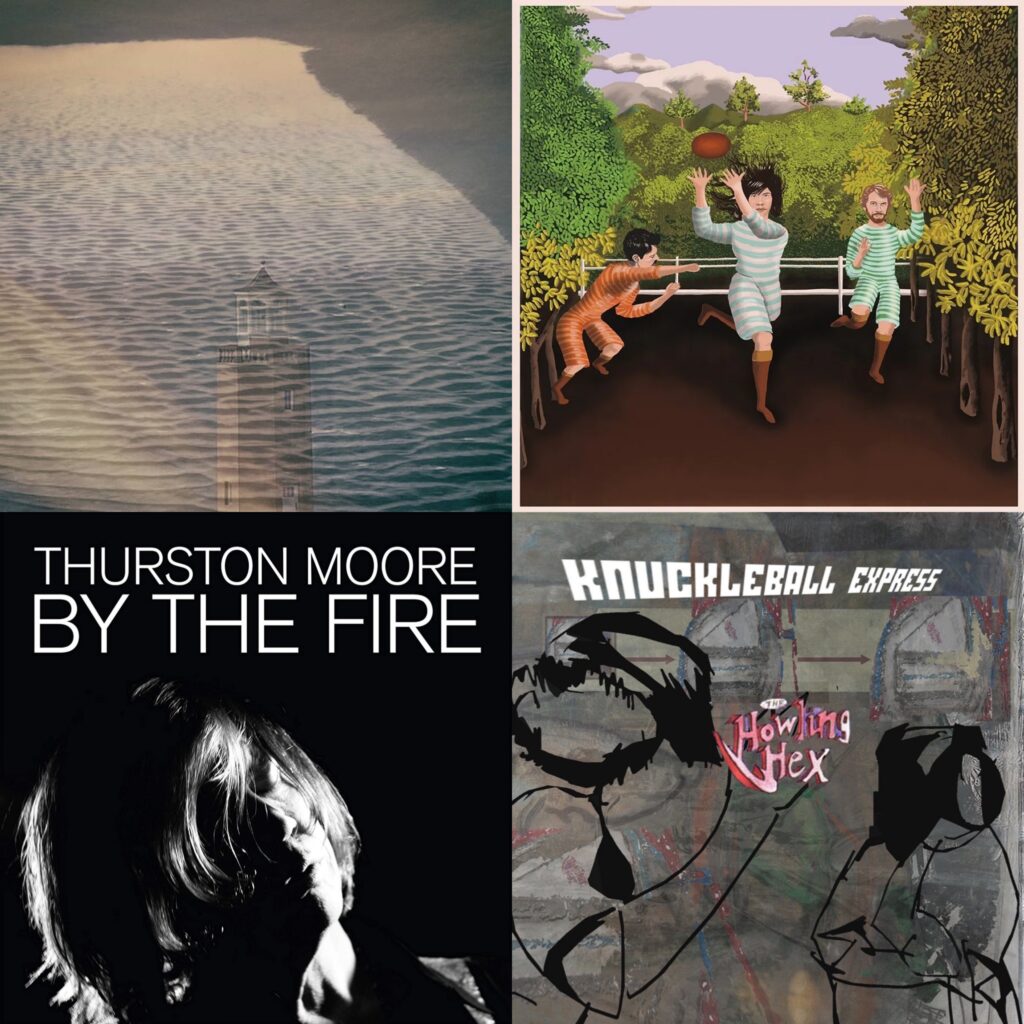 Gunn-Truscinksi Duo :: Soundkeeper (Three Lobed)
An oceanic double LP sprawl from guitarist Steve Gunn and drummer John Truscinski's wildest, most adventurous journeys alongside their most elegant and polished work. (Bandcamp)
Magik Markers :: 2020 (Drag City)
Magik Markers have never played by anyone else's rules, so it makes perfect sense that they'd disappear for most of the last decade, only to re-emerge with a complete masterpiece of moody balladry and fuzzed out power pop as if it's no big thing. (Bandcamp)
Thurston Moore :: By the Fire (Daydream Library)
Thurston Moore's eerily clean guitar tone, tuned in odd, provocative ways and sparkling with bright harmonics, defined a generation's worth of indie rock, and it's on display here in all its shimmering glory. Still, the best cut, "Cantaloupe," grinds some dirt into the gears, churning out a grunge-y foundation that erupts into the best, most Hendrix-y guitar solo of the year. (Bandcamp)
Howling Hex :: Knuckleball Express (Fat Possum)
Forget the much-hyped, Royal Trux Reunion. This is the best Hagerty in ages, loose, dirty, unhinged and oddly catchy. "If you want to die, believe in lies," Hagerty croons against a corrosive, fire-addled choogle, setting off incendiary little guitar licks in between brutal riffs and all-hands shouts. It's been a long time since the Howling Hex has swaggered this hard. (Bandcamp)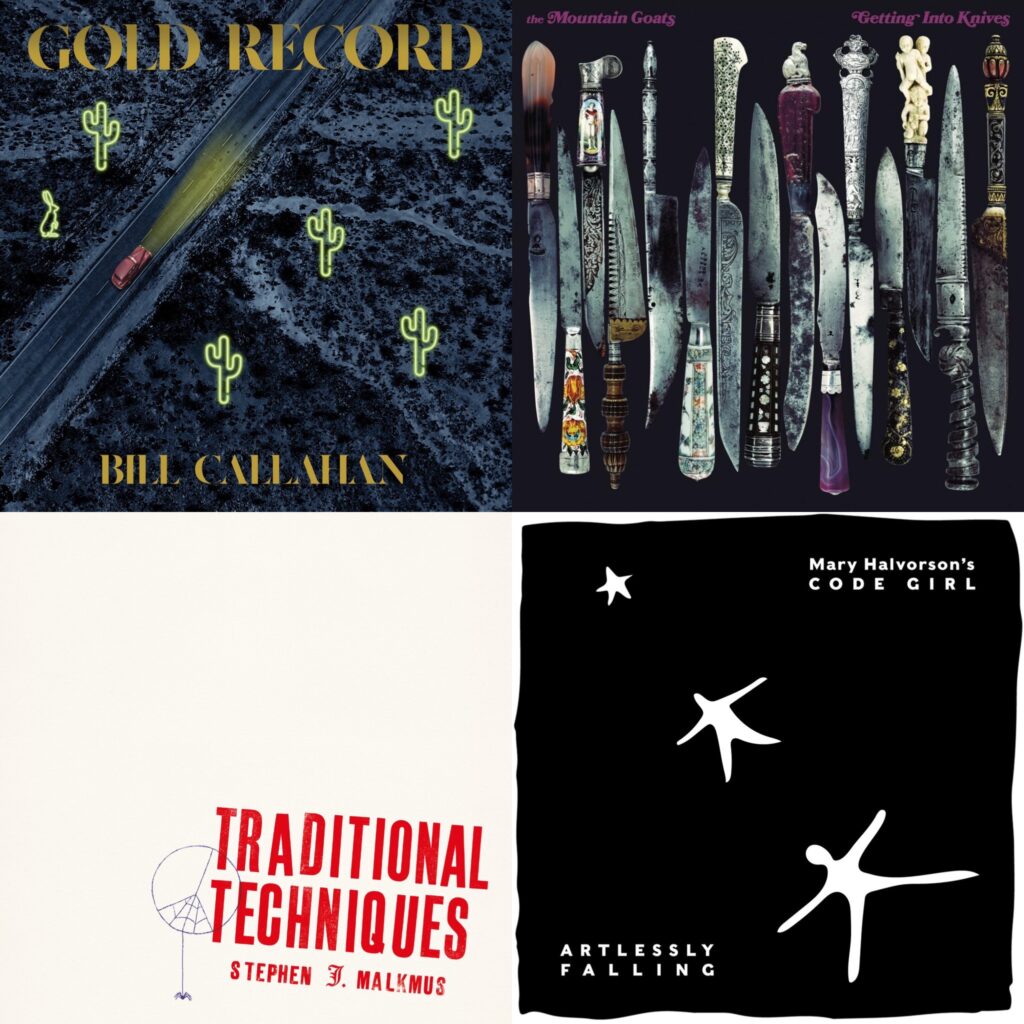 Bill Callahan :: Gold Record (Drag City)
Twenty years on, Bill Callahan revisits Knock Knock's "Let's Move to the Country," to show us how far he's come, a powerful bit of autobiography. But on Gold Record Callahan shifts narrators like post-modern fiction—a grizzled cab driver taking newlyweds to a reception, a reclusive suburban drawn into his neighbor's tragedy, a cowboy (complete with lonesome whistle)—yet all remains distinctly in Callahan's voice. (Bandcamp)
Mountain Goats :: Getting Into Knives/Songs for Pierre Chuvin (Merge)
"My curiosity will likely always get the best of me," John Darnielle admits on "Bell Swamp Connection." That curiosity—and willingness to follow discursive tangents—has guided him to Memphis with his crack band, to the teachings of Wesley Willis, to heretics, and back to a familiar boombox. Our fraternal seer. (Bandcamp)
Stephen Malkmus :: Traditional Techniques (Matador)
Awash in percolating tablas, acoustic strums, and raga drones, Malkmus makes the most of his collaboration with ace guitarist Matt Sweeney and producer Chris Funk, sprinkling his hippie fantasias with internet slang and bemused sweetness. (Bandcamp)
Mary Halvorson's Code Girl :: Artlessly Falling (Firehouse 12)
Guitarist and genius composer Mary Halvorson recruited no less a hero than Robert Wyatt to sing on this set of artistically daring avant-jazz and progressive and soulful singer/songwriter material. (Bandcamp)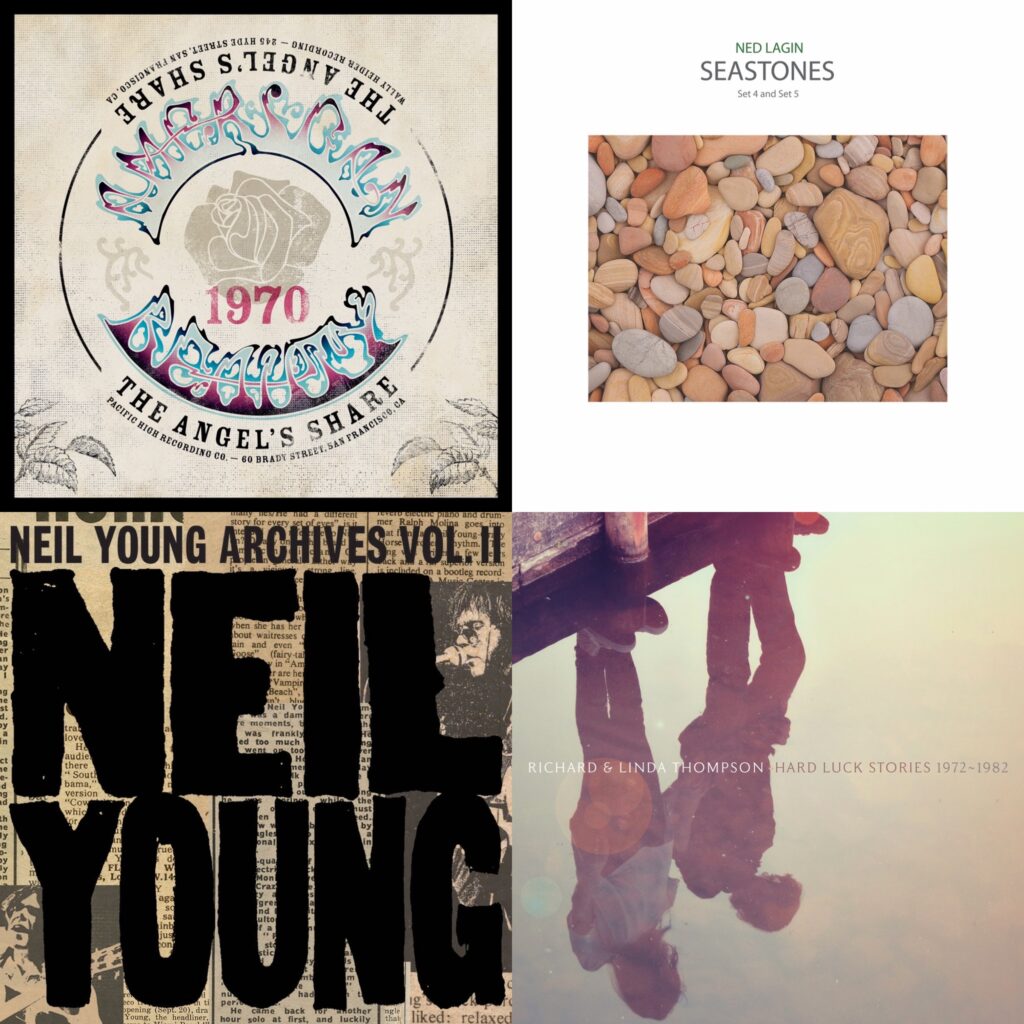 Grateful Dead :: Workingman's Dead/American Beauty/The Angel's Share (Rhino/Grateful Dead)
50 years ago, everyone's favorite psychedelic cowboys took a turn down a dusty road with a clutch of Robert Hunter lyric sheets in hand, headed straight toward the poetic heart of Old American Weirdness. Their two 1970 albums have been re-released in excellent expanded editions, plus there's two Angel's Share collections, which present pretty much every sound, dry run, and botched take recorded at Pacific High Recording and Wally Heider Recording. Geared toward the completist, sure, but it's far more fun and illuminating to hear these standards come together than one might expect—and worth it for the in-studio banter alone.
Ned Lagin :: Seastones (Important)
The Dead's avant-garde connections are many, but outside of Phil Lesh, few brought more electro-acoustic minimalist flavor to the group's strange America sound than keyboardist Ned Lagin, who played with the band live and on American Beauty and From the Mars Hotel. The Dead returned the favor—well, Jerry, Phil, and Mickey did at least—appearing alongside David Crosby, Grace Slick, David Freiberg, and Spencer Dryden on Lagin's 1975 electronic composition masterpiece Seastones, re-released this year on vinyl.
Neil Young :: Archives Vol. 2/Homegrown (NYA)
No two ways about it: the rollout of Neil Young's long-awaited Archives, Vol. 2 was a clusterfuck. Never fear. All will be forgiven as you sink into the treasure trove that is Archives Vol. 2 (which includes the separately released legendary "lost" album Homegrown). During his time in the ditch, Young wrote the Great American Novel in song. Love and death, tradition and modernity, art and commerce, family and friendship, dreams and reality — Neil grappled with all of the big questions during this era. He didn't find any easy answers, but he did make some of the most powerful rock and roll of all time. And that's probably good enough.
Richard & Linda Thompson :: Hard Luck Stories (Universal)
Their marriage didn't last, but the music that Richard and Linda Thompson made together stands the test of time—and then some. Hard Luck Stories collects all of the pair's outstanding studio LPs (remastered to sound better than ever) and adds a healthy dose of essential rarities, demos, live recordings and more.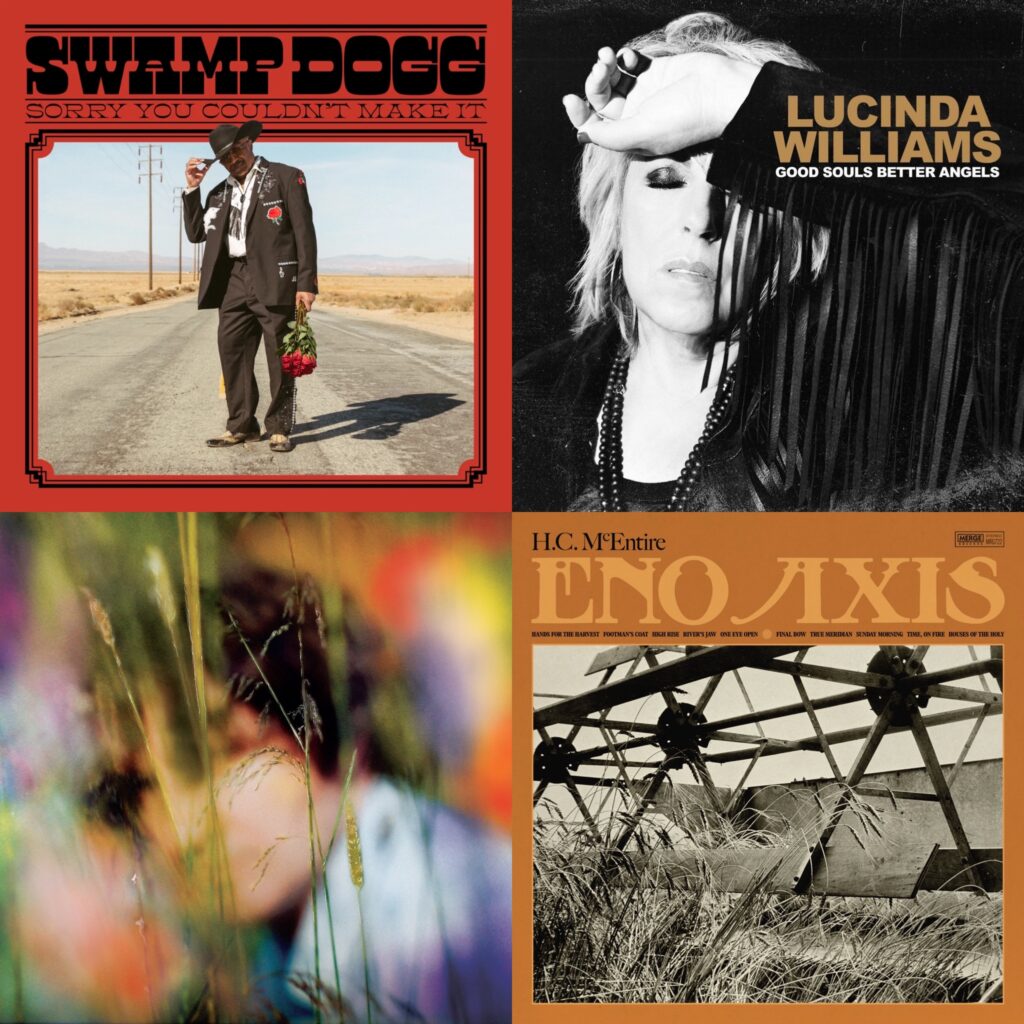 Swamp Dogg :: Sorry You Couldn't Make It (Joyful Noise)
A couple of duets with the late John Prine, some shimmering country soul, and more than a few tears in his beer: even when he's playing it relatively straight, Swamp can't help but interject his Doggy weirdness and humor into his beautiful songs. (Bandcamp)
Lucinda Williams :: Good Souls, Better Angels (Highway 20)
Lucinda's voice sounds like the times: battered, stripped raw, and undeniable. Her swampy country noir boogies and pissed off garage rock find transcendence in the grime.
Sam Amidon :: Sam Amidon (Nonesuch)
Sam Amidon deconstructs pre-modern folk songs, extracting their melodies and archaic lyrics and surrounding them with shimmering jazz-psych arrangements. Working here with jack-of-all-sounds Shazhad Ismaily and Antibalas drummer Chris Valtaro, Amidon locates a fertile overlap of Appalachian folk and African drone (the banjo is, by all accounts, an African instrument) and a link between folk-country stomp and krautrock propulsion. (Bandcamp)
HC McEntire :: Eno Axis (Merge)
Rootsy country soul from Mount Moriah singer/songwriter HC McEntire. She's put deep roots down in the North Carolina soil; these songs evoke the feeling of being alive in your place and body. There's an ace Zeppelin cover, too. (Bandcamp)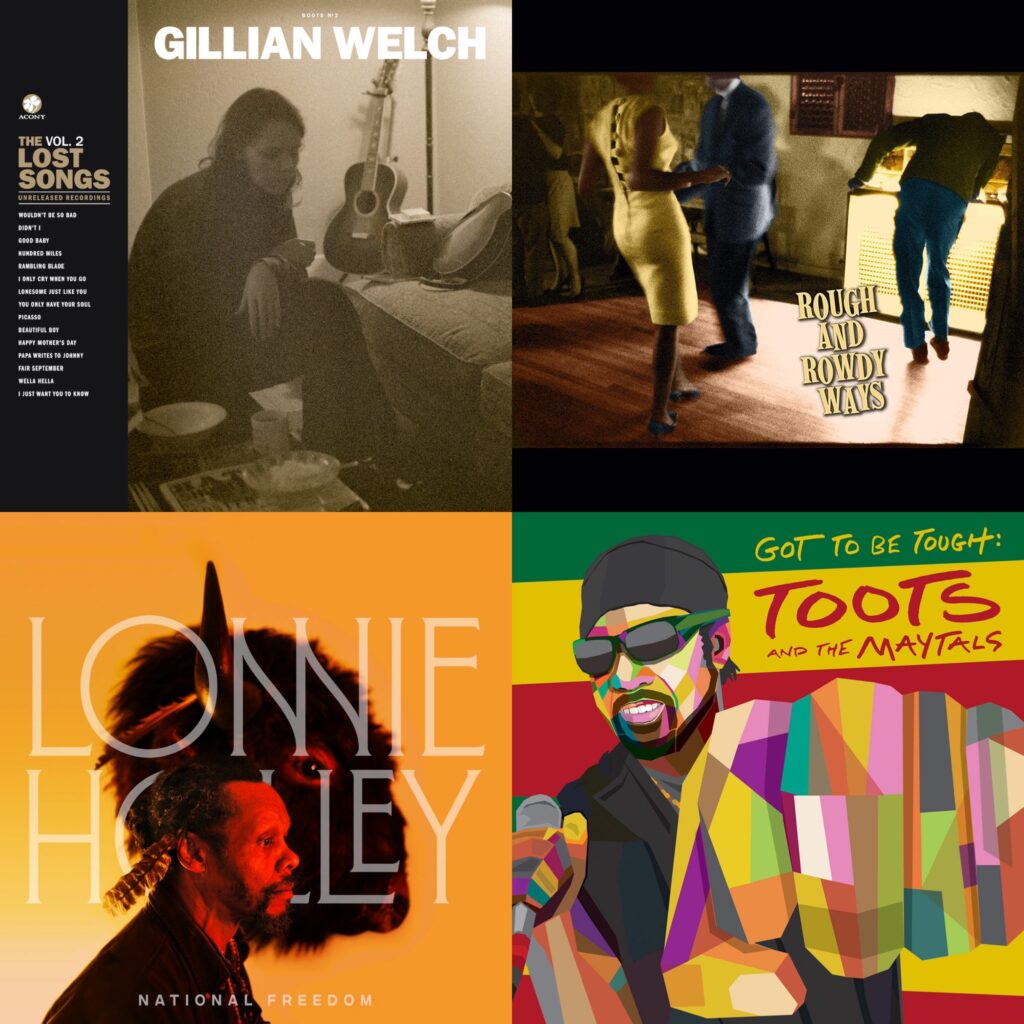 Gillian Welch :: Lost Songs (Vol. 1—3) (Alcony)
This three-volume collection gathers together a whopping 48 songs recorded by Gillian Welch and David Rawlings in late 2002. Since Welch hasn't been exactly prolific over her career, it's an astounding cache of previously unheard music, made even more astounding by the fact that these high-quality four-dozen tunes were laid down in the space of just a few days. Welch remains one of our greatest songwriters; her vaults only bolster her legacy. (Bandcamp)
Bob Dylan :: Rough and Rowdy Ways (Columbia)
"She sang beyond the genius of the sea," Wallace Stevens wrote back in 1934 in his poem "The Idea of Order at Key West." And here's Bob Dylan in 2020, way down in Key West on his masterful 39th album, doing pretty much the same thing. You could take Dylan's darker musings here as representing a collective death dream of the 20th century, haunted by the ghosts of Jimmy Reed, JFK, Elvis Presley, and Martin Luther King, Jr. And you wouldn't be wrong, necessarily. But the real magic trick is that Rough and Rowdy Ways ends up feeling more like a celebration of the human spirit than a lament. "Those old songs are my lexicon and prayer book," Bob said in 1997. His work over the past six decades — including this new album — does that sentiment justice.
Lonnie Holley :: National Freedom (Jagjaguwar)
The dearly missed Richard Swift and company provide zen blues vamps, far out doo-wop, and scuzzy rock & roll; artist and mystic Lonnie Holley improvises mystic poetry, growls, and playful riffing. (Bandcamp)
Toots & the Maytals :: Got to Be Tough (Trojan Jamaica)
Toots Hibbert shuffled off the mortal coil this year but not before firing off one more jammer. The bass is low and steady, the drums clap, and Toots sounds as enraged and mournful of injustice as ever before. "No good come out of evil," he promises on "Stand Accused." Music offered Toots freedom—and he repaid it with empathy until the end.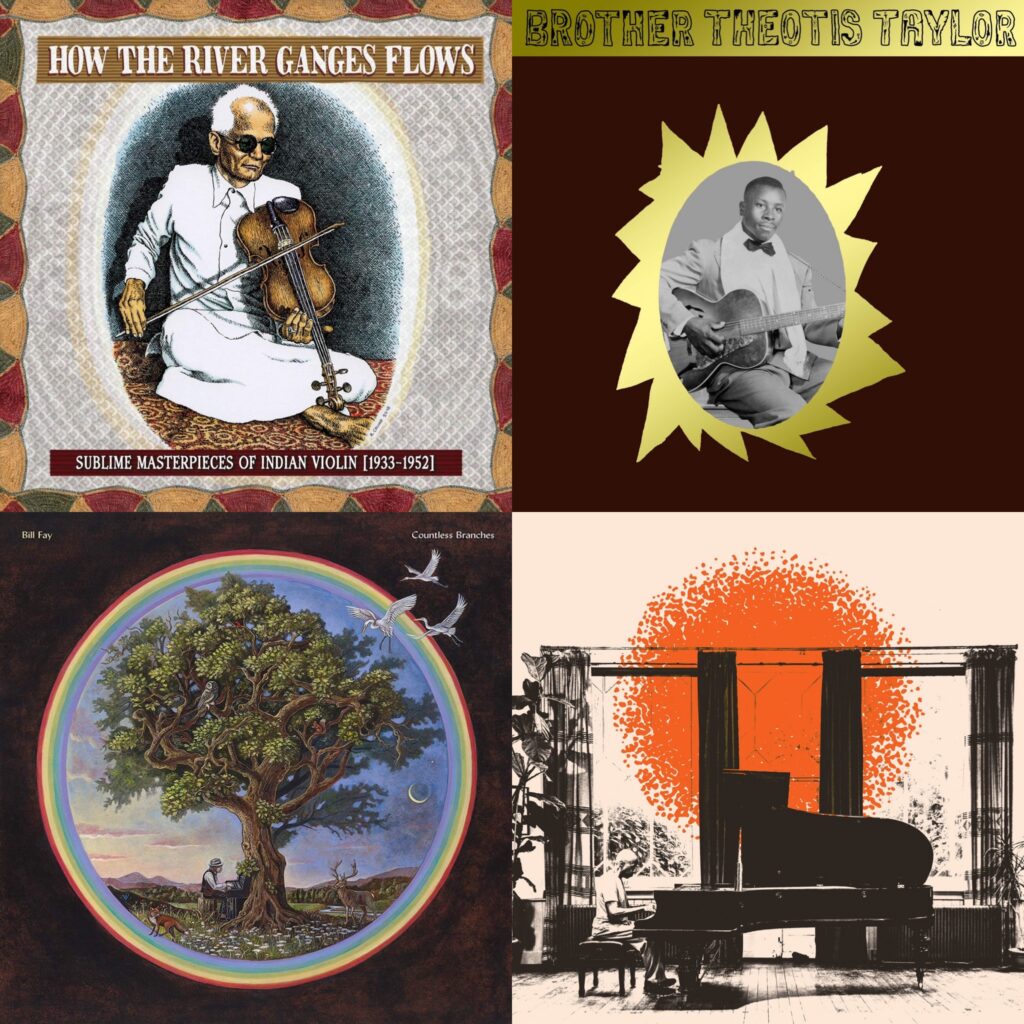 How The River Ganges Flows: Sublime Masterpieces of Indian Violin (1933-1952) (Third Man)
Compiled by the always reliable Chris King, the 14 performances on How the River Ganges Flows are virtuosic in the technical sense, but also emotionally virtuosic, if that makes sense. The players here are almost surgical in their veil-piercing evocations of loss, longing, joy, sadness—the full spectrum of humanity somehow translated into breathtaking sound. Yeah, it's that good. (Bandcamp)
Brother Theotis Taylor :: Brother Theotis Taylor (Mississippi)
Via Mississippi Records, a collection of wonderful folk-gospel by Brother Theotis Taylor. A southern Georgia-based singer/piano player who celebrated his 92nd birthday this year, Taylor possesses an amazing voice, often floating into a sublime falsetto, like Sam Cooke singing to you and you alone. Hopeful, soul-stirring music. (Bandcamp)
Bill Fay :: Countless Branches (Dead Oceans)
Bill Fay opens his third album since 2012 with a grim invocation: "This world ain't safe in human hands." And while this terrible truth seems unavoidably true, it's not an album of lament. His piano playing bolstered by sympathetic acoustic guitars, Fay's songs are full of light and awe. Everything is bad, he admits, except all that isn't. Fay sounds so much younger in his age, so much wiser in his hopes. (Bandcamp)
Laraaji :: Sun Piano/Moon Piano (All Saints)
Afro-trascendentalist Larry Edward Gordon, better known as his Orange-ness Laraaji, on the piano at First Unitarian Church, Brooklyn, NYC. Celestial melodic vibrations abound. (Bandcamp)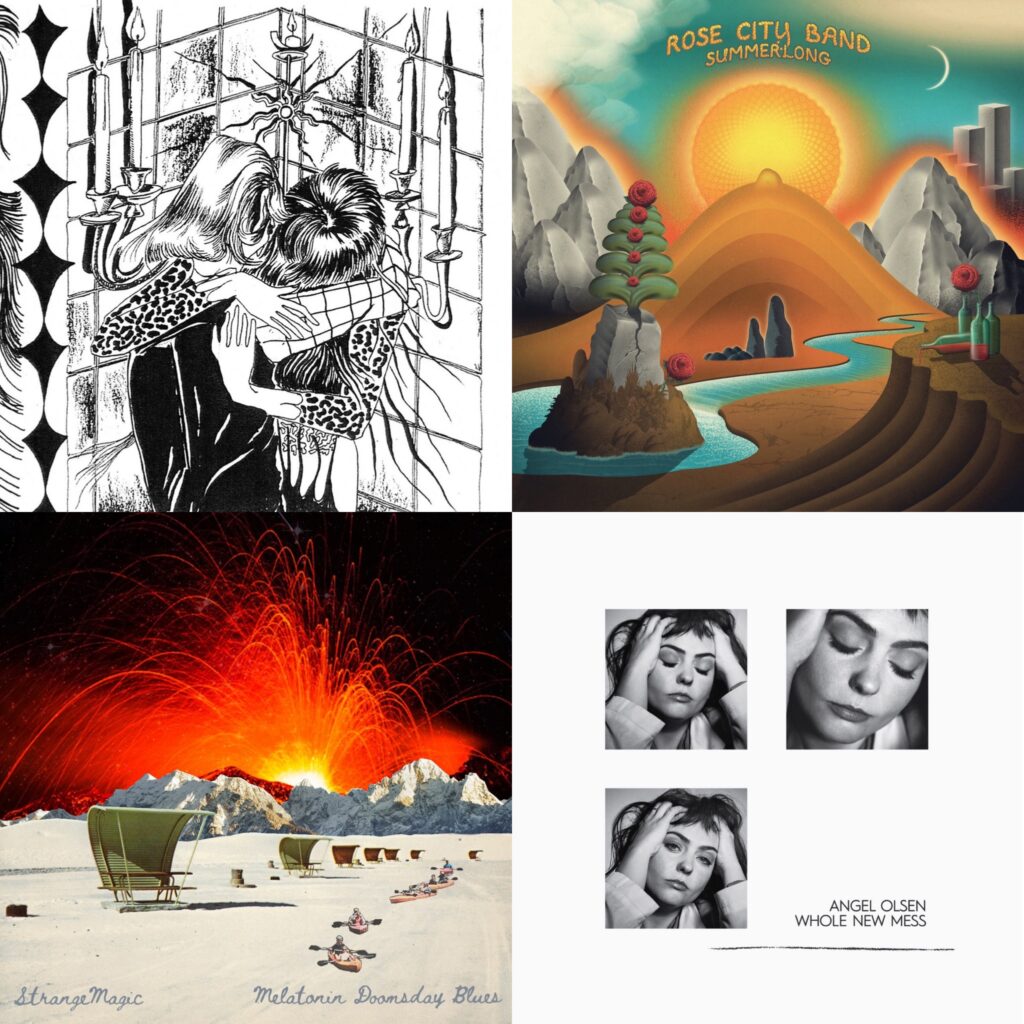 Cindy Lee :: What's Tonight to Eternity (W.25th)
Cindy Lee's first LP of 2020, February's What's Tonight to Eternity? is a masterpiece of pop-hauntology; a deconstructionist orchestra of girl group melody and Metal Machine Music distortion. Both Eternity and its sister record, Cat-O-Nine-Tails—released independently a few months later—belong on the shelf somewhere between contemporary sound-alchemists like Ariel Pink, John Maus and The Caretaker and timeless songwriters like Roy Orbison and Shadow Morton. (Bandcamp)
Rose City Band :: Summerlong (Thrill Jockey)
In 2019, Rose City Band sent a whisper of a wonderful album out into the world with little to no info…but the heads were able to follow the stars straight to one of the pillars of modern-day psychedelia: Ripley Johnson. Nary a year later, Johnson—who has since lifted the veil on the project—crafted an audible appreciation to Pacific Northwest summers. The music is loose and comfortable like taking a sonic edible. (Bandcamp)
Strange Magic :: Melatonin Doomsday Blues (JUNE)
Even though this album was written and recorded before the unpleasantness of 2020, it feels like a pandemic project: endlessly citable music bits flow by—"No Heaven For Betsy"'s Velvet Underground stomp, the Harry Nilsson bounce of "Master Blaster"—while Javier Romero's lyrics worry and mull over things large, small and in between. (Bandcamp)
Angel Olsen :: Whole New Mess (Jagjaguwar)
A sequel in the minds of listeners, but a prequel in the hands of the artist, Whole New Mess was Olsen's original stab at the songs that would mostly end up becoming 2019's All Mirrors. It's fascinating to hear her still feeling her way through the emotions in these songs, to hear the tentative understanding and musical thoughts that surround them. (Bandcamp)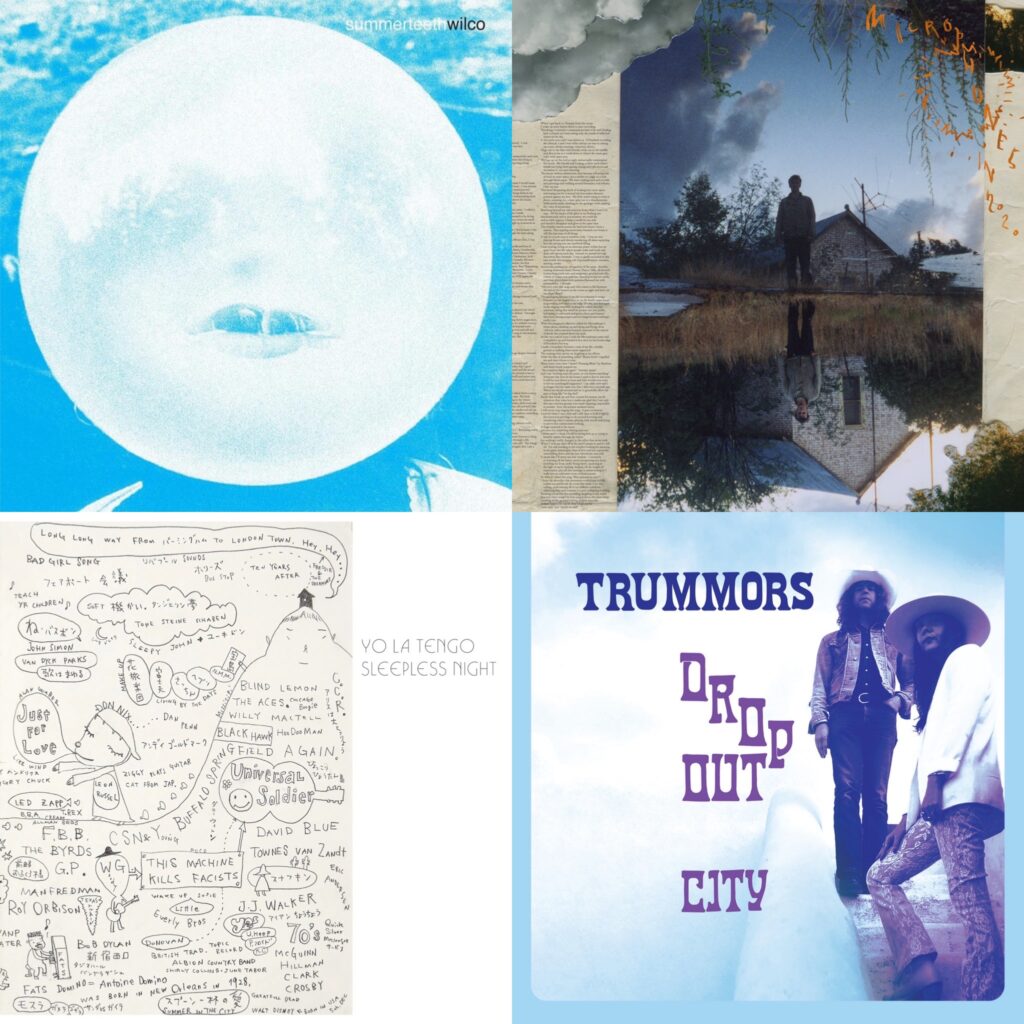 Wilco :: Summerteeth (Deluxe)/Jeff Tweedy :: Love Is the King (Rhino/dBpm)
21 years ago Wilco, with the help of ambitious pop genius Jay Bennett, took its scrappy but daring roots rock group deep into progressive pop songcraft. A kaleidoscopic and harrowing wonder. These days bandleader Jeff Tweedy—on his own, with Wilco, with his sons and other collaborators—sounds more relaxed but no less tuned in. Creation for creation's sake—blissful work. (Bandcamp)
Microphones in 2020 (P.W. Elvrum & Sun, LTD.)
One long and lone song about autobiography, memory, and the magical and otherworldly communication afforded by sound. (Bandcamp)
Yo La Tengo :: Sleepless Night (Matador)
Yo La Tengo's classic Fakebook turned 30 this year. Since the band already recorded a sequel (2014's Stuff Like That There), you could think of the new Sleepless Night EP as Fakebook 2.5. This is YLT comfort food, a selection of five lovingly rendered covers and one original. The Byrds, Dylan, NRBQ, Ronnie Lane—they're all given the Yo La treatment, with beautiful results.
Trummors :: Drop Out City (Ernest Jenning)
The Taos, NM duo of Anne Cunningham and David Lerner—AKA Trummors — return with a downright perfect cosmic country rock LP. Drop Out City is simultaneously earthy and high-flying, each song packed with beautiful close harmonies, fabulous Clarence White-ish guitar, burnt pedal steel and crisp rhythms. (Bandcamp)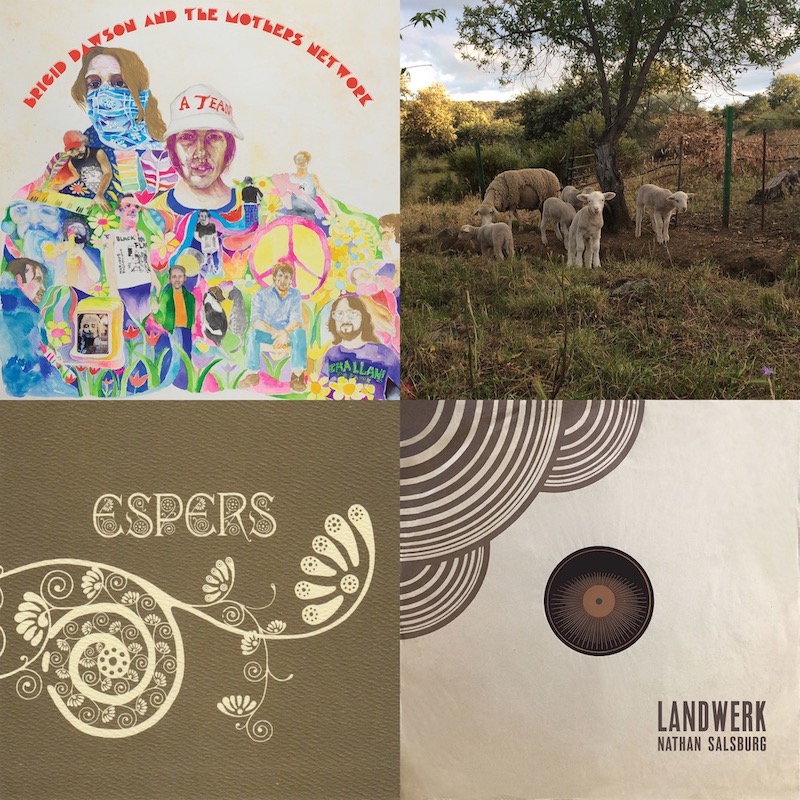 Brigid Dawson and the Mothers Network :: Ballet of Apes (Castleface)
Thee Oh Sees' Brigid Dawson finally broke out on her own this year for Ballet of Apes, a slow-burning ride of skronking psychedelia. Dawson's smoky vocal delivery hovers above pastoral vistas and gothic carnivalesque grooves, sepia-soaked bedroom pop and chanteuse waltz, channeling her former home's penchant for the occult and refining it to her own vividly perfumed panorama. (Bandcamp)
Josephine Foster :: No Harm Done (Fire)
The latest collection from the supremely underrated Colorado-born, Spain-based, psychedelic folk surveyor, is a further cartography of the twisted roots of American song that she's been exploring for two decades. Recorded in Nashville with the anomalous player Matthew Schneider, No Harm Done is an earthy and unfolding effort—a knotty outgrowth of autoharp, 12-string guitars, and anachronistic lyrics. (Bandcamp)
Espers :: S/T, The Weed Tree (Drag City)
A most welcome reissue of the first two albums from the Philadelphia travellers who can rightly claim the oft-bandied "psychedelic folk" descriptor. Espers finds their sound—an intoxicating mix of spectral vocals, hypnotic fingerpicking, rattling percussion, and swirling atmospherics—firmly in place from their very beginning. The Weed Tree reaches as high as any other covers album in recent memory, with revelatory and stoney takes on a surprising variety of source material (Blue Öyster Cult, The Durutti Column, Nico, Michael Hurley). An essential pair of releases that laid the path for this century's New Weird America revival. (Bandcamp)
Nathan Salsburg :: Landwerk (No Quarter)
Inspired by The Caretaker's monumental An Empty Bliss Beyond This World, Nathan Salsburg—the immensely talented guitar player most known for supporting Joan Shelley or his work as the curator of the Alan Lomax Archive—puts his home-recording skills to the test and uses loops of grainy 78s as a starting point for daring new compositions. Just like the album that inspired it, Landwerk is a gorgeous exploration through the recesses of memory—circuitous fingerpicked motifs weave alongside mournful and melodic looped fragments of source material dating back to 1913, with the occasional flourish of percussion or homemade lap steel. (Bandcamp)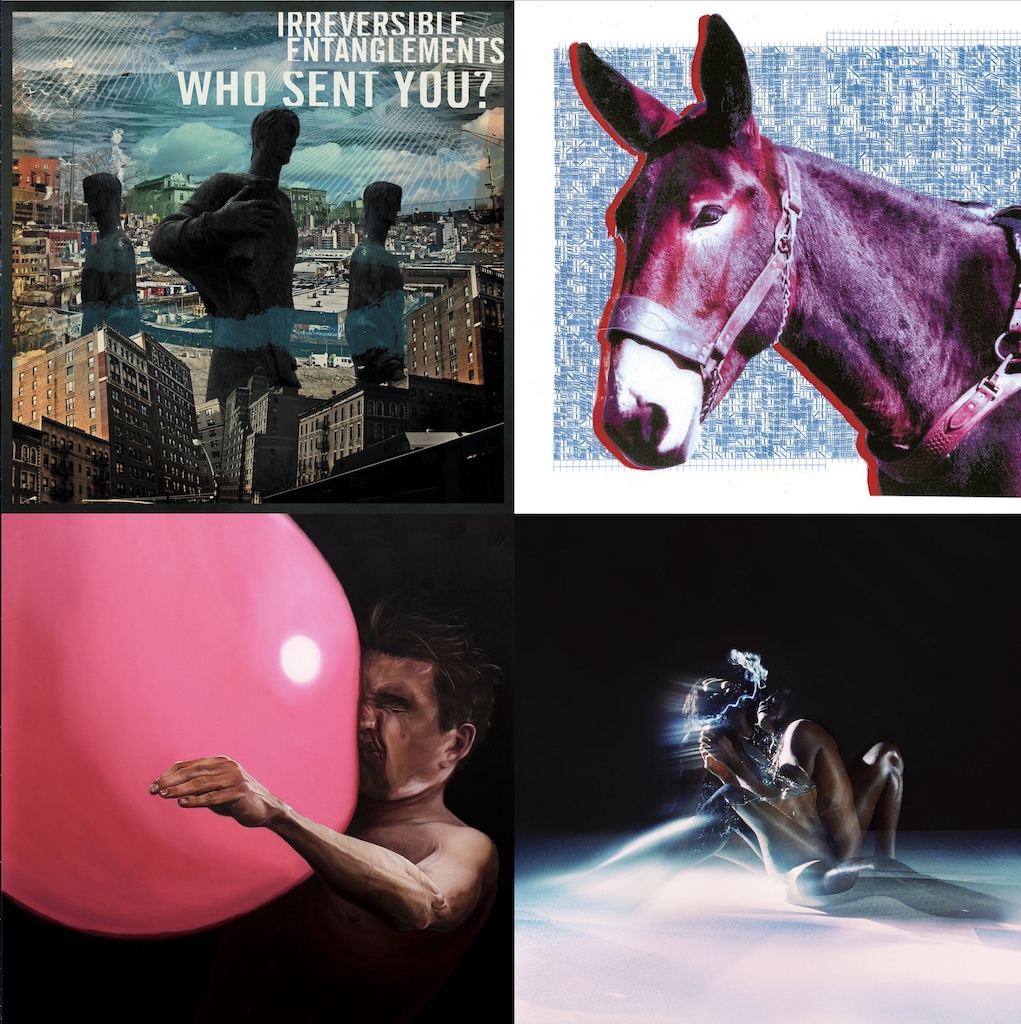 Irreversible Entanglements :: Who Sent You? (International Anthem/Don Giovanni)
Churning free jazz bangers with poet Camae Ayewa (who issued tons of inspiring work under her Moor Mother alias this year) on the mic, offering meditative and fiery liberation messages. (Bandcamp)
Protomartyr :: Ultimate Success Today (Domino)
Protomartyr—ahead as always of the goddamn zeitgeist! Though the Detroit post-punk existentialists remain jagged, their songs have grown more thoughtful, engaged. And in a time when everything seems to be muddled, Joe Casey stands out with a truly declarative voice, attuned to the grimness of the conditions. As always, quality ragers guaranteed, but you know they've got tear-jerker ballads going now too. (Bandcamp)
Idles :: Ultra Mono (Partisan)
The propulsive throttle of Idles' third record was the kind of album you needed to help wake yourself up as the year dragged on. Music that is simultaneously sharp, darkly funny, angry and, most importantly, human. (Bandcamp)
Yves Tumor :: Heaven To A Tortured Mind (Warp)
Yves Tumor perpetually sniffs out various methods of subversion, and what Heaven To A Tortured Mind confirms is that it's always a successful venture. Whereas Tumor's previous work found the artist playing in the abstract arena of noise-y pop, their newest venture finds them in the grimy throws of rock stardom, using heavy backbeats and bombastic guitars to represent a character so greatly feared by the masses 50 years ago: the sexy, demonic rock star. (Bandcamp)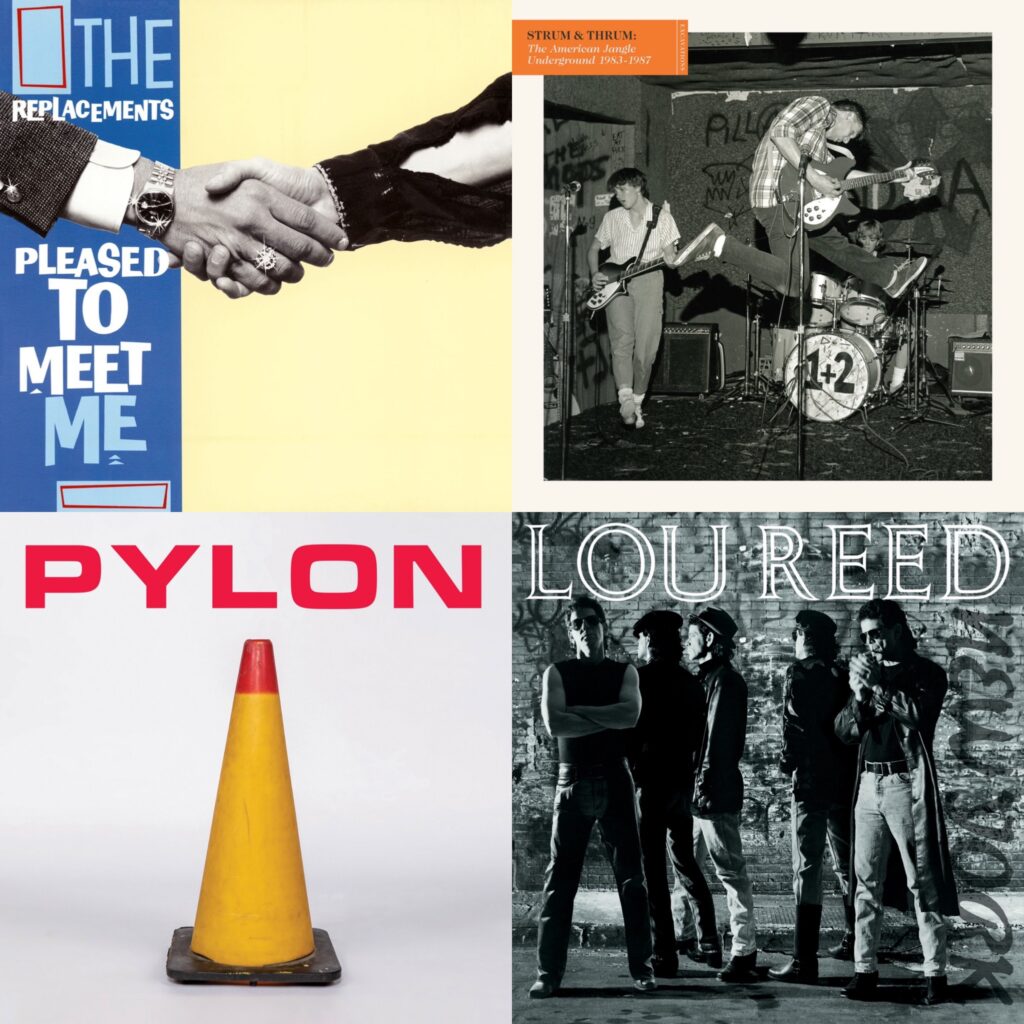 The Replacements :: Pleased to Meet Me (Deluxe Edition) (Rhino)
It's thrilling to have one of the best American rock and roll bands of the last 40 years finally having their legacy properly handled. The deluxe edition of their 1987 album piles on rough mixes, b-sides, unreleased songs and more that on top of last year's revelatory re-issue of 1989's Don't Tell a Soul, just makes us hope that the rest of their catalogue will get this kind of loving and deep treatment.
Strum & Thrum: The American Jangle Underground 1983-1987 (Captured Tracks)
One of the year's best compilations, Strum & Thrum is an excavation of left-of-the-dial '80s American jangle pop and rock. A blip on the mainstream, yet an aesthetic that reverberates throughout the underground today. (Bandcamp)
Pylon :: Pylon Box (New West)
Come for the long overdue vinyl reissues of Gyate and Chomp, stay for the Razz tape (a 13-song 1979 unreleased session), Extra (a collection of singles, B-sides, rarities and live joints), and a 216 page hardbound book. (Bandcamp)
Lou Reed :: New York (Deluxe) (Rhino)
Lou Reed's New York was seen as a return to form after some of the songwriter's more pop-oriented mid-1980s material. But return to what form? This expanded edition, featuring demos, live recordings and other rarities, suggests more of a total reinvention, with Reed finding new pathways into his beloved city's backstreets. "You can't beat two guitars, bass and drums," he wrote in the liners – and after immersing yourself in New York Deluxe, you'll be inclined to believe him.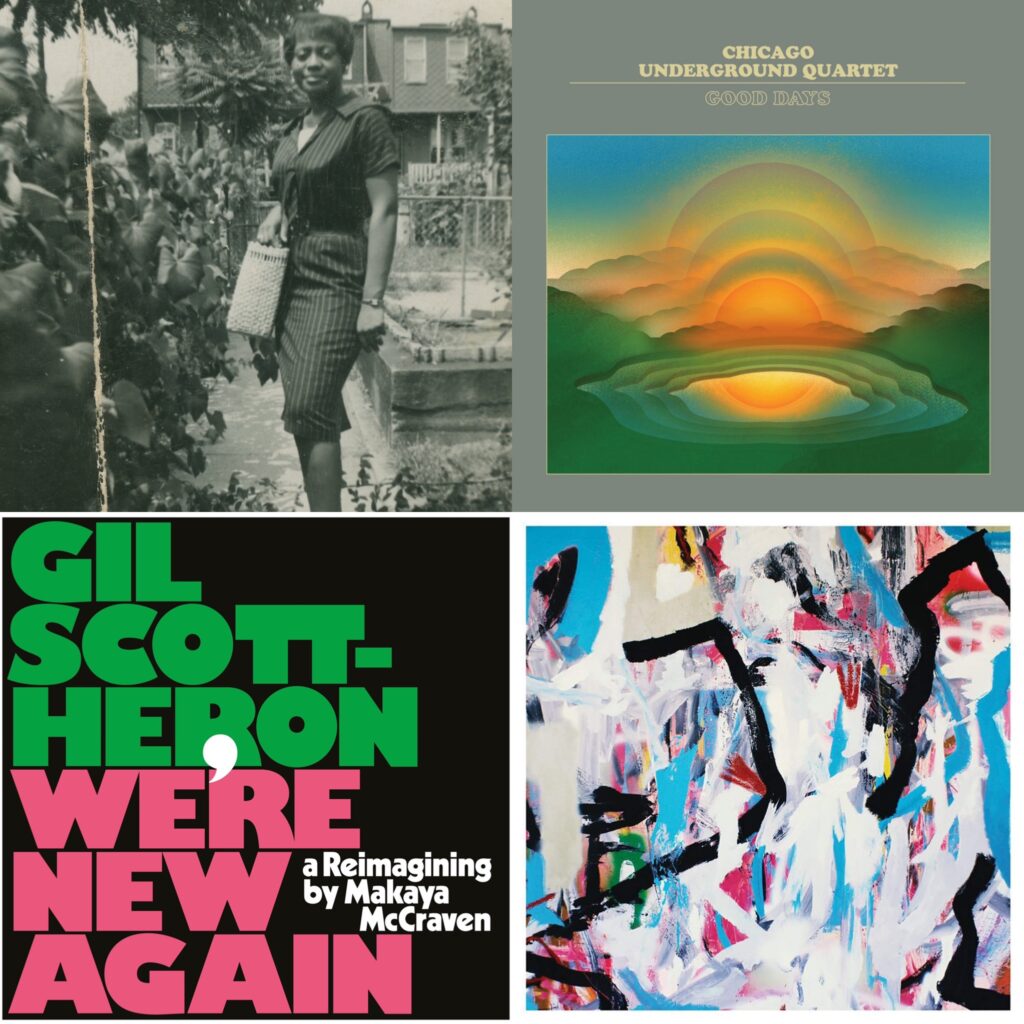 Jeff Parker :: Suite for Max Brown (International Anthem/Nonesuch)
Amidst a busy year contributing to a variety of releases, the ever-prolific Jeff Parker released perhaps his finest solo record to date in the towering Suite For Max Brown. Made in tribute to Parker's mother, the record continues to build on the innovative direction of 2016's The New Breed. Back with many of the same musicians (as well as more vocal contributions from Parker's daughter Ruby), the swirling record includes tributes to Coltrane and Henderson amidst refreshing original compositions channeling jazz fusion grooves, looped samples and an overriding blend of hip hop-inspired production methods. (Bandcamp)
Chicago Underground Quartet :: Good Days (Astral Spirits)
Another phenomenal album from the Chicago Underground jazz collective, spearheaded by Rob Mazurek and Chad Taylor. More commonly taking forms as the Duo or Trio, original guitarist Jeff Parker returns, and Josh Johnson (a member of Parker's New Breed band) rounds out the quartet on bass and piano. (Bandcamp)
Gil Scott-Heron & Makaya McCraven :: We're New Again: A Reimagining by Makaya McCraven (XL)
Composer and drummer Makaya McCraven reshapes the late Gil Scott-Heron's sparse and masterful 2010 lp I'm New Here, widening its edges, adding washes of melody and texture, but always foregrounding Scott-Heron's raw voice and words.
Rob Mazurek & Exploding Star Orchestra :: Dimensional Stardust (International Anthem)
Sprawling galactic jazz from the Marfa, Texas-via Chicago science fiction trumpeter and bandleader. A metaphysical transmission from deep inner space. (Bandcamp)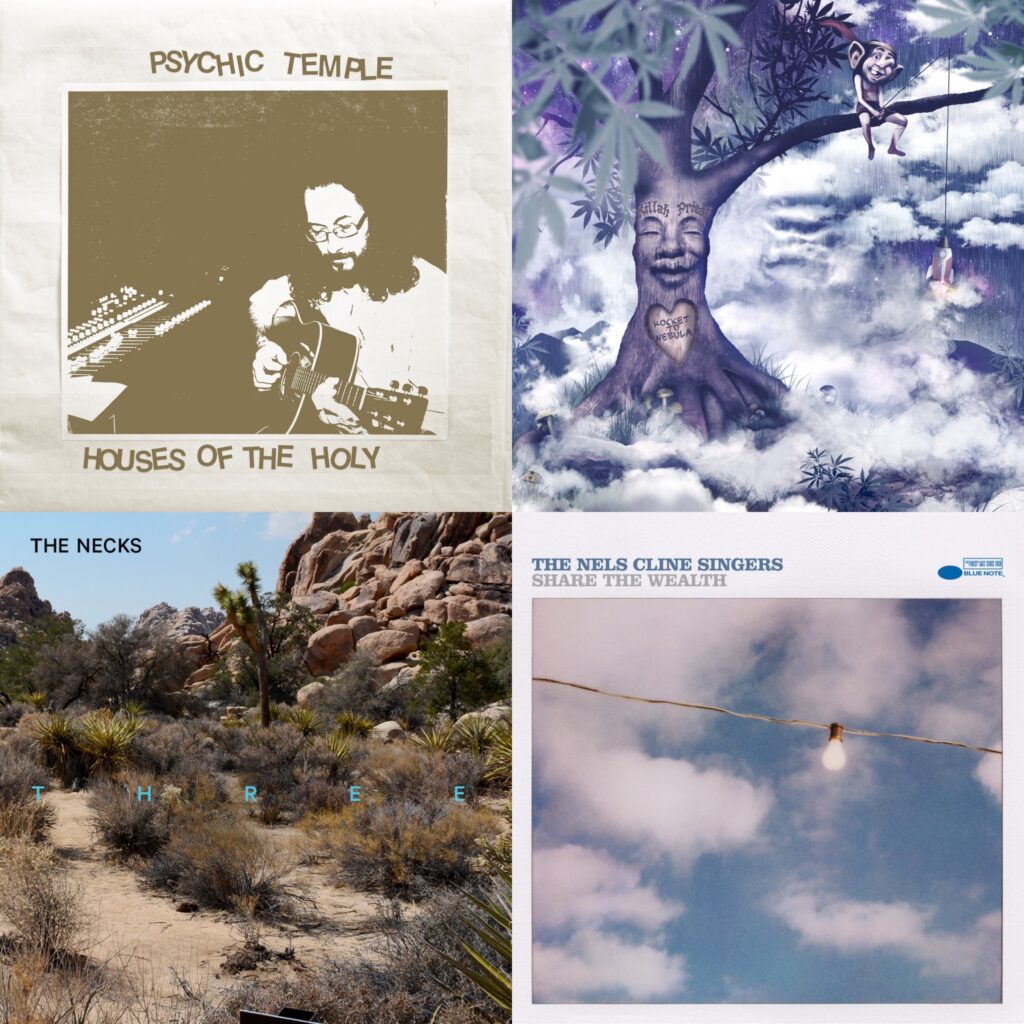 Psychic Temple :: Houses of the Holy (Joyful Noise)
While Chris Schlarb's project has established an ethos of the musician and producer maestro gathering a diverse group of musicians together, Houses of the Holy takes it to another level. The sprawling double album features four genre-hopping artists as backing bands on each of the LP's four sides: Cherry Glazerr, the Chicago Underground Trio, the Dream Syndicate and Xololanxinxo. Augmenting the kaleidoscopic tracks are subtle bits of intimate recordings—from studio banter to a child's voice playfully singing along to a refrain. (Bandcamp)
Killah Priest :: Rocket to Nebula (Proverb)
A metaphysical collage of sci-fi sound, spoken word, and screwy samples, with Wu-Tang affiliate Priest in meditative spoken word mode: "There are hallucinogenic frontiers/Only mystics come here." (Bandcamp)
The Necks :: Three (Northern Spy)
The core of The Necks' 30-year career is patience. They make static music feel so immensely charged and full of potential, but it's in the space between raucous improvisation and ethereal noodling where their most compelling work surfaces. Three is a trinity of jazz-tinged organic movements that circulate and evolve like a life-cycle; ample percussive sounds sing like cicadas, an upright bass hums like a tectonic plate, meandering piano lines hover and dissipate like rain clouds. (Bandcamp)
Nels Cline Singers :: Share the Wealth (Blue Note)
Especially tasty stuff from the reliably spirited Cline along with punk-jazz saxophonist Sherik, avant-metal-jazz bassist Trevor Dunn on bass, keyboardist Brian Marsella, drummer Scott Amendola, and Brazilian percussionist Cyro Baptista. Fluid drones, far out solos, and telepathically-locked rhythms. (Bandcamp)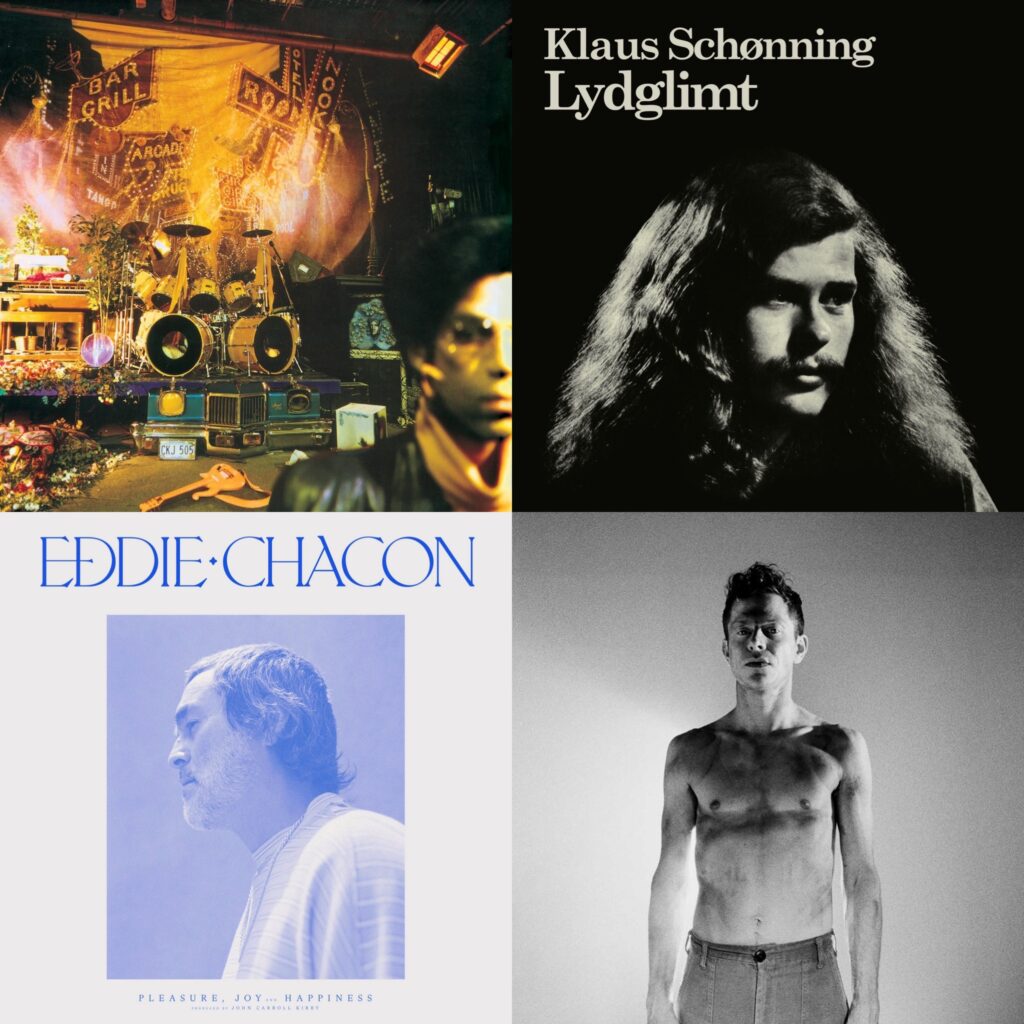 Prince :: Sign O' The Times (Super Deluxe) (Rhino)
Prince's 1987 sprawling magnum opus gets even more sprawling with the release of this eight-disc doorstop. Too much of a good thing? U must B crazy. The quality level of the three discs of outtakes presented here is nothing short of astonishing, showcasing Prince in his imperial phase where he could spend one cosmic day in the studio and come away with (at least) three killer tracks. The live show that caps the set off is a delight, too.
Klaus Schønning :: Lydglimt (Frederiksberg)
Rustling wind. Ambient bird calls. Serpentine Hohner Clavinet funk. Originally released in Copenhagen in the winter of 1979, Klaus Schønning's Lydglimt is a taut embrace of ice cold synths and a Teac 4-track recorder. All propers to the artist for making ornithology infused Danish funk a thing. (Bandcamp)
Eddie Chacon :: Pleasure, Joy and Happiness (Day End)
Eddie Chacon's reemergence in the pop limelight was a welcome surprise in a year full of them. As one-half of Charles & Eddie, his hitmaking pedigree is undisputed, while his style and gravitas are inimitable. On Pleasure, Joy and Happiness, Chacon smoothly churns through a woozy mix of late night neo-pop that's brought to life by the production work of Solange and Frank Ocean-collaborator John Carroll Kirby. Together they ooze cool and sound effortless. (Bandcamp)
Perfume Genius :: Set My Heart on Fire Immediately (Matador)
Balancing bravado and tenderness, spareness and lushness, Mike Hadreas' fifth album as Perfume Genius is the synth-dappled art-rock record Springsteen never made. (Bandcamp)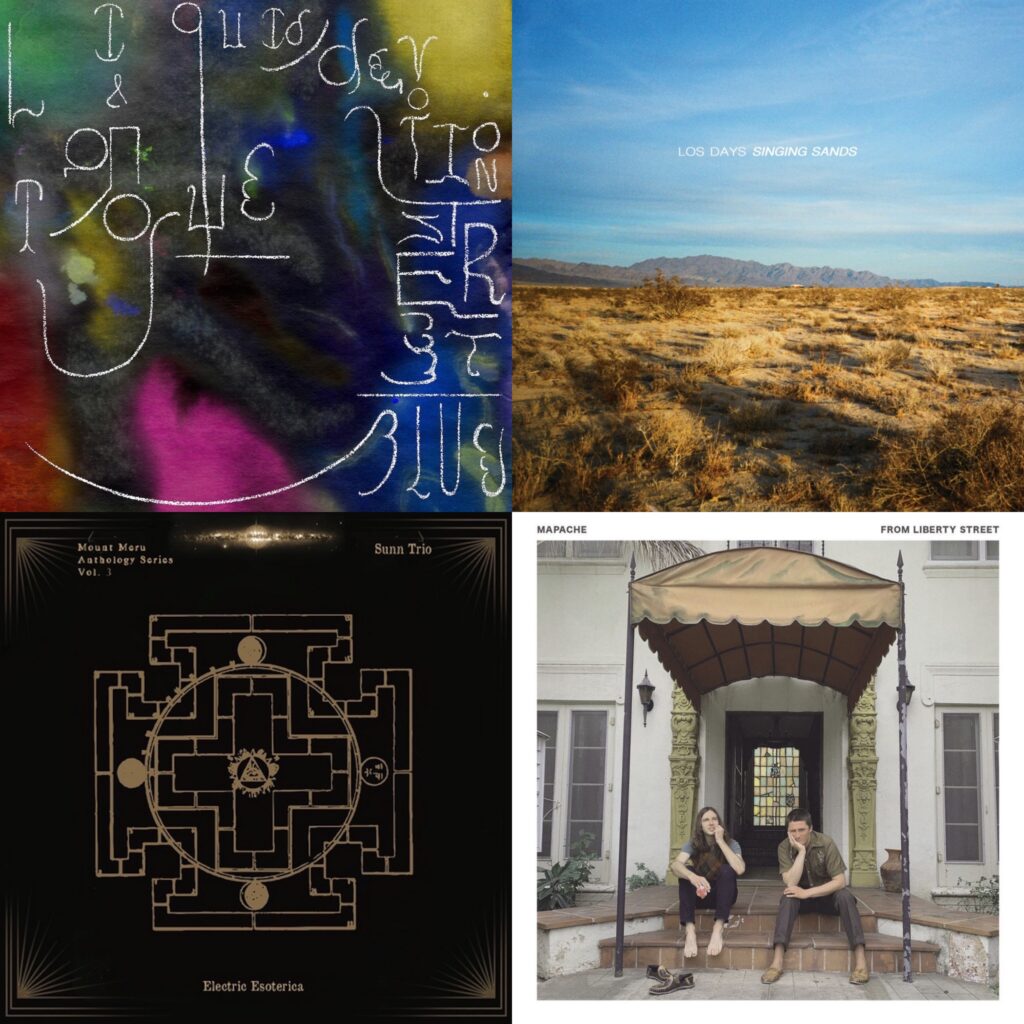 Josiah Steinbrick :: Liquid/Devotion & Tongue Street Blue (Hands in the Dark)
The wonderfully beguiling sophomore solo effort from the Los Angeles-based multi-instrumentalist, composer, and producer. Moving beyond the avant-minimal assemblage of his debut, Liquid/Devotion finds Steinbrick in an animated Fourth World paradise where borders fall apart and pulsing synths coexist with hypnotic percussion and slinking bass lines. A bold and captivating leap forward from an unbridled talent. (Bandamp)
Los Days :: Singing Sands (Too Good)
The vast desert imagery in and around Joshua Tree National Park is one that tends to captivate both visitors and gawkers from afar. Equipped with just a few guitars, the musician duo Tommy Guerrero and Josh Lippi went straight to the source, and the desert informs their dusty jams. (Bandcamp)
Sunn Trio :: Electric Esoterica (2182)
From one desert (the Sonoran) to another (the Saharan). Avant-punks Sunn Trio have been bubbling underground for years, but each new record sees Joel Robinson's heat vision songcraft intensify. His oud, shredded electric guitar, and shortwave radio bursts glimmering in the distance like a heat mirage that turns out to be real. (Bandcamp)
Mapache :: From Liberty Street (Yep Roc)
Mapache—the California country duo of Sam Blasucci and Clay Finch—follow up their 2017 self-titled debut with a warm, pacific breezed collection of country rock, western twang, Mexican boleros, and a touch of that Gram Parsons cosmic Americana fairy dust. On "Coyote," the album's most tender and earnest track, they conjure a lonesome cowboy campfire blues, echoing forlornly into the dark and endless desert. (Bandcamp)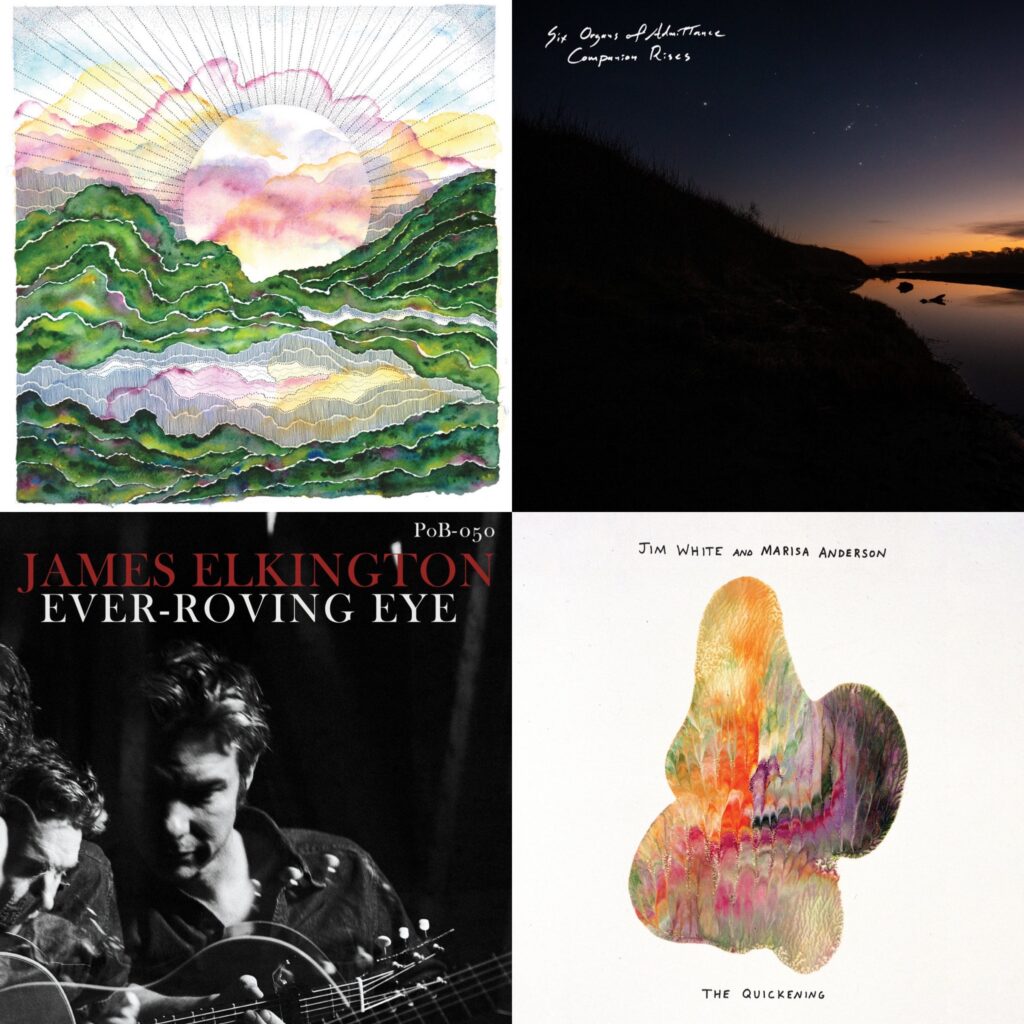 Powers / Rolin Duo :: Powers/Rolin Duo (Feeding Tube)
Powers/Rolin Duo's self-titled lp features Jen Powers' hammered dulcimer — a rippling, reverberant sound, something both minimal and expansive. She's accompanied by the expert 12-string guitar stylings of Matthew J. Rolin (whose 2019 solo release, also on Feeding Tube, is highly recommended), bringing a welcome touch of the Robbie Basho sublime to the proceedings. (Bandcamp)
Six Organs of Admittance :: Companion Rises (Drag City)
Ben Chasny sits on the porch looking at the stars in his latest Six Organs opus, which sets off cosmic explosions of electrified energy amid homey bouts of picking. "The Scout Is Here" blasts laser beams of fuzz and noise through the jangle of acoustic picking, finding sci-fi infinities inside blues folk melodies. "It's here, it's here, it's here," croons Chasny in rising excitement, as a comet's light turns an ordinary country evening into something magical and strange. (Bandcamp)
James Elkington :: Ever-Roving Eye (Paradise of Bachelors)
The much in demand sideman (Jeff Tweedy, Spencer Tweedy, Richard Thompson) settles into a warm groove of his own here, though his agile playing, folk-spliced-with-jazz melodies and loose-limbed willingness to experiment will call Pentangle to mind. If you want proof of the guitar slinger credentials that make him nearly ubiquitous in indie rock, stay tuned for the break in "Ever-Roving Eye." It's a ripper. (Bandcamp)
Jim White/Marisa Anderson :: The Quickening (Thrill Jockey)
Transfixing drum and guitar duets from two masters. Shades of ambient western and freeform improv. A total mindmeld of creative energy, sometimes you can't tell where the drums stop and the washes of electric guitar and acoustic guitar begin. (Bandcamp)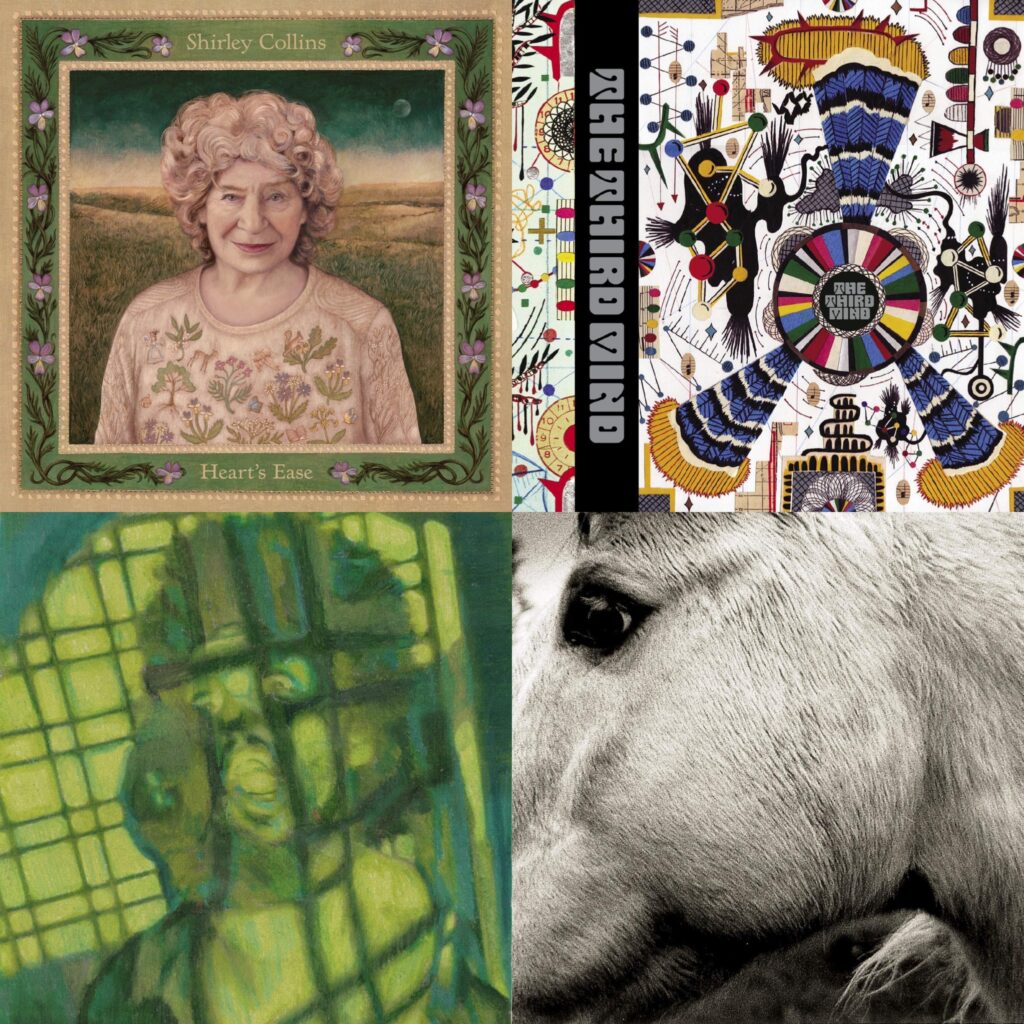 Shirley Collins :: Heart's Ease (Domino)
Praise the lord, we're in the midst of a late-career renaissance for the legendary Shirley Collins. In 2016, she released Lodestar, which showed her vocals deepened with age, but just as powerful. And this year, she released Heart's Ease, which might be even better, a masterful collection made up of age-old folk songs that, in Collins' hands, sound as fresh and relevant as ever. (Bandcamp)
The Third Mind :: The Third Mind (Yep Roc)
Genuinely far-out psychedelia—and a killer Alice Coltrane cover—from Dave Alvin of the Blasters, who calls in a set of players known for backing up Richard Thompson and John Cale, and guitarist/vocalist Jesse Sykes, known for her cryptic country psych records with the Sweet Hereafter. (Bandcamp)
Yves Jarvis :: Sundry Rock Song Stock (ANTI)
Jarvis' idiosyncratic melodies and skewed vocal explorations shine on his best album yet, a verdant smear of AM Gold harmonies, futurist pop loops, and stoned wisdom. (Bandcamp)
Bonny Light Horseman :: Bonny Light Horseman (37d03d)
A "supergroup" comprised of Fruit Bats singer Eric D. Johnson, multi-instrumentalist/gun for hire Josh Kaufman, and singer-songwriter Anaïs Mitchell put a new sheen to olden folk favorites… and, wow, the results are quite stunning. It's one to have on when you need to feel whole again. (Bandcamp)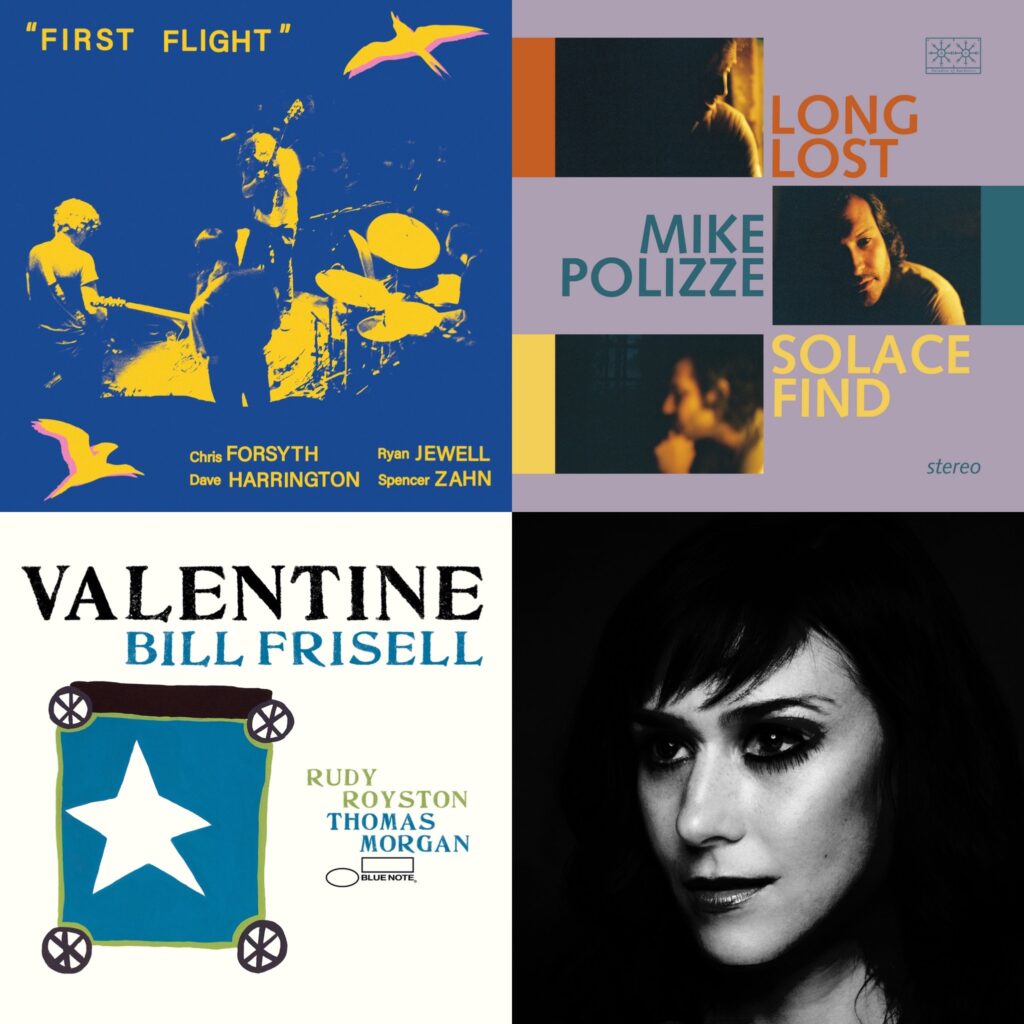 Chris Forsyth / Dave Harrington / Ryan Jewell / Spencer Zahn :: First Flight
An incredible 2019 live recording of Chris Forsyth and Dave Harrington jamming their way to glory, backed up by the interstellar rhythm section of Ryan Jewell and Spencer Zahn. Two improvised excursions on First Flight are absolutely thrilling examples of high-wire musical daredevilry. (Bandcamp)
Mike Polizze :: Long Lost Solace Find (Paradise of Bachelors)
Mike Polizze turns the temperature way down for this gentle folk country record, bringing in fellow Philadelphian Kurt Vile for laid back assistance. But though there are none of the scorching guitar pyrotechnics we've come to expect from Purling Hiss, this sleepy, sun-drenched album has its own charm The songs don't jump out immediately, but rather nestle slyly in your cortex, leaving traces of calm that linger. (Bandcamp)
Bill Frisell :: Valentine (Blue Note)
A powerful set of compositions and covers by Frisell at his most dialed in, backed by bassist Thomas Morgan and drummer Rudy Royston. Frisell remains, album after album, totally in it.
Noveller :: Arrow (Ba Da Bing)
Known for her work with Iggy Pop and Radiolab, Sarah Lipstate processes, tweaks, and bends her electric guitar via an expansive pedalboard. But trickery minus spirit ain't shit and Arrow is the shit, blooming especially on the Frippy "Canyons" and the horror soundtrack "Thorns." (Bandcamp)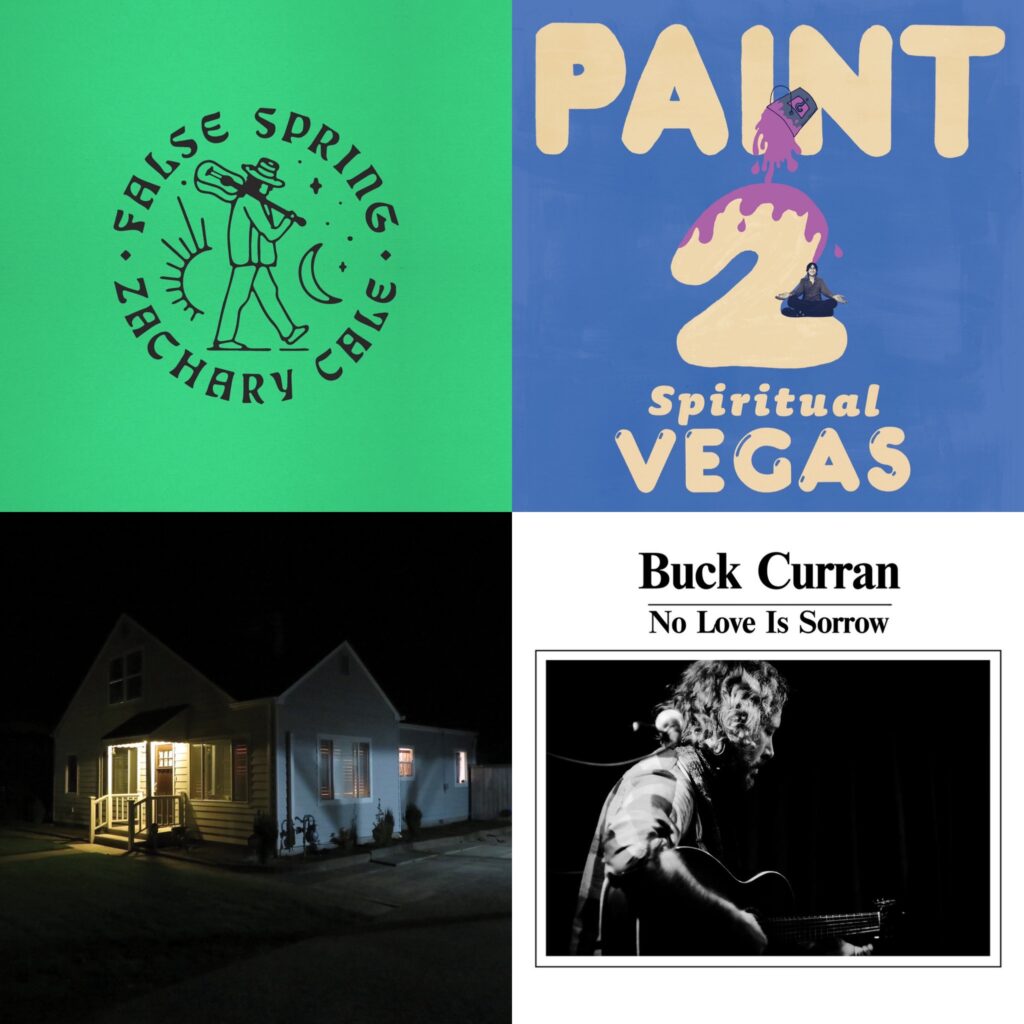 Zachary Cale :: False Spring (All Hands Electric)
It's been almost five years since Zachary Cale's last full-length, but he made up for lost time with this new double LP. It's the songwriter's best effort yet, understated yet ambitious, polished but never slick, as Cale depicts a chaotic world, confusion around every corner, apocalypse on the horizon. False Spring doesn't invite the listener to wallow in despair, though. Instead, it lifts your spirits, all the while acknowledging the encroaching darkness. (Bandcamp)
PAINT :: Spiritual Vegas (Mexican Summer)
The second solo release from Pedrum Siadtian of Allah-Las, Spiritual Vegas builds brilliantly on the eponymous debut album. Expanding with fuller, "mid-fi" production this time around, the songwriting evokes the spirit of Kevin Ayers, but Siadtian's vision is fully seen through in all of the different components, from eerie instrumentals to an homage to his Middle Eastern heritage on "Ta Fardah" (sung in Farsi). (Bandcamp)
Damien Jurado :: What's New Tomboy (Mama Bird)
No one goes back to basics better than Jurado, now firmly back in stripped-down, guitar and voice mode after a decade-long sojourn in psychedelic Mariqopa with Richard Swift). But what a voice, beautifully weathered, fluttering up and down the scales with unconscious ease, residing comfortably within inches of your ear. (Bandcamp)
Buck Curran :: No Love In Sorrow (Obsolete)
From Italy with love, this set of gorgeous acoustic and electric guitar pieces from inspired guitarist Buck Curran, who channels mystic folk and psychedelic presence. (Bandcamp)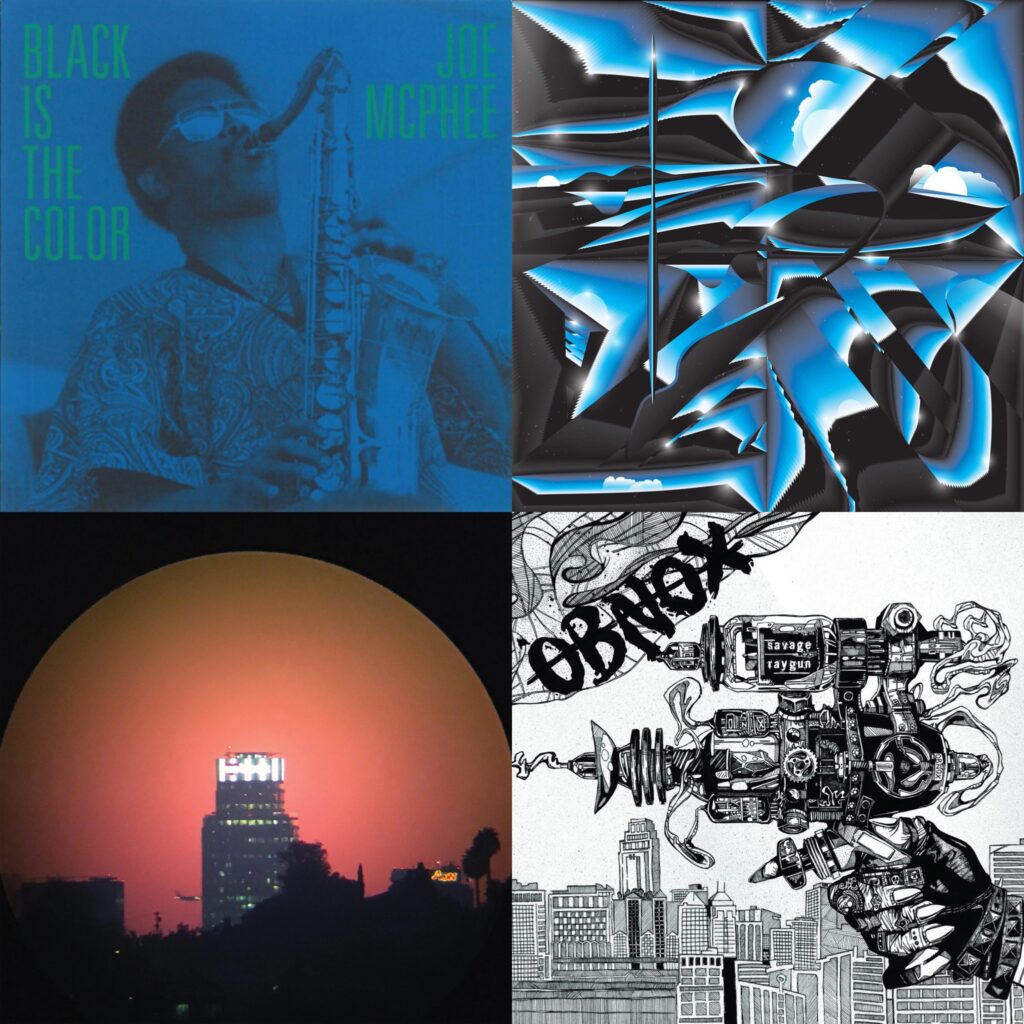 Joe McPhee :: Black Is The Color: Live in Poughkeepsie and New Windsor, 1969-70 (Corbett vs. Dempsey)
It's Nation Time—again! This kickass double-disc set brings together three separate sessions from the same time period as McPhee's epochal free-funk-jazz masterpiece from 1970. Some of it gets way out in a late-era Coltrane fashion; some of it stays soulful and bluesy—one of the sets was recorded live at an outdoor BBQ, after all.
Osees :: Protean Threat/Panther Rotate (Castleface)
John Dwyer's long-running, shape-shifting, name-changing outfit has evolved from a good-time noise-pop-garage band to an open-ended psychedelic drone-merchant in recent years, but Protean Threat has a little for both early and latter day fans. But Panther Rotate, a sort of re-mix record of Protean Threat featuring field recordings and a more experimental sonic approach, stands out for more than just its novelty. Its amorphous and somewhat largely instrumental canvas of pastoral psych and jazzed-out krautrock is a refreshingly loose, but potently inventive listen from a band closing in on three decades of music. (Bandcamp)
Bent Arcana :: Bent Arcana (Castleface)
Oh Sees' John Dwyer's endless list of projects has gained a new entry, the free-form, krauty jam supergroup Bent Arcana, and through the LSD-fried improvisations with some heady zone scenesters (members of TV on the Radio, Sunwatchers, Thurston Moore, etc.), Dwyer has compiled perhaps his most engrossing and indulgent body of work yet. Dwyer's more recent efforts ring more true to Amon Düül II; Bent Arcana feels like it's a bootlegged bonus LP on an unreleased Brown Acid comp. (Bandcamp)
Obnox :: Savage Raygun (Ever/Never)
A raw and blistering summation of Black styles, from punk to jazz to psychedelic soul to hip-hop, Obnox's Savage Raygun rumbles with thunder from a storm that's coming. These tracks are crusted with fuzz and distortion, offering oblique, smoke-furled visions of urban dystopias. (Bandcamp)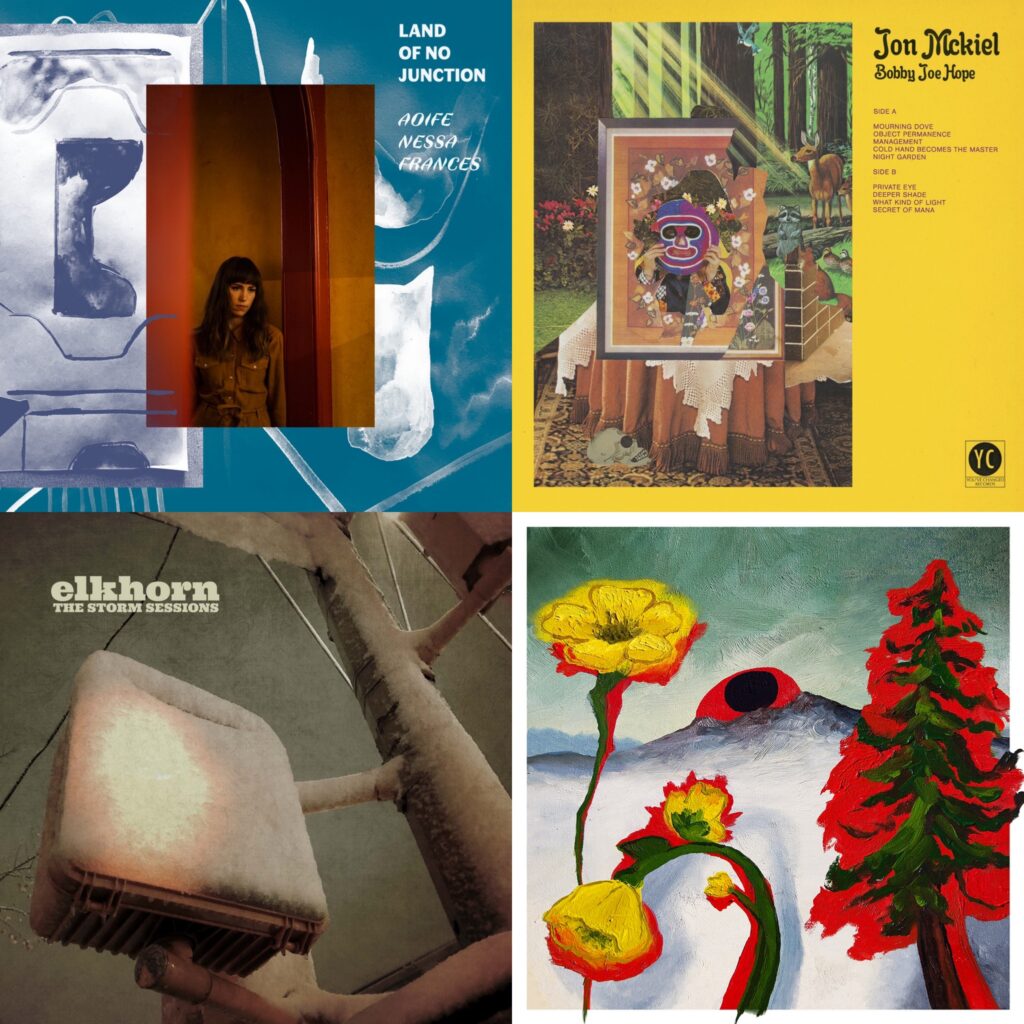 Aoife Nessa Frances :: Land of No Junction (Ba Da Bing)
Land of No Junction is Aoife Nessa Frances' debut long-player, but it feels remarkably assured and fully formed. Co-produced by the great Cian Nugent, the album's softly psychedelic sound (fluttering mellotrons, dreamlike string arrangements, misty/mystical guitars) provides the perfect backdrop for Frances' gorgeous melodies, quizzical lyrics and free-floating vocals. (Bandcamp)
Jon McKiel :: Bobby Joe Hope (You've Changed)
A beautiful record of one of the most peculiar collaborations: a musician and a mysterious reel-to-reel tape recorder. Filled with an unknown library of pre-recorded musical samples, McKiel used the material (in conjunction with his own) to craft a wildly hypnotic collection of songs. While the backstory is noteworthy, the end results of McKiel's experiment are full of enriching, occasionally dark tracks that live and breathe all in their own headspace. (Bandcamp)
Elkhorn :: The Storm Sessions (Beyond Beyond is Beyond)
Recorded over one long snowbound winter evening, Elkhorn's post-Takoma School guitar tangles warm the place up, bolstered by guest Turner Williams on bouzouki and shahi baaja. (Bandcamp)
Woods :: Strange to Explain (Woodsist)
Almost a dozen albums into their wild sound explorations—Woods returned in 2020 with another collection of psych-tinged folk that sounds fresh, focused, and revitalized. Strange To Explain finds Jeremy Earl and Jarvis Taveniere reaching into new corners of their musical palette. The melodic nature of their music always sounds familiar to those who love their output but here they've followed the trail to a new view. (Bandcamp)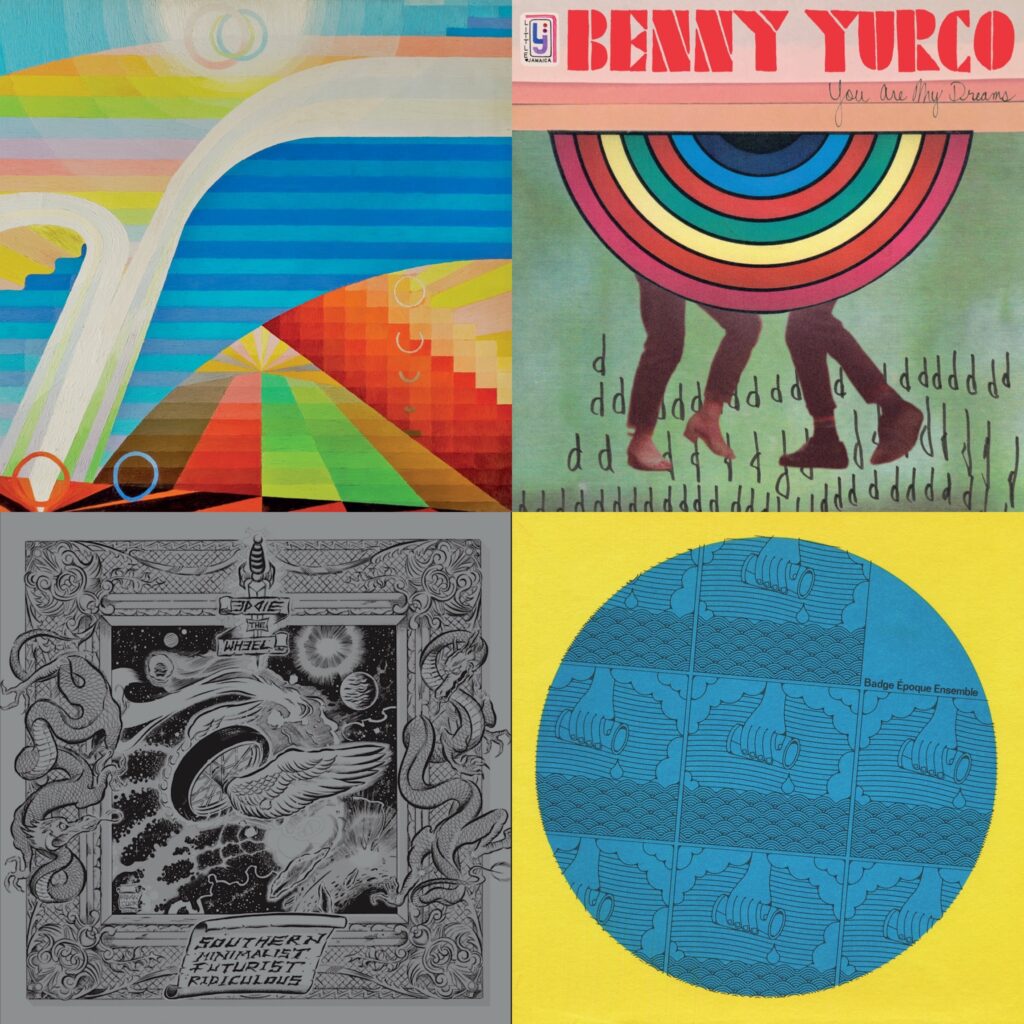 Greg Foat :: Symphony Pacifique (Strut)
Symphony Pacifique beautifully navigates an ambitious variety of sounds, from vibrant library music to rare groove to motorik-induced bliss. (Bandcamp)
Benny Yurco :: You Are My Dreams (Little Jamaica/People In A Position To Know)
The strange and alluring sonic world of Burlington, Vermont's Benny Yurco comes to life on his sophomore long player, You Are My Dreams, a work that finds the artist brimming with curiosities. Deranged and dubbed out bedroom cantina vibes abound, with a free-flowing and rhythmic intuition leading the listener on a trail thick with dewy moss and faded exotica. In Yurco's world, it's sundown all day long. (Bandcamp)
Eddie the Wheel :: Southern Minimalist Futurist Ridiculous (Vibe/Anti-Vibe)
When Georgia's Eddie Whelan dropped "Number One," the long-lead single to his first proper release in nine years, it was a welcome return to his synth-laden, driving post-punk. That single would soon become a quarantine companion for those particular moments of needing to let loose and properly freak out for a victorious spell. It's the cherry atop a record that oozes in swaths of lo-fi pop, industrial dissonance, and hypnotic gauzy bliss.
Badge Époque Ensemble :: Self-Help (Telephone Explosion)
Badge Époque Ensemble is the tireless, stargazing project of Toronto's Maximillian Turnbull. On Self-Help, the outfit is joined by guest vocalists such as Meg Remy and Jennifer Castle for a heady brew of lysergic neo-soul, spiritual jazz funk, cosmic R&B, and moody Angelo Badalamenti chamber vibes. (Bandcamp)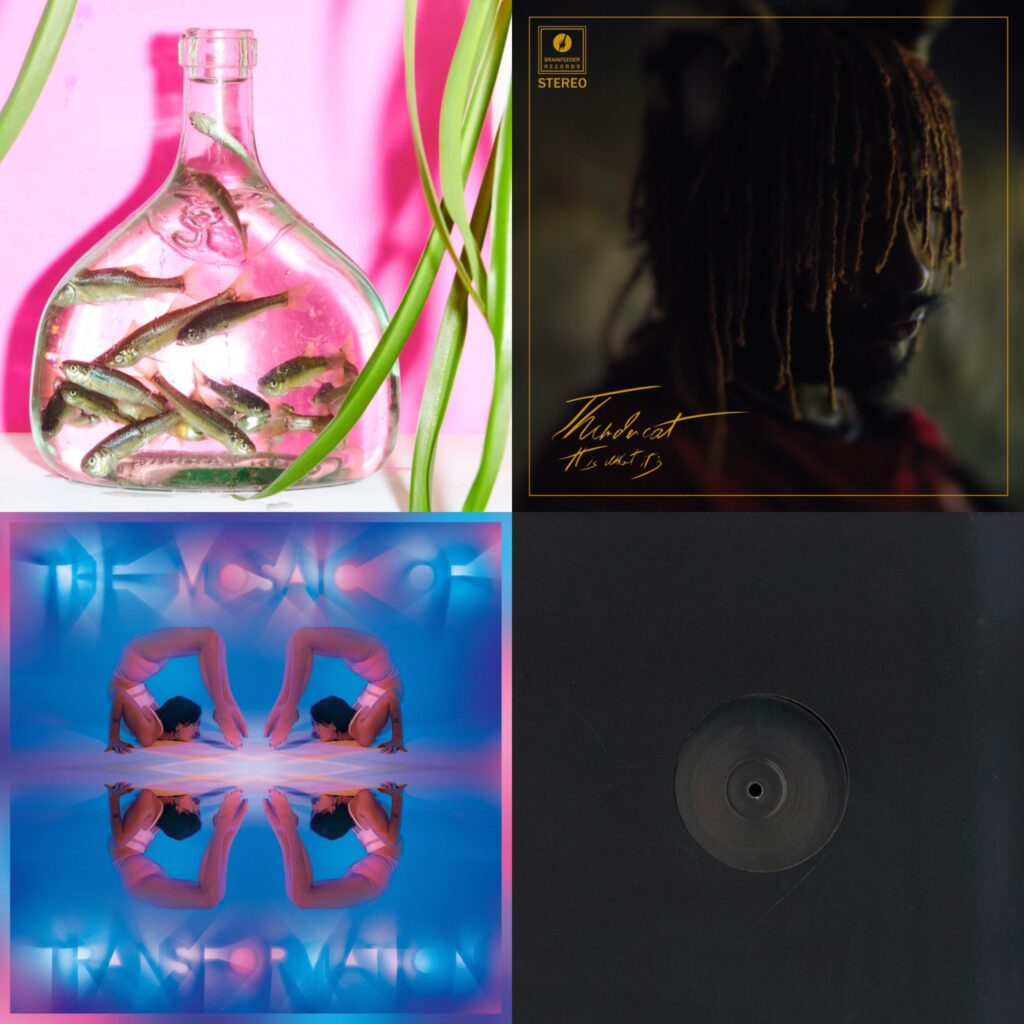 Flock of Dimes :: Like So Much Desire (Sub Pop)
Alongside her work in Wye Oak and Bon Iver, Jenn Wasner records under the Flock of Dimes project name. This year, her solo ep hit right as the pandemic had us considering our relationship to ourselves and others. Her progressive pop intracity fit the moment, feeling both alien and familiar. (Bandcamp)
Thundercat :: It is What it Is (Brainfeeder)
Stephen Bruner's latest bass odyssey delves into loss and mortality, but that doesn't mean Thundercat has gotten entirely serious. Songs like "Dragonball Durag" and "Funny Thing" balance out the heaviness of songs that find him looking inward with a cast of space cadet funkers in tow. (Bandcamp)
Kaitlyn Aurelia Smith :: The Mosaic of Transformation (Ghostly)
With her Buchla synth, KAS makes enveloping New Age music. But her latest takes things in an even more holistic manner, sequenced to body movements like a sonic yoga session. (Bandcamp)
Thom Yorke/Burial/Four Tet: Her Revolution/His Rope (XL)
A late year surprise! Subterranean grooves, sampled sitar, and ever-entrancing vocals by Yorke have us hoping this combination of three electronic stars isn't a one-off.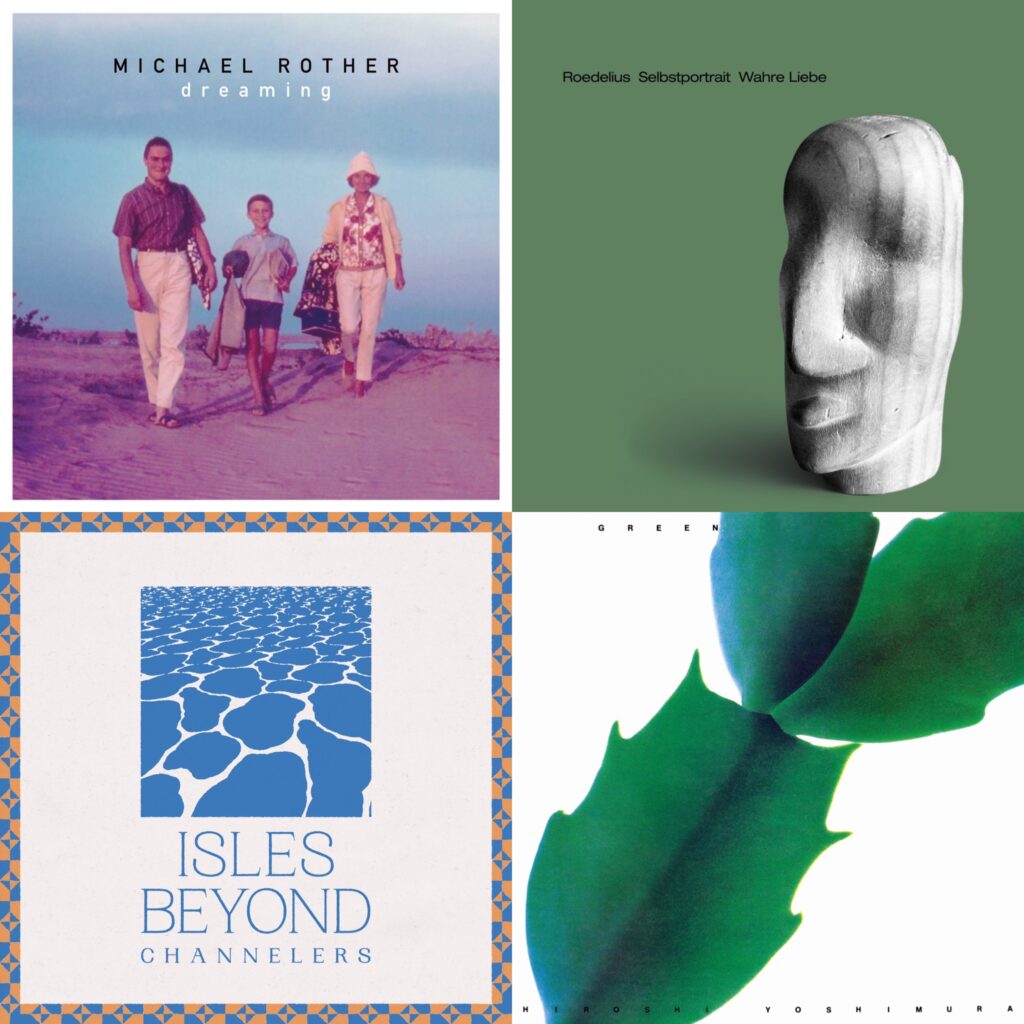 Michael Rother :: Dreaming (Grönland)
Like Rother, the songs on Dreaming are always moving forward. These massive, surface to stratosphere jams find the krautrock legend deftly updating his classic sound in emphatic and refreshing fashion.
Roedelius :: Selbstportrait Wahre Liebe (Bureau B)
Returning to his self-portrait mode, kosmische legend Hans-Joachim Roedelius coaxes nostalgia and contentment out of his Farfisa. (Bandcamp)
Channelers :: Isles Beyond (Inner Islands)
Isles Beyond has a deliciously Popol Vuh-ish flavor, with gentle piano, drifting dulcimers, mystical guitars all adding up to a very beautiful, very meditative listen. Some moments get lush and pastoral, while others maintain a minimalist vibe. (Bandcamp)
Hiroshi Yoshimura :: GREEN (Light in the Attic)
For fans of the "Japanese ambient" genre, 2020 will be marked as the year Hiroshi Yoshimura's masterwork finally saw a reissue. Exploding in popularity in recent years thanks to YouTube and its algorithm, 1986's GREEN, with its babbling and cyclical synthesizers, is environmental music at its finest. Not unlike the healing therapeutic digital landscapes Beverly Glenn-Copeland conjured the same year with Keyboard Fantasies, Yoshimura emulates the patient rhythms of the natural world, and even a passive listen of GREEN can clear the mind's cloudiest skies. (Bandcamp)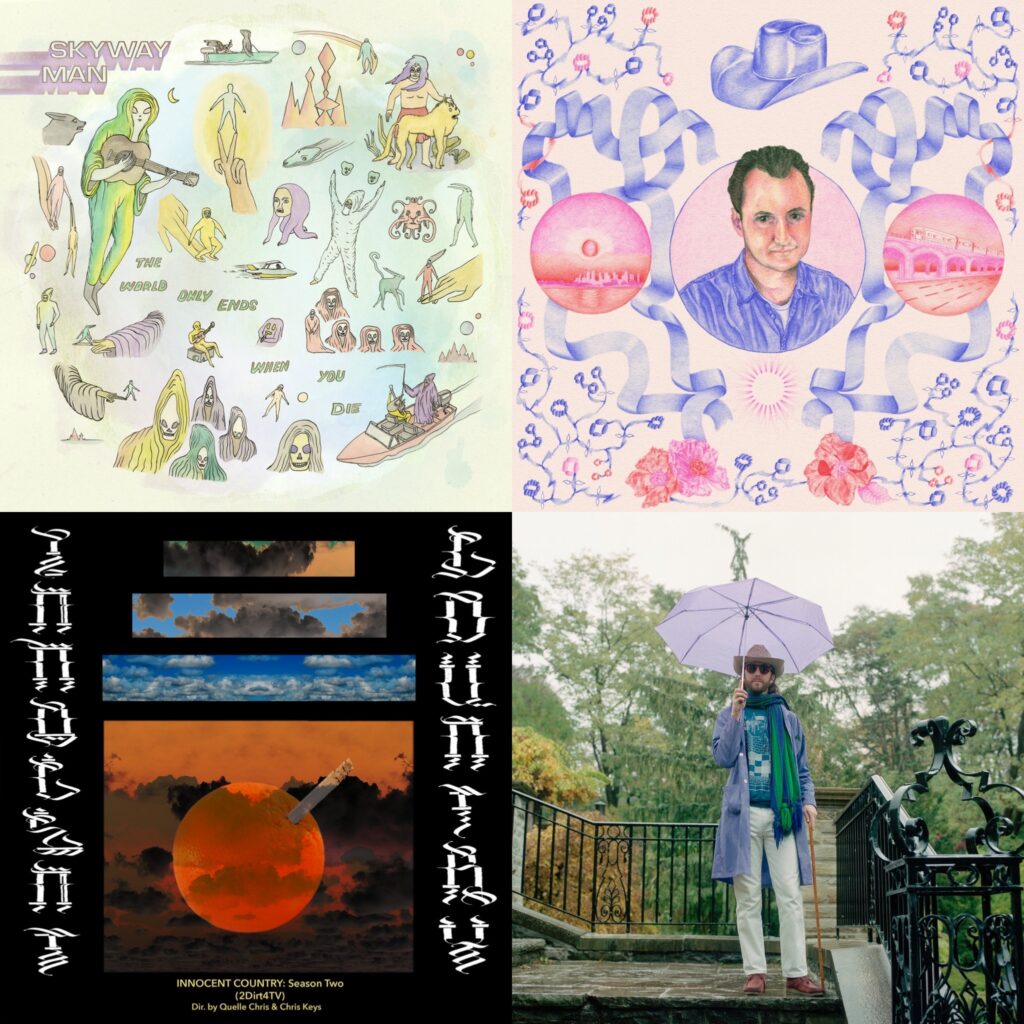 Skyway Man :: The World Only Ends When You Die (Mama Bird)
The latest from Skyway Man is a seriously righteous affair—sparkling with bursts of Jupiter-sized grooves and interstellar background harmonies. It feels like a night at Mos Eisley cantina or maybe the Little A'Le'Inn, with everyone's favorite AM philosopher holding court on some of life's greatest mysteries, his duct-taped spaceship idling in the parking lot. (Bandcamp)
Dougie Poole :: Freelancer's Blues (Wharf Cat)
The Freelancer's Blues sounds like a slightly warped, 80s private press cassette tape you might find at an estate sale in Berry Hill, TN, but with songs written from a witty, millennial POV (i.e. "Vaping on the Job"). "Buddhist for A Couple Days" could be the comedown sequel to Natural Child's "Transcendental Meditation," and the Dolly-fied groove on "Los Angeles" is one of the best we've heard in a while. (Bandcamp)
Quelle Chris :: Innocent Country 2 (Mello Music Group)
We first heard this transcendent album via a viral dance video on Anderson .Paak's Instagram earlier this year. These are soulful, psychedelic and clairvoyant hip-hop transmissions. As the description reads, "A hopeful record in a hopeless moment, precisely when it's needed most." (Bandcamp)
Matthew 'Doc' Dunn :: Rain, Rain, Rain (Cosmic Range)
Yet another tireless Ontario-based project is that of the cosmic-country troubadour Matthew "Doc" Dunn, leader of the mighty Cosmic Range. Never one for resting on his laurels, Dunn's spiritual and free-flowing country rock is big-hearted and awestruck, and this year's soulful long player is yet another notch on the proverbial belt of one of the best we've got going. (Bandcamp)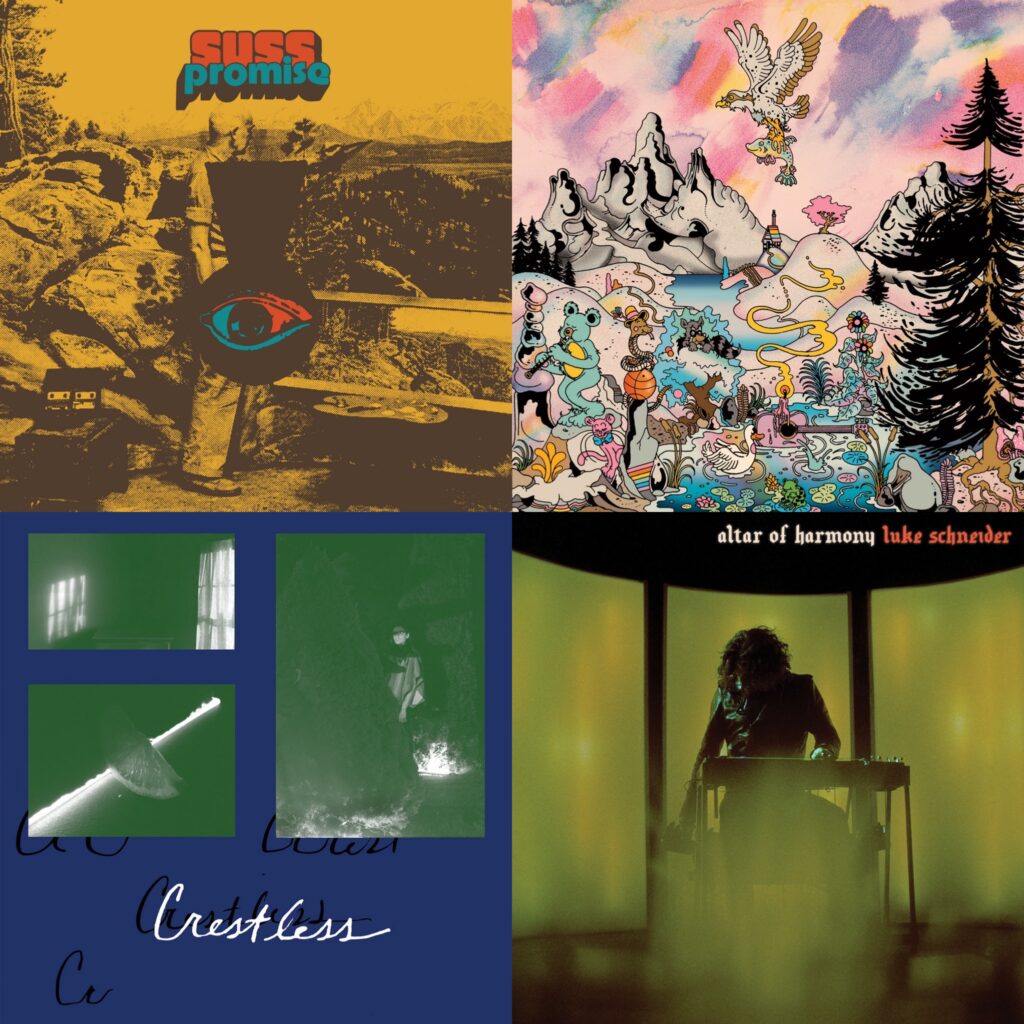 SUSS :: Promise (Northern Spy)
NYC-based quartet Suss continue to refine their slow drifting and expansive landscape ambience on their third album, Promise. Guitar, pedal steel, harmonica, and harmonium intertwine to create a Western ambient twang, but one that ventures beyond its own horizons into rugged synth terrains and electronic string dirges. A meditative, but adventurously immersive listen. (Bandcamp)
North Americans :: Roped In (Third Man)
Having expanded the project to include Portland pedal steel wizard Barry Walker, Patrick McDermott's North Americans follows up 2018's meditative breakthrough Going Steady with a more than worthy spiritual successor. Walker's celestial steel floats above McDermott's steady strum and fingerpicked constellations, while Mary Lattimore adds her twinkling harp to "Furniture in the Valley" and "Run Down," and William Tyler's six string orbits four songs. Focused but unhurried, Roped In is a deep addition to the ever-expanding cosmic pedal steel galaxy. (Bandcamp)
Lemon Quartet :: Crestless
Emanating from the same enigmatic universe as the Aqueduct Ensemble and G.S. Schray, Lemon Quartet deliver ambient jazz mood music in the best sense, filled with drifting melodies and just enough rhythmic pulse to keep things interesting and moving forward. Beautiful and strange, strangely beautiful. (Bandcamp)
Luke Schneider :: Altar of Harmony (Third Man)
Armed with only his 1967 Emmons Push/Pull pedal steel guitar, the Nashville session musician and sideman brilliantly folds together two disparate ends of the musical spectrum, forcing Music City to take a rare look inside itself. Recasting country music's showcase instrument as a provider of towering drones and spectral peels, Schneider's version of New Age music provides not simply the means for easy escape, but rather a path for those willing to put in the difficult work on the journey of emotional transcendence. Harold Budd by way of Pete Drake. (Bandcamp)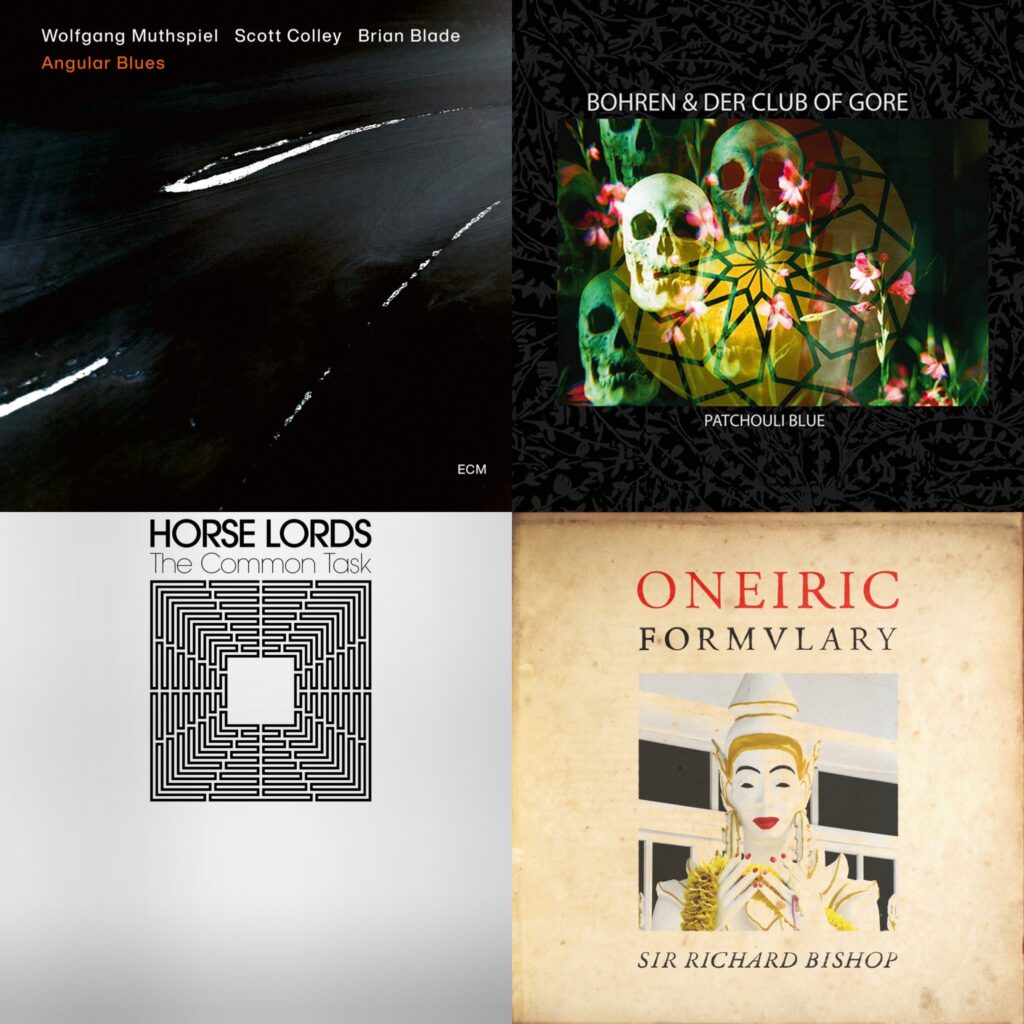 Wolfgang Muthspiel :: Angular Blues (ECM)
Backed by bassist Scott Colley and visionary drummer Brian Blade, Austrian guitarist leads his trio through standards and patient originals and offers a solo showcase—"Solo Canon in 5/4"—that showcases his mellow soulfulness.
Bohren & Der Club of Gore :: Patchouli Blue (Ipecac)
German ambient jazz trio offer up another set of slowcore Badalamenti noir heaviness, populating a spooky late night scene with organ, sax, simmering cymbal work and Fender Rhodes.
Horse Lords :: The Common Task (Northern Spy)
Not so common, a brain-bending combo of riffs, shifting rhythms, Krautrock pulses, and mathy juxtaposition. (Bandcamp)
Sir Richard Bishop :: Oneric Formulary (Drag City)
You can't box a Bishop in! From drones to Musique concrète to playful acoustic reveries, it's another winner from the reliably strange from everyone's favorite antiquarian bookseller-cum-guitar slinger. (Bandcamp)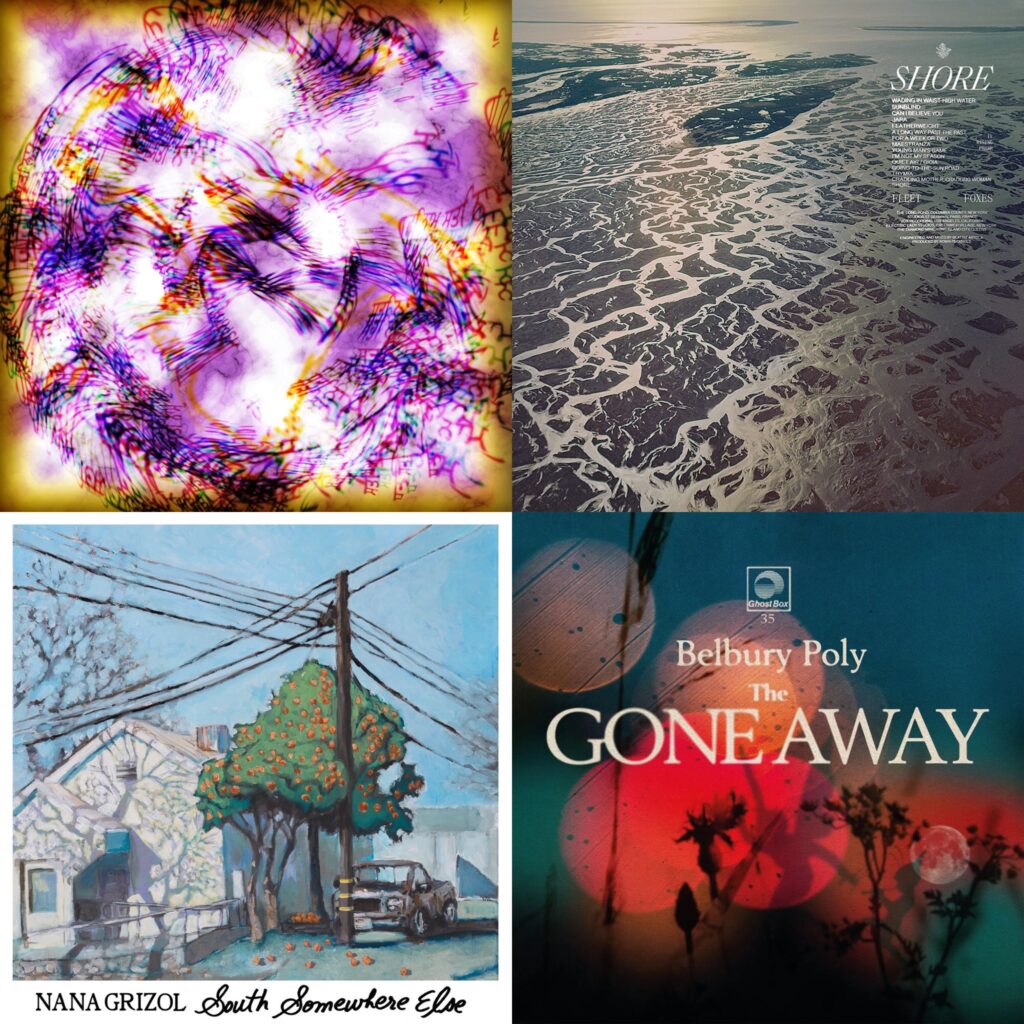 Ami Dang :: Meditations Mixtape (Leaving)
A guided meditation for sitar and electronics from Baltimore composer Ami Dang, who also contributed to the blissful dream pop of Leaving Records supergroup Galdre Visions. (Bandcamp)
Fleet Foxes :: Shore (ANTI)
Fleet Foxes' Shore arrived with little warning and succinct delivery to match that of 2020's autumnal equinox. A move that in other years might have felt a tad trite but in this one, more like a warm communal blanket. Shore is vibrant and alive—a record for everyone, much like the open spaces of nature he fondly details through verse and lovely compositions. (Bandcamp)
Nana Grizol :: South Somewhere Else (Arrowhawk Records/Don Giovanni Records)
Nana Grizol's fifth album arrived in a year where white Southern voices who were willing to look critically inward were badly needed. South Somewhere Else is an album about how even growing up in a city that seems progressive on its face doesn't mean that privilege and racism aren't written in your very bones. Horn-tinged indie rock that serves as a starting point for an individual unraveling of the post-Reconstruction South one small thread at a time. (Bandcamp)
Belbury Poly :: The Gone Away (Ghost Box)
An electronic album inspired by fairy folklore? A natural fit when it's coming from Jim Jupp and the zeitgeist-shaping Ghost Box label he co-founded. Moody electronic workouts that traverse the forest floors with folk melodies, analog kosmische synths, rattling percussion, and even a recorder.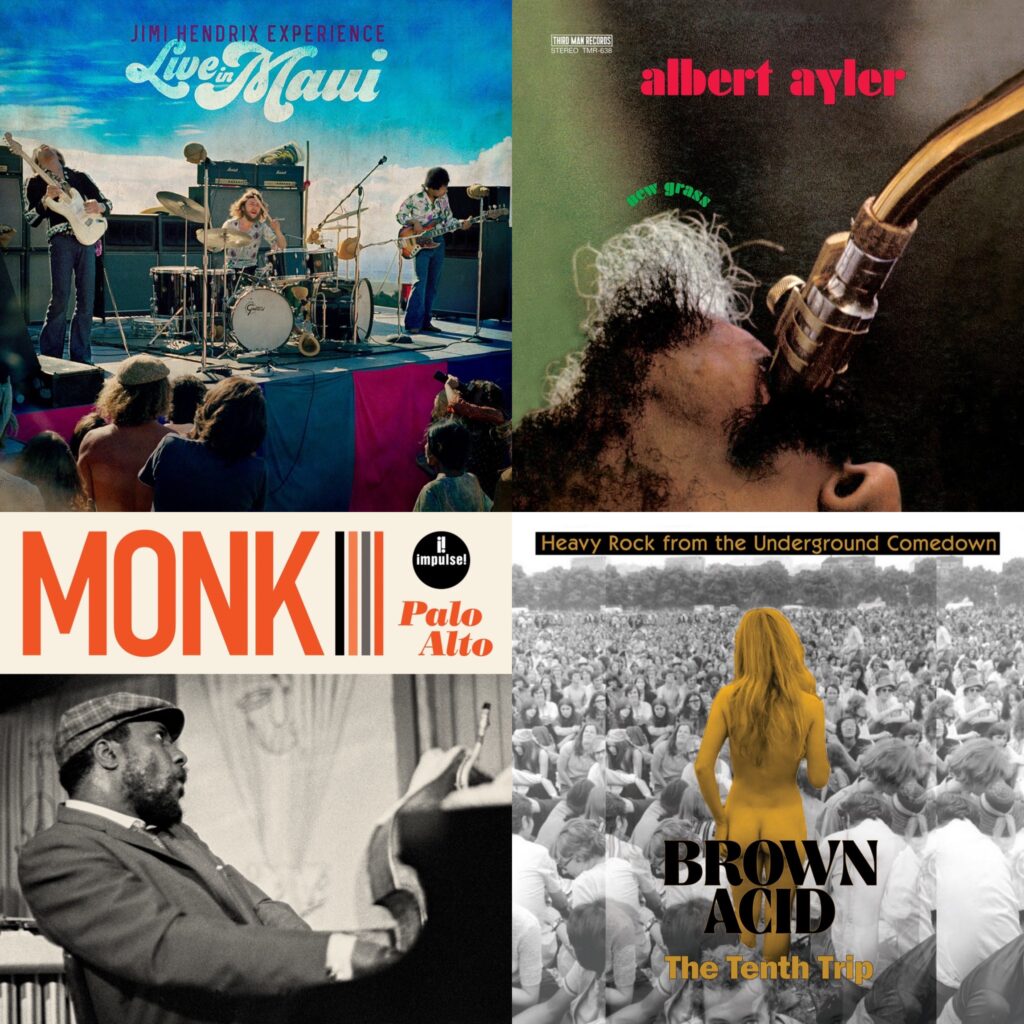 Jim Hendrix Experience :: Live in Maui (Legacy)
Hendrix is one of those artists whose ubiquity sometimes overshadows his actual work. Case in point: this 1970 set in Maui. Backed by Mitch Mitchell and Billy Cox, the Experience sounds so revelatory on the Valley Isle it wipes out the memory of these songs as "overplayed classic rock radio standards."
Albert Ayler :: New Grass (Third Man)
Trashed in its day, this 1969 record embraced funk, rock & roll, and R&B. Though it may have confused Ayler's avant-garde fans, it stands as a reminder that the man did what he wanted to, when he wanted to.
Theolonius Monk :: Palo Alto (Impulse!)
In 1969, everyone knew the place to be was…Palo Alto High School in California? Incongruous setting or not, Monk and his classic quartet are in absolutely fine form here, demonstrating that 16-year-old Danny Scher, who organized this concert for racial unity, knew what he was doing. The kids get it.
Brown Acid :: The Tenth Trip: Heavy Rock from the Underground Comedown (RidingEasy)
10 more fuzz-caked baddies from the reliable Brown Acid series. Check out Bitter Creek's cavernous "Plastic Thunder" for a starter—here's hoping the folks at Riding Easy have another 10 of these lined up for us moving into the no-doubt damaged future. (Bandcamp)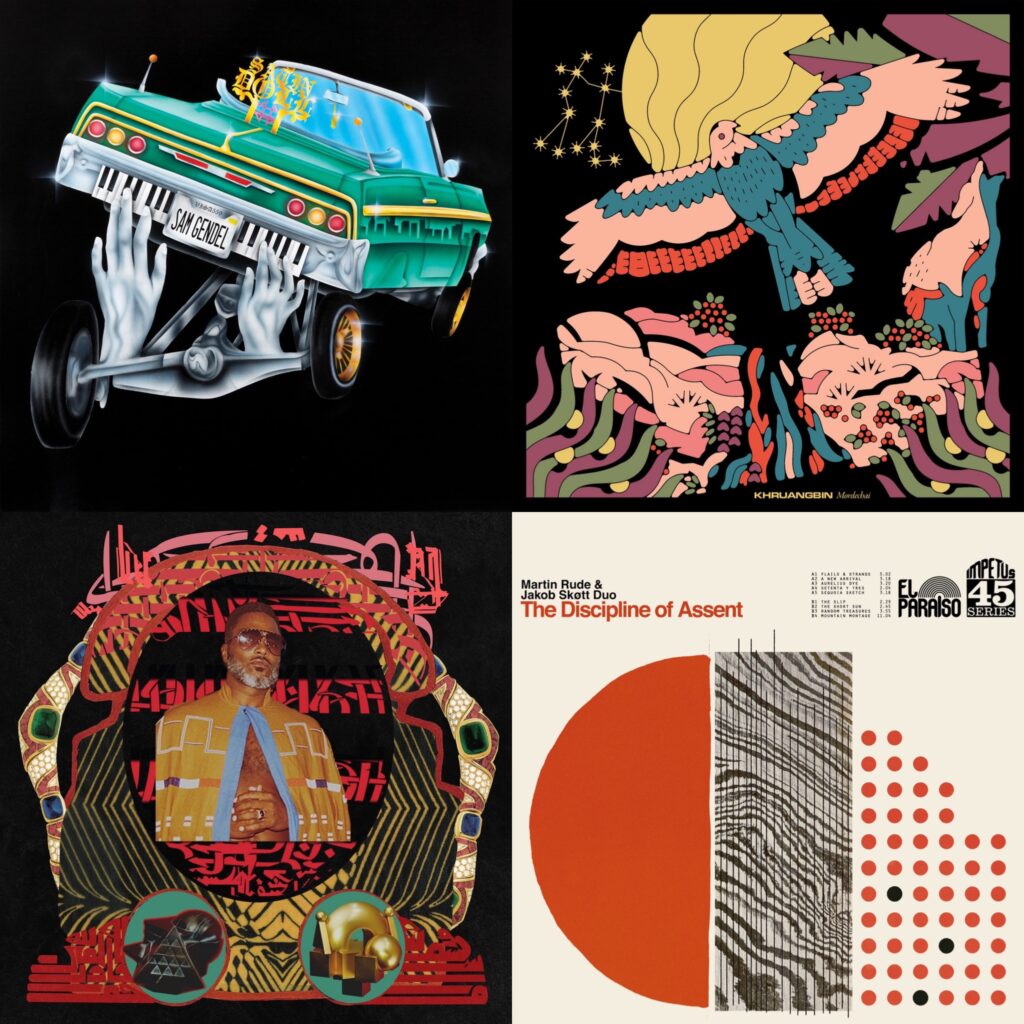 Sam Gendel :: Satin Doll (Nonesuch)
The chronology of Sam Gendel is candid and organic, branching from lightly psychedelic guitar compositions to abstractly free music, but Satin Doll finds the LA-based saxophonist paying a humble tribute to the greats before him. Containing choice selections of standards from the great jazz songbook, Gendel uses modern electronics and spirited improvisation to reshape the past into something from another dimension. (Bandcamp)
Khruangbin :: Mordechai (Dead Oceans)
Their third and most adventurous album yet, Mordechai finds the Houston trio stretching their wings and soaring into new territory. From the standout sinuous funk of "Time (You and I)," to languid narrative sketches ("Connaissais de Face," Dearest Alfred), and dissipating dubby remembrances ("Father Bird, Mother Bird," "One to Remember")—Khruangbin still remains a sum of its magnificent parts. (Bandcamp)
Shabazz Palaces :: The Don of Diamond Dreams (Sub Pop)
Aided by compatriots like Carlos Gabriel Niño, Purple Tape Nate, and Stas THEE Boss, Ishmael Butler pilots his Shabazz Palaces spacecraft into a nebula where New Age synth orbit New Jack Swing, where portals take you from cybernetic pop to jazzy bliss. (Bandcamp)
Martin Rude & Jakob Skøtt Duo :: The Discipline of Assent (El Paraiso)
Modal, exploratory, rooted in the masters, the pair at once reconnoiter jazz's past and sow the future. Fusing acoustic instrumentation with subtle electronics, Assent incorporates ragas, heavy groove and deft percussion — a tight/loose panoramic session fit for the liminal space of DI Chamaeleontis.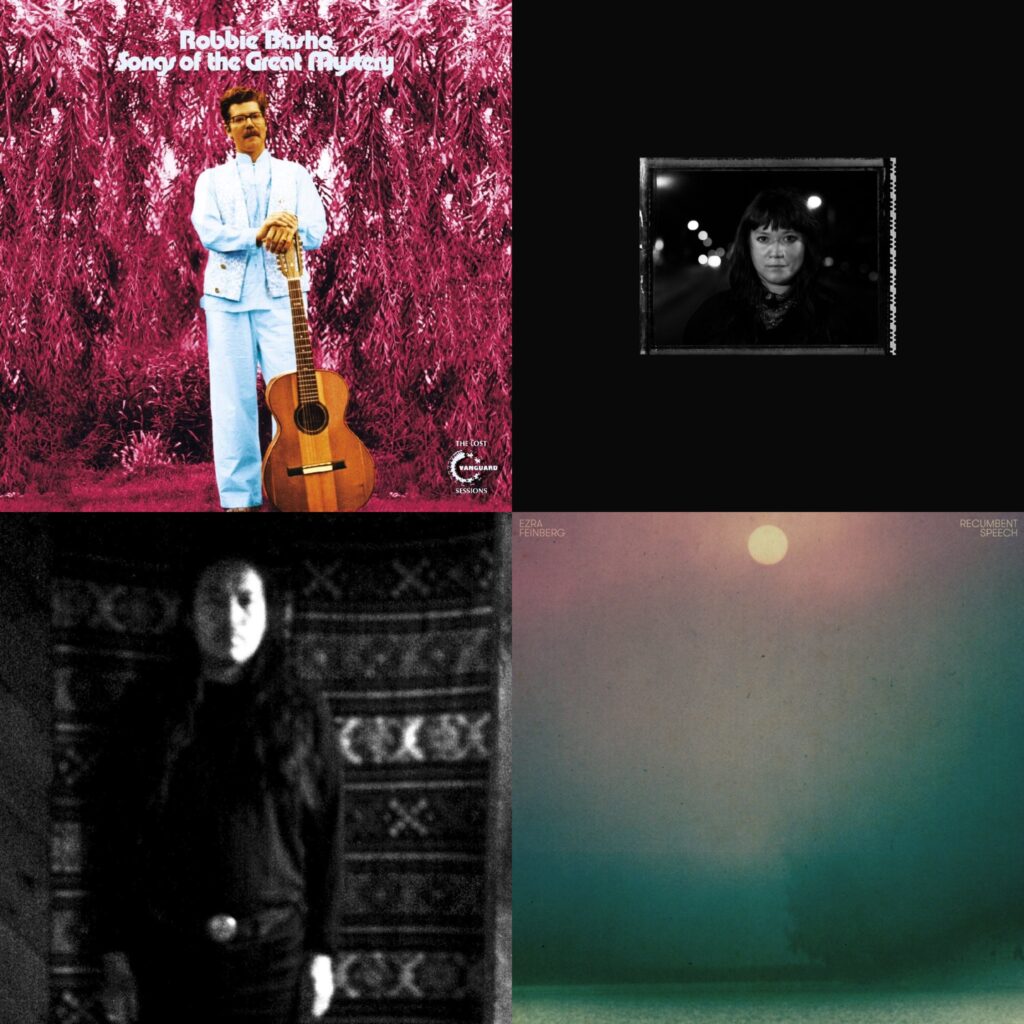 Robbie Basho :: Songs of the Great Mystery (Real Gone)
We've been blessed with a bunch of Robbie Basho archival hauls in recent years. But this latest unearthing might be the best of them all. It's an entire lost album, recorded during the same sessions for the guitarist/pianist/composer/vocalist's mid-'70s masterpieces Zarthus and Voice of the Eagle. Across four sides, we get dazzling fingerpicking, dramatic singing, gorgeous keyboard work, Native American fantasias, and some truly cosmic whistling.
Wendy Eisenberg :: Auto (Ba Da Bing)
Wendy Eisenberg's songs are tiny flowers hedged in with thorns, their fragile melodies nestled into sharp, off-kilter, extraordinarily difficult guitar parts and rigorous wordplay. These songs reveal themselves reluctantly through musical pyrotechnics and knotty intellectual difficulty. Mind how you go at them, or expect a scratch. (Bandcamp)
Tashi Dorji :: Stateless (Drag City)
Tashi Dorji's instrument here may be acoustic, but there's nothing soothing about his approach to it. These improvised pieces bristle with violence and angst, boiling over with explosive bursts of strumming and sharp jutting shards of sound. Song titles like "Refusal" and "Statues Crumble, Heroes Fall" hint at Dorji's anarchist roots, but the real resistance is in the notes themselves, which come out fists up, ready to fight. (Bandcamp)
Ezra Feinberg :: Recumbent Speech
Imagine if ECM Records in the late '70s signed Pink Floyd, or Popul Vuh, or Ash Ra Temple and you're on the way. A sublime, resplendent guitarscape. (Bandcamp)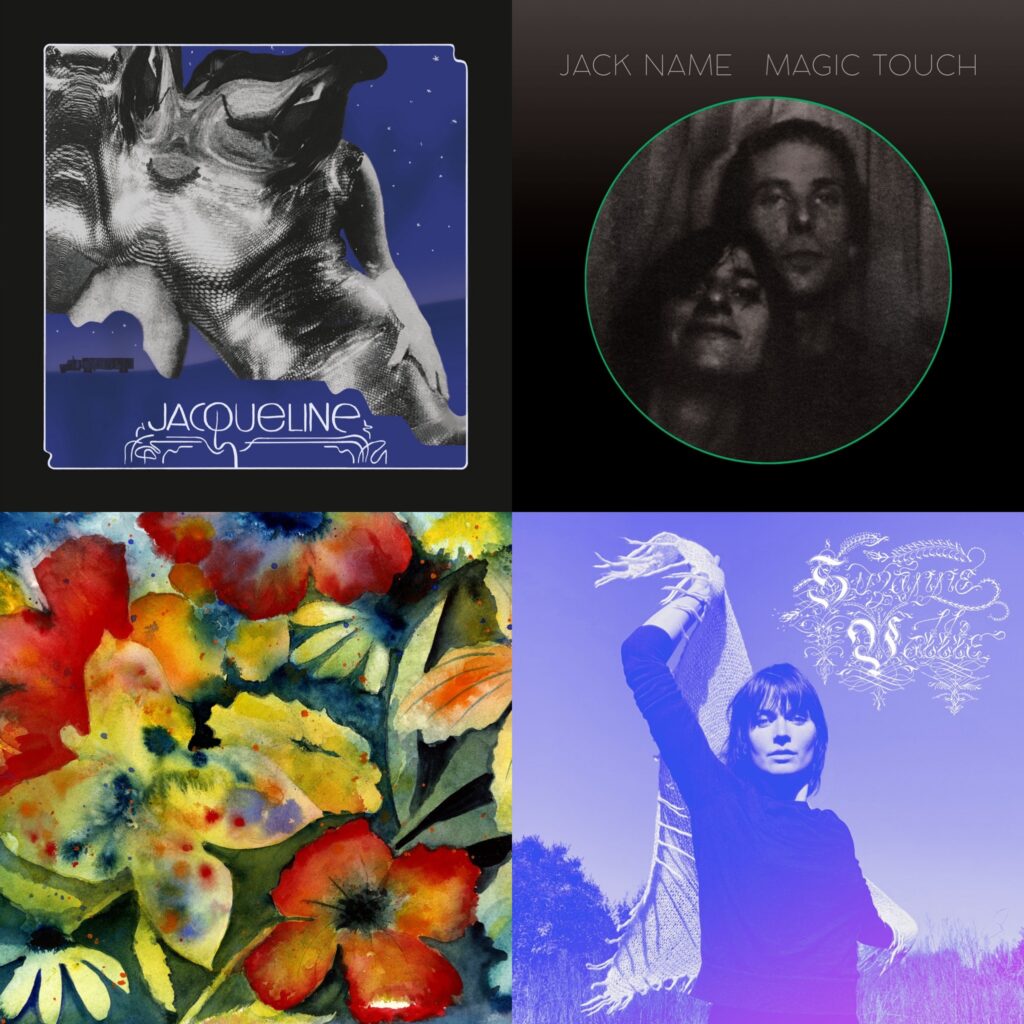 Jackie Lynn :: Jacqueline (Drag City)
At the center of Jackie Lynn, country-glam alter ego of Chicago musician Haley Fohr, is the drive to hit the open road and drive. In previous work, Jackie Lynn nestled in the croon of outlaw country music, but Jacqueline finds the vigilante reveling in the dark corners of experimental electronics and underground dance floor anthems, driving her character down daring new roads, brashly burning rubber in her wake. (Bandcamp)
Jack Name :: Magic Touch (Mexican Summer)
Jack Name's fourth album finds the Los Angeles mystery man crafting dreamy AM vibes and stark bummer bedroom pop. With a stripped down, whispery melancholy, he slips through the grooves like a chameleon, channeling Dwight Twilley, Lou Reed, and Syd Barrett alike. (Bandcamp)
Adrianne Lenker -:: songs / instrumentals (4AD)
It should be no secret by now that Big Thief's Adrianne Lenker can write a damn good song, and songs/instrumentals are brimming with them. The singer-songwriter's boundless double album explores the vast duality of her artistry; the gauzy songs is tender and melancholic, humming like the inside of a guitar; the airy improvisations of instrumentals flit with moments of magic. It's both rustic and mythic, and as inebriating as a hearty gulp of dandelion wine. (Bandcamp)
Suzanne Vallie :: Love Lives Where Rules Die (Night Bloom)
The debut full-length from poet and songwriter Suzanne Vallie, "a sorta-recluse living in rural Big Sur" who turned to the open road to mend a broken heart. Recorded in an upstate New York studio with tubes aglow and joined by a band of California collaborators that recall the halcyon early Beachwood Sparks days, Love Lives travels Vallie's Pacific Coast Highway of love, dogs, surfers, and the supernatural. (Bandcamp)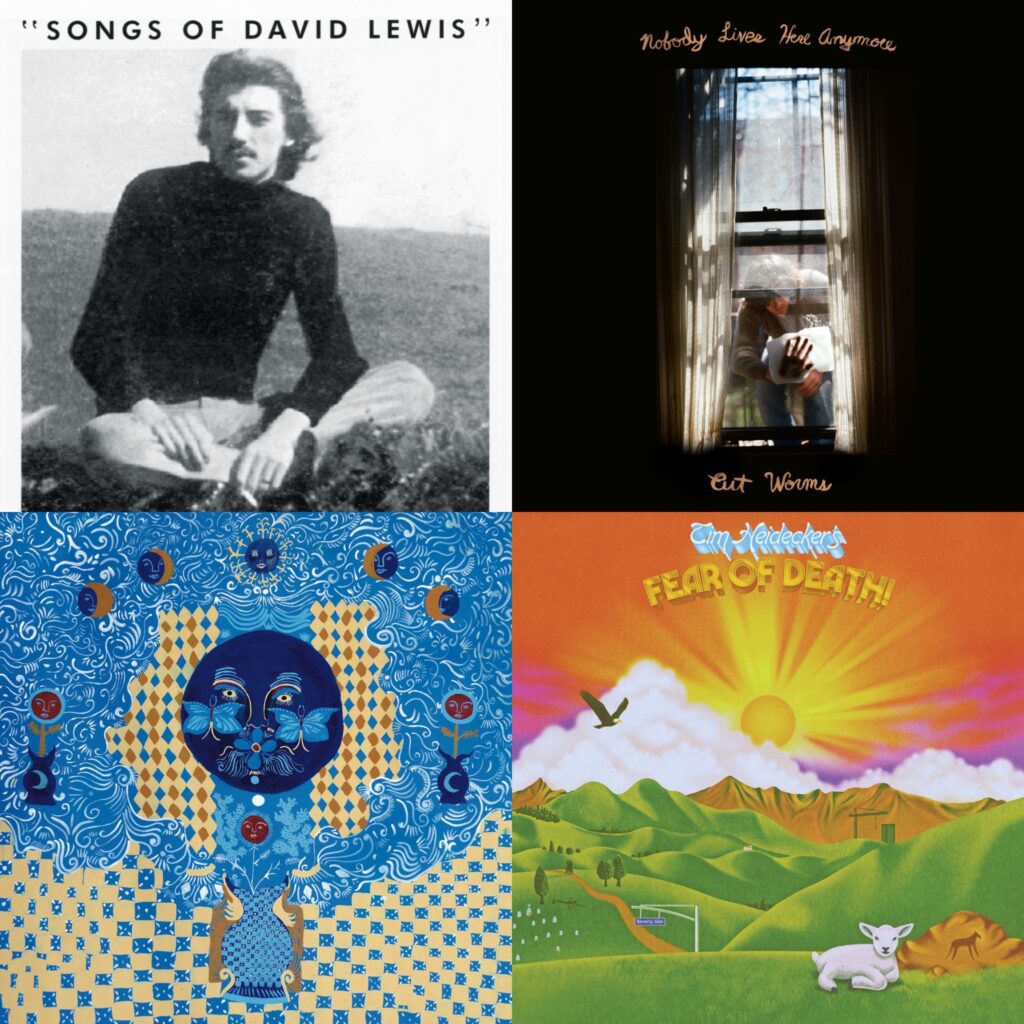 David Lewis :: Songs of David Lewis (Numero)
A deeply affecting private press gem well worth discovering—just this year making its official digital debut via Numero. Released in 1970 in a pressing of just 500 copies (originals now fetch upwards of two grand), Songs of David Lewis is an essential bit of unheralded singer-songwriter genius, with elements of Bacharach, the Band, Randy Newman and more blending together beautifully. (Bandcamp)
Cut Worms :: Nobody Lives Here Anymore (Jagjaguwar)
A whopping 17 tracks recorded in Memphis at Sam Phillips Studio, Nobody Lives Here Anymore finds Max Clarke working with producer Matt Ross-Spang to fatten the groove and push his sound further into the stratosphere. (Bandcamp)
Jennifer Castle :: Monarch Season (Paradise of Bachelors)
Home-recorded in Castle's kitchen with her longtime producer Jeff McMurrich, Monarch Season is as delicate and determined as the album's namesake that migrates outside her windows overlooking the shores of Lake Erie. Intimacy has always been omnipresent in Castle's work, but here it is taken to newfound heights—close-miked skeletal fingerpicking, double-tracked vocals, and field recordings come together and float off into the ether. (Bandcamp)
Tim Heidecker :: Fear of Death (Spacebomb)
Tim Heidecker's multidisciplinary absurdism takes a sharp turn towards the divine—or lack thereof—on Fear of Death, his strongest and most fully-realized body of music to date. Backed by members of Weyes Blood, Lemon Twigs, Foxygen, and others, Heidecker uses the trusted road map of the great '70s pop/country songwriters like Randy Newman and Gram Parsons to navigate a dour existentialism and all of its hilarious contradictions. (Bandcamp)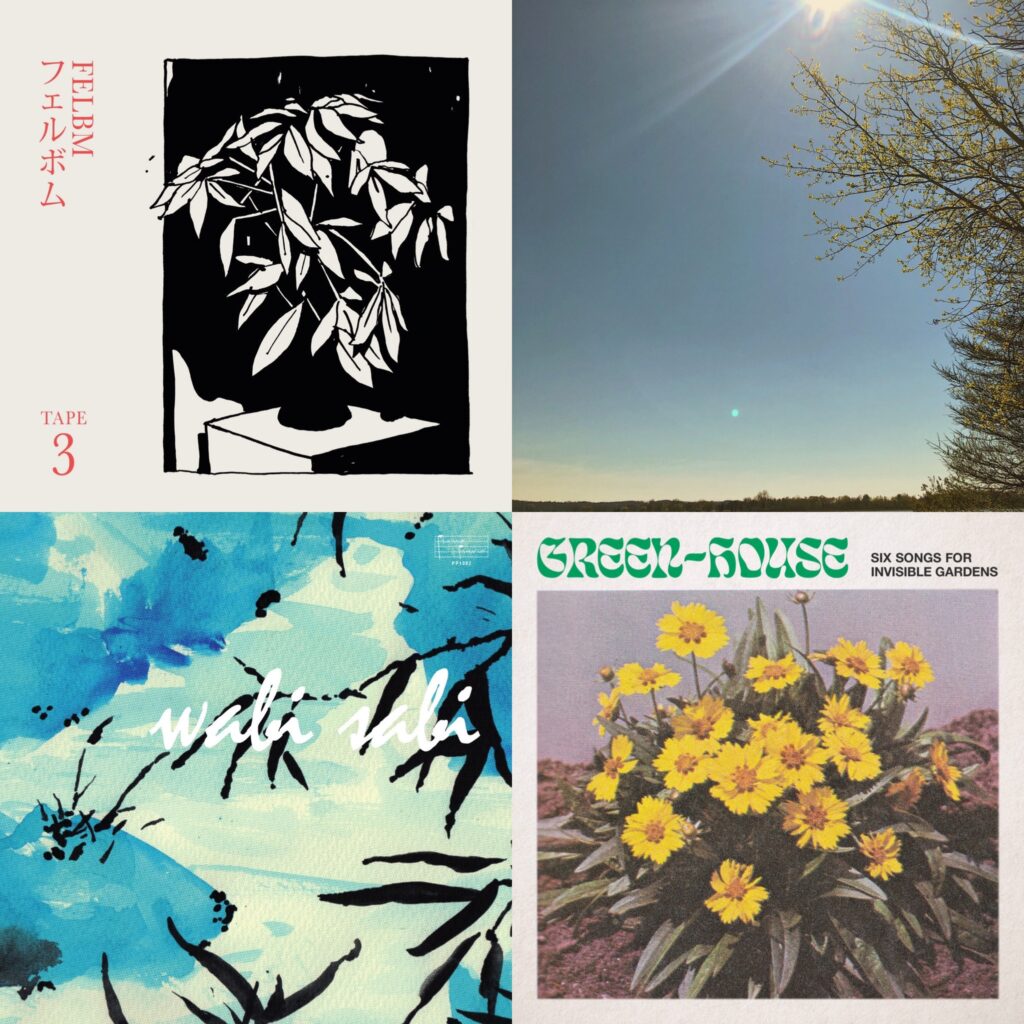 Felbm :: Tape 3/Tape 4 (Soundway)
This latest entry in the Utrecht based artist's ongoing "tapes" series continues down the path set out in 2018, woodshedding material via 4-track. A homespun instrumental affair brimming with low key jazzscapes, with renderings reminiscent of an alternate universe, lo-fi, Vince Guaraldi. (Bandcamp)
Rich Ruth :: Where There's Life Vol. 1-6
An impressive and poignant collection of ambient explorations from Nashville's Rich Ruth. All composed, recorded and released during the pandemic, Ruth''s diverse offerings do well to ease the anxiety experienced throughout this ongoing ordeal. (Bandcamp)
Sven Wunder :: Wabi Sabi/Eastern Flowers (Piano Piano)
Both of Sven Wunder's brilliant full-lengths came out of nowhere. The enigmatic Wunder projects his big grooves, big breaks, and big orchestral melodies through a kaleidoscopic filter of modern and traditional Eastern sounds. It's no wonder all the heads were spinnin' and scramblin' to find an lp copy of both these titles. (Bandcamp)
Green-House :: Six Songs for Invisible Gardens (Leaving)
A chiming, meditative sound collage of sorts, Six Songs will both lower your blood pressure and keep your peperomia happy. Yes, please. (Bandcamp)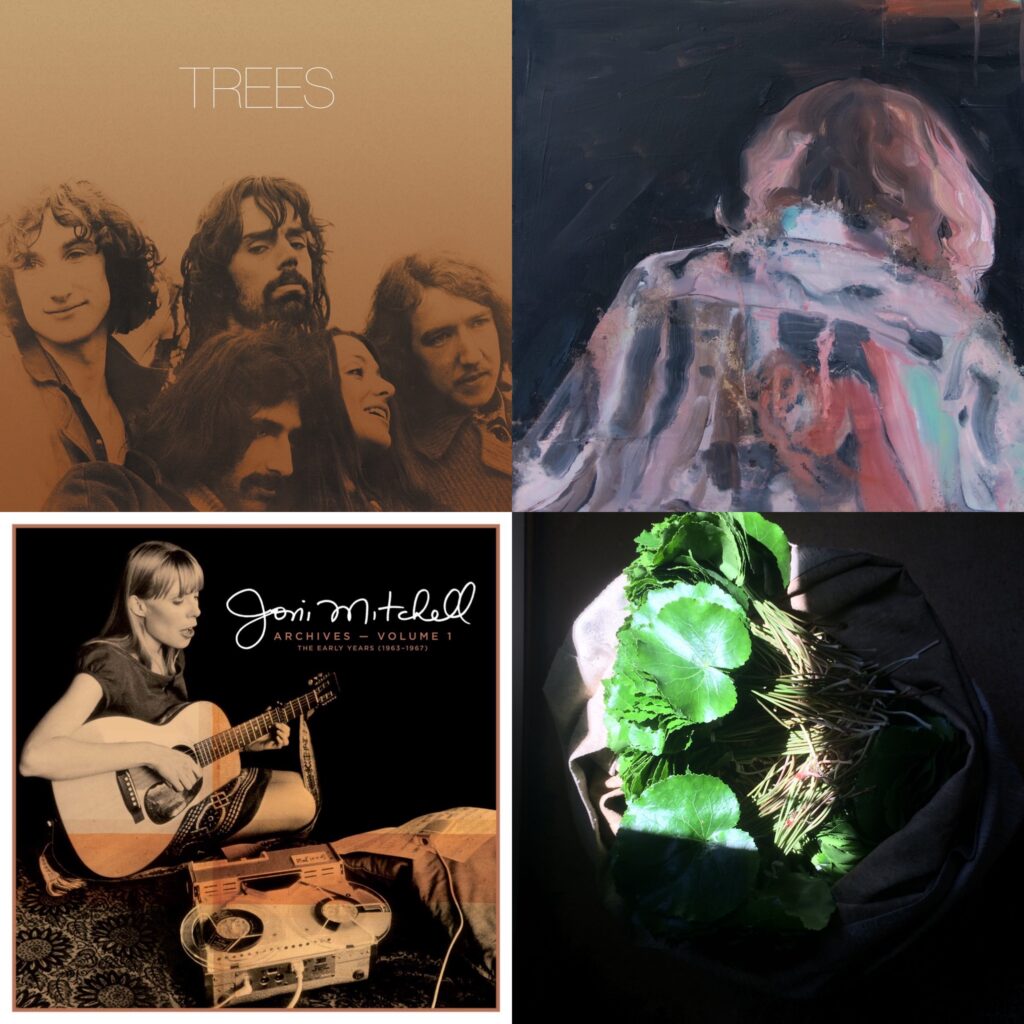 Trees :: 50th Anniversary Edition (Earth)
They never became as well-known as their Britfolk peers—Fairport, Steeleye, Pentangle, etc.—but this excellent Trees collection makes a convincing case that they should have. The band took Fairport's Liege and Lief template and added a healthy dose of acid rock to the mix, with killer jams erupting out of ancient compositions. Here, you get both Trees lps, plus two extra discs of tasty rarities—a feast! (Bandcamp)
Dungen :: Live (Mexican Summer)
After a stellar run of studio albums, Dungen has ventured into further sonic experiments in recent years. After dipping into the realm of soundtrack work, this year saw the band's first official live release. The recordings of Live are entirely instrumental (and accompanied by plenty of saxophone), and recorded during 2015's touring cycle in Sweden. (Bandcamp)
Joni Mitchell :: Joni Mitchell Archives – Vol.1: The Early Years (1963-1967) (Rhino)
A staggering five-disc collection of unreleased home, live, and radio recordings that traces Joni's early years—from a 19-year-old performing typical sixties folk revival fare ("Tell Old Bill," "Copper Kettle") at a radio station in her hometown in 1963, to a three-set 1967 live performance that showcases the singer-songwriter supreme that would emerge fully-formed a year later on Song to a Seagull. An unearthed treasure trove with highlights like a breathtaking performance of "Both Sides Now" three days after it was written, her own take on Neil Young's "Sugar Mountain," and an early version of Blue's heart-wrenching landmark "Little Green." An exceedingly rich early portrait of one of our most monumental talents.
Sarah Louise :: Earth and Its Contents
Earth and Its Contents finds Sarah Louise further complicating the lineage of Appalachian folk music with more typically exploratory fare. Louise makes impressionistic use of a wide variety of tools, her seemingly disparate parts pulling together like a forest nursing itself back to health from the damage inflicted by humankind. (Bandcamp)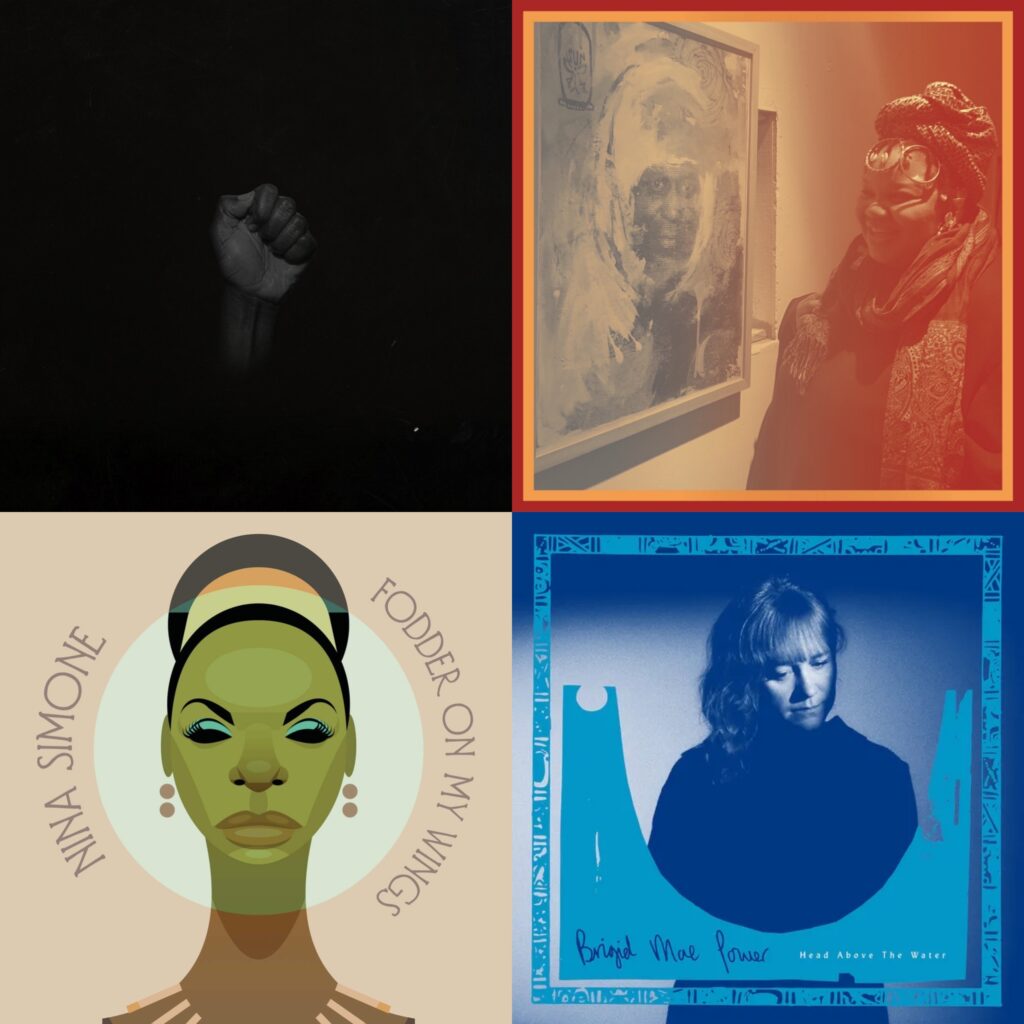 Sault :: Untitled (Black Is) (Forever Living Originals)
The music of the revolution. Sault released two records this year, but this cathartic collection of grit and grace is the one that future generations will talk about. (Bandcamp)
Angel Bat Dawid :: Transition East (International Anthem)
It's easy to love the way Dawid's woodwinds interplay above the drum machine groove on the title track. Both "Transition East" and the frenetic b-side demonstrate the Chicago native's undeniable talent. Another indication that perhaps Angel Bat Dawid is not of this Earth. (Bandcamp)
Nina Simone :: Fodder on My Wings (Verve)
Recorded shortly after her move to Paris, Nina Simone's Fodder on My Wings was, for almost three decades, relegated to its obscure 1982 French-only release. Finally reissued for the masses this year, the album opens a window into a previously unknown part of the songstress' career, exorcising her grief and ghosts through excursions in calypso, jazz, and funk, as well as haunted folk chants and mystifying fusions of baroque soul and playful pop.
Brigid Mae Power :: Head Above the Water (Fire)
Brigid Mae Power's third album, Head Above the Water, is mesmerizingly and plaintively furtive in its imagery, her tunes playing like a deceptive still life; its characters in a state of suspended animation while the world blurs in motion. Filled with pedal steel, fiddle, organ, and flute like the coming of dawn, Power stands melancholy but enamored with the universe and its small mysteries. (Bandcamp)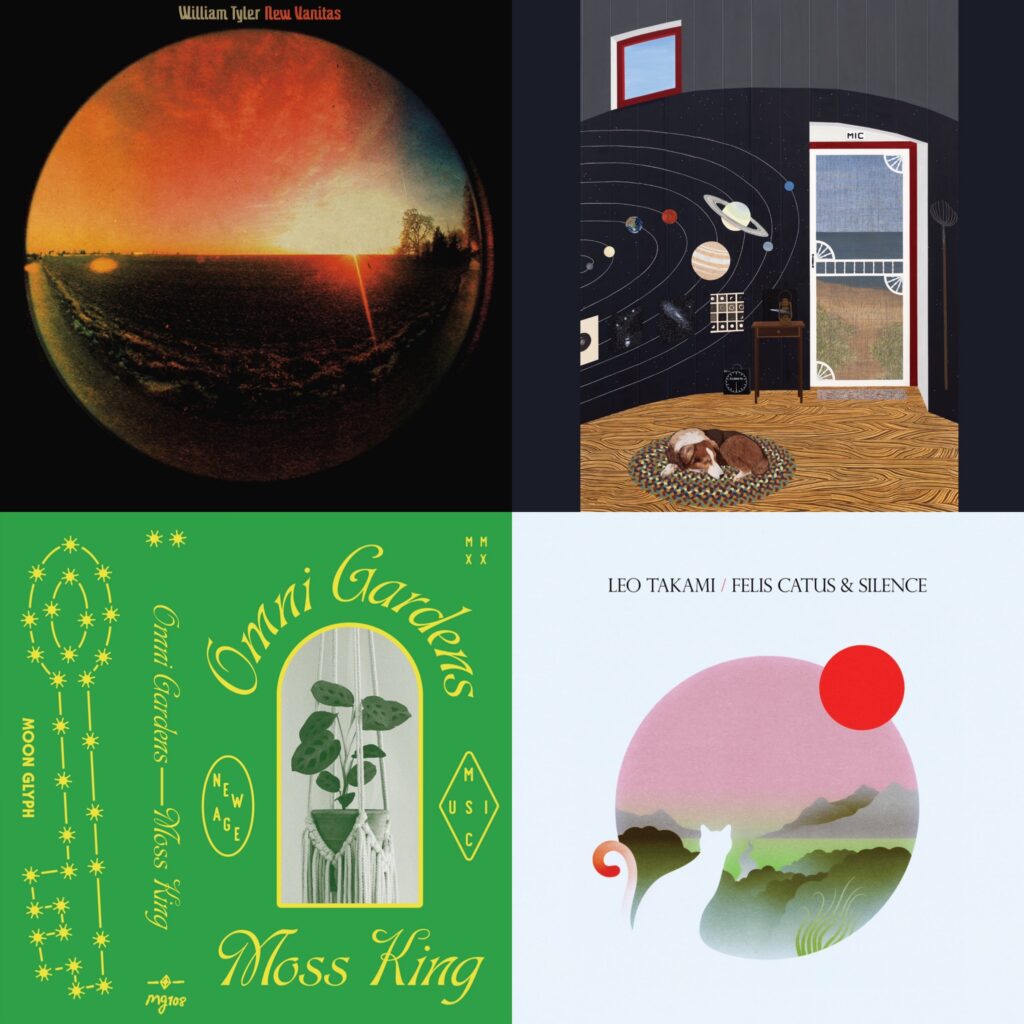 William Tyler :: New Vanitas / Music from First Cow (Merge)
In addition to scoring one of our favorite films of the year, Kelly Reichardt's gentle and empathetic frontier tale First Cow, William Tyler also gave us the absolute gift of an unexpected new collection of music entitled New Vanitas, employing drum machines and synths, as well as evocatively ambiguous field recordings and pools of sound to expand his already visionary guitar music into further sonic horizons and musings on big ideas of the earth, our existence, and beyond. (Bandcamp)
Mary Lattimore :: Silver Ladders (Ghostly)
The delicate and dreamy harp of Mary Lattimore extends into an immense expansiveness on Silver Ladders, accompanied by subtle sirens of synth and guitar. Slowdive's Neil Halstead at the production helm only lightly sends the music into shoegaze territory, more so working to ensure the distinct and patient precision that goes into bringing Lattimore's visions and improvisations to such painterly and majestic life. (Bandcamp)
Omni Gardens :: Moss King (Moon Glyph)
Trance-inducing instrumentals awash with warm synthesizers, steady tempos, tape hiss and ethereal nature sounds, as well as fun song titles like "Watering Plants," "Hallway Rug," and "Algae After All." Strong Hiroshi Yoshimura vibes abound. (Bandcamp)
Leo Takami :: Felis Catus and Silence (International Anthem)
In the early, innocent winter months of this year, Tokyo-based composer and guitarist Leo Takami released a gift: his album Felis Catus and Silence. An enthusiastically imaginative blend of New Age sounds, Takami shapes Windham Hill-inspired guitar compositions with elements of jazz, minimalism, classical music, Japanese gagaku, and ambient textures. (Bandcamp)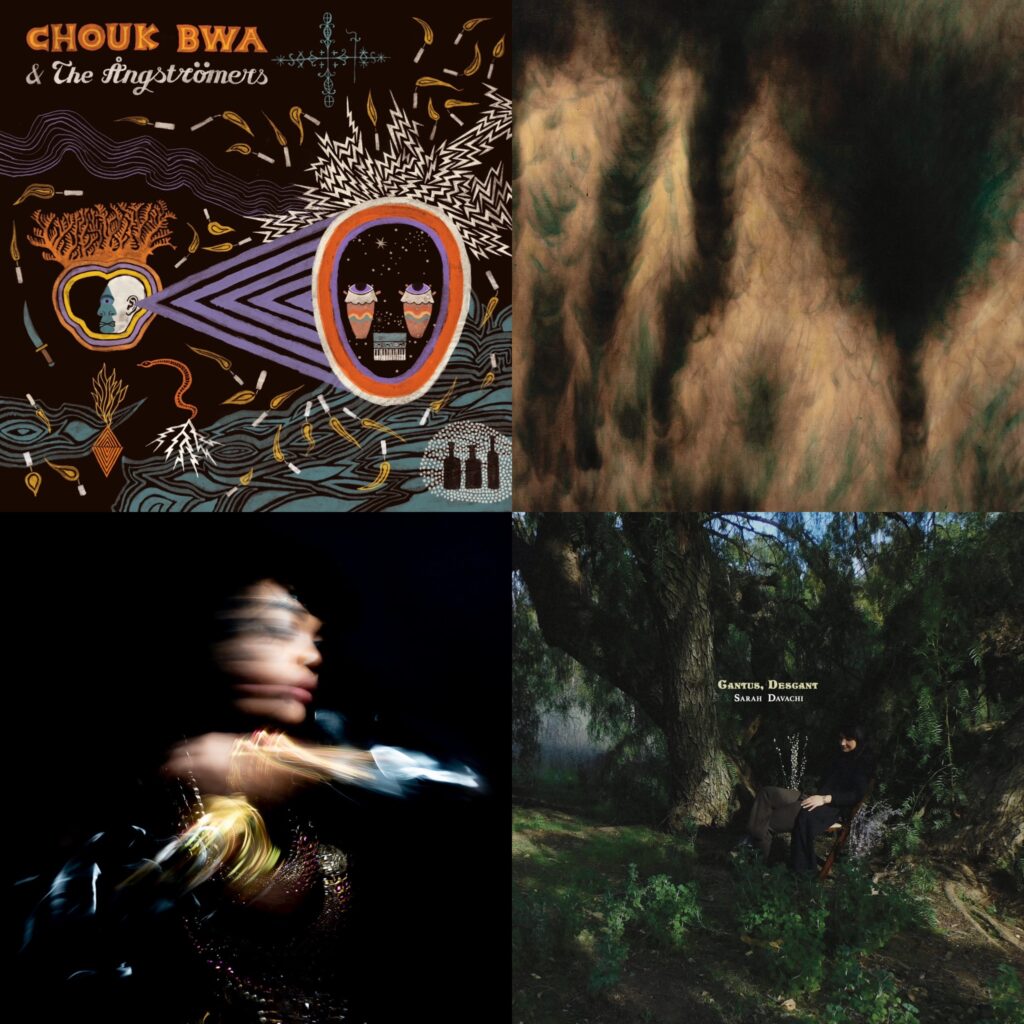 Chouk Bwa & The Ångströmers :: Vodou Alé (Bongo Joe)
Traditional Haitian mizik razin band Chouk Bwa joins forces with two Belgian electronicists. Chouk Bwa brings the pounding, polyrhythmic percussion, the stirring chants, the heat, while Nicolas Esterle and Frédéric Alstadt splice in some modular synths and other vintage instruments. But unlike lots of north/south, roots/electronics collaborations, this one rocks uncompromisingly. (Bandcamp)
William Basinski :: Lamentations (Temporary Residence Ltd)
Ambient godfather William Basinski cut loose over the summer with Sparkle Division, a lounge-tronica collaboration with engineer Preston Wendel. But his other 2020 album might more accurately capture the dread of this cursed year. It's culled from decades of archival tape loops—slow motion swells that crest grimly. (Bandcamp)
Masma Dream World :: Play at Night (Northern Spy)
Sound healer Devi Mambouka spent years DJing, learning how to subtly cast a spell over an audience. Her gothy lp Play at Night devotes itself to nocturnal soundscapes, subterranean beatwork, backward masked poetry, and the occasional occult airhorn blast. (Bandcamp)
Sarah Davachi :: Cantus Descant (Late)
The first for her own label, Late Music, Davachi's eleventh album unfolds slowly and steadily. Recorded on pipe and reed organs in California, Chicago, Denmark, Canada, and the Netherlands, the record's songs elongate, stretch, and fold back in on themselves. (Bandcamp)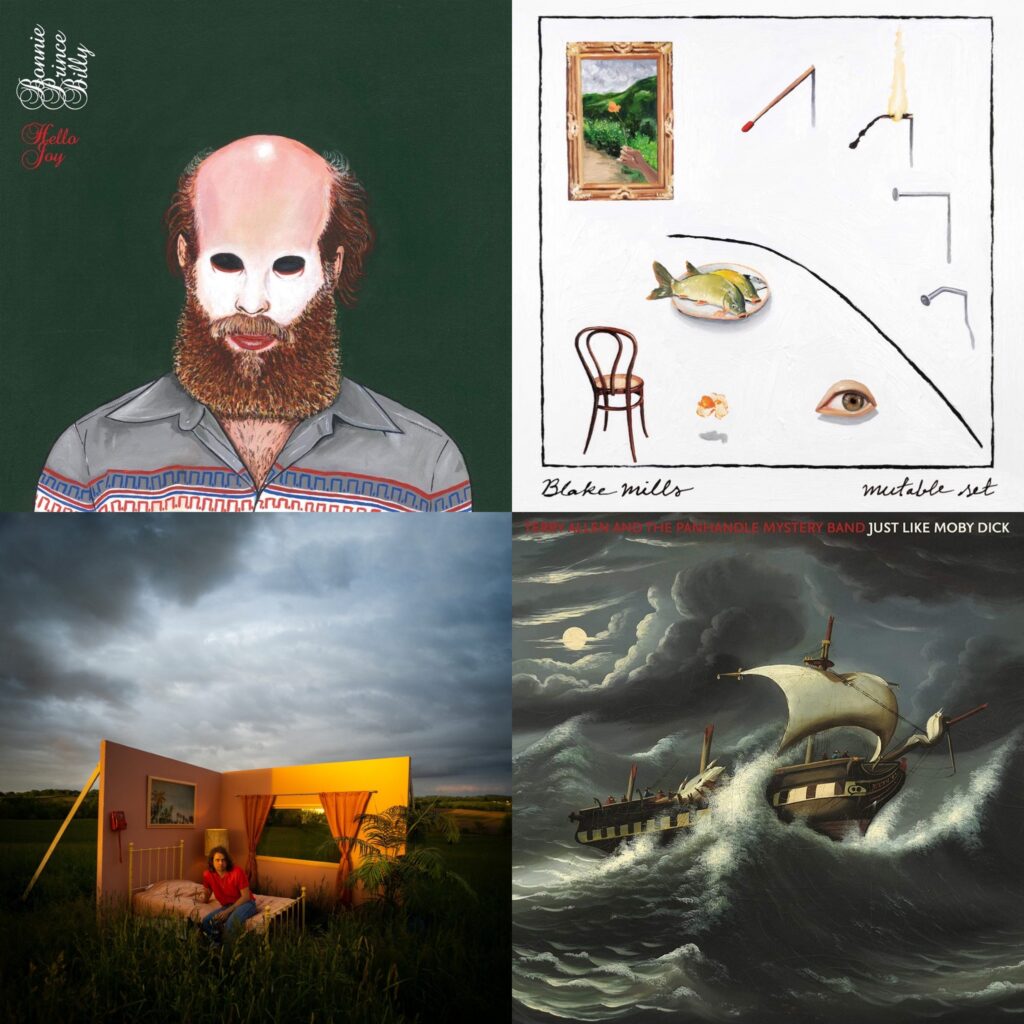 Three Queens in Mourning / Bonnie 'Prince' Billy – Hello Sorrow :: Hello Joy (Textile)
Quietly released mid-summer, Hello Sorrow – Hello Joy finds Three Queens In Mourning (Scotland based musicians Alasdair Roberts, Jill O'Sullivan, and Alex Neilson) covering Will Oldham chestnuts, and Oldham covering material by Three Queens members. It's an oddly comforting affair, and further proof of the enduring elasticity of Oldham's oeuvre. (Bandcamp)
Blake Mills :: Mutable Set (Verve)
Blake Mills' creative vision and artistic precision is so very much in demand that we should feel fortunate he decided to roll tape on, well, himself. For all of his production credits and unmatched instrumental wizardry — Mutable Set really highlights Mills' ability to manipulate sound and space.
Kevin Morby :: Sundowner (Dead Oceans)
An intimate look at an artist detailing change, sourcing emotions through a refreshed vantage point, and growing into a new life. The quiet country strums of tracks like "Valley" and "Sundowner" will remind you that a sense of place and belonging truly connects us all. (Bandcamp)
Terry Allen & The Pandhandle Mystery Band – Just Like Moby Dick (Paradise of Bachelors)
Allen's tragicomedy is fully intact through tales of grand betrayals, bad memories, and sorrowful goodbyes—imagine a Denis Johnson short story set to a sympathetic waltz. A late-period masterstroke from the incomparable American visionary who continues to sail the turbulent seas of country music and visual art. (Bandcamp)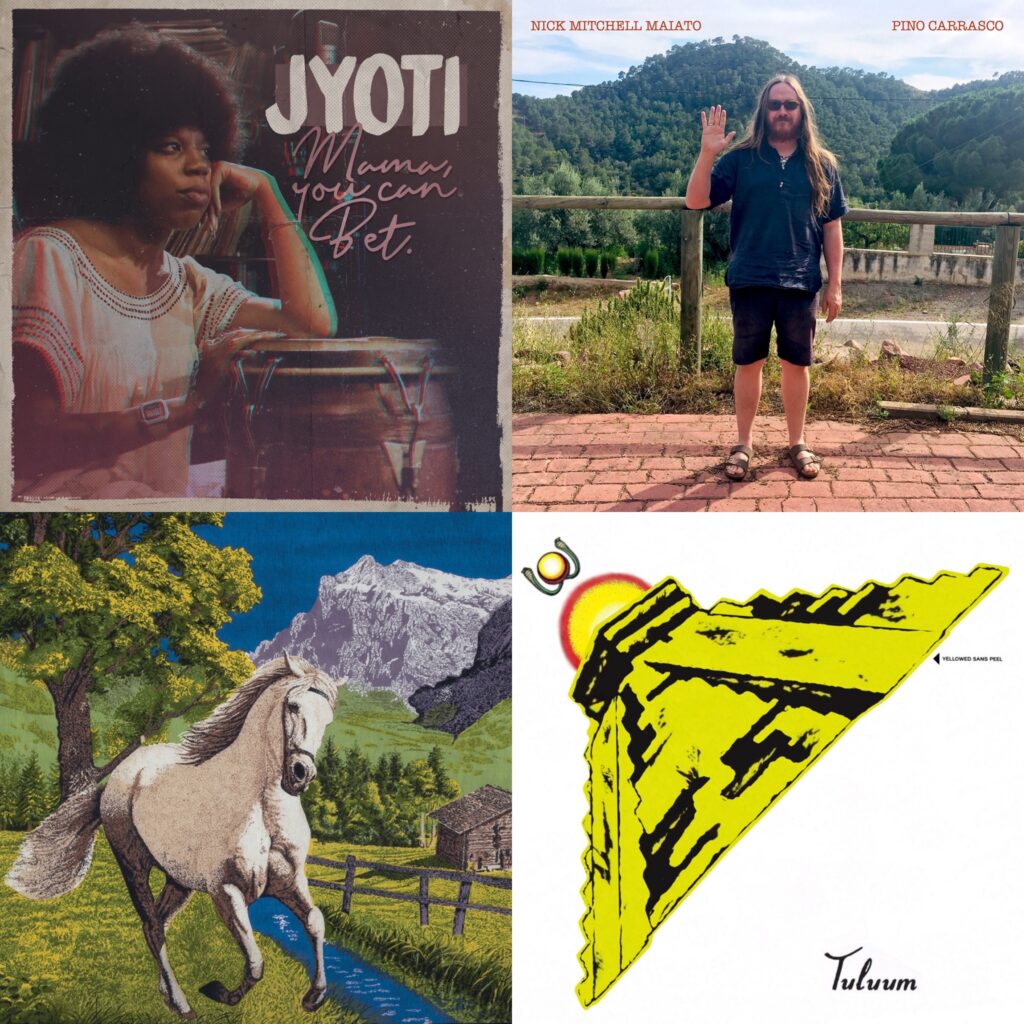 Jyoti :: Mama! You Can Bet (SomeOthaShip)
Georgia Anne Muldrow was raised by musician parents in the circles of West Coast jazz royalty. Her latest idiosyncratic grooving fusion funk jazz odyssey was a transcendent gift over the summer. She credited the album to her alter-ego, Jyoti, a name bestowed on her by Alice Coltrane Turiyasangitananda. (Bandcamp)
Nick Mitchell Maiato :: Pino Carrasco (Was Ist Das)
One-Eleven Heavy's NMM strikes out on his own with this loose, booty-shook classic rock slab, applying Latin touches and tapping into the freaky spirit of the Meat Puppets or Royal Trux while remaining singular in its voice. (Bandcamp)
Heather Trost :: Petrichor (Third Man)
Like Broadcast before her, Hawk and a Hacksaw singer Heather Trost rides motorik pulses and space age melodies straight to the Twin Peaks roadhouse on her Third Man Records debut, complete with a Nilsson cover that pummels gracefully—that's right, a graceful pummeling! (Bandcamp)
Tuluum Shimmering :: Sister Ray Meets China Cat Sunflower Uptown
Jake Webster's Tuluum Shimmering specializes in long, repetitive melodic abstractions. And while he's other deeply enjoyable cuts this year, his an hour-long blending of two songs by bands formerly known as the Warlocks, the Grateful Dead's "China Cat Sunflower" and the Velvet Underground's "Sister Ray." A steady first half gives way to an ecstatic back end—this is melody cut loose from traditional form, yet maintaining its coherent shape. (Bandcamp)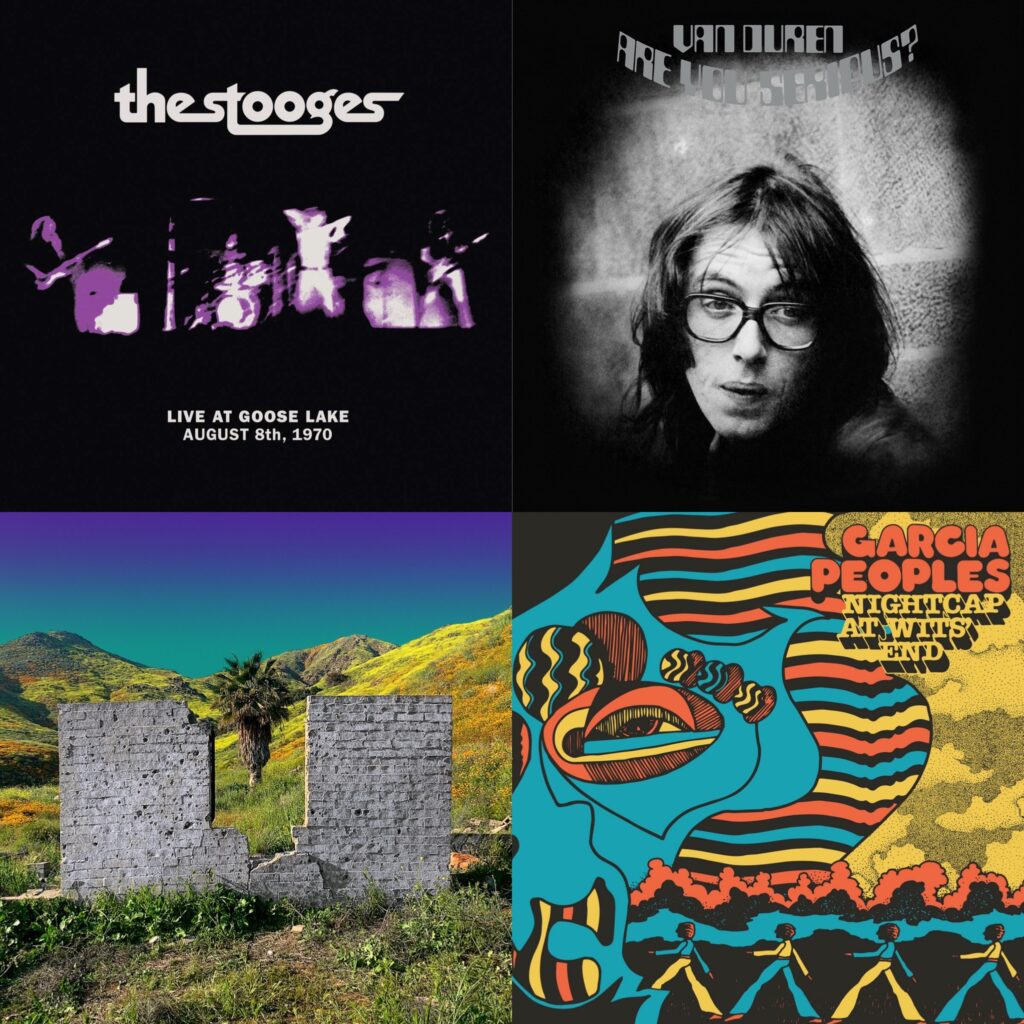 Stooges :: Live At Goose Lake (Third Man)
The proto-punk holy grail! This soundboard recording of the original Stooges fresh off of recording Funhouse was discovered in the basement of a Michigan farmhouse and now has been unleashed by Third Man Records. It adds an essential chapter to the band's saga. Live At Goose Lake is messy, thrilling and utterly unhinged. In other words, it's The Stooges at their best. (Bandcamp)
Van Duren :: Are You Serious? (Omnivore)
On the heels of last year's documentary film, a long-awaited reissue of Van Duren's lost 1977 debut album. The record is pure Memphis power pop gold (with a twist). Sans drums, Van Duren plays all of the instruments here, and the songwriting owes as much to Paul McCartney and Emitt Rhodes as it does to his old, ex-Big Star collaborators.
Shopping :: All or Nothing (Fat Cat)
The taut, incisive songs judder and punch, their terse melodies stretched tight over bumping bass lines and skittery percussion. "You're holding your breath/It's a particular kind of stress," the band maintains on stand-out single "Initiative," as Rachel Agg's guitar pings off Billy Easter's irregular bass line and Andrew Milk's unyielding drums. There's no fat here, just spike-y architectures of sound. (Bandcamp)
Garcia Peoples :: Nightcap at Wits' End (Beyond Beyond is Beyond)
Indie jam might be an iffy designation, but that doesn't matter much as New Jersey's Garcia Peoples embrace Britfolk floridity, Love-style orch-rock, and proggy enormity. (Bandcamp)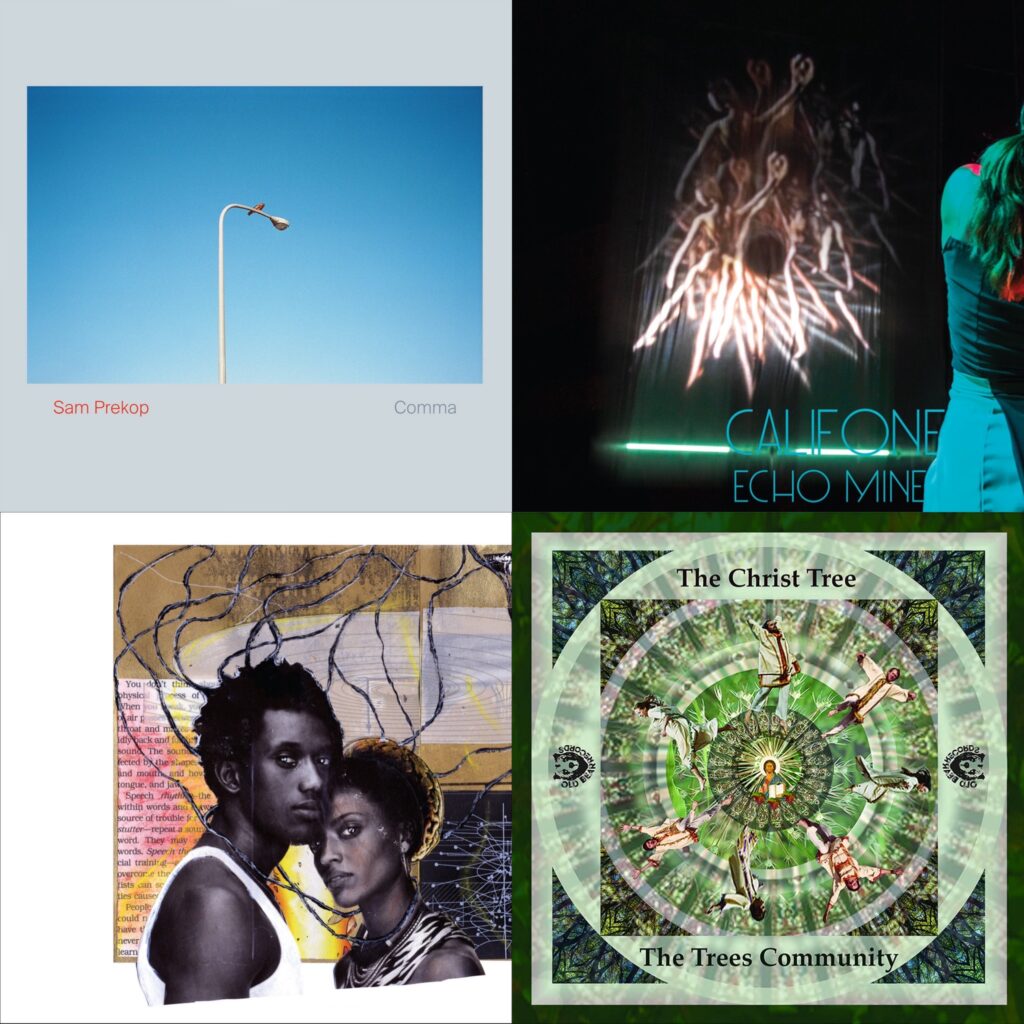 Sam Prekop :: Comma (Thrill Jockey)
From bossa nova to full electronic stylings, Prekop's solo albums have always reflected the many influences traceable to the deep catalogue of the long-running Sea and Cake. Referencing electronic pioneers such as Yellow Magic Orchestra and Brian Eno, Comma continues the musician's deep-seated experimentation with the modular synthesizer. (Bandcamp)
Califone :: Echo Mine (Jealous Butcher)
Echo Mine is not a conventional Califone album, but rather incidental music for a performance commemorating Claire Bataille of Chicago's Hubbard Street Dance, who passed away in 2018. As a result, its feedback blistered guitars, whispery vocals and intricate, non-standard percussion rally in support not of songs per se, but of movement, memory and mourning. A snippet of Bataille explaining how she faced down her illness by remembering the way she danced makes the case for art as a balm and life force, as does this lovely record. (Bandcamp)
Nicole Mitchell & Lisa E. Harris :: EarthSeed (FPE)
Drawing on the work of science fiction author Octavia Butler, Harris and Mitchell stage a metaphysical sci-phi opera backed by a crew of top-flight Chicago jazz stalwarts including Ben LaMar Gay and Tomeka Reid. (Bandcamp)
Trees Community :: The Christ Tree (Old Bear)
In the 1970s, a band of heads, artists, performers, and seekers formed the Trees Community in New York City. Eventually they put their intentional community on wheels, living communally on a vividly painted bus and spreading their generative Christian mystic message. The Christ Tree reissue presents their arcane and beautiful folk sound, united by avant-garde leanings and global influences.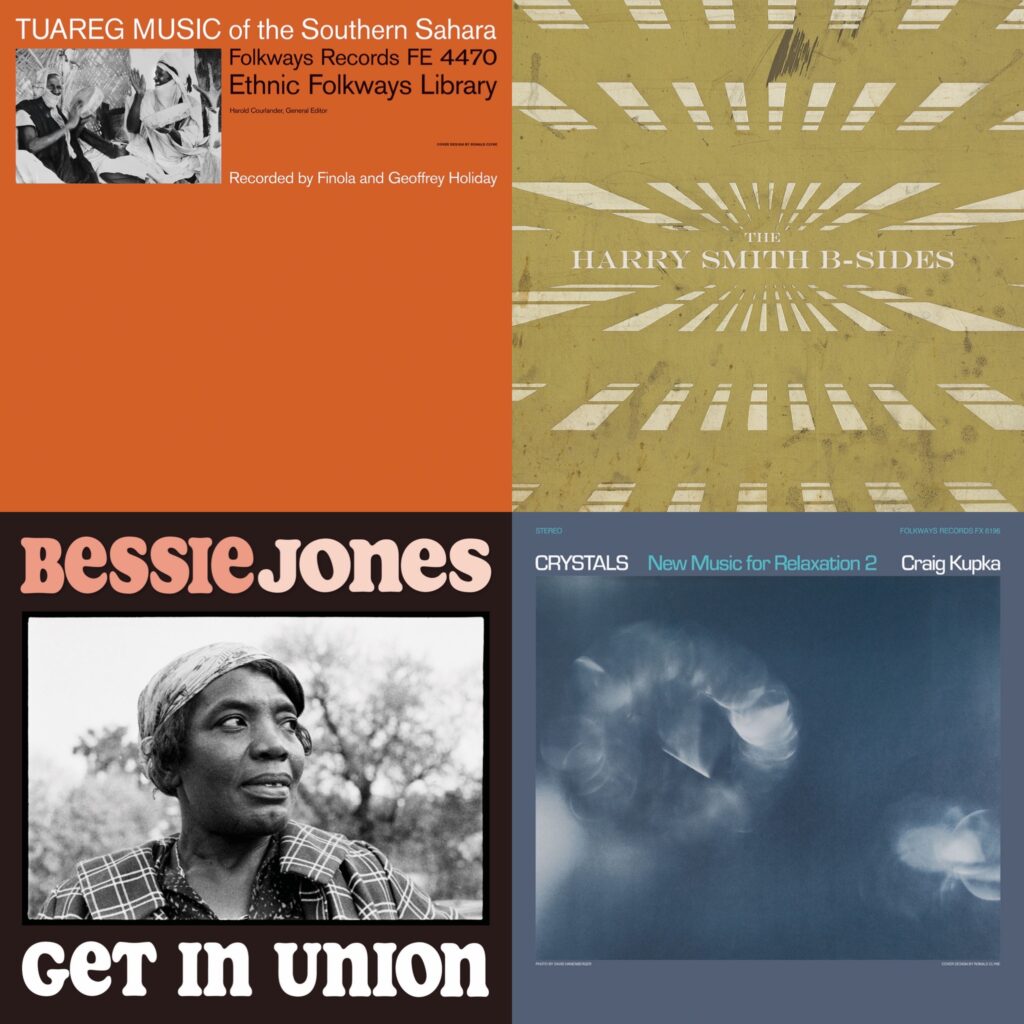 Tuareg Music of the Southern Saharan (Folkways)
Originally released on Folkways in 1960, Tuareg Music of the Southern Sahara is an incredible document of the musical legacy of the Tuareg people, a diverse group who primarily inhabit the Sahara and whose music has seen immense recent popularity thanks to electrified torchbearers like Mdou Moctar, Bombino, and Les Filles de Illighadad. Ecstatic folk songs of love, hunting, wildlife, and weddings, sprung from ancient roots and recorded in their natural outdoor setting. Essential listening for anyone who's had their brain rewired by the Sahel Sounds label in recent years. (Bandcamp)
The Harry Smith B-Sides (Dust to Digital)
Harry's Smith's 1952 Anthology of American Folk Music kick started the folk craze of the '50s and '60s. Decades later, in a year when American made tentative moves toward more fully acknowledging and grappling with its history, Dust-to-Digital offered the other side of Smith's vision, compiling the b-sides that accompanied those original shellac 78s, stringing together skeletal folk and blues, with new notes from future voices inspired by still-timely and human reminders.
Bessie Jones :: Get In Union (Alan Lomax Archive)
Compiling 60 songs recorded with the Georgia Sea Island Singers, this collection expands on the 2013 Tompkins Square edition with even more of Jones' declarative and inspiring voice. (Bandcamp)
Craig Kupka :: Crystals: New Music for Relaxation Vol. 2 (Folkways)
Gentle drones of trombone (!) and synth from 1982, re-presented on vinyl for a year when music for relaxation was more of a necessity than a luxury. (Bandcamp)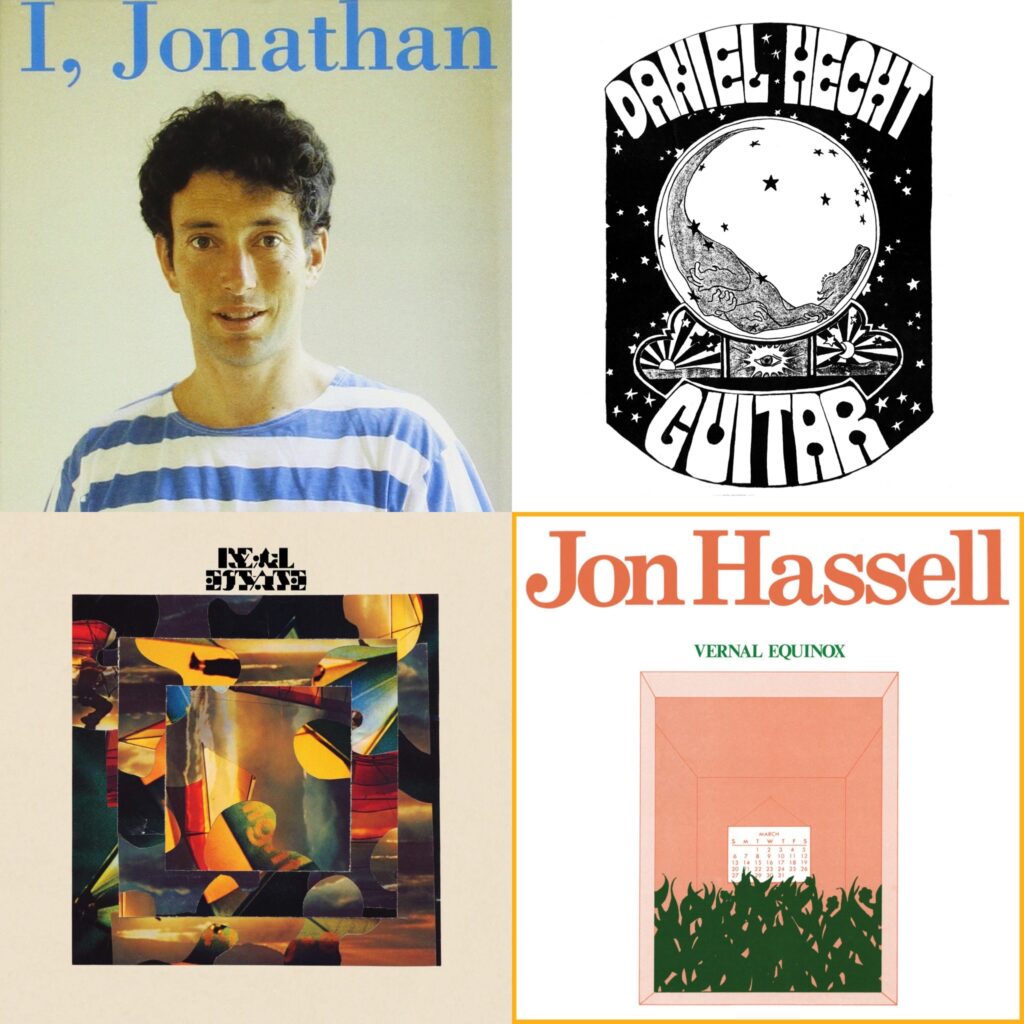 Jonathan Richman :: I, Jonathan (Craft)
This is an essential album from the rock 'n roll maestro. It's about time they pressed it on lp.
Daniel Hecht :: Guitar (Morning Trip)
Daniel Hecht's 1973 acoustic guitar outing jumpstarted a wild story that saw him travel the globe—but even separated from the grandiose adventures it began, its gentle melodies and exploratory playing shines. (Bandcamp)
Real Estate :: The Main Thing (Domino)
You can always expect a familiar comfort in every Real Estate record, a sort of sprawling tranquility that blankets each release like an old familiar sweater. That comfort is acutely present on the group's plush fifth album The Main Thing, but it's apparent the band have aged gracefully into fatherhood, offering songs like "You" and "Silent World," both spindling nuggets of dad-rock wisdom offered in a plume of synthy arrangements. (Bandcamp)
Jon Hassel :: Vernal Equinox (Lovely)
An immaculate reissue of 1977's Fourth World big bang, where the American trumpeter and composer Jon Hassell first brought together a mix of ethnographic, minimalist, and electronic music that still sounds futuristic. (Bandcamp)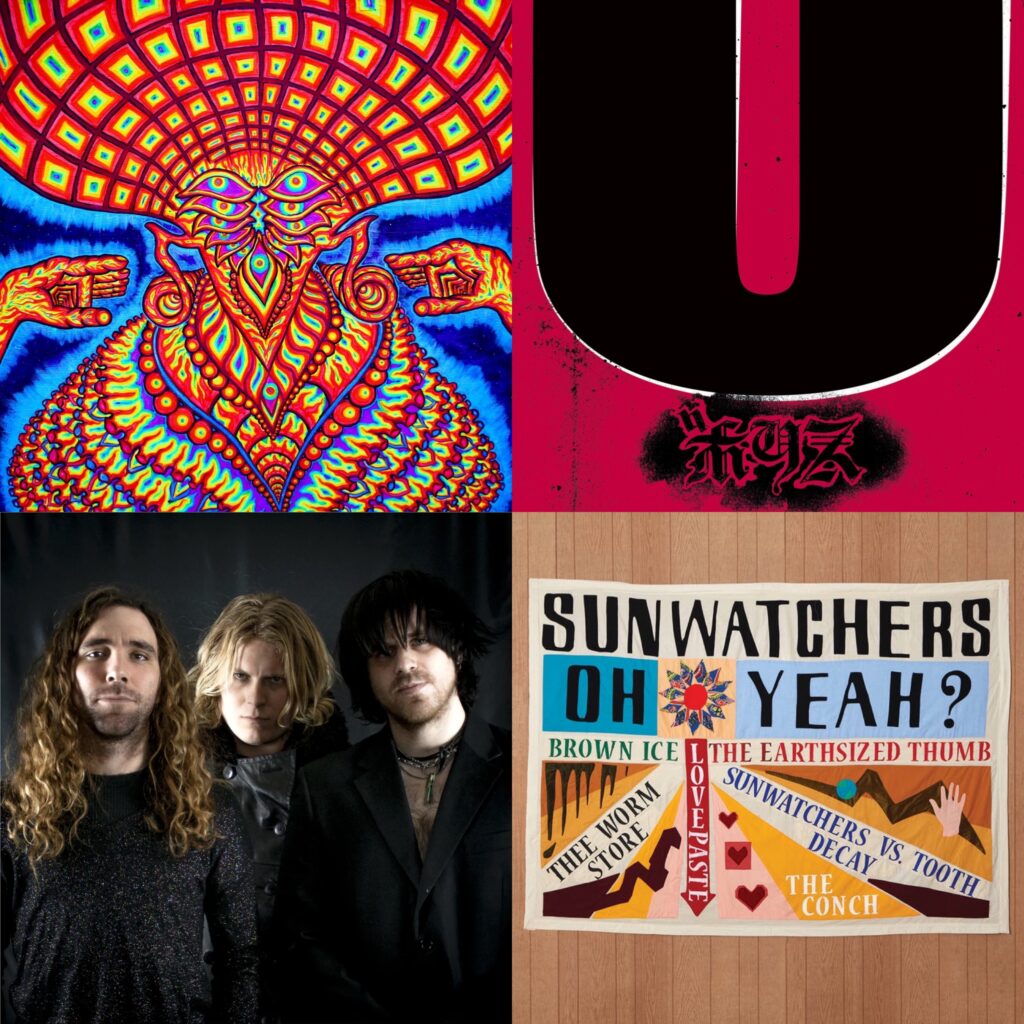 Dream Syndicate :: Universe Inside (ANTI)
Nearly four decades into their run, Steve Wynn's Dream Syndicate shows no signs of rust (or dust). Their eighth album rattles and rumbles with motorik propulsion, jazzy nonchalance, and headily expansive zones. (Bandcamp)
Boris :: Absolutego/Amplifier Worship/NO (Third Man/Fangs Anal Satan)
From their devastating first record to their latest, Japan's Boris maintains its crushing weight and surprising genre-defying agility. Maximum volume yields maximum results. (Bandcamp)
Fuzz :: Fuzz III (In The Red)
Cut with Steve Albini at Electrical Audio, III finds Ty Segall, Charles Moothart and Chad Ubovich doubling—nay, tripling—down on its signature vibe, anointed with hesher grooves, harmonized lead guitars, and glammy stomps. (Bandcamp)
Sunwatchers :: Oh Yeah?/Brave Rats (Trouble in Mind)
Did you feel a little nutty this year? Yeah, us too, and freak-out rock & roll combo Sunwatchers suited the mood just fine with two sets of sax-drenched squalls of punk jazz noise. (Bandcamp)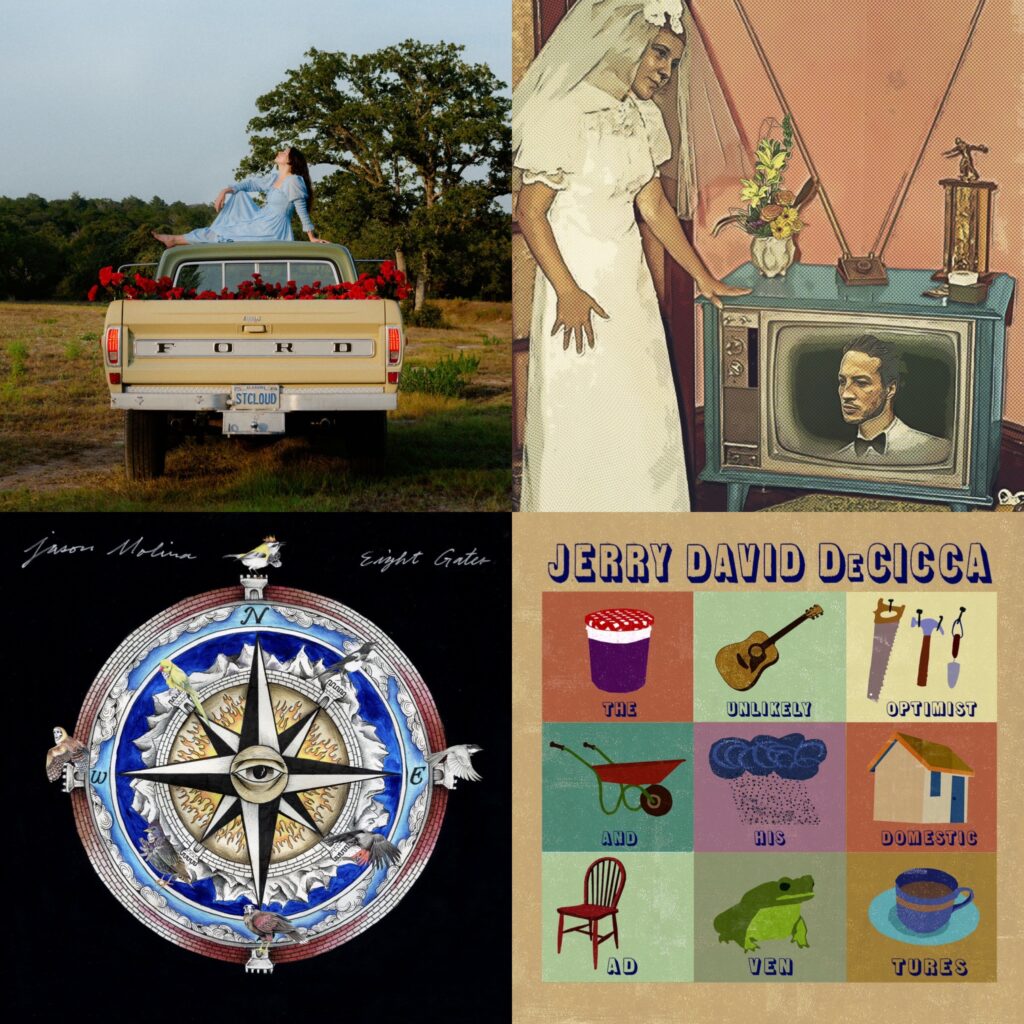 Waxahatchee :: Saint Cloud (Merge)
Deft and subtle heartland rock that finds Katie Crutchfield embracing her inner Tom Petty, swooning in the great wide open with literate grace. (Bandcamp)
Kacy & Clayton and Marlon Williams :: Plastic Bouquet (New West)
An unlikely but innate collaboration between the New Zealand musician/actor and the pair of Canadian cousins, Plastic Bouquet is a natural evolution of the sound Kacy & Clayton have been continually refining—a timeless rural amalgamation of sixties British folk and American country music. Williams is the perfect foil for Kacy, the two split songwriting duties—their distinctive voices buoying each other as Clayton peels off his prairie-inflected Richard Thompson licks and the backing band holds it down. (Bandcamp)
Jason Molina :: Eight Gates (Secretly Canadian)
Seven years on from his sad and untimely death, it was a bit of a surprise to get a Jason Molina album this good. Recorded in London in 2008, it's exhilarating and ultimately even more sad to hear Molina this alive, this ruminative and still so full of some of his best writing. (Bandcamp)
Jerry David DeCicca :: The Unlikely Optimist and His Domestic Adventures
Jerry David DeCicca's largely autobiographical The Unlikely Optimist and His Domestic Adventures finds the gentle troubadour playing paeans to positivity and the Texas Hill Country he calls home. Joined by longtime Texas shit-kickers Augie Meyers and Frank 'The Wild Jalapeno" Rodarte, DeCicca masterfully sets his openly empathetic and wryly plainspoken lyricism to dreamy story-songs, gospel ballads, joyous bluegrass, and slow-burning pensive psych-rock. (Bandcamp)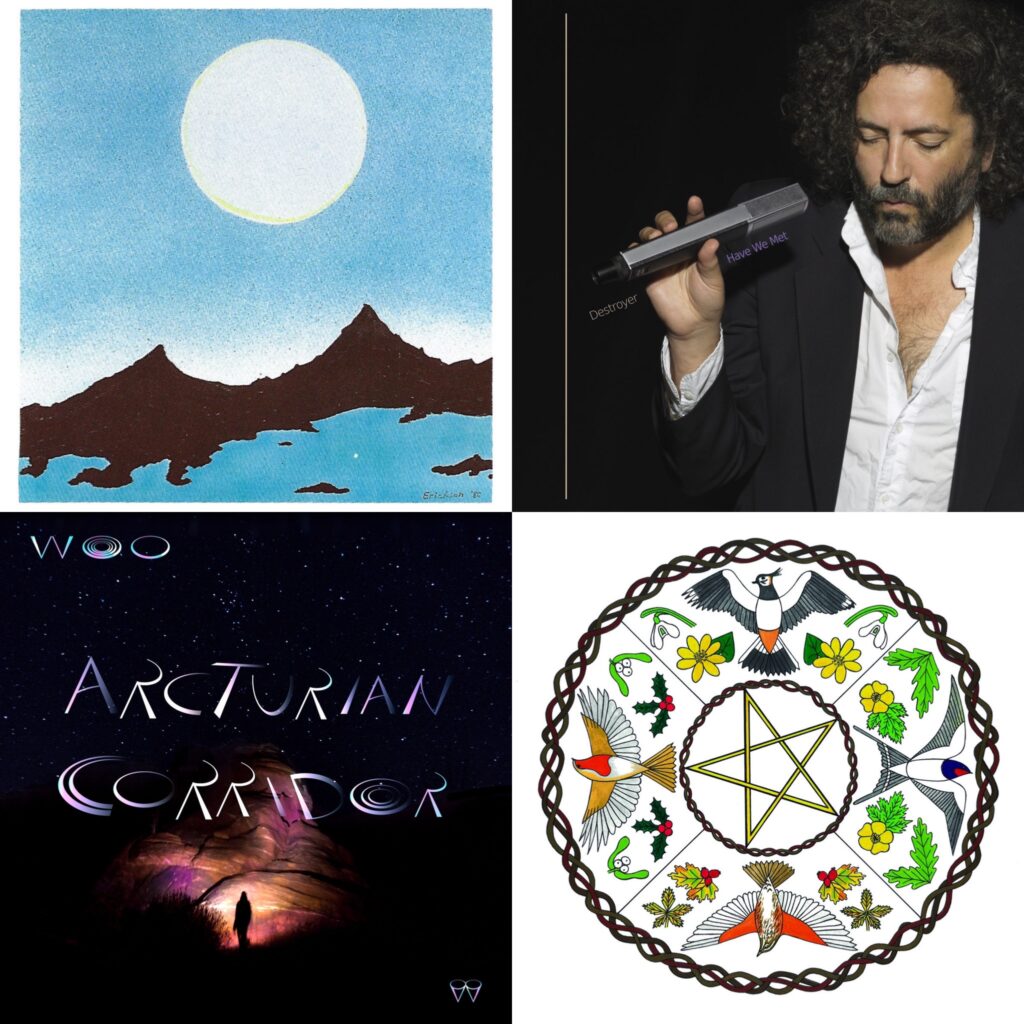 Smith & Erickson :: Blue Skies (Yoga)
Originally released on cassette in 1985, Blue Skies features the absorbing synth meditations of composer Dave Erickson. Paired with the calming guided imagery of kz smith, ph.d on the opening title track, a kind of New Age electronica is slowly unfolded, though further on Erickson becomes more of a one man band, surfing to the moon with mischievous arcaded glee. (Bandcamp)
Destroyer :: Have We Met? (Merge)
In many ways, Dan Bejar foreshadowed the cultural apocalypse of 2020 with a nonchalant clairvoyance; the album's sardonic poetic waxing and its isolated recording process beckoned in a most bitter year. Ever sonically adventurous, John Collins' digitalist production yields a chilling record that feels as mysterious and chrome-laden as a '98 iMac firing up for the first time in 20 years. (Bandcamp)
Woo :: Arcturian Corridor (Quindi)
Arcturian Corridor presents a side-long unreleased piece of music from Woo, the British duo of brothers Clive and Mark Ives who have developed a deservedly rabid fanbase decades removed from their debut release in 1982, thanks to a handful of recent reissues. Unfolding across twenty minutes and over five parts, "Arcturian Corridor" finds Woo at their most expansive and dance floor ready, though their instantly recognizable sound is still fully intact—a warm and hypnotic oscillation between playful electronics and treated organic instrumentation. (Bandcamp)
Modern Nature :: Annual (Bella Union)
Picking up the pastoral kosmische threads of their 2019 debut, Jack Cooper's Modern Nature narrows the focus on its earthy follow-up. Inspired by a notebook that unintentionally charted the changing seasons and its subsequent effects, this year's mini-album is contemplative and observational, cyclical and searching—late period Talk Talk by way of John Cameron's Kes score. (Bandcamp)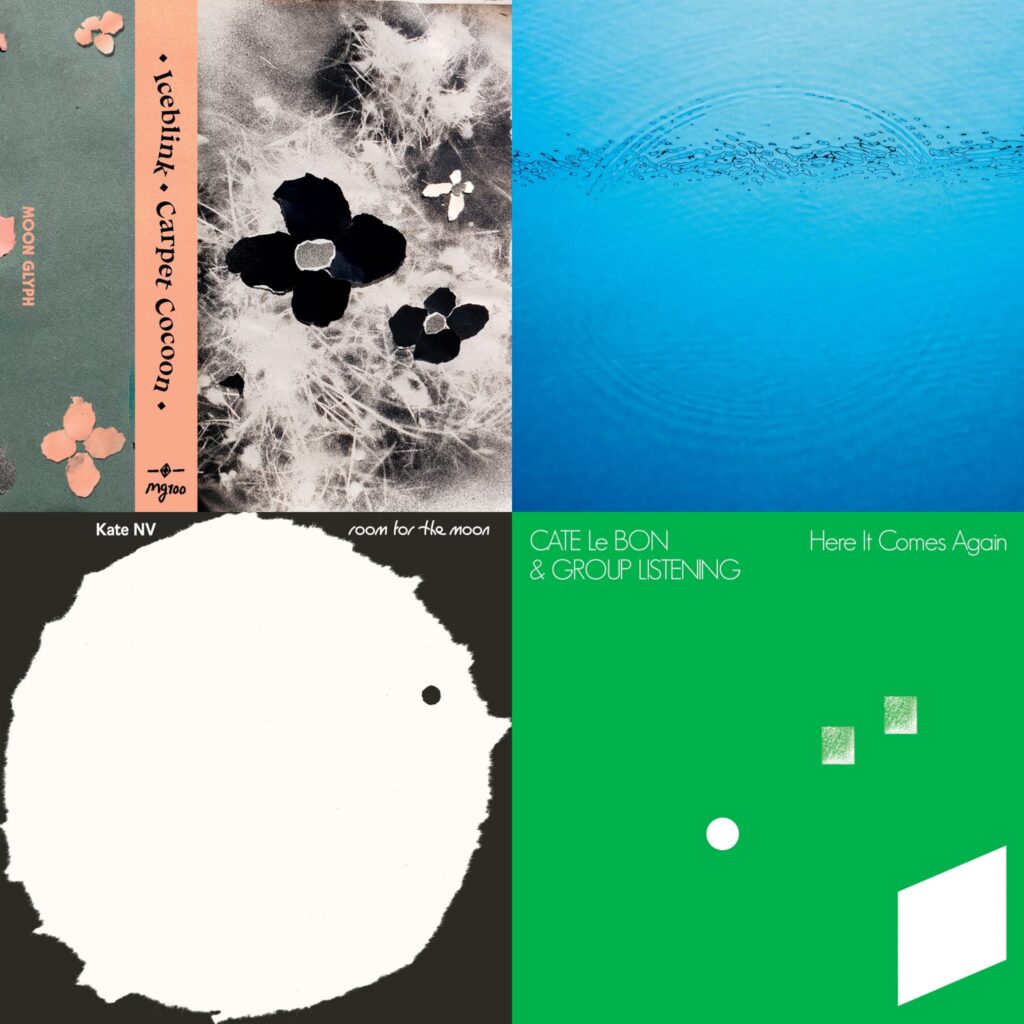 Iceblink :: Carpet Cocoon (Moon Glyph)
Like fellow Woo acolytes Nite Jewel or E Ruscha V, Minneapolis' Lynn Avery somehow harnesses the Ives brothers otherworldly miniatures and uses them as a starting point for her own homespun excursions, where fingerpicked nylon string guitars running through vocoders cozy up alongside Prophet synthesizers and treated woodwinds. (Bandcamp)
Caribou :: Suddenly (Merge)
Since his unpolished debut early in the millennium, Dan Snaith has evolved into a high fidelity mastermind. And much like every Caribou record before, Suddenly's diverse dance floor is its own biome rife with intricate organic life, synthesizers, 808s, and altered falsettos dancing a sort of kinetic, osmotic ballet. For an album so free and emotive, Snaith has harnessed the art of distilling life from the ether, where every song is like viewing a whole world under a microscope. (Bandcamp)
Kate NV :: Room for the Moon (RVNG Intl.)
Russia's Ekaterina Shilonosova broke through this year with Room for the Moon, an album of avant-garde exotica pop from her Kate NV moniker. Joined on the record by just two accompanying players of saxophone and bass guitar, and one vocal appearance from musician Nami Sato, NV comes across as something of a one-woman band: employing mallet instrument minimalism, fourth-world melodies, and Japanese new wave vogue for an intoxicating swell of fantasia. (Bandcamp)
Cate Le Bon & Group Listening :: Here it Comes Again (Mexican Summer)
Cate Le Bon teamed up with chamber jazz duo Group Listening for five re-imaginings of songs from her 2019 album, Reward. Her flourishing, buoyant art rock is mellowed in their hands, woodwinds and vibraphones intimately surrounding Le Bon's tunneling vocals and melodies for a rainy-day splash of surrealist minimalism. (Bandcamp)
Contributors: Charley Ruddell | Kaley Evans | Tyler Wilcox | Jennifer Kelly | Tyler Hale | Mark Neeley | Chad DePasquale | Josh Neas | Jay Steele | Jason P. Woodbury | Justin Gage

Real talk. Aquarium Drunkard is powered by its patrons. Keep the servers humming, snag some exclusives, and help us continue doing it by pledging your support via our Patreon page. For heads, by heads.