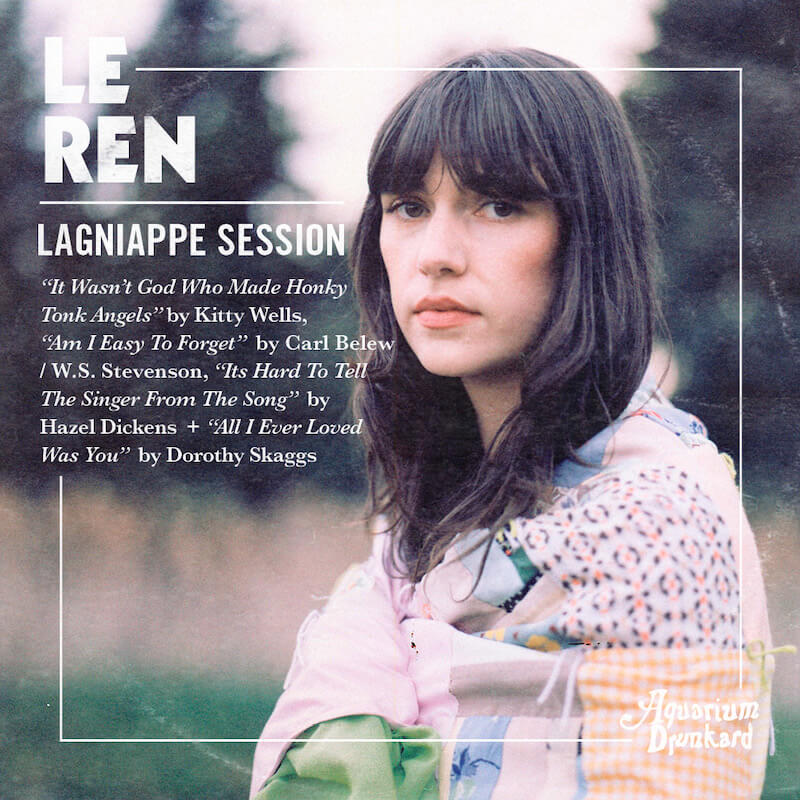 Lagniappe (la ·gniappe) noun 'lan-ˌyap,' — 1. An extra or unexpected gift or benefit. 2. Something given or obtained as a gratuity or bonus.
Le Ren—the musical endeavor of Montreal's Lauren Spear—has created one of the more wondrous country records in recent memory with her debut long player. Entitled Leftovers, it's the type of timeless record that leads into the many vast and winding roads that country music implies. Spear's vocals fluidly move from a deep, sepia-toned croon to a gentler, wistful coo depending on the songs' demands. And, oh man, those songs. Some stark and plainspoken, steeped in pedal-steel and fiddle, and others living in a more baroque-folk space, with luminous harmonies and Spear's adoring and affecting wordplay seemingly stopping time. On "Annabelle and Maryanne," an exchange of letters between two lovers, she channels an almost Simon & Garfunkel level of melancholic perfection. "You needn't worry so much over me," Annabelle assures Maryanne, "I'm holding on like an autumn tree holds onto leaves." And, in the album's closing moments, when Spear sings, "May Hard Times Pass Us By," she feels wholly eternal. Like an ancient and wise country-folk dweller who has always existed, but has chosen only just now to speak, and to speak profoundly.
For her debut Lagniappe Session, Spear digs in on her roots—tackling country and bluegrass popular songs, the pioneering Hazel Dickens, and the forward-thinking feminism of Kitty Wells—and weaves them her own: a warm, gentle tapestry with threads growing ever new.
---
Le Ren :: It Wasn't God Who Made Honky Tonk Angels (Kitty Wells)
While driving across the land referred to as Canada a couple years back, I was introduced to the country music history podcast Cocaine & Rhinestones. In episode two, producer Tyler Mahan Coe talks about various country songs that have been banned from radio and includes Kitty Wells' song "It Wasn't God Who Made Honky Tonk Angels." The lyrics are about married men acting like they're single and the blame always falling on 'temptress' women. Coe explains how this song was a direct response to Hank Thompson's hit "The Wild Side of Life," a tune that essentially demonized women who like to go out at night. I thought the way Kitty bit back in her song was so clever and frankly, punk!! I've been wanting to cover this song for a while now and ended up working with one of my favourite musicians Charlotte Day Wilson to make it a reality.
Le Ren :: Am I That Easy To Forget (Carl Belew, W.S. Stevenson)
Many people have sung this song, but I first heard it done by the one and only Skeeter Davis. Her version is incredibly upbeat and is one of those country songs that you could easily find yourself waltzing to at a wedding, mistaking it for a love song – but the lyrics say otherwise! I find the words incredibly hard hitting and I've wanted to take them and reinvent the structure of the song for a while now. Traditionally, I've stayed pretty true to original versions of songs but I thought it would be an interesting exercise to flip that and make it completely my own. For this session, I was lucky to be joined by Leighton McKinley Harrell on upright bass and Rhys Climengage on drums and production.
Le Ren :: It's Hard To Tell The Singer From The Song (Hazel Dickens)
A couple years ago, I attended a singing workshop in North Carolina that a couple legends taught at including Alice Gerrard. Alice used to be in the band Hazel & Alice which was a bluegrass duo that comprised herself and Hazel Dickens (who we unfortunately lost in 2011.) At the workshop, we learned this Hazel song and I was immediately taken by it. The words tell of a singer who's a "hurtin' woman who lives the song she sings." I could be projecting, but in my mind this song is about Hazel herself. From what I know about her through research and through her lyrics, she was an advocate for coal miners and sang many anthems of labor. Being one of the first women to record a bluegrass album, I also imagine she had to endure a lot of push back in that male dominated world. I can't help but think this song tells the story of her life.
Le Ren :: All I Ever Loved Was You (Dorothy Skaggs)
At the same workshop, Emily Miller and Ginny Hawker taught harmony singing and when they sang this together, it felt like their voices were one. I love harmony lines that move so effortlessly around each other and immediately after hearing this, I really wanted to give it a try. In the version that Keith Whitely and Ricky Skaggs do, they start with the chorus, sing a verse, return to the chorus and so forth. In my version, I wanted to focus on the harmony lines so I changed the structure and just sang chorus / verse / verse. If I was singing with a band, I would've approached it differently but for this session, I wanted to make it as simple as possible. I think the beauty of doing covers is that you have free reign to play around and reimagine how you would've played it had you written the song yourself. I really wish I'd written all these songs, but I'll settle for being a mockingbird.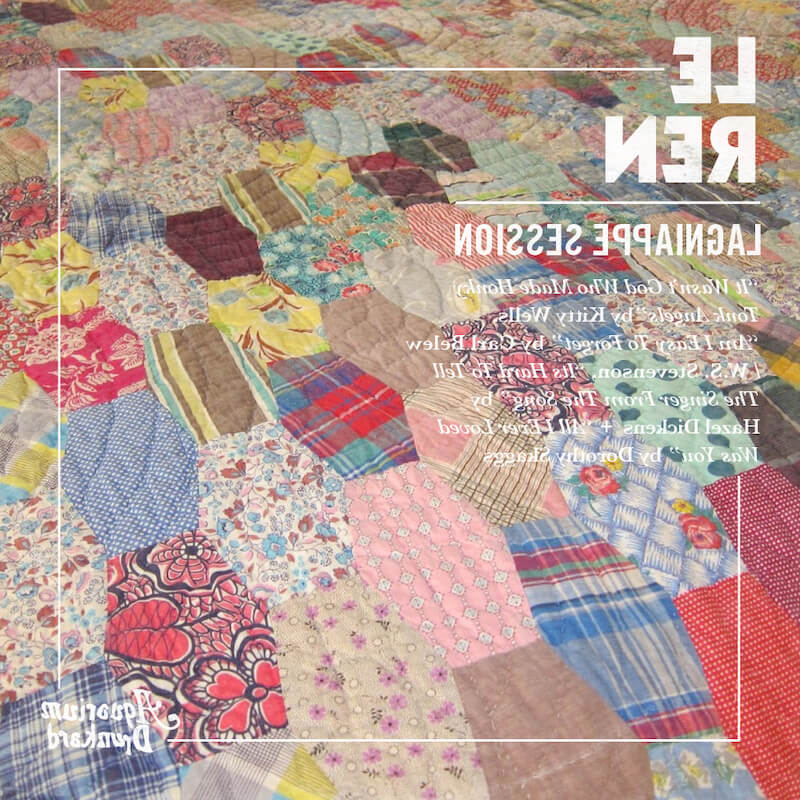 Lagniappe Sessions Archives / imagery via d norsen
For heads, by heads. Aquarium Drunkard is powered by its patrons. Keep the servers humming and help us continue doing it by pledging your support via our Patreon page.