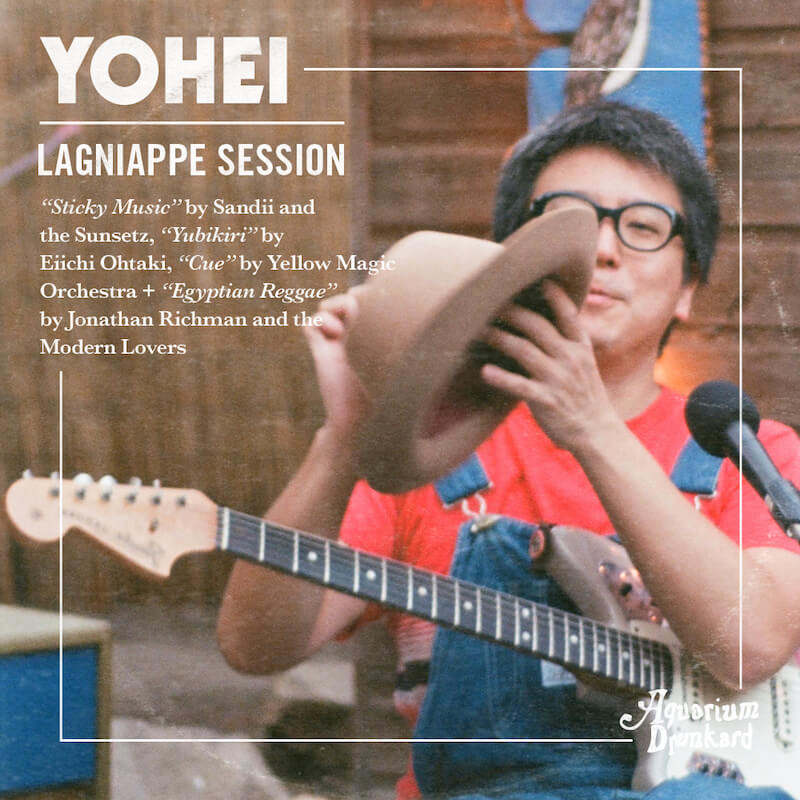 Lagniappe (la ·gniappe) noun 'lan-ˌyap,' — 1. An extra or unexpected gift or benefit. 2. Something given or obtained as a gratuity or bonus.
From exotica guitar outfit Wet Sounds to recent solo collaboration with Nels Cline, LA-via-Tokyo musician/composer Yohei stays inventive (while often comfortably behind the scenes). Fresh off of a long summer on the road, the multi-instrumentalist recorded his inaugural Lagniappe Session soaked in the California sun of his outdoor garden studio (background cricket ambiance and all). In addition to tackling Jonathan Richman's interpretation of fantasy exotica, the selections play tribute to his many lifelong influences dating back to childhood in Japan: deep cuts from the limitless worlds of Haruomi Hosono and Eiichi Ohtaki.
Yohei Shikano :: Sticky Music (Sandii and the Sunsetz)
Visiting record stores around the world is one of the beautiful things about being on the road. I bought a 7″ single of this song from a very drunk clerk who was barely running a record store. I believe it was somewhere in France. I ended up partying with him and I too got very drunk. Here's a Haruomi Hosono penned song from 1984. A stunning song by Sandii and the Sunsetz. Caetano Veloso inspired me to come up with this arrangement. Point Lobo produced this version with me and is playing synth bass, percussion, and singing harmonies. I am playing a nylon string student guitar and a casiotone keyboard. I recently befriended Makoto Kubota, who led Sandii and the Sunsetz and its predecessor, Yuyake Gakudan. So this one is for Makoto. I am so honored to know you!
Yohei Shikano :: Yubikiri (Eiichi Ohtaki)
Eiichi Ohtaki led Happyend along with Hosono in Tokyo. Their album Kazemachi Roman from 1971 is my desert island, all time favorite album. This song is from Ohtaki's first solo album released right after Happyend disbanded. I used to listen to this album in my high school days in Tokyo. This brings me right back to my bittersweet train ride to school. Mostly bitter, unfortunately. Daniel Seeff, who played bass in my band My Hawaii, is laying down some heavy Jamaican style bass here. I played guitars, steel guitar and sang vocal harmonies.
Yohei Shikano :: Cue (Yellow Magic Orchestra)
I am a huge fan of Haruomo Hosono. His endless curiosity towards music inspires me deeply. In this collection of cover versions, I made a few Hosono related tunes. This song, "Cue", is by Yellow Magic Orchestra, a band he led in the early 80s. These lyrics always resonated with me. I recorded these tunes in my garden in Mt. Washington. You can hear crickets in the background. I played resonator slide guitars, acoustic guitars, and electric bass. Seth Ford Young, of Phi-Sonics, sings harmonies along with my neighbor Luis on a chainsaw.
Yohei Shikano :: Egyptian Reggae (Jonathan Richman and the Modern Lovers)
I love music that's not entirely authentic. You might say kitsch or fake exoticism. Martin Denny's music means a lot to me. I wanted to make fake street music from some faraway place that doesn't really exist. Rob Dobson is playing bongos here. I am playing everything else.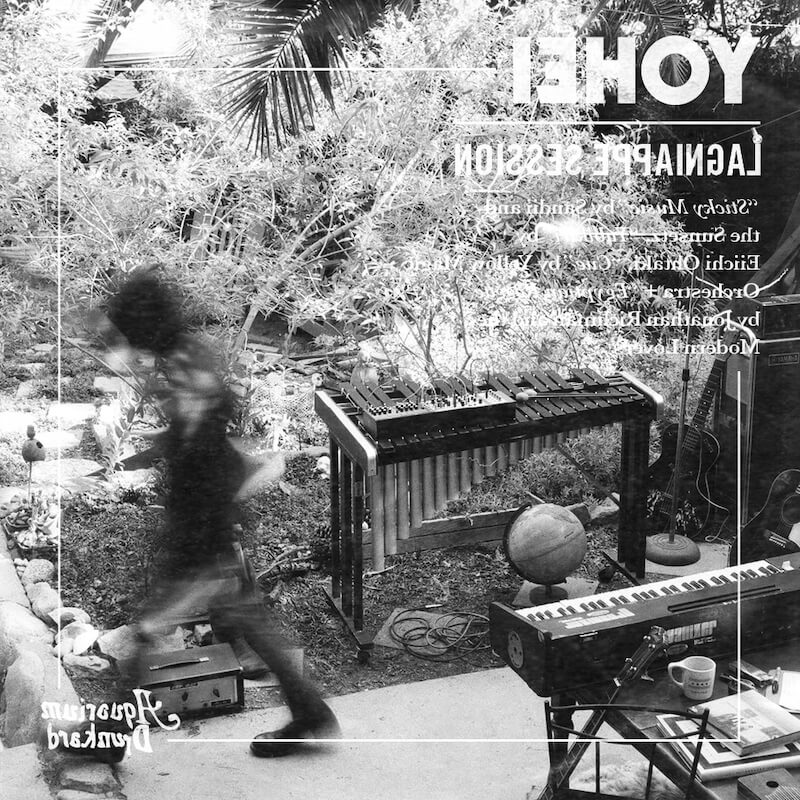 Lagniappe Sessions Archives / imagery via d norsen
For heads, by heads. Aquarium Drunkard is powered by its patrons. Keep the servers humming and help us continue doing it by pledging your support via our Patreon page.