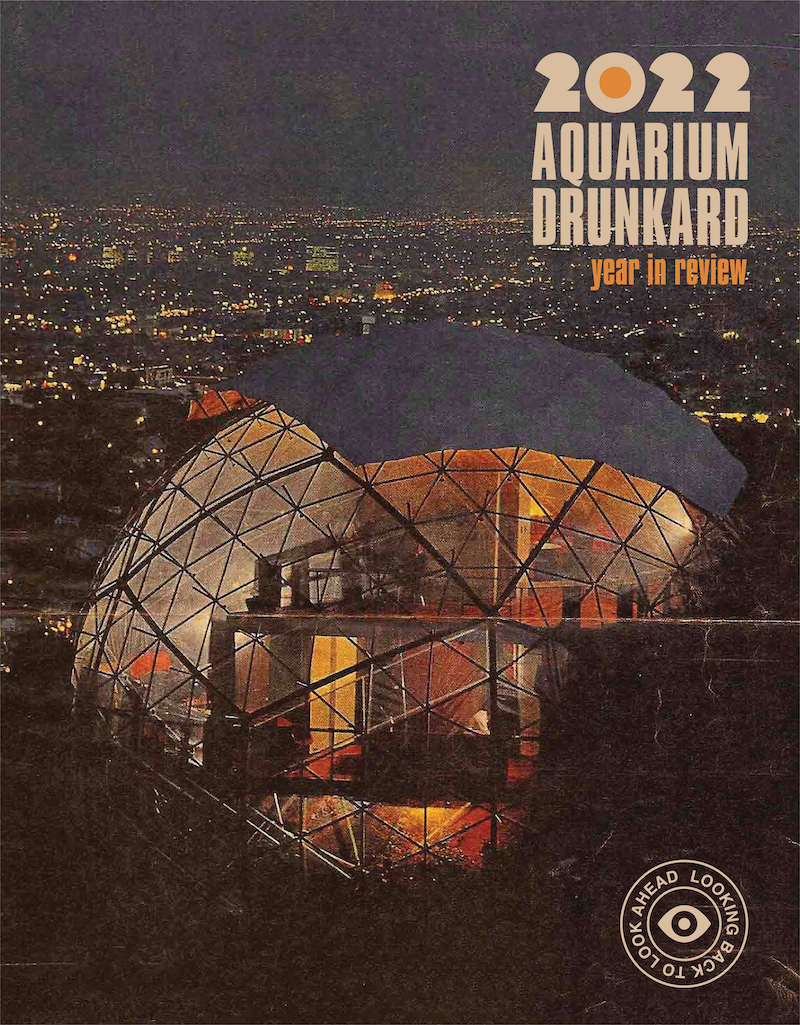 Looking back to look ahead. It's our Year In Review 2022. As always, our list is unranked and unruly. Let it blurb.
As we enter 2023, here's a survey of AD's recurring cultural offerings: Each Wednesday night on Sirius/XMU channel 35, a new episode of Justin Gage's long-running Aquarium Drunkard Show. Every third Sunday of the month, our Radio Free Aquarium Drunkard Dublab feature broadcast. Viewing: Aquarium Drunkard Picture Show; listening: Aquarium Drunkard Transmissions, and the Lagniappe Sessions, featuring artists covering the songs that made them. And to help you keep track of it all, our weekly Sidecar newsletter.
Aquarium Drunkard exists because of the passion of its contributors (learn more about them here) and the support of its generous Patreon community, so consider pledging your support as we ring in the new year. Only the good shit, onward and upward.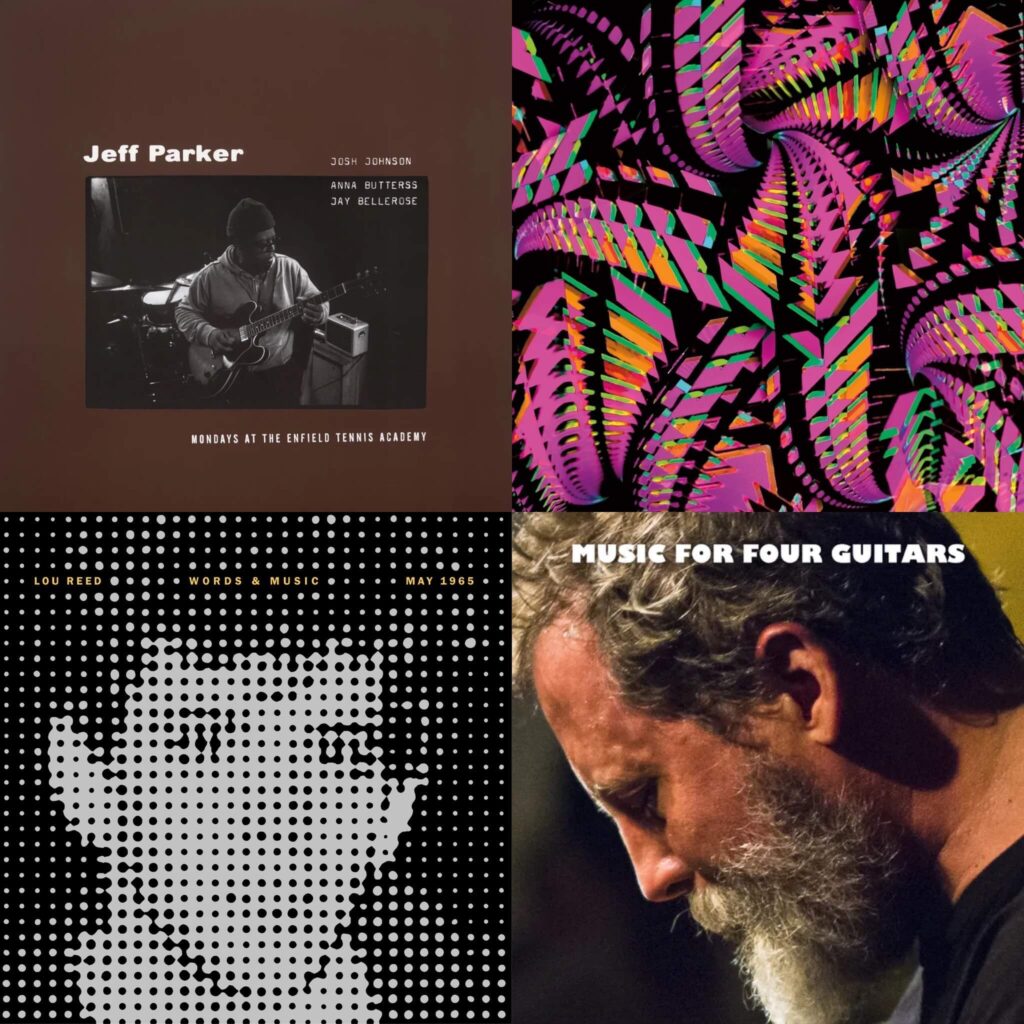 Jeff Parker—Mondays at the Enfield Academy: Full freedom flight. Mondays at the Enfield Academy is an uncommonly intimate live recording, its players perfectly at ease in this small club setting. They aren't really going for cosmic moments of ecstatic communion (though those moments certainly occur). Instead, they're content to let these flowing, spontaneous compositions blossom at their own pace, unwinding and then somehow re-spooling, again and again into infinity.
Bitchin' Bajas—Bajascillators: Listening to the latest album from Chicago zoners Bitchin' Bajas without context, you'd be forgiven for think you'd stumbled onto a lost recording from Midori Takada, Craig Leon, or flute and drums-era Kraftwerk in some parallel universe record shop. Each of Bajascillators' extended instrumentals offers access to endlessly listenable worlds within worlds.
Lou Reed— Words & Music May 1965: Standing on its own, Words & Music, May 1965 might not sound like a precursor to a musical revolution but that's exactly what it is. Here, Lou Reed and John Cale harmonize sweetly, stumble over lyrics and goof around, before getting to such proto-masterpieces as "Heroin," "I'm Waiting For The Man" and "Pale Blue Eyes." That these two oddballs from different worlds somehow found each other and managed (for a short time) to create such powerful art together was incredibly unlikely. But we're all better off because of it.
Bill Orcutt—Music For Four Guitars: A multitracked electric guitar masterpiece, Bill Orcutt's Music For Four Guitars offers a richly layered trip. As with everything Orcutt does, there's a wild intensity at work, but the interlinked compositions here could also work as meditation soundtracks. Orcutt continues to surprise.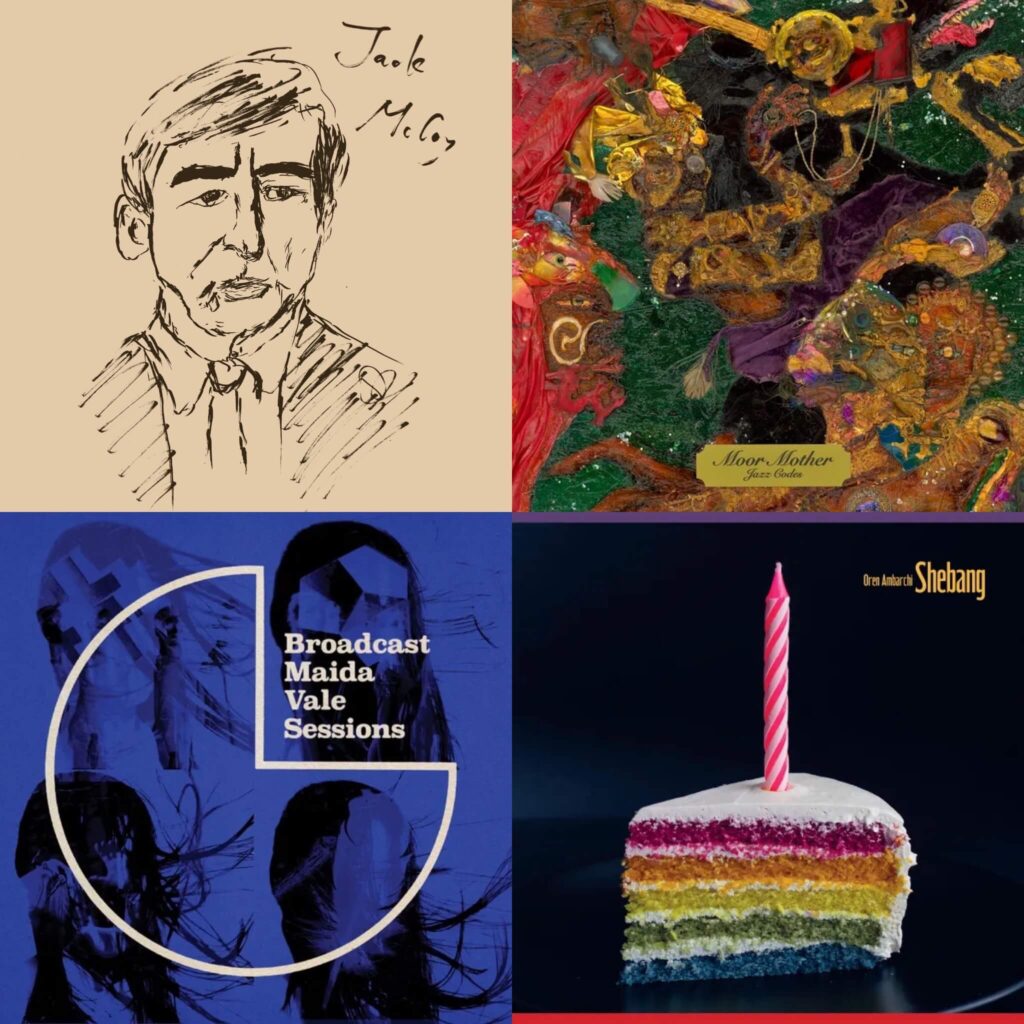 Eiko Ishibashi—For McCoy: Eiko Ishibashi's tribute to Jack McCoy, the Law & Order character played by Sam Waterston, might seem like a silly concept, but her music transcends this concern. Tied together by the airy flutes in its opening fanfare, the album descends into ominous electronic tones and sparse instrumentation before Ishibashi's voice finally appears. For McCoy concludes with a smoky noir-jazz coda as comforting as the words "Executive Producer Dick Wolf."
Moor Mother—Jazz Codes: Moor Mother's gauzy, dreamlike Jazz Codes interrogates the boundaries between genres. Looking back at Black musical innovators and the multitude of ways they have been written out of the history books, the album nods to heroes like the Outkast, Dizzy Gillespie, and Mary Lou Williams. "UMZANSI", featuring harpist Mary Lattimore, imagines into existence what it might have sounded like if Alice Coltrane got heavy into Chicago footwork.
Broadcast – BBC Maida Vale Sessions, Microtronics – Volumes 1 & 2, Mother Is The Milky Way: Another year has come and gone without the long-rumored final Broadcast record materializing, but 2022 did bring a tryptic of rarities from the inimitable British group: a gorgeous collection of live sessions that moves from their initial full band days through their kaleidoscopic Haha Sound era; two volumes of Broadcast exploring the outermost edges of their library and avant-garde influences; and a roughly-hewn assemblage that finds Trish and James at their most playful and bucolic. An absolute treasure trove.
Oren Ambarchi—Shebang/Ghosted: Oren Ambarchi's sprawling Shebang features an international cast such as Jim O'Rourke, Julia Reidy, and legendary pedal steel player BJ Cole who's played with everyone from Elton John to John Cale. Crafting the album with his long-distance collaborators in fragments like a musical game of exquisite corpse, the avant guitar hero assembled a spidery, brain-tickling 35-minute workout, seamlessly introducing new sounds and never stopping the groove. And don't sleep on Ghosted either, his hypnotic new collab with bassist Johan Berthling and drummer Andreas Werliin. It grooves too, but with an uncommon sense of adventure and imagination.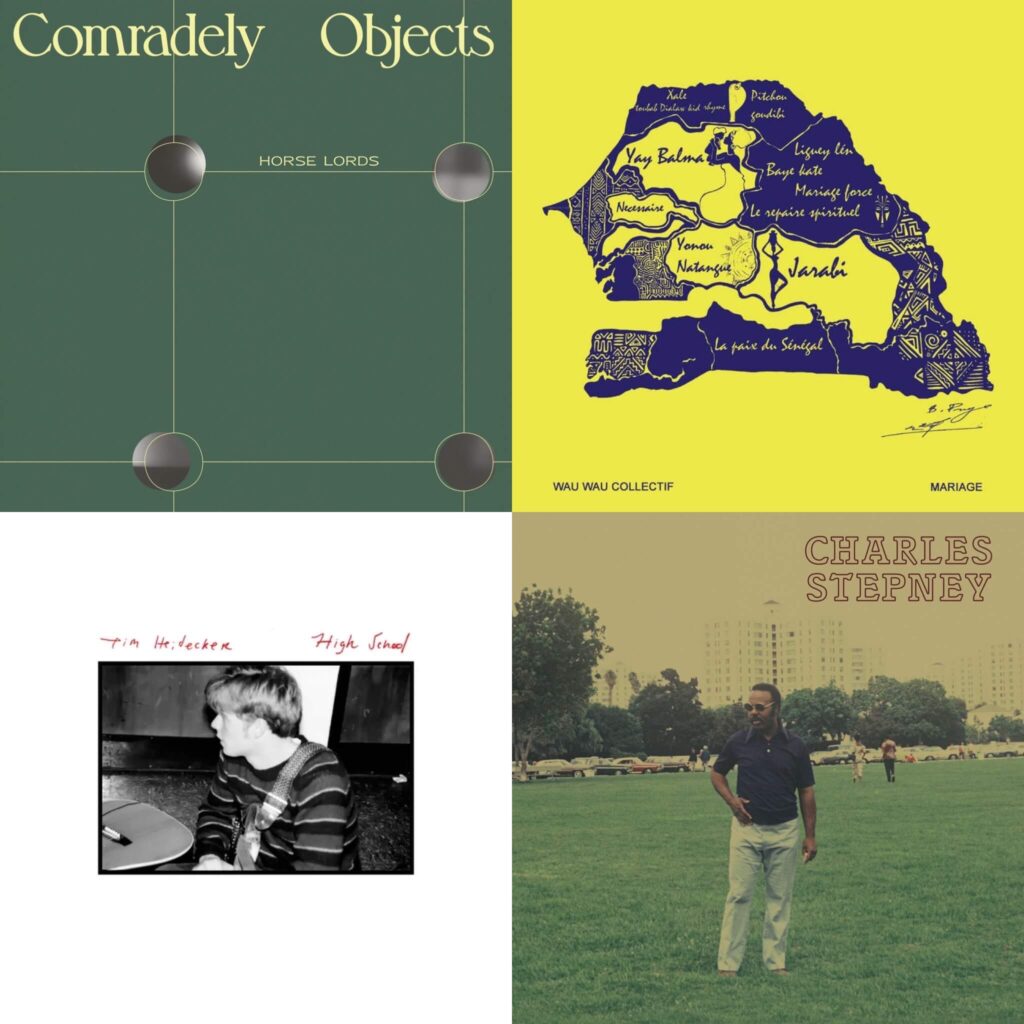 Horse Lords—Comradely Objects: Recorded prior to the band's move from Baltimore to Germany, Horse Lords fourth long-player ranks among their finest work. In short, the four piece make cerebral music that absolutely rips—intricate in its conception, thrilling in its execution, immediate in its impact. It is difficult to think of a more viscerally exciting American group working today.
Wau Wau Collectif—Mariage: The second collaborative album from musicians in Toubab Dialaw, Senegal, led by vocalist Aurora Kane, and Sweden's Karl Jonas Winqvist is a welcome sequel to Wau Wau Collectif's debut, Yaral Sa Doom. Familiar voices flow through songs packed with fuzzy xalam guitar riffs, trills of flute, and plunky balafon percussion augmented by spacey electronic effects.
Tim Heidecker—High School: Though it's been the case for most of the last decade, it bears repeating: you don't need to be a fan of Heidecker's layered and intensive comedy to appreciate the classic '70s singer/songwriter chops of his records. But there's a lot more than just Wilburys-ready vibes to High School, which finds Heidecker fully in his zone as an gifted lyricist, spinning lovingly melancholy odes to his late '80s youth.

Charles Stepney—Step On Step: One of the year's landmark archival releases, International Anthem worked with the daughters of producer/arranger Charles Stepney to cull this expansive collection. The results? A 2xLP treasure trove of lo-fi home recordings: prototype sketches and sample-worthy funk jazz grooves. Previously known for his studio work with the likes of Minnie Ripperton and the Chess Records roster, Step On Step shines a light on Stepney's singular talents on vibraphone and piano. Moods perfect for just about any setting.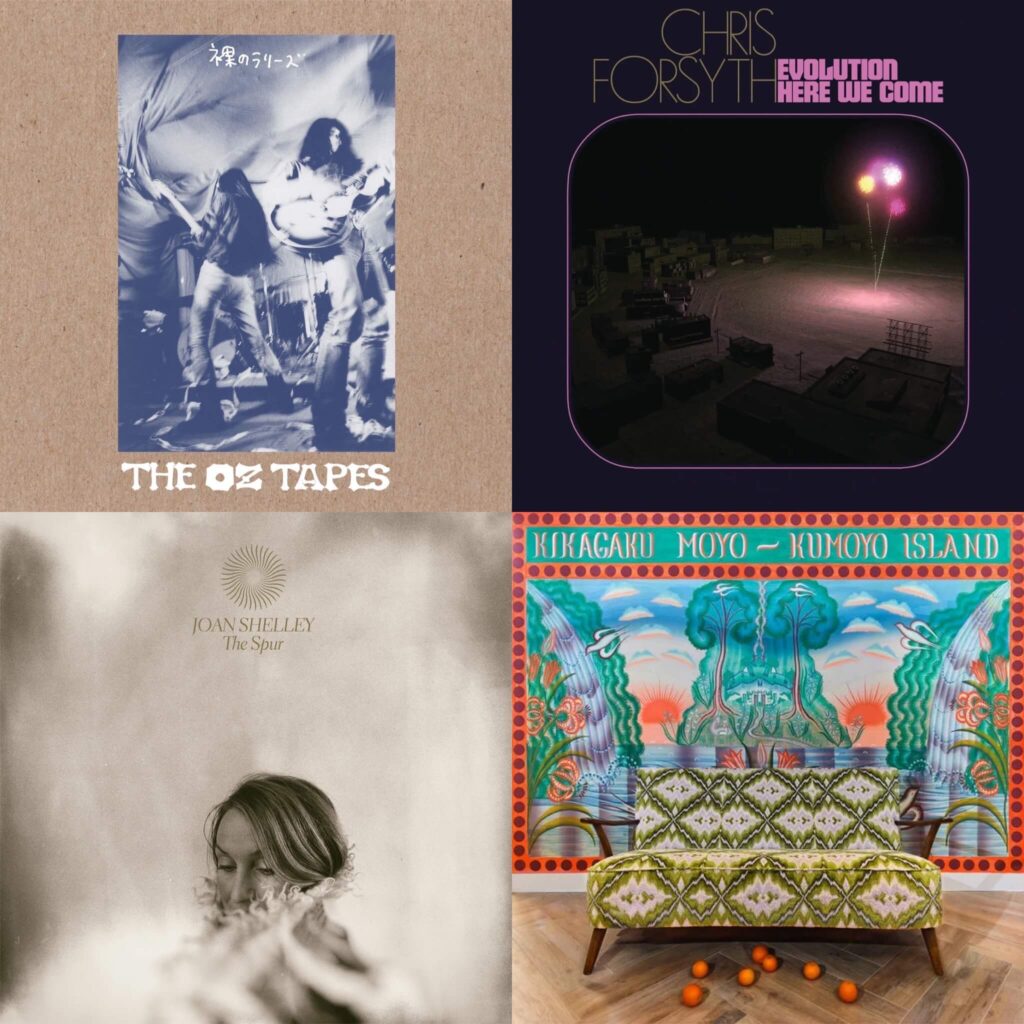 Les Rallizes Dénudés—The OZ Tapes: Unearthed after nearly fifty years, The OZ Tapes captures Japanese psych guerillas Les Rallizes Dénudés in all their wailing glory at the OZ Last Days festival in 1973. Distilling the band's fierce, shimmering squalls of feedback and fuzz into a concentrated shot of molten raucousness, this is an ideal introduction to the band's vast, mysterious (mostly bootlegged) oeuvre. Along with its cousin, OZ Days Live, this is a document of year zero for the Japanese psychedelic underground and, as such, is monumental on every level.
Chris Forsyth—Evolution Here We Come: Philly guitarist Chris Forsyth continues his impressive decade-long streak of absolutely killer guitar-centric records with Evolution Here We Come. "Evolution" is the right term. Forsyth and his cohorts (here including a core group of Dave Harrington, Ryan Jewell, Doug McCombs, Tom Malach, plus several special guests) are continually pushing the sound further, finding new textures and grooves — especially on the extended closer which spirals fearlessly out into a vast cosmos.
Joan Shelley—The Spur: Louisville, Kentucky's finest songwriter unleashes another masterwork. Further expanded are the swirling uncertainties and fears tied to maturing; underpinning the warmest arrangements recorded this year. Backed by the likes of Nathan Salsburg, James Elkington, Meg Baird, and Bill Callahan, The Spur is a testament of collaborative spirit.
Kikagaku Moyo—Kumoyo Island: Any band that gets to quit on their own terms is lucky. When Kikagaku Moyo announced at the beginning of this year that they'd be going on indefinite hiatus after 2022 was done, it made their final album all the sweeter. Kumoyo Island really is just a natural continuation of the sound the band has been evolving over the years, but it finds itself resolving a lot. "Dancing Blue" is a high-spirited, throbbing dance number; "Meu Mar" a gorgeously picked and floating ballad; and the album ends with "Maison Silk Road," the kind of song that feels like the band finding the natural chord to leave ringing, fading, and resonating with their listeners for years to come.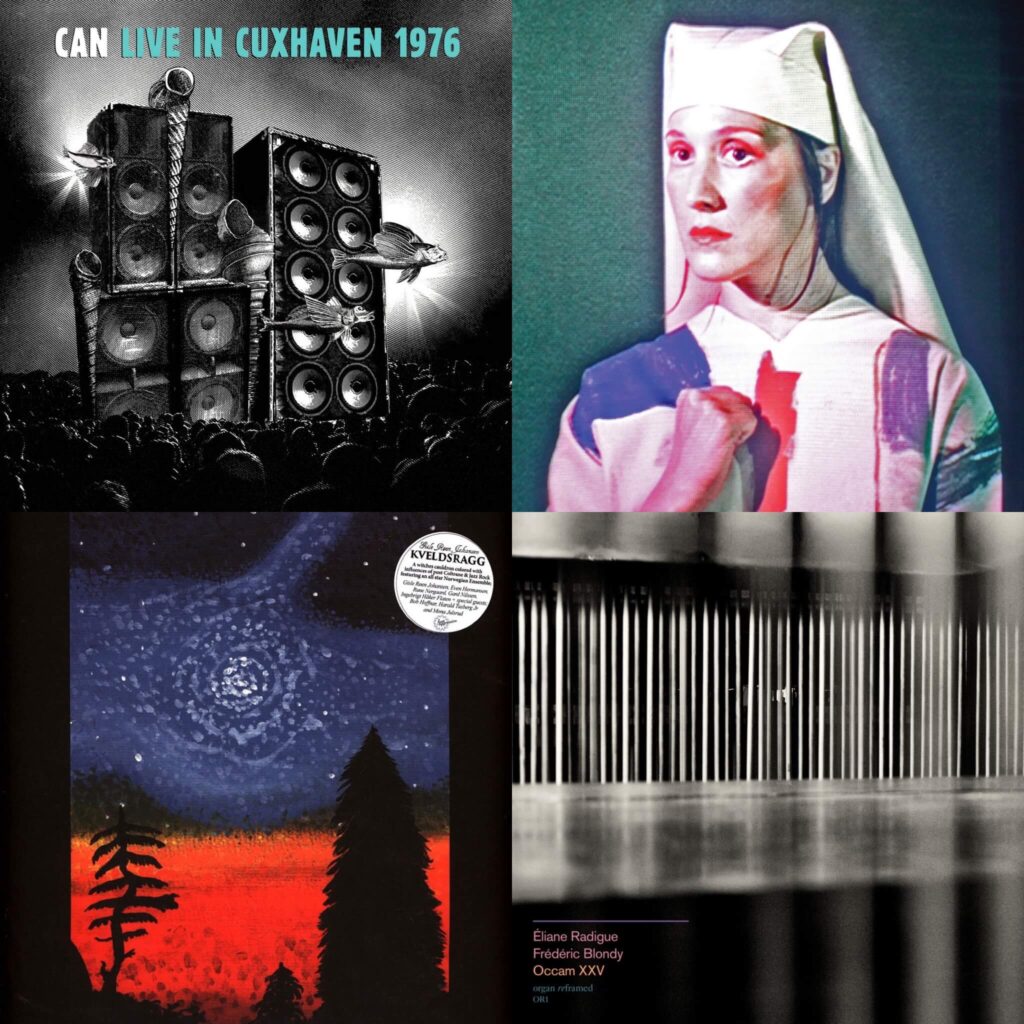 Can—Live in Cuxhaven 1976: The third release in Can's crucial Bootleg Series, Live In Cuxhaven is the shortest yet, clocking in at just about a half-hour. But its brevity makes for a thrilling listen, with the quartet riding wave after wave of open-ended sound. Guitarist Michael Karoli is in particularly good form throughout, sometimes flowing and groovy, sometimes wickedly biting. Should you seek out the rest of this recording, which circulates among fans? Well, yeah.
Cate le Bon—Pompeii: There's a wooziness to many of the synthesizers and horns on Cate le Bon's latest; it's like the recordings were unearthed from the titular town, cleaned up and mostly saved, but still funneling her icy and delicately stated lyrics through impossible heat. In a career full of stellar albums, Pompeii stands out, a further exploration of a remarkable musician's ever evolving view of what pop music can sound like.
Gisle Røen Johansen—Kveldsragg: The turns this music takes, random as they seem, are never cheap jump-scares. They are developed organically throughout, and Johansen's crack squad of Norwegian musicians fully commits to them. Somehow they manage to weld spiritual jazz and icy ECM and martial prog and no-wave noise into an improbable, and emotionally stirring, unity. It is one of the most inventive and consistently surprising records out this year, and it might be one of the finest.

Éliane Radigue and Frédéric Blondy—Occam XXV: At age 90, Éliane Radigue continues to create astonishing long-form compositions which slow down the passage of time. Commissioned by the Organ Reframed festival, the 45-minute Occam XXV is the first work the electronic composer has written for organ, performed by Frédéric Blondy at London's Union Chapel on a historic instrument built in 1877.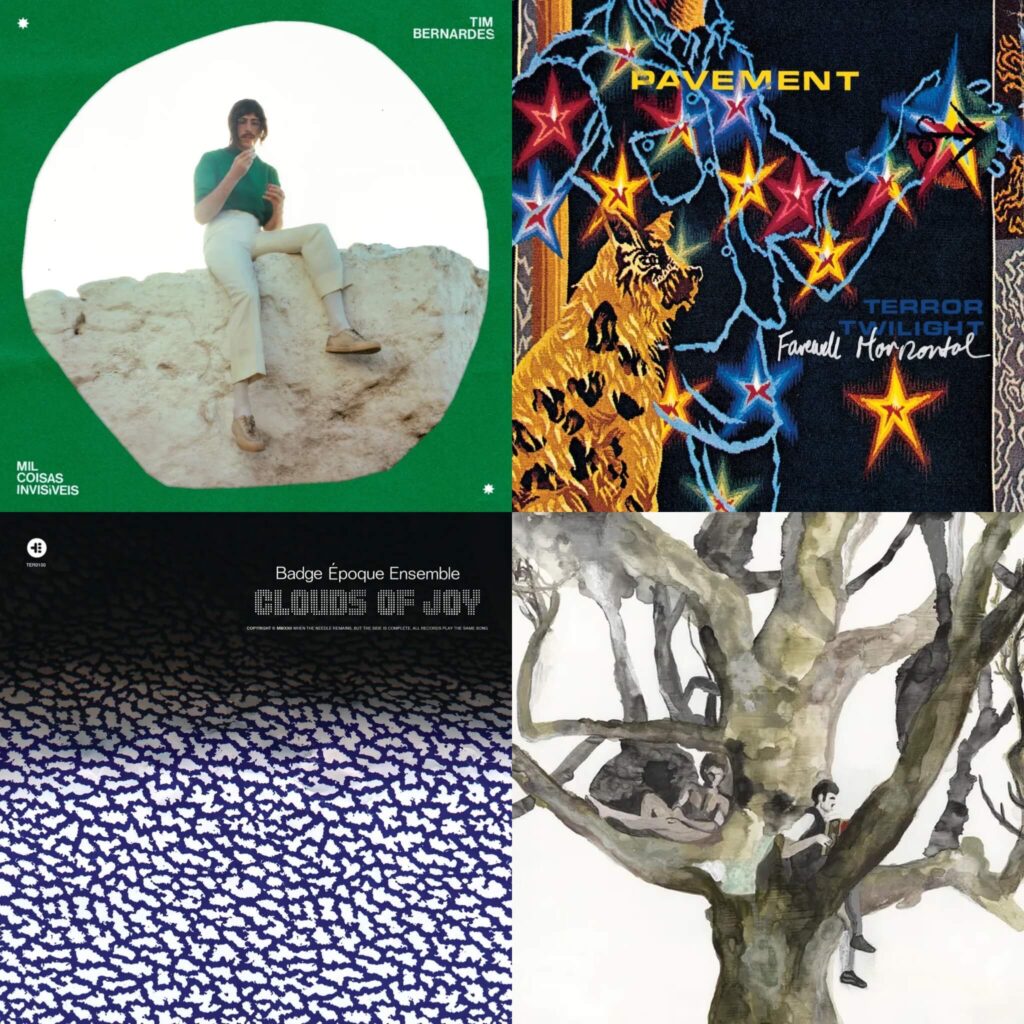 Tim Bernardes—Mil Coisas Invisiveis: On his sophomore album, Mil Coisas Invisíveis, São Paulo's Tim Bernardes brings his diaristic existentialism to vibrant sonic life. Whether accompanied with just his guitar, or surrounded by handclap percussion, swelling string arrangements, and muted woodwinds, he stakes his claim as a graceful and earnest chanteur, joining the ranks of fellow countrymen Jorge Ben, Caetaneo Veloso, and Clube da Esquina.
Pavement—Terror Twilight: Farewell Horizontal: Arriving just about 13 years late, this gussied-up deluxe edition gives us a deeper look at Pavement's sometimes maligned Nigel Godrich-produced swan song. Demos, rehearsals and live tracks (not to mention a great booklet full of cool ephemera) reveal it to be a more than worthy part of the band's exalted discography, with some of Stephen Malkmus' finest lyrics and warmest melodies. (Still, for the ultimate "Folk Jam," go straight to the extended versions that the reunited Pavement has been playing in 2022.)
Badge Époque Ensemble—Clouds Of Joy: Ensembles, Collectives…messy things. Many voices. Needs wrangling. Enter Max Turnbull and the BEE. At times Clouds of Joy feels like a successor to the vocal-forward indie bands of the late 2000s (read: Dirty Projectors circa Bitte Orca). Yet at others, it fuses Stevie Wonder with D'Angelo. The thread throughout is the impeccable arranging and the deft choices of when to deploy the Canadian ensemble's deep bench.
Destroyer—Labyrinthitis: The always elegant, obliquely articulate Daniel Bejar took a turn towards the visceral in this 13th full-length, musing in a remote, evocative way over seething banks of synth and feverish dance rhythms. The sex funk of "June" gives way to revelatory stream-of-consciousness spoken word—almost a rap—and why not? What can't this guy do?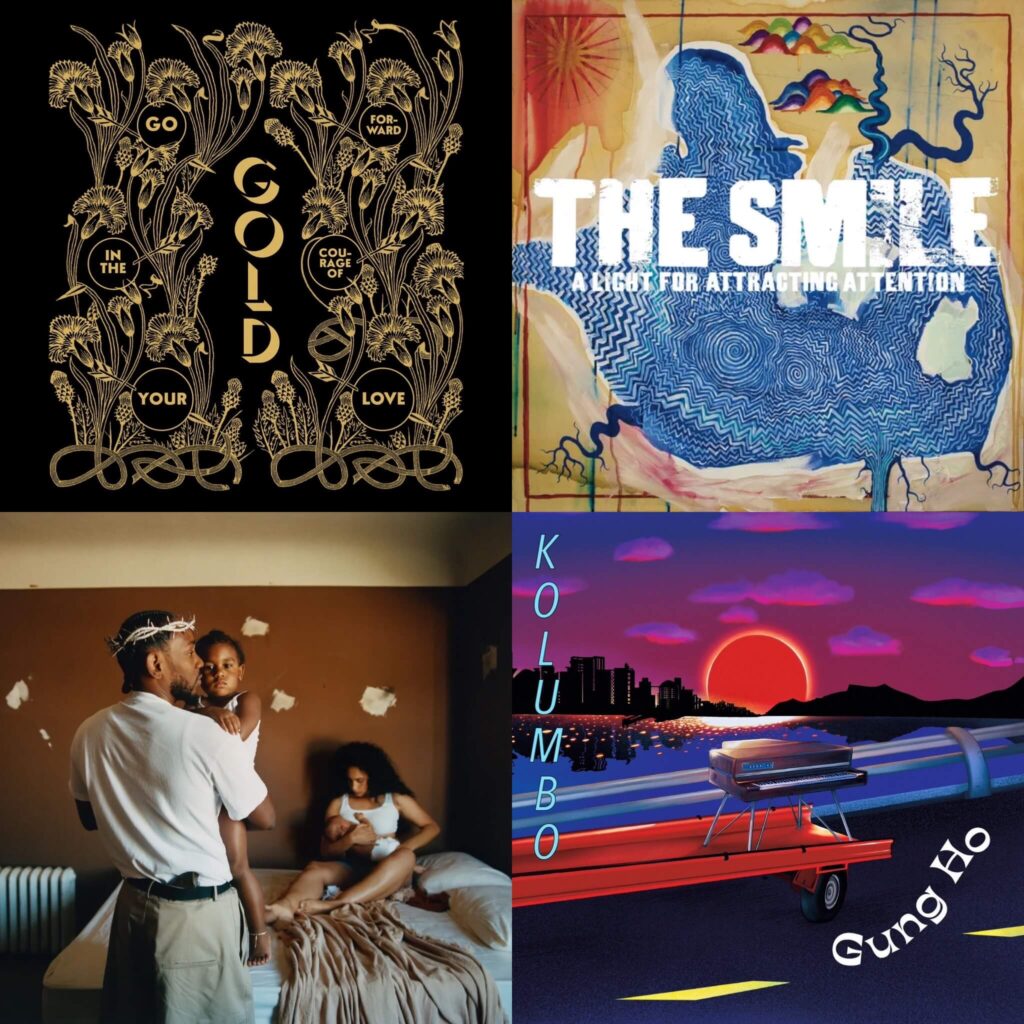 Alabaster DePlume—Gold: It's no easy task for art to tackle the indignities of the attention economy crisis, but that's one (of many things) Alabaster DePlume does on his boldly original double-album Gold. "I remember to check my Instagram but I forget that I'm precious," he intones. "Don't do it," he urges. "Don't forget you're precious." Swirling together spiritual jazz, spoken poetry, and electronic waves, DePlume reminds us of the necessity of creating your own internal space—and the radical power such an act enables.
The Smile—A Light For Attracting Attention: What a pleasure it is to hear Radiohead's Thom Yorke and Jonny Greenwood and Sons of Kemet's Tom Skinner (with producer Nigel Godrich) digging in like this. Though these songs wouldn't sound out of place in Radiohead's own discography, there's a nervy inventiveness to the record that makes it feel like a playful lark. That Yorke and Greenwood so engaged this far into a decades-long creative partnership is a source of great optimism.
Kendrick Lamar—Mr. Morale & The Big Steppers: A two-disc operatic exploration of generational trauma, familial ties, addiction, modern culture, and spiritual insight, Lamar's latest veers violently through sounds, leaning hard into lean and minimal beats, babbling currents of synths, and Radiohead-esque electronic arrangements. Alternating between blunt expression, arty lyrical tap dancing, and owing to an expansive spirituality (oh hello, Eckhart Tolle!), it's a record that refuses to settle easily, demanding contemplation and commanding gut reactions at the same time.
Kolumbo—Gungo Ho: The nom de tune of Frank LoCrasto, Kolumbo features vast and intricate orchestrations reminiscent of the symphonic exotica and jazz-pop records birthed by Capital records in the 50s and 60s. Strings, woodwinds, brass, keyboard and percussion all make an appearance, buoyed by an edge of psychedelia complete with synthesizers and loads of tape echo.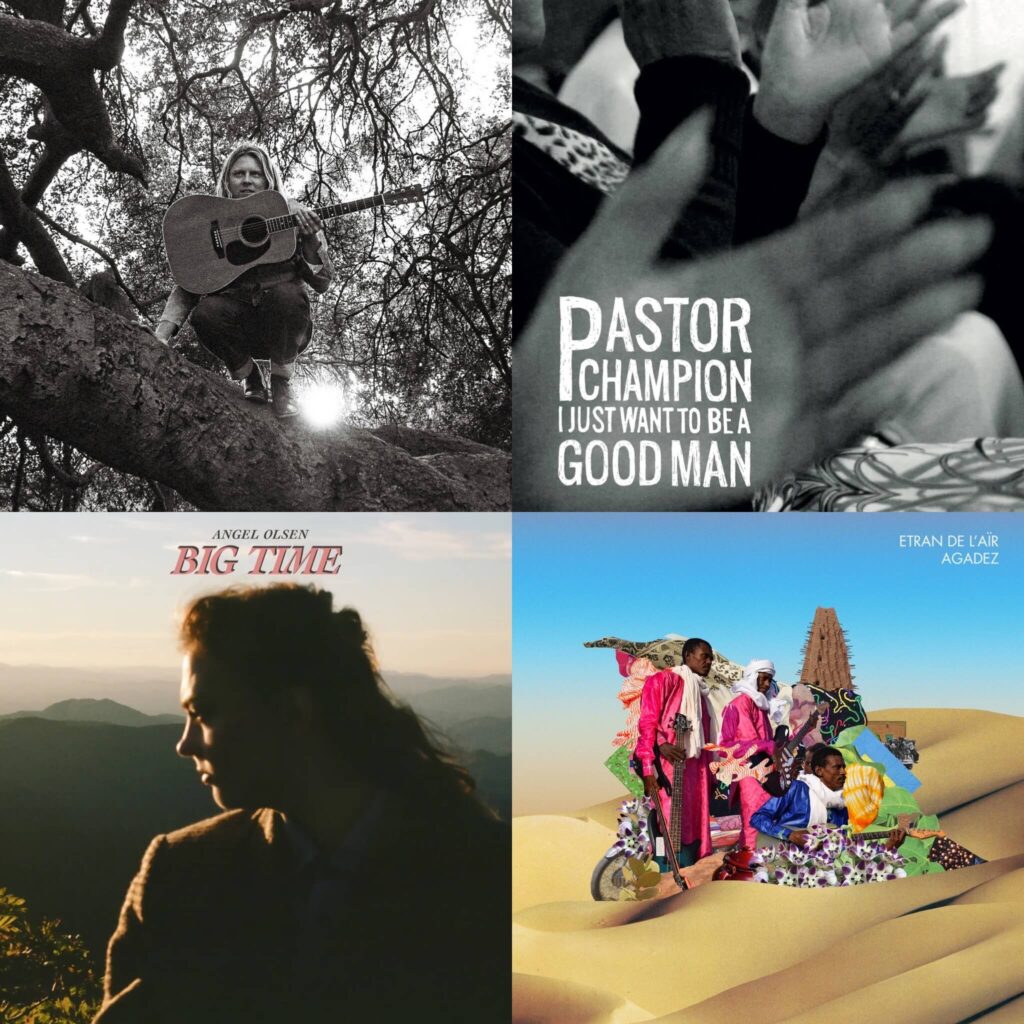 Ty Segall—Hello, Hi: Switching gears from 2021's Harmonizer, Ty Segall's fourteenth LP finds the sonic chameleon once again changing his stripes. In contrast to the previous record, which leaned into electronic experiments and volume, Hello, Hi is a largely acoustic affair showcasing Segall's myriad folk predilections. Adroit as always, it's a welcome side of the multifaceted journeyman.
Pastor Champion— I Just Want to Be a Good Man: Recorded over two nights at the 37th Street Baptist Church in Oakland, California, Pastor Champion's I Just Want to Be a Good Man is a fervent document of raw gospel-blues. With a spartan but scorching group of players on keys, bass, drums, and saxophone, as well as members of his own family and congregation on backing vocals, Champion channels his guitar and voice into a vessel of unrelenting faith.
Angel Olsen—Big Time: Olsen's turn toward country is both a welcome sight and a sad reminder. Welcome because the music is brilliant, her voice as incredible as ever, and her songwriting is only becoming more skillful. Sad because it evokes a generation of female poets in music who we have so recently lost or fear we may soon, and whose true due feels owed. A touch of Nanci Griffith feels sprinkled throughout, either knowingly or through cultural permeation. There's a torch worth carrying on Big Time Olsen sprints with it in hand.
Etran de L'Air—Agadez: Etran de L'Aïr formed nearly 30 years ago, performing at weddings in their hometown of Agadez, Niger. Now led by a frontline of three guitarists, the group descended from the nomadic Tuareg people play a free-flowing style of the Saharan rock sound popularized by Tinariwen, Les Filles de Illighadad, and Mdou Moctar. Their latest album pays tribute to the city where this music was born with endless solos flanked by call-and-response vocals.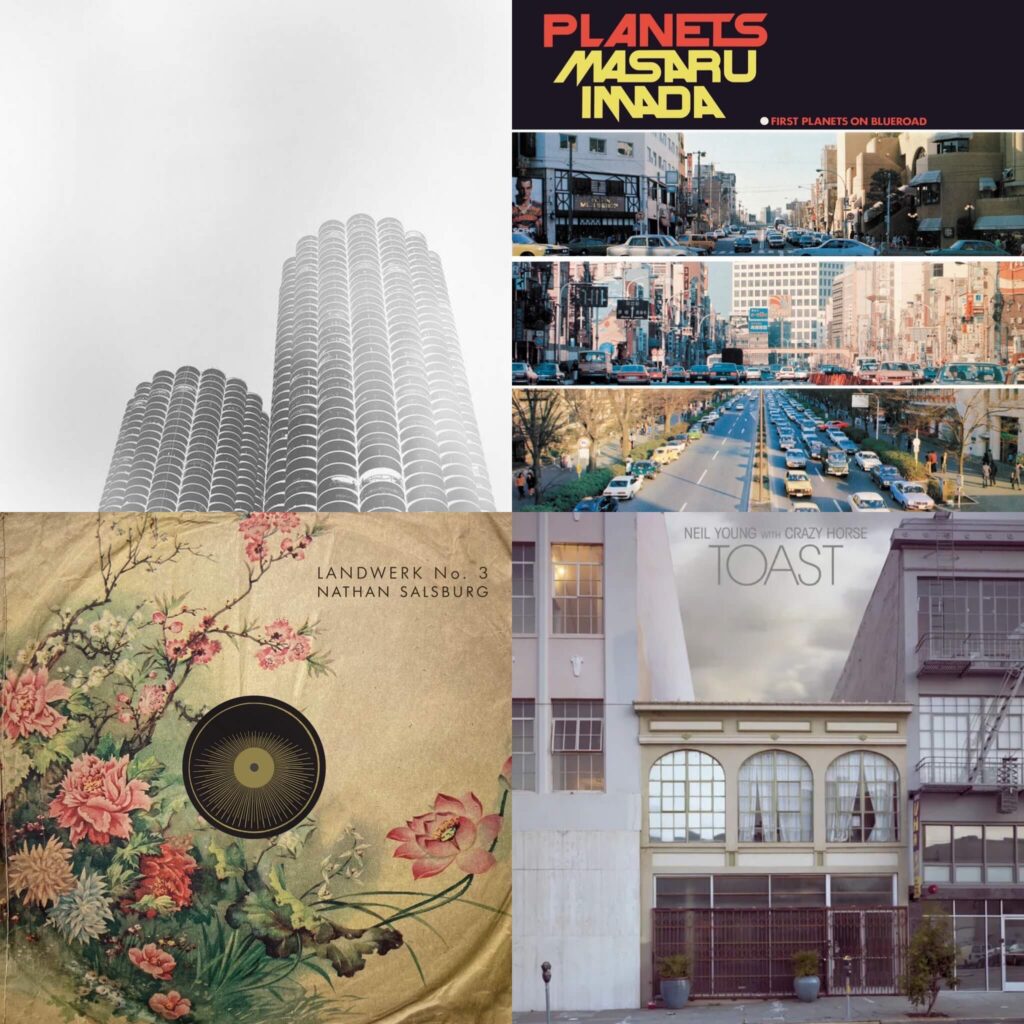 Wilco—Cruel Country/Yankee Hotel Foxtrot (20th Anniversary Edition): Given the mythic stature of Yankee Hotel Foxtrot, which celebrated its 20th anniversary with expanded edition featuring alternate takes, outtakes, demos, and plenty of fascinating detours, no one would have blamed Wilco for enjoying the nostalgia and backward facing glow. But the band decided to drop a whole new album this year too—the mellow and tuneful Cruel Country, which features some of the most direct and satisfying songs of the band's last decade. Still apt to reconfigure what Wilco is and how it works, Jeff Tweedy remains a stalwart advocate for the creative process. His love is still God's money.
Masaru Imada Trio + 1—Planets: Originally released in 1977. Yet another inspired ride in BBE's masterclass series highlighting the golden age of modern Japanese jazz from the late 1960s–early 80s. If the modal waltz of title track "Planets" leans into, say, Guaraldi, the 16+ minute atmospheric soundscape "Sea's Pasture" bends in the opposite direction. Cinematic, roiling and expansive, the composite piece flirts with myriad moods as it skates knife-edge along the brink, never teetering.
Nathan Salsburg—Landwerk No. 3: The third entry in Nathan Salsburg's Landwerk series tops even the other two—an uncanny collection that mystically fuses the past with the present. As with previous volumes, Salsburg layers his guitar (and occasionally piano and organ) over samples of ancient 78s. The result is hypnotic and haunting, ghosts brought briefly and vividly to life.
Neil Young with Crazy Horse—Toast/Neil Young—Citizen Kane Jr. Blues: Another busy year for the Neil Young Archives! The cream of the Shakey crop in 2022 were these two. Neil has been teasing the Crazy Horse-assisted Toast for close to two decades now — and it doesn't disappoint. Recorded in the early 2000s, it improves quite a bit on the album that he released instead, Are You Passionate, mixing stomping rockers with moody soul-inflected balladry. Citizen Kane Jr. Blues, meanwhile, is a beloved solo acoustic surprise gig taped in 1974, finally given official release. Here, Neil debuts a host of fresh On The Beach tracks, getting deliciously deep and dark.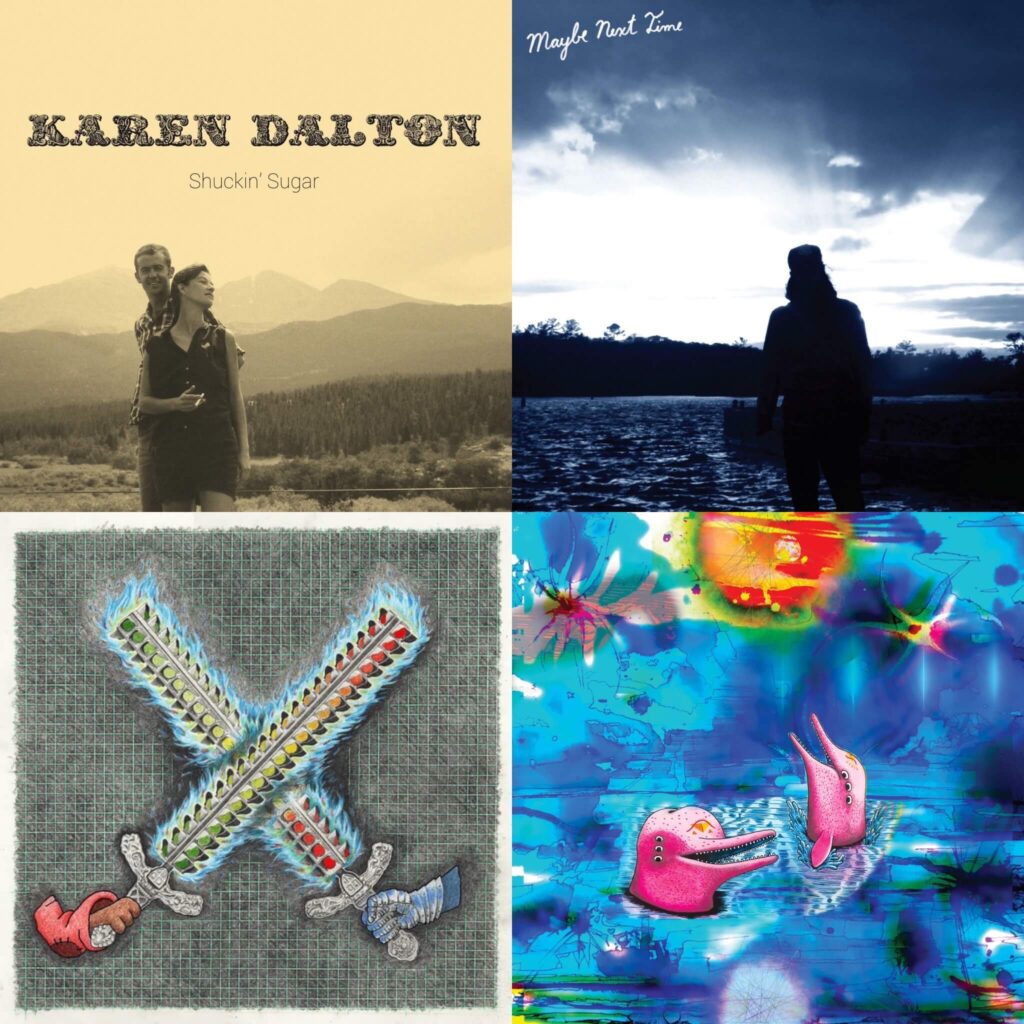 Karen Dalton—Shuckin' Sugar: A collection of previously unreleased Dalton performances taped in Boulder, Colorado on reel-to-reel in 1963 and '64. There's always the danger of barrel-scraping with this kind of thing but thankfully that's not the case here. Shuckin' Sugar is a terrific time capsule, with the young singer sounding already close to fully formed, her unmistakable vocals bolstering a selection of trad (and not-so-trad) tunes.
Carl Didur—Maybe Next Time: As one of the half of the duo Zacht Automaat (Dutch for Soft Machine), Carl Didur's music flashes back to the madcap days of Canterbury prog. The Toronto keyboardist's latest solo album is a melancholy affair, pushing piano to the forefront of swirling synths and moody Mellotron strings. Softening his songs with tape echo effects, he makes ripples in time.
Fievel Is Glauque—Flaming Swords: On their debut studio album, the rotating ensemble of international musicians led by French-Belgian vocalist Ma Clément and keyboardist Zach Phillips serve up oddball chamber pop delicacies in bite size portions. Recorded live in a single evening, the 18 short songs of Flaming Swords zip through tightly coiled, hyperactive arrangements that change directions on a dime. Thrilling, catchy, and fun!
Anteloper—Pink Dolphins: Chicago's endlessly fertile creative music community lost a beloved figure with this year's passing of trumpeter jaimie branch. For her final album with drummer Jason Nazary, the duo teamed with producer Jeff Parker to sift through hours of improvised jams, patching together a fried fusion of jazz, ambient, and electronic music. Listening to branch's head-sticking hip-hop flow on album centerpiece "Earthlings" now takes on a whole new depth.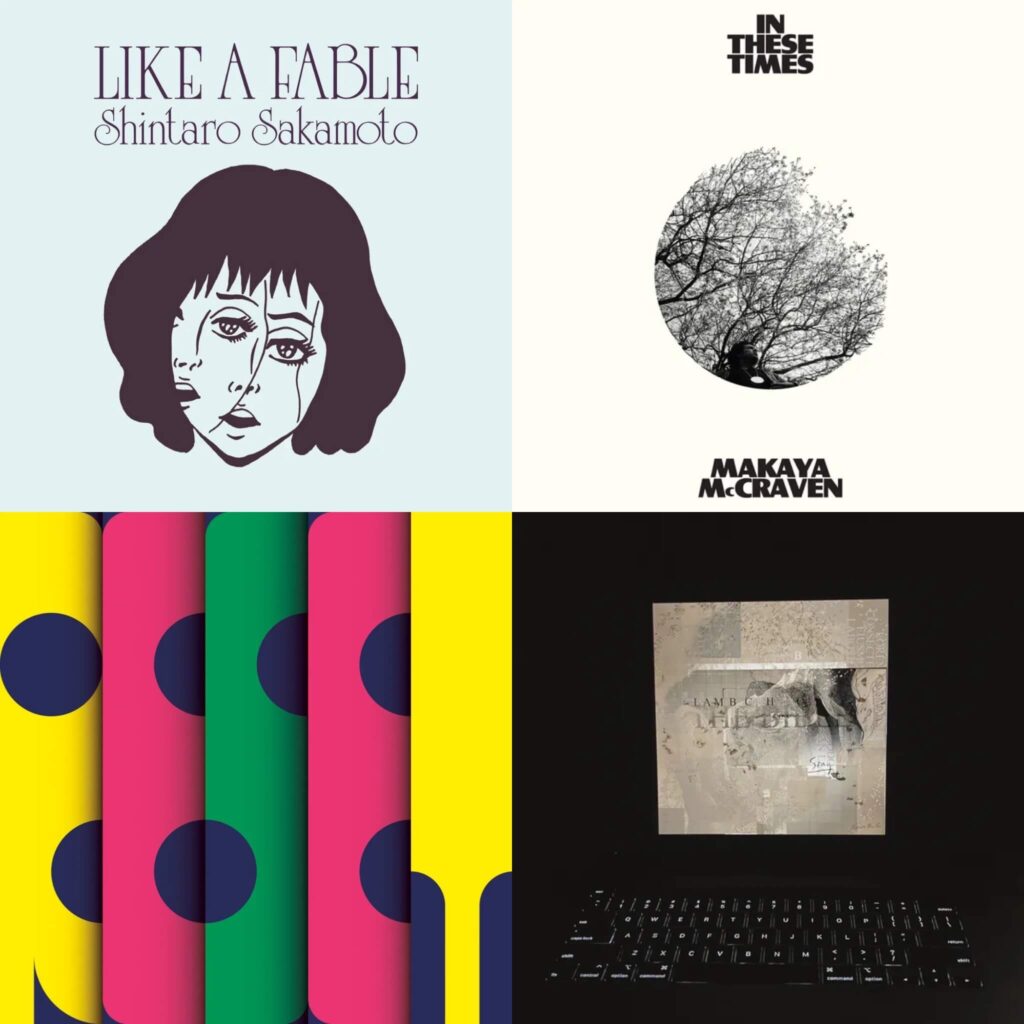 Shintaro Sakamoto—Like a Fable: After a six-year hiatus, Sakamoto's Like a Fable rides a current of melancholic resignation and dreamily elegiac grooves to the heart of a strange new world. Like an after-hours record full of sly drum machine hustle, wistful peals of lap steel guitar, and deft songcraft, Like a Fable hits the magic note between the afterparty comedown and the onset of wee-hours doldrums—when all we can do is carry the familiar bits of what we love into places we've yet to discover and realize for ourselves.
Makaya McCraven – In These Times: The jazz percussionist's most accomplished work to date, In These Times almost feels like a cathartic soundtrack to the downs of everyday life. Recalling the comforting soundscapes of the likes of Dortohy Ashby, the instrumental suite features a remarkable cast of collaborators including Jeff Parker, harpist Brandee Younger and Blue Note's Joel Ross on vibraphone/marimba. Handling a multitude of instruments himself, In These Times has proven McCraven a masterful composer of modern jazz and beyond.
Panda Bear & Sonic Boom – Reset: No strangers to collaboration in the past, Reset marks the first dual musical effort from Panda Bear and Peter Kemblar (Sonic Boom). After previously working on the production side, the latter's presence seems to simplify the songwriting process, creating reverb-drenched, catchy pop melodies. "I got to get back to that harmony", Noah Lennox croons on the chorus of infectiously trippy "Danger". Augmented by a healthy dose of sampling, this is perhaps the artist's finest work since 2007's seminal Person Pitch.
Lambchop—The Bible: Kurt Wagner's pandemic album slips by like a fever dream. Drifting through lush, movie soundtrack strings and pulsing, auto-tuned funk, it is both lush and fragmentary. "Police Dog Blues" finds poetry in between reverberating piano chords, horn lines and blasts of inchoate noise, like a lost funk soul classic heard between stations at the end of time.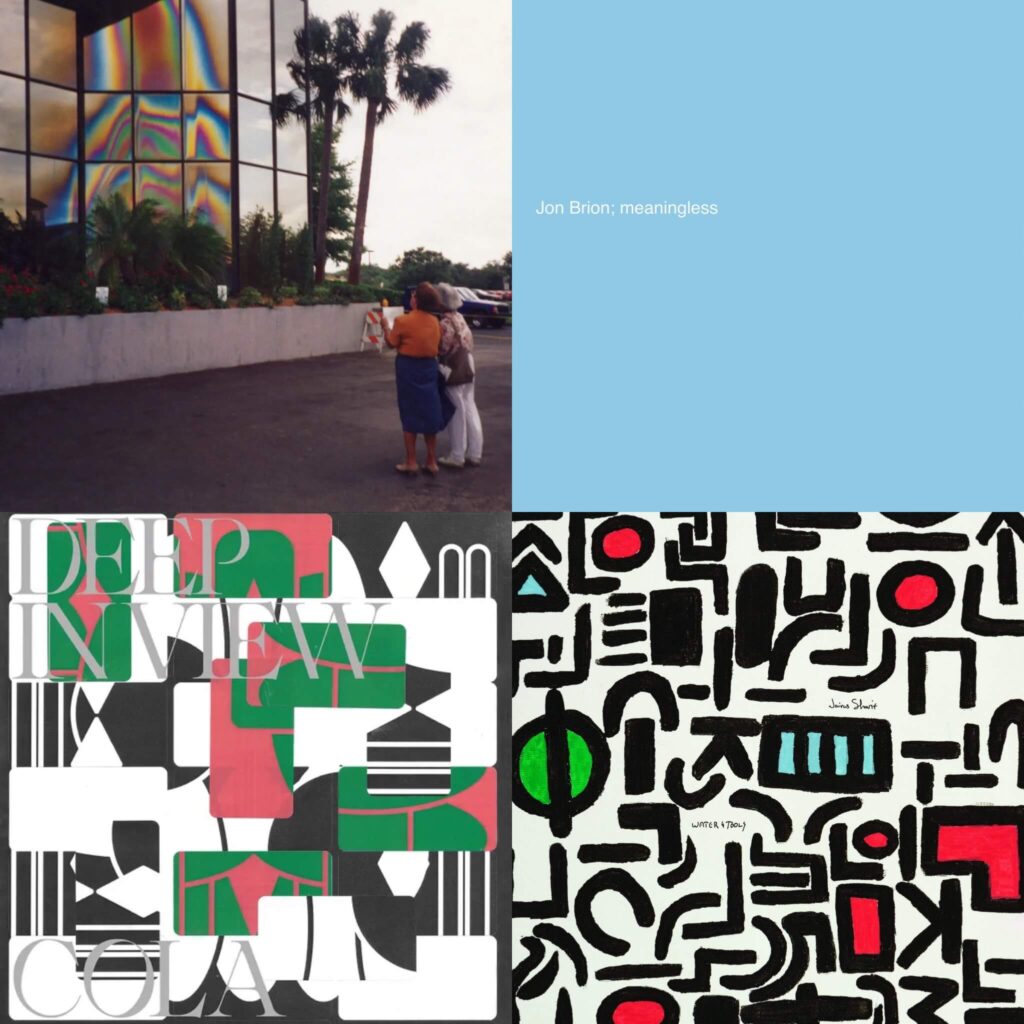 Mary Lattimore & Paul Sukeena—West Kensington: Mary Lattimore has made a career out of taking the sound of harp into eerily beautiful, unfamiliar places, but here, with ex-Solar Motel Band guitarist Paul Sukeena, she downplays that angelic instrument for swelling tones of synthesizer. Sukeena, for his part, alternates between guitar and mellotron, coaxing woozily enchanting, disintegrating tones from that early synthetic instrument. Both artists are from Philly, now in LA, but here their music floats in boundless, vibrating outer space.
Jon Brion-Meaningless: An obscurity no more! Originally self-released in 2001, the triumphant solo record of prolific producer/composer Jon Brion saw a widespread re-release this year. Tragically overdue, highlights like "I Think She's Lying" and "Her Ghost" illustrate a masterclass in power pop songwriting, sitting comfortably next to that era's contemporaries like Matthew Sweet.
Cola—Deep In View: Ought's Tim Darcy and Ben Stidworthy unite with drummer Evan Cartwright as the skeletal post-punk trio Cola. Streamlining the sound of their previous band while maintaining a poetic approach to lyricism, their songs are stripped to the bare essentials, allowing Darcy's charismatic spoken-sung drawl to ring out louder than ever.
Jairus Sharif—Water & Tools: In his quest for deep breath, Calgary's Jairus Sharif has created a singular approach to improvised music, injecting the fiery scorch of free-jazz with the lumbering beats of underground hip-hop. Working with Badge Époque Ensemble's Max Turnbull, Sharif pushes his screaming alto sax to the forefront of clattering drum fills and Sun Ra inspired squelch.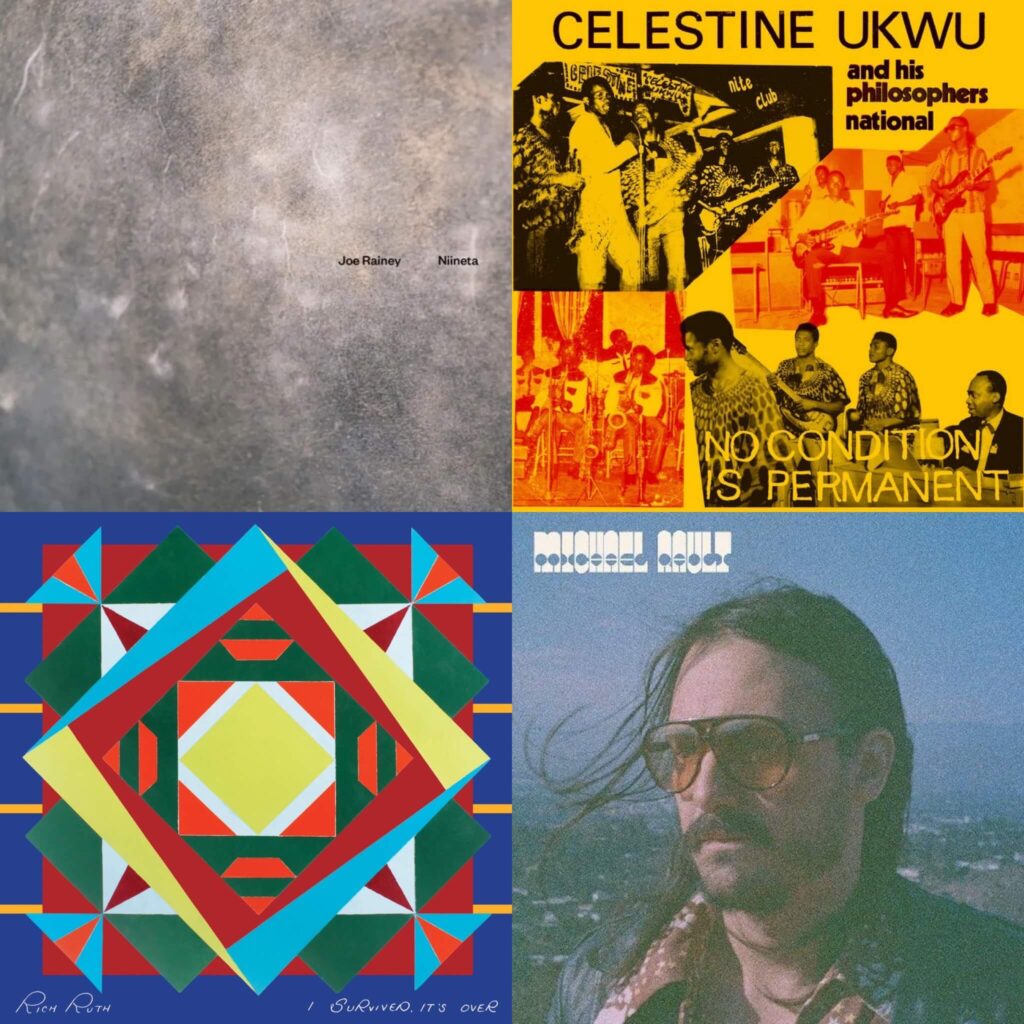 Joe Rainey—Niineta: Niineta might be the only album on this list that would've violated federal law earlier in the 20th century. The debut album from Minneapolis, Minnesota's Rainey, it's a mix of powwow drums and chants and atmospheric electronics that create a heady environment to inhabit. Whether it's the throbbing heart pulse of tracks like "no chants" or the natural world recreated through the electronic on closer "phil's offering," the album is a gateway to something built on a lot of shoulders.
Celestine Ukwu—No Condition Is Permanent: A gloaming wonder abounds on this Mississippi Records compilation of Nigerian highlife courtesy of existentialist Celestine Ukwu and his Philosophers National band. A collection of five tracks culled from the group's spirited 70s discography, the playing here leans into the woozier and more hypnotic side of highlife sounds—the guitars slide waywardly, the horns dip low into tranquil contemplation, and Ukwu's voice, sometimes appearing sparsely, like an enigmatic philosopher materializing and vanishing into a buoyant, watercolor dream state. Ukwu is said to have create a thinking man's highlife, and one hopes it takes.
Rich Ruth—I Survived It's Over: Traversing the astral planes between kosmische, cosmic Americana, and spiritual jazz, I Survived It's Over is a tour-de-force of improvisatory catharsis and surrender. Put this on, turn off the lights, and let it wash over you.
Michael Rault-Michael Rault: Channeling the golden era of the recording studio, LA-via-Edmonton musician Michael Rault's clever songcraft calls back the songwriting panache of Harry Nilsson or Marc Bolan. Coupled with weapons-like partner Pearl Charles and the infamous Daptone rhythm section, Rault's self-titled record delivers hook after hook while exploring stark personal themes. A more than worthy follow up to the excellent previous LP It's a New Day Tonight.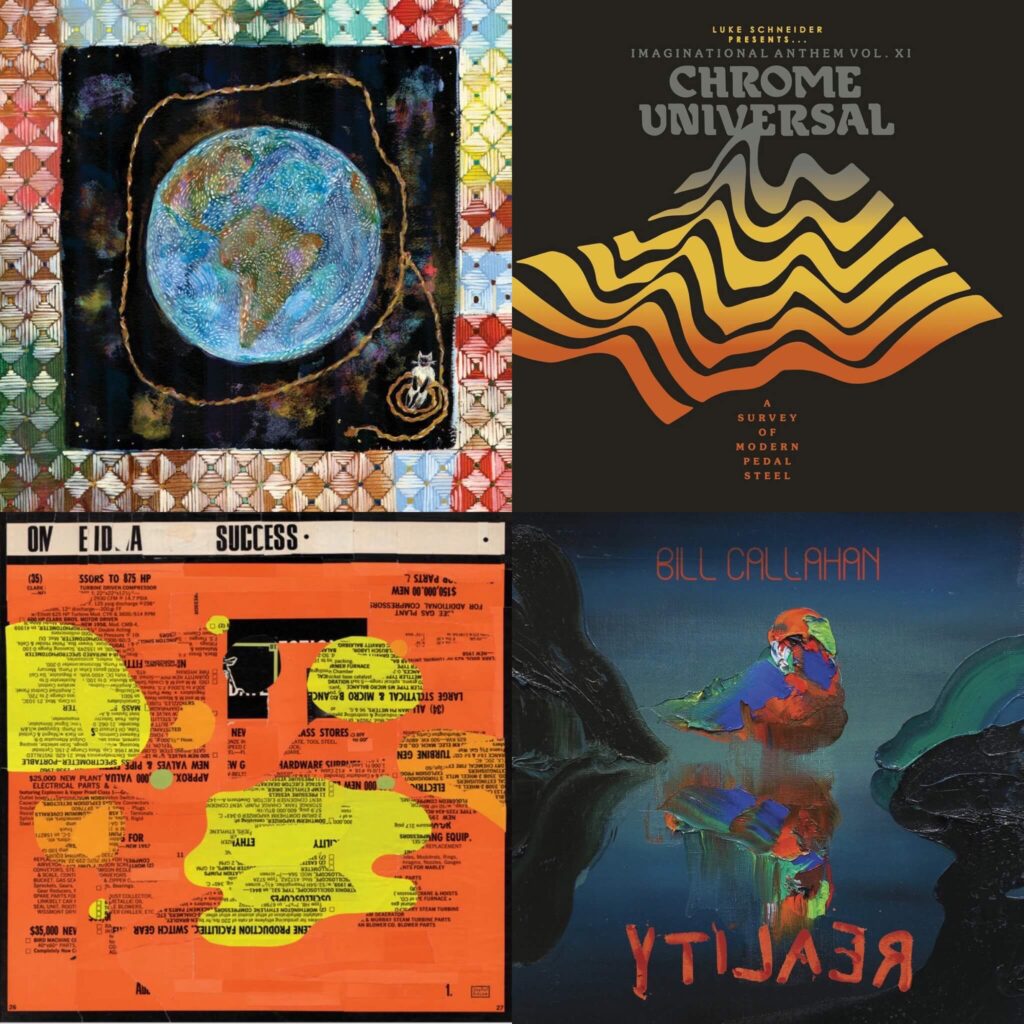 Lou Turner—Microcosmos: A quietly ambitious second solo effort from Nashville singer-songwriter Lou Turner. She opts for a conversational vibe throughout — but don't mistake the casual tone of Turner's vocals for nonchalance; each song here is a finely crafted gem, subtle and purposeful, revealing complex layers without ever sacrificing a ramble-y rootsy simplicity in the music.
Luke Schneider Presents Imaginational Anthem vol. IX: Chrome Universal – A Survey of Modern Pedal Steel: Curated by Nashville ambient steel maestro Luke Schneider, the eleventh installment of Tompkins Square's perennially superb Imaginational Anthem series delves into the ever-expanding sonic universe of pedal steel guitar. The roster of visionary pickers here forges a new vocabulary for pedal steel as beautiful and complex as the instrument itself. With a meditative grace Chrome Universal untethers the pedal steel from its own long and storied history, leaving the hony-tonk barroom squarely in the rearview and charting a new course into the ever expanding horizon.
Oneida—Success: Oneida took a long meander through the experimental wilderness, but Success brings them right back to the pounding, droning, reiterating joys of their aughts psychedelic run. If you tuned out in the long-form years, this one is worth a return trip, whether for happy-go-lucky "Beat Me to the Punch" or guitar-slashing "I Want to Hold Your Electric Hand" or the classic Oneida key-board stabbing, trip-inducing reverie of "Paralyzed." Success at last and well-deserved.
Bill Callahan-YTILAER: "It felt like it was necessary to rouse people" says Callahan of his latest, another free and easy late period masterstroke where the veteran songwriter continues to use his recent gifts that accompany the wisdom of aging and the letting go of insecurities as a vessel to deeper plumb the depths of the human experience that he's been chronicling for decades. His sensitive baritone and Trigger-like guitar playing joined by a roster of collaborators new and old, YTILAER is full of classic wry Bill witticisms and moments of unimpeachable beauty—rousing indeed.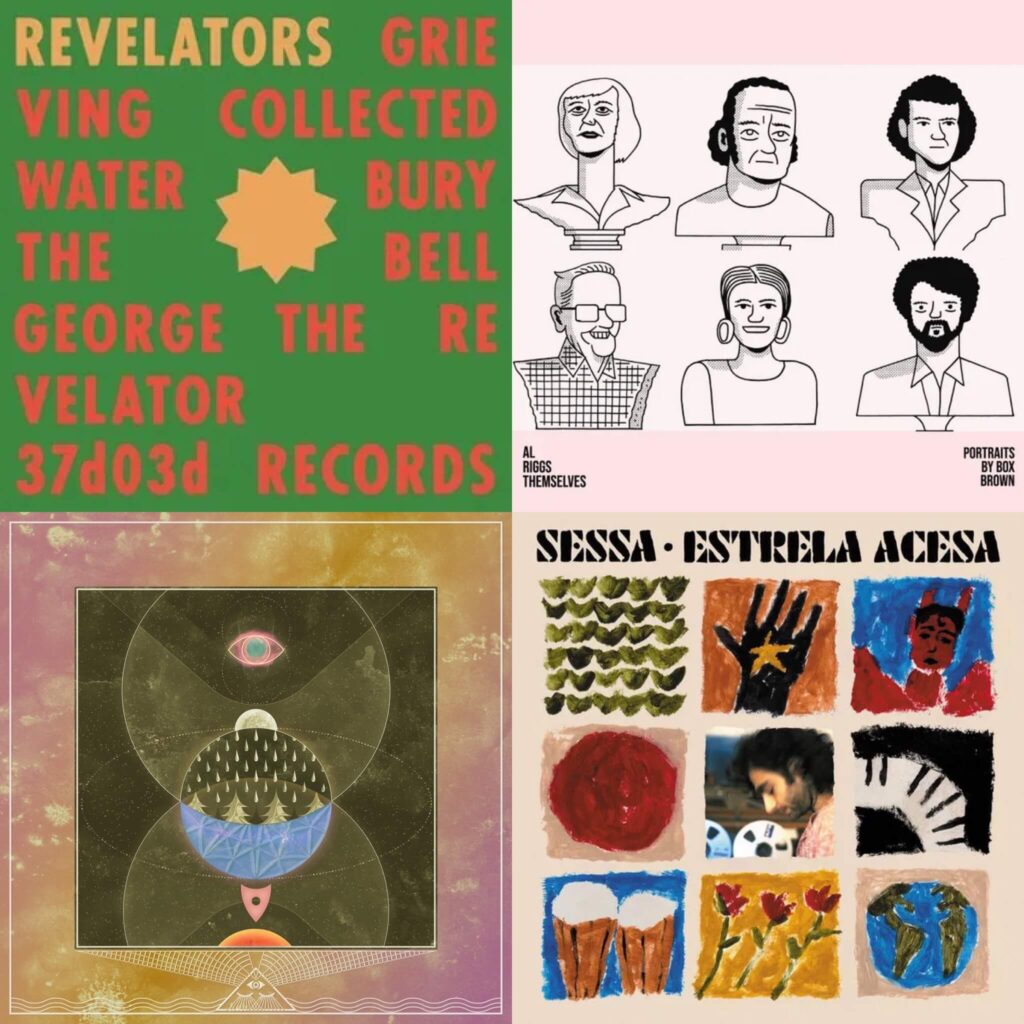 Revelators Sound System—Revelators: The debut LP from the collaborative studio project of MC Taylor (Hiss Golden Messenger) and Cameron Ralston (Spacebomb) is a sinuous blend of cosmic funk, spiritual jazz, and heady dub. A meditative and searching (and occasionally playful!) exploration of some seriously deep emotions and anxieties. Hopefully the first of many from this unexpectedly simpatico duo.
Al Riggs—Themselves: Themselves may be the final album under the Al Riggs banner, but it's a hell of a way to go out. Pushing aside of twang of I've Got a Big Electric Fan To Keep Me Cool While I Sleep, the North Carolinian singer/songwriter luxuriates in synths, electronic textures, and sophistipop gloss. Reflecting on a cast of characters including Finnish artist Tove Jansson, Peanuts creator Charles Schulz, American Splendor author Harvey Pekar, monologist Scalding Grey, musicians like Richard Swift and Norma Tanega, and others—it's a reflection on death and rebirth. A fitting epigraph and a promise that what comes next will be worth paying attention to.
Psychic Temple—Plays Planet Caravan: Joined by a cast of players including Jeff Parker and drummer Tabor Allen, Chris Schlarb reconvenes his Psychic Temple combo to reimagine Black Sabbath's "Planet Caravan" as the cosmic jazz epic it was always meant to be. Recorded in one day at Schlarb's Big Ego studios, it stands as a representation of the whole Big Ego ethos, with Schlarb offering ample space for his collaborators and labelmates, including Heather Sommerhauser of Junatime and Isaiah Morfin of Izzy and the Finns to shine.
Sessa-Estrela Acesa: Sessa's sophomore album recalls all of the hallmark sensibilities of his stunning debut: classic Tropicalia and adjacent, modern Brazilian stunners. The sun-drenched subtleties of Estrela Acesa function as a brisk guiding light, a tapestry created by the musician's nylon guitar and stirring background vocals. In the artist's own words, the sound is perhaps best described as a "corporeal pleasures and gentle drunkenness of being in love". The hangover is essential.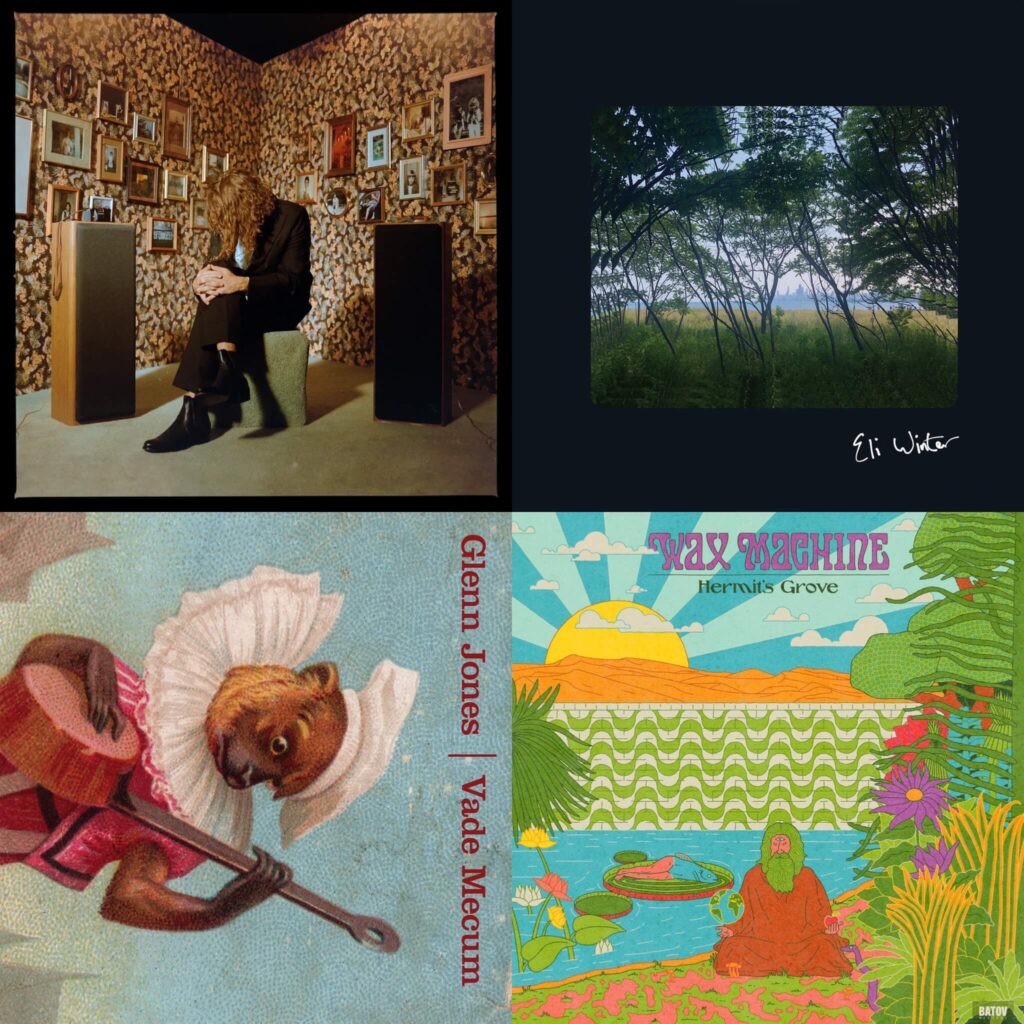 Kevin Morby—This is a Photograph: A rollicking and lovely examination of mortality, Kevin Morby broke open this year with an album full of mirrors for both himself and the listener. Whether it's reflecting on his own father's near-death experience, the deaths of fellow musicians like Jeff Buckley, or even seeing visions of himself in a movie on tv, This is a Photograph is a phrase that means more than just the title track; it's a snapshot of a moment in time, a reflection, and a examination of what it means to truly look oneself in the eye.
Eli Winter-Eli Winter: From the outset of the opening "For a Chisos Bluebonnet," Eli Winter makes clear that his latest release is a marvel of collaborative beauty. Not only a marvel of acoustic finger work, Winter proves an adept leader of an ensemble that pushes Cosmic American music to new bounds.
Glenn Jones-Vade Mecum: Another installment from the ever-inventive torch bearer of primitive guitar. Keeping the Fahey flame alive comes at no easy cost—constant innovation is the standard. Much like the aforementioned master, an ear to the slow numbers offers the greatest benefit to Jones' gift.
Wax Machine-Hermit's Grove: UK cosmic couriers dig into the bliss of isolation, with a tropicalia flourish. Over the course of its two sides, the album answers the question of what a collaboration between Pharoah Sanders, Ian Carr, and Caetano Veloso would sound like. Through and through this is a record intent on daydreaming.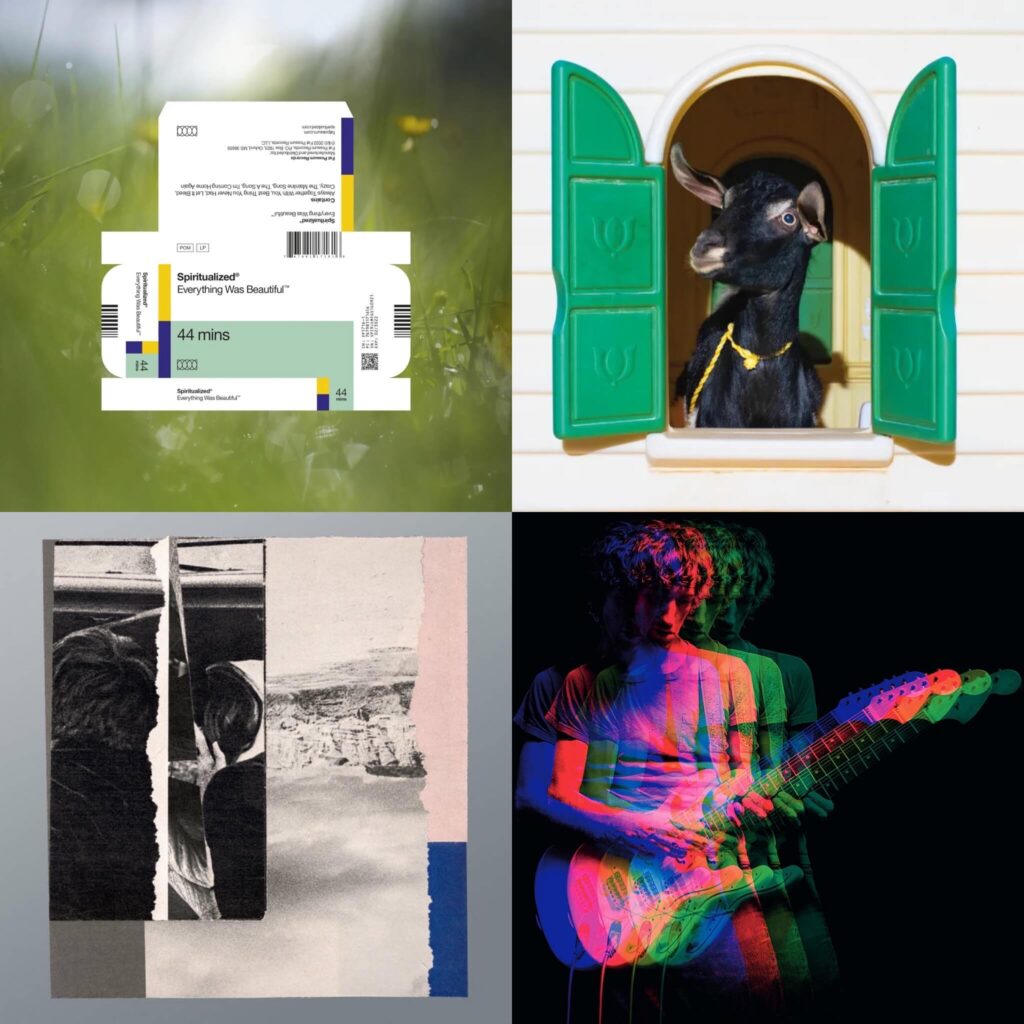 Spiritualized—Everything Was Beautiful: Jason Pierce's ninth album as Spiritualized brings together everything you could love about this expansive solo project: the fragile melodies that blow out into orchestral overload with horns and strings and gospel choirs, the slashing guitar mayhem, and a surprising uplift and optimism from an artist who has been through hell but mostly delivers heaven.
Superchunk—Wild Loneliness: The COVID pandemic threw a spanner at Superchunk's usually live, in-the-room process but also opened up possibilities. Wild Loneliness brings in an all-star guest line-up including members of Teenage Fanclub, Sharon Van Etten, Mike Mills, Colin Stetson and others to play alongside one of indie rock's longest-running ensembles. The result is exactly what you expect from Superchunk—trebly pop vocals, sharp rock interplay, smart social commentary—plus a little more.
V/A – Ghost Riders: A spiritual successor to Efficient Space's landmark Sky Girl compilation, Ghost Riders shifts gears into a special sort of burned out, laconic soul music from homegrown wannabes with stars in their eyes. Seventeen rare North American ballads from the deepest depths of emotional range recorded between 1965 and 1974—glimmering melancholic loners, laconic garage bands, and teenage yearners.
Delicate Steve—After Hours: A singer-songwriter minus the singing. Steve Marion, AKA Delicate Steve, makes instrumental guitar records that resonate with lyrical grace. At once playful, sweet, and jazzy, this set finds him joined by a cast of collaborators including bassist Shahzad Ismaily and percussionist Mauro Refosco for a balmy, comforting drift.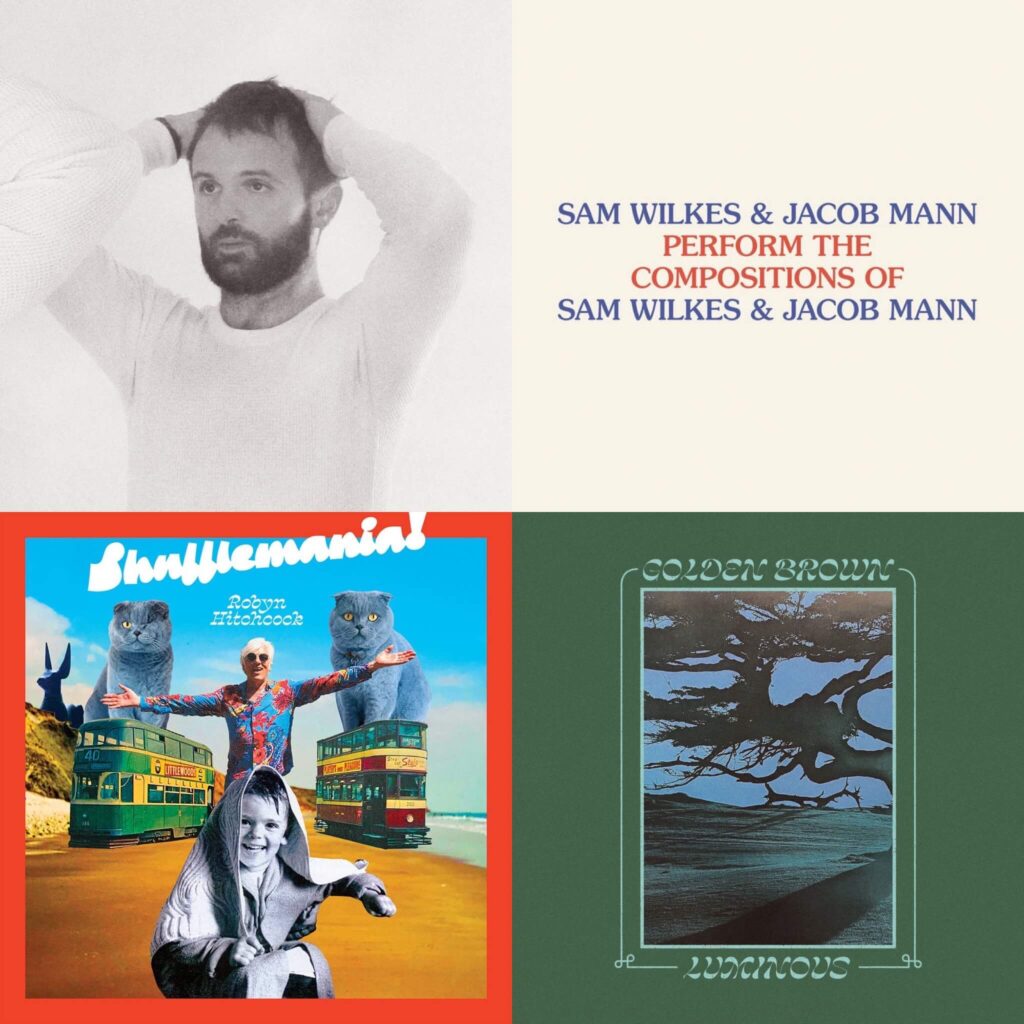 Julian Gasc—Re Eff: Over the past fifteen years, in addition to his solo career, Julien Gasc made brief stints in Stereolab and Hyperclean. Most notably, though, Gasc has been a core member of Aquaserge, a French outfit that walks a fine line between psychedelic grooves and avant, Henry Cow-like tangents. On his own, Gasc creates pop songs, classifiably.
Sam Wilkes & Jacob Mann – Perform the Compositions of Sam Wilkes & Jacob Mann: This duo record of original synthesizer compositions plays almost like a duel, a knowing game of cat and mouse. The LA-based new jazz weirdos chasing one another with a Yamaha DX7 & a Roland Juno 106 through woozy clouds of lo-fi beats, shimmering pacific sounds, and blissful, pixelated r&b. Super Mario snacking on some of the local mushrooms.
Robyn Hitchcock—Shufflemania!: A welcome return after an uncharacteristically long absence, Shufflemania! is — appropriately, given its title — an awesomely eclectic grab-bag of songs and styles from Robyn Hitchcock (with a little help from his friends, including Johnny Marr, Pat Sansone, Emma Swift and many more). It all hangs together on the strength of the veteran songwriter's inimitable personality. Quirky, yes, but also open-hearted and full of curiosity and hard-earned wisdom.
Golden Brown—Luminous: You couldn't come up with a better title for this one. Stefan Beck's Golden Brown project has been going for a few years now, but he might just be hitting his stride. Luminous offers up pastoral dreamscapes, lap steel meditations and shimmering fretwork — a perfect soundtrack for the small hours.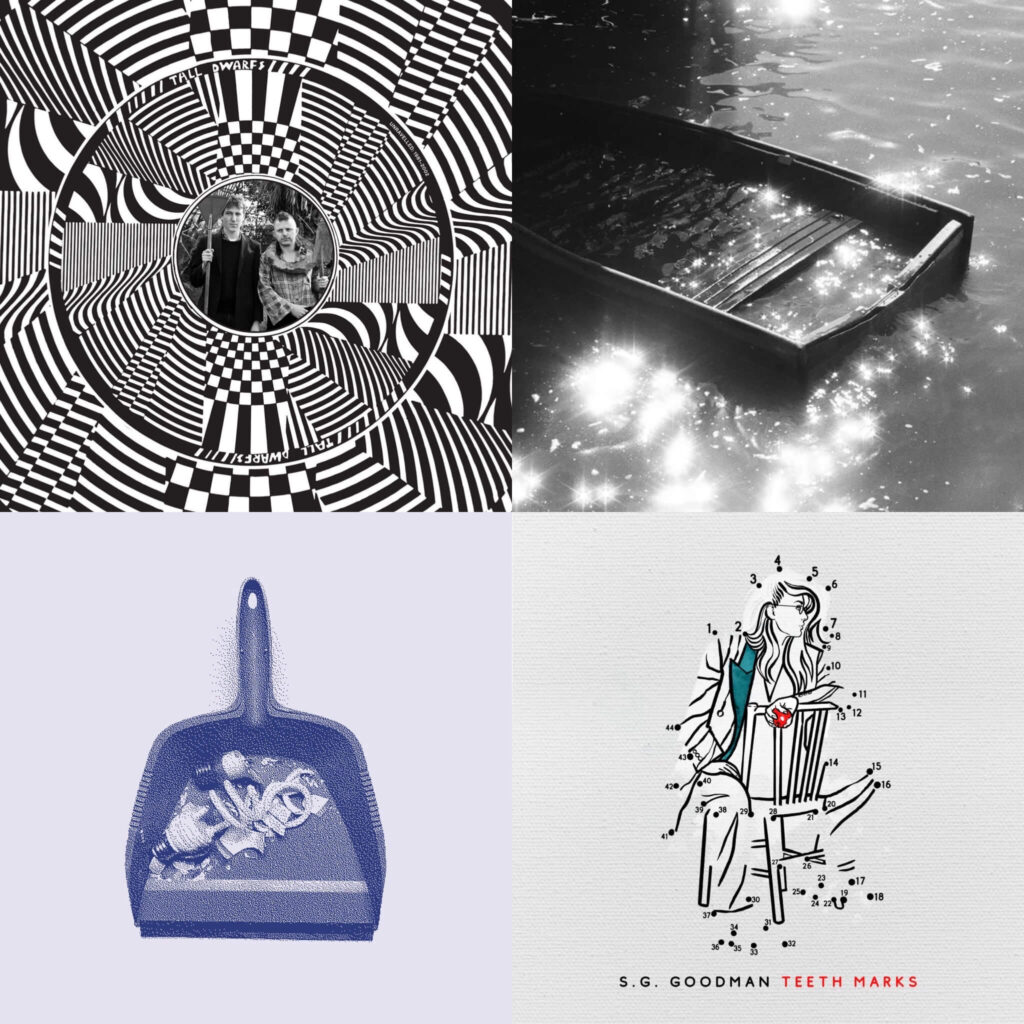 Tall Dwarfs—Unravelled: 1981-2002: Tall Dwarfs came out of the same fertile NZ music scene of the late 1970s and early 1980s that spawned The Clean, The Chills and The Verlaines. But the duo had a musical vision that stood apart from virtually everything happening at the time — a fact nicely demonstrated on this excellent, career-spanning comp. Like the Incredible String Band filtered through punk and proto-noise, a typical Tall Dwarfs album would ricochet from catchy psychedelia to oddball experimentalism, from strikingly sharp songwriting to total fuckery (oftentimes one blending into the other).
Cass McCombs—Heartmind: Ten full-length albums into a career, where do you find the inspiration within what you do? "If I direct myself, I betray my direction," says a line in the liner notes to Cass McCombs' Heartmind, and that idea seems to steer the album's wandering exploration. "Karaoke" is one of the year's most poignant metaphors-as-lyrical-focus even as it also creates one of its catchiest choruses as well; "Unproud Warrior" is a look at what it means to be young and full of possibility, the fulfillment of which we often forget is possible. By the end of the album, you've found yourself in a better way to understand exactly what a Heartmind is and means.
No Age–People Helping People: Noise-pop stalwarts Randy Randall and Dean Allen Spunt returned with their sixth album this year, taking things in-house for a self-produced affair of guitar, drums, post-punk vocals, and a grab bag of toys that showcases the duo's vitality and virtuosity. They embrace minimalist krautrock, dreamy noise instrumentals, glitchy garage rippers, and lo-fi shredders with equal aplomb. And, ultimately, they create yet another record true to their punk ethos—something simple, unaffected, and great. As much for themselves as it is for us. Long may this band run.
S.G. Goodman–Teeth Marks: Goodman's voice is generational – there's a beauty in its rougher edges, in the quivering delivery of simple words like "call", in how it feels like the emotional toll of the preceding ten songs is injected into Goodman's voice on closer "Keeper Of The Time." When Goodman ended her un-coveted 6PM-on-a-Tuesday set (more often industry-insider showcase or all-ages-rager than usual tour stop) with an a capella version of Pete Seeger's "Which Side Are You On?" you could hear a pin drop. Teeth Marks showcases a singer and songwriter equally adept at both.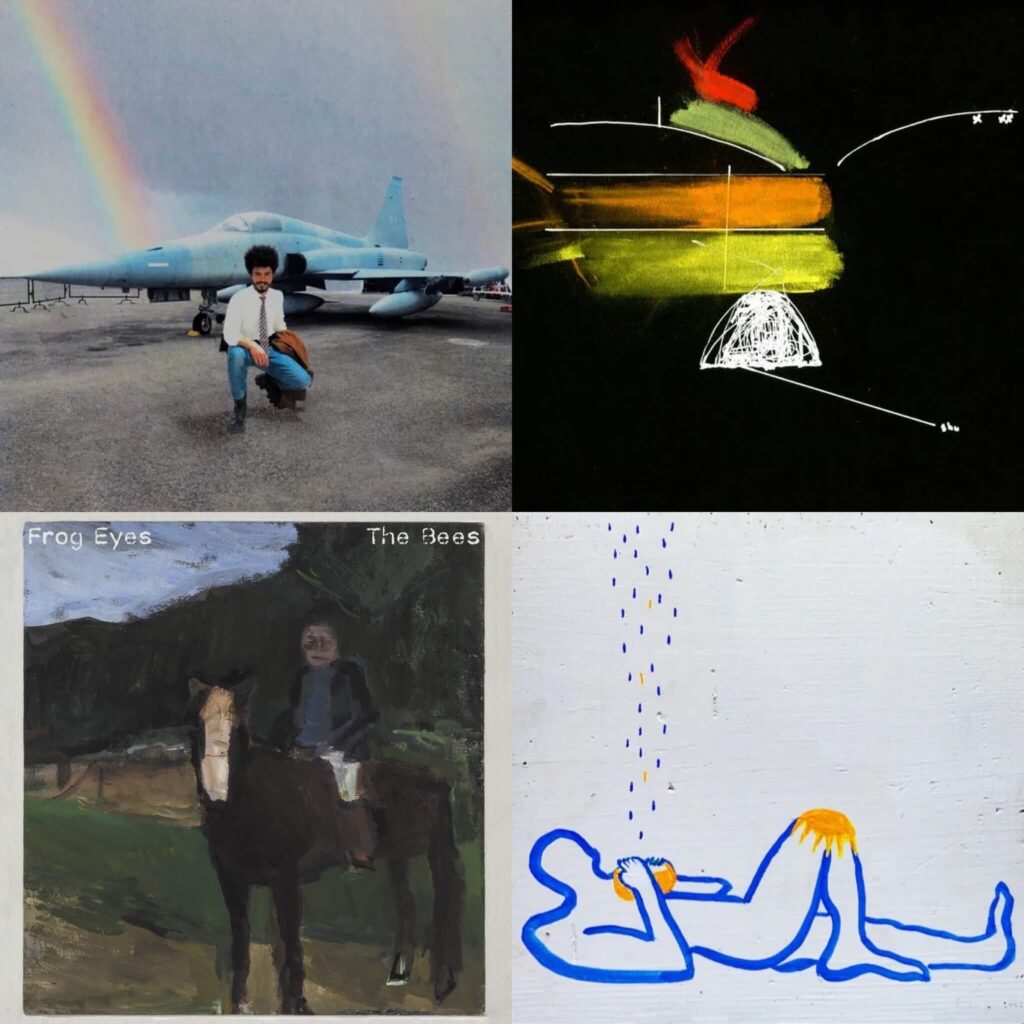 Yves Jarvis—The Zug: Wigged out, psychedelic prog-funk. Montreal's Jean-Sébastien Audet, who records as Yves Jarvis, keeps it off kilter with The Zug. No one else makes records that sound like this, a collage of rhythms, vocal layers, and an abundance of melody. You might be able to catch references—Sly Stone, Canterbury prog, flower power psychedelia—but then Audet zig-zags away into some new configuration. A thrill ride through and through.
Fred Moten / Brandon López / Gerald Cleaver—Moten/López/Cleaver: In the aftermath of 2020's George Floyd protests, poet and cultural theorist Fred Moten linked up with double bassist Brandon López and drummer Gerald Cleaver for an improvised studio session. Throughout their ominously minimal songs, Moten acknowledges the stakes of creating radical works of art while recognizing they alone are not enough to make a difference in the world. An essential listen, incandescent with rage.
Frog Eyes—The Bees: When Victoria, British Columbia's Frog Eyes originally called it quits after their 2018 album Violet Psalms it was a lovely finish to a great body of work. So when their unexpected ninth album The Bees suddenly surfaced in 2022, it was a bit of a surprise but also a great addition. Singer Carey Mercer has a distinctive voice that howls and regales, spinning out a verbose and imagistic world within a record that sounds like a lost '90s slab of indie that never quite got its due. The Bees is the exact kind of album that feels like an immediate, lingering voice that is bound to hang around in the back of your head.
Twain–Noon: There's no mistaking Mat Davidson's voice. That lonesome, moonlit warble lets you know it's an old friend, the one who "bring me voice when I can't find mine." On this latest collection of hopelessly inquisitive quilted folk, his wistful tremble sounds refined but no less unsteady. Gentle splashes of piano, strings, and drums accompany his enchanting portraits of life's stiller moments, moments Davidson has proven keen at finding and encapsulating in heartbreaking universal truths. Like a glowing firefly in the dark verdant expanse of a summer night, it feels strangely comforting to be sad about it. When you've got someone like Davidson singing, "Do you know I love you and I know you'll be okay," it's hard not to feel like he's singing just to you.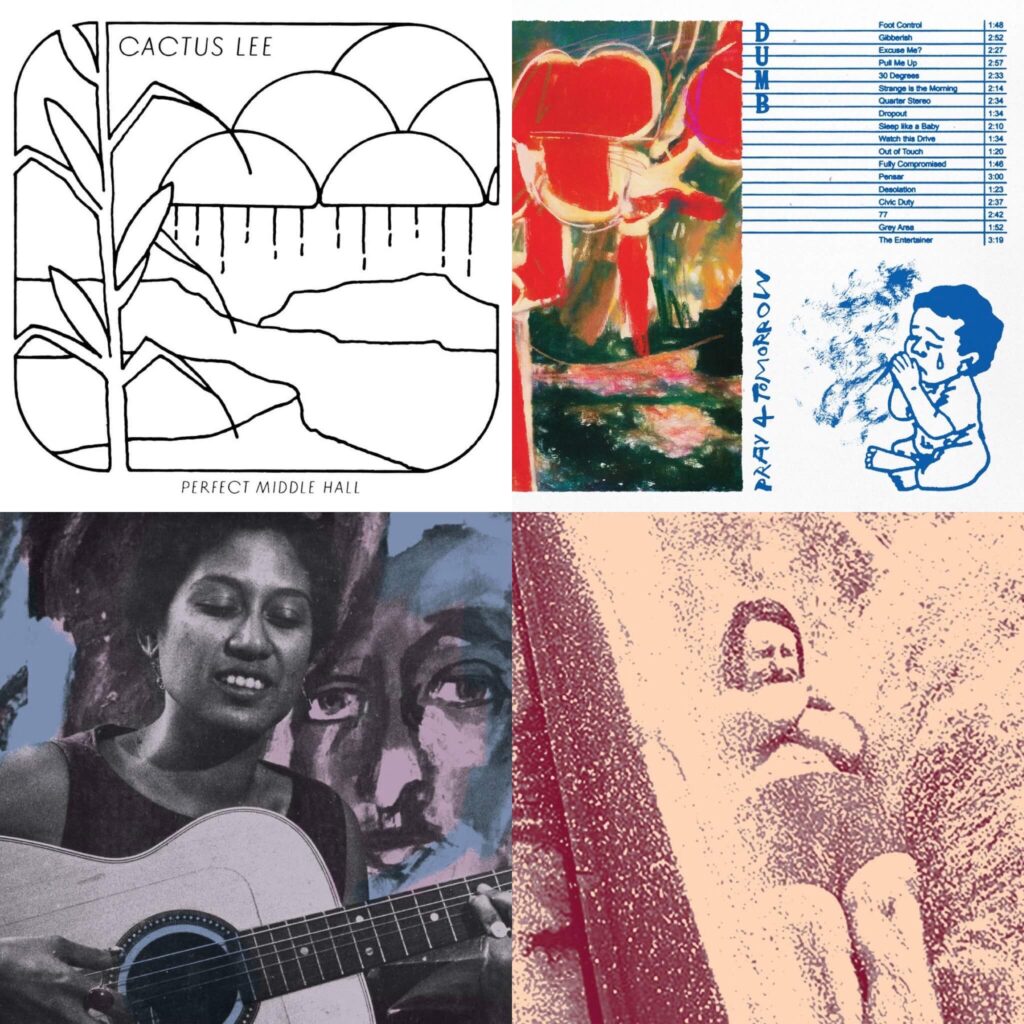 Cactus Lee–Perfect Middle Hall: A tireless troubadour, Cactus Lee's Kevin Dehan introduced a starker and more solemn side of his enchanting canon of driveway dreams on this latest release. "Running tired down that mountain," he sings on the album's opening track, and you believe it—his voice echoing out wearily against electric and grungy guitars. Still, he strives to keep the light aglow, experimenting with a bigger percussive sound and righteous left-turns into psychedelic rock. This music always feels like home.
Dumb–Pray 4 Tomorrow: The Vancouver post-post-punks cram a staggering number of ideas in 18 songs and 41 minutes, all at a blistering pace, with no single song staying longer than needed. There's a heavy dose of '90s here, but the content is purely 2020's. Tossing aggression, introspection, a knack for simple hooks and a lack of self-indulgence, Dumb comes out of Pray 4 Tomorrow looking pretty smart.
Norma Tenega—I'm The Sky: A loving retrospective of folk-rock trailblazer and artist, Norma Tanega, culled from her two solo records, cuts from an unreleased album, and unheard home-recorded demos. I'm The Sky is vibrant with all the warmth, longing, humor, and joy indicative of the many facets of Tanega's life and work. Her songs are always able to cut through the bullshit with a winking smile.
David Nance-Pulverized And Slightly Peaced: A reissue of Nance at his noisiest. Trade in those Crazy Horse comparisons for the finest impression of Trad Gras och Stenar you've ever heard. The first side will chew you up and spit you out, but "Amethyst" will melt down your physical existence and leave you floating in the ether.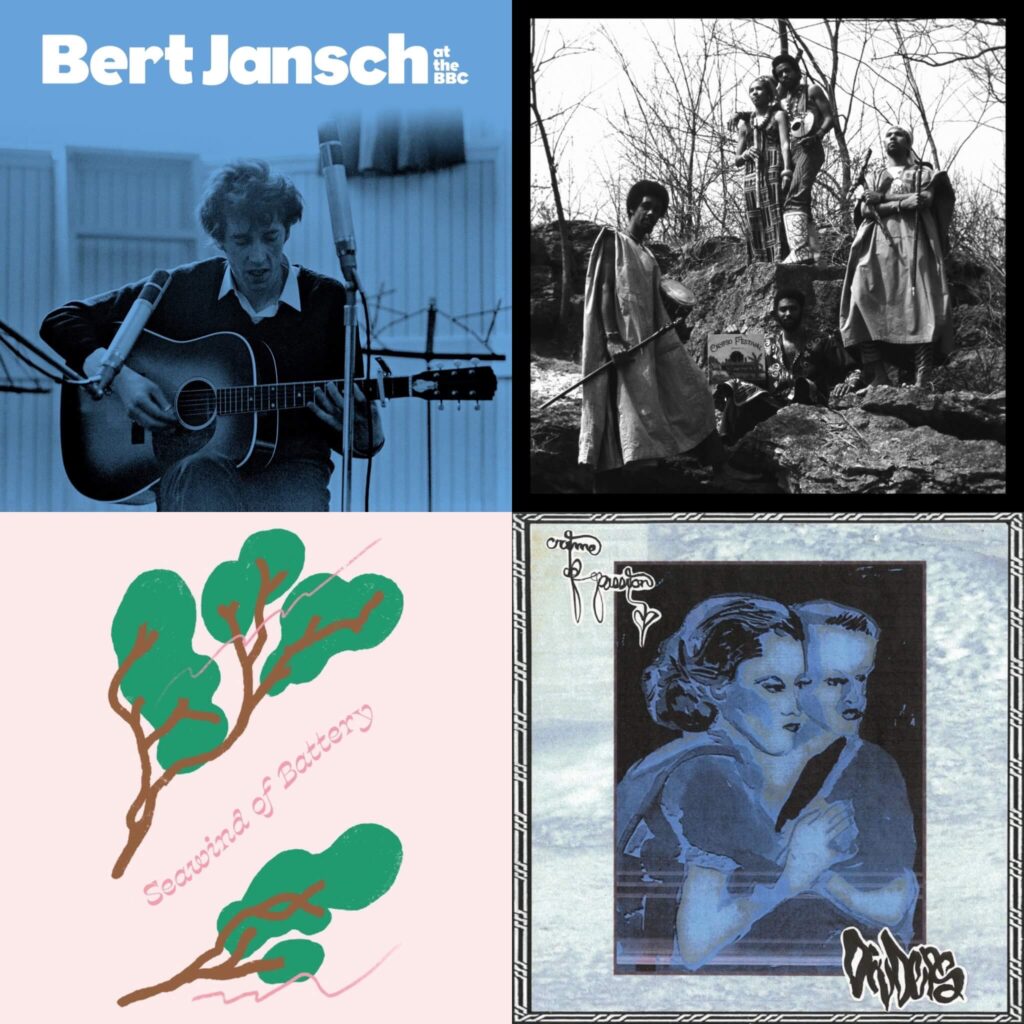 Bert Jansch–Bert at the BBC: Britain's supreme guitar talent. Nearly 9 hours of Bert's broadcasted performances from his 40+ year relationship with the BBC. Rewarded with live gold from every phase of Jansch's career, the careful listener joins the guitarist on his journey in becoming a walking legend.
The Pyramids-Aomawa: Formed under the almighty guidance of Cecil Taylor, The Pyramids were involved with his Black Music Ensemble at Antioch College in Ohio. Amid their studies – which included travels through Ethiopia, Morocco, Uganda, Kenya, and Egypt – The Pyramids released Lalibela in 1973. This was followed by King of Kings (1974) and Birth/Speed/Merging (1976). The impact of their time abroad was immediately apparent and the message crystal clear: The Pyramids intended to create Liberation Music wholly inspired by the urspring of African art.
Seawind of Battery-Clockwatching: Equal parts Mike Nesmith and Hiroshi Yoshimura bleed through this cosmic country for the thinking person. An incredible debut for Mike Horn's latest project and a stellar christening for the ever-formidable Island House Records.
Dividers-Crime of Passion: The second album from the LA duo melding effects-laden noise with sultry country fried guitar work. The influence of the Velvets at their most precious and Neu! at their most adventurous somehow blend in a showcase of western-tinged wattage. A lo-fi approach is taken on this trip, like a gravel road crunching beneath you, kicking up rocks as Dividers open up the landscape.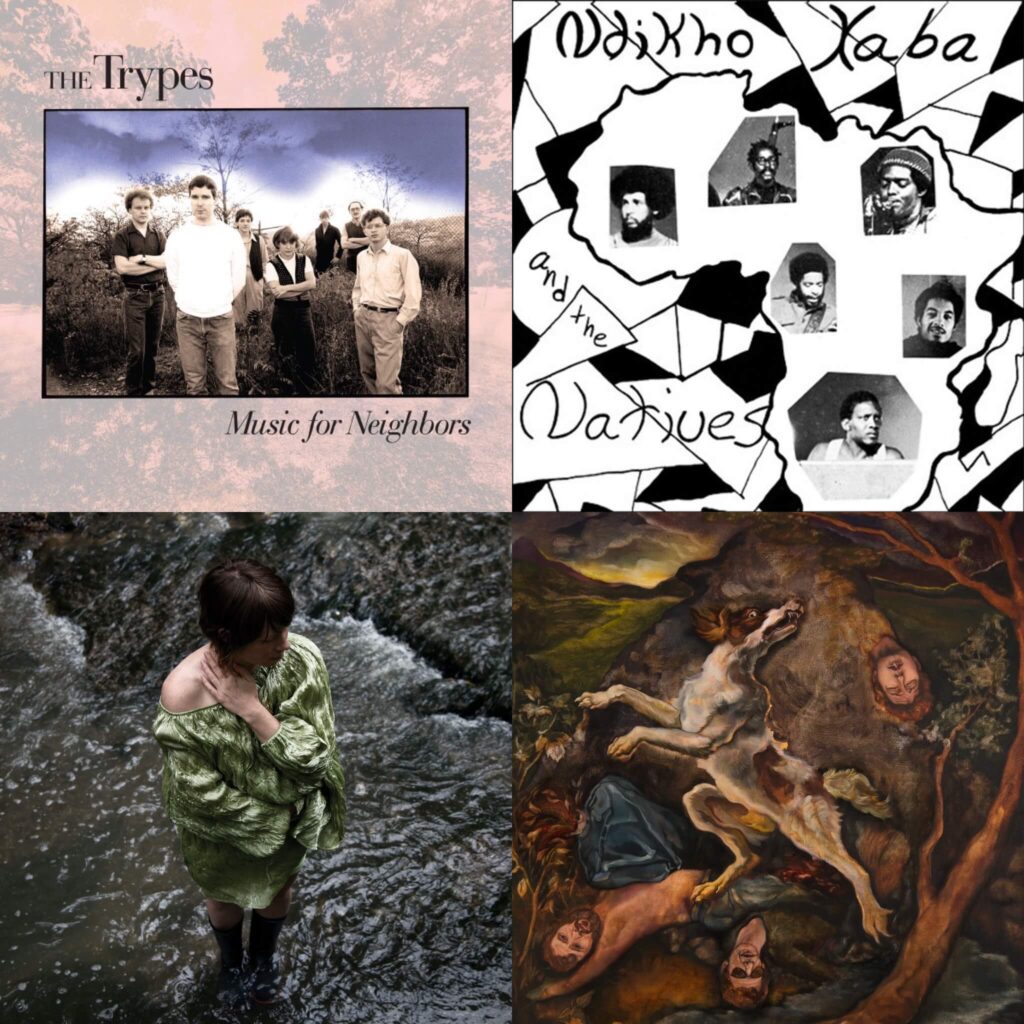 The Trypes—Music For Neighbors: An off-beat Garden State classic. There was an excellent Trypes retrospective released about a decade back, but since that's long out of print, it's good to have this reworked release. The Feelies-adjacent group sounds as magical (maybe more magical) than ever, a weird and wondrous blend of minimal piano and percussion, murmuring woodwinds, ghostly Ebow guitar and gentle vocals.
Ndikho Xaba and the Natives—Ndikho Xaba and the Natives: Originally self-released in an edition of 100 copies in 1971, the reissue of Ndikho Xaba's spiritual jazz opus is evergreen in its relevance. After finding a musical and communal safe haven in San Francisco after being exiled from his native South Africa, Xaba assembled a band that plays larger than the sum of its parts. Crashing rolls of meditative piano, twinkling and shaking percussion, warmly grooving sax and dizzying woodwinds coalesce into moments of deep, hymnal transcendence, gospel-tinged shouts (featuring Xaba's scorching, bullhorn-amplified, vocals) and pure freedom of expression.
Isla Craig–Echo's Reach: On Echo's Reach, Toronto based vocalist and pianist Isla Craig blends woozy r&b sensibilities with canvases of jazzy chamber soul, knotty art-pop, and rumbling psychedelic dirges. Her meditations on nature and its wondrous, joining expanse take unexpected and colorful turns, with pastel sax and angelic harmonies trailing her warm, searching piano passages like avian magic.
Whitney K–Hard To Be A God: The stories on Hard To Be A God are chock full of details: Italian coffee made on a dirty stove top, a dinner party for a friend moving out of town, someone who "looks like Khrushchev addressing the Committee." To this, the Yukon native introduces flourishes of stringers, twang, even a bit of choogle. The result is what one might imagine the Velvet Underground would have become under the shepherding of Matisse and not Warhol.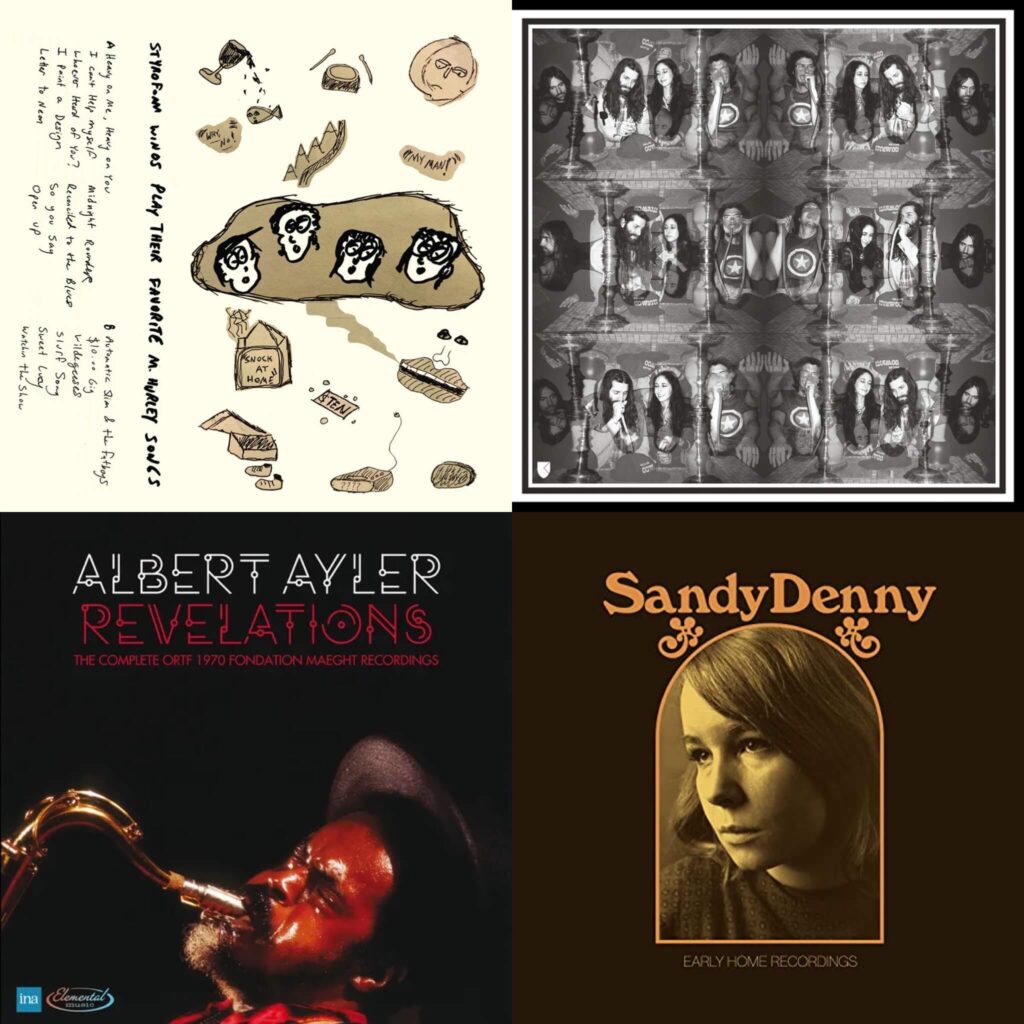 Styrofoam Winos–Styrofoam Winos Play Their Favorite M. Hurley Songs: In the spring of 2020, Styrofoam Winos, the homespun boogie blazers from Nashville, were, like all the rest of us, stuck at home. The four-piece decided to turn their situation into "snock-at-home," each of them choosing a Michael Hurley song, recording their parts in their respective homes, and sharing them back and forth, mixing them later that summer, and finally releasing them this year only after receiving explicit approval from Hurley himself. The band's warm, ramshackle aesthetic is uniquely catered to the man's idiosyncratic catalog and sound, and one struggles to imagine a hushed, haunted classic like "Wildgeeses" or a life-affirming all-timer like "Slurf Song" in better hands during distinctly difficult times.
Psychic Ills & Gibby Haynes–FRKWYS Vol. 4.5: Nowhere in the Night: Originally recorded between the hours of 10pm and 4am on a cold February night in 2010, Nowhere in the Night finds the NYC via Texas trio and Butthole Surfers co-founder melding together for a slow burn sludge of psychedelic rock. Synths bleeding out into droning basslines and nocturnal guitars, the music is menacing and mysterious, alternately sly and punishing, going for long rides of Lynchian dread and levitating ephemerally in meditative swaths of Haynes' processed hollers. "Where's the beginning," indeed.
Albert Ayler—Revelations: The first release of Albert Ayler's legendary Fondation Maeght concerts in their entirety. Recorded in France in the deep summer nights of 1970, the gigs preserved on Revelations capture the full flowering of Ayler's searing, mystical vision of jazz mere months before his tragic death. By his own assertion Albert Ayler was the holy ghost of sax, and the Revelations quells any doubt of that.
Sandy Denny-Early Home Recordings: Possibly the finest voice in recorded music. Stripped down to her most bare, this archival blessing shows the innate beauty conjured by Denny without the distraction of the virtuosic musicians she would surround herself with throughout her career. Recorded before truly hitting the big time, we have a glimpse of the artist at a creative peak.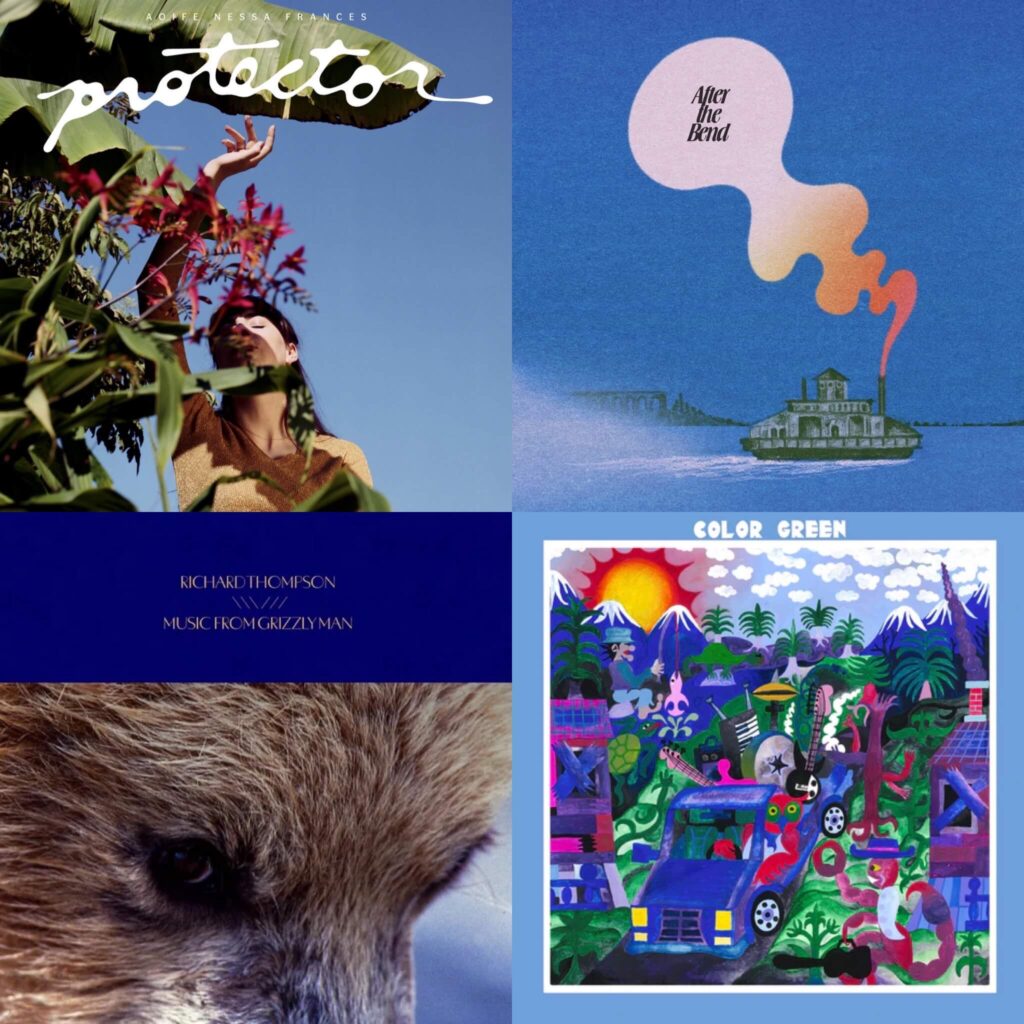 Aoife Nessa Frances-Protector: The Irish songwriter's sophomore effort that exceeds all expectations. Frances has created an album of down-tempo pop music that retains the psychedelic leanings of her first LP. With a minimalist streak running through the record, this is one to get lost in.
Flanger Magazine-After the Bend: A fantastic release from Louisville's own Chris Bush and co. Lots going on here, but immediate connections to Mike Cooper, the best in esoteric free improv, and even the more meandering works of Charles Ives. When mentioning "Open Music" from now on, this can serve as a reference point.
Richard Thompson-Music from Grizzly Man: No Quarter's reissue of Thompson's classic score from the parable tale of conquering nature. The pyrotechnics Thompson is known for are dialed in, though no less ferocious. Subdued he may be, but the legend's tones and textures possess the ability to propel listeners into the vast expanses of the American wilds.
Color Green-Color Green: Expansive country-hued choogle that demands you get up and groove. Color Green absolutely knock it out for their debut LP. With a sound that offers the Stoney bliss of the 90s jam scene (with none of the excessive obnoxiousness associated therein) and the fine-tuned precision of The Meters' swampy funk, Color Green sets a high standard for the duo.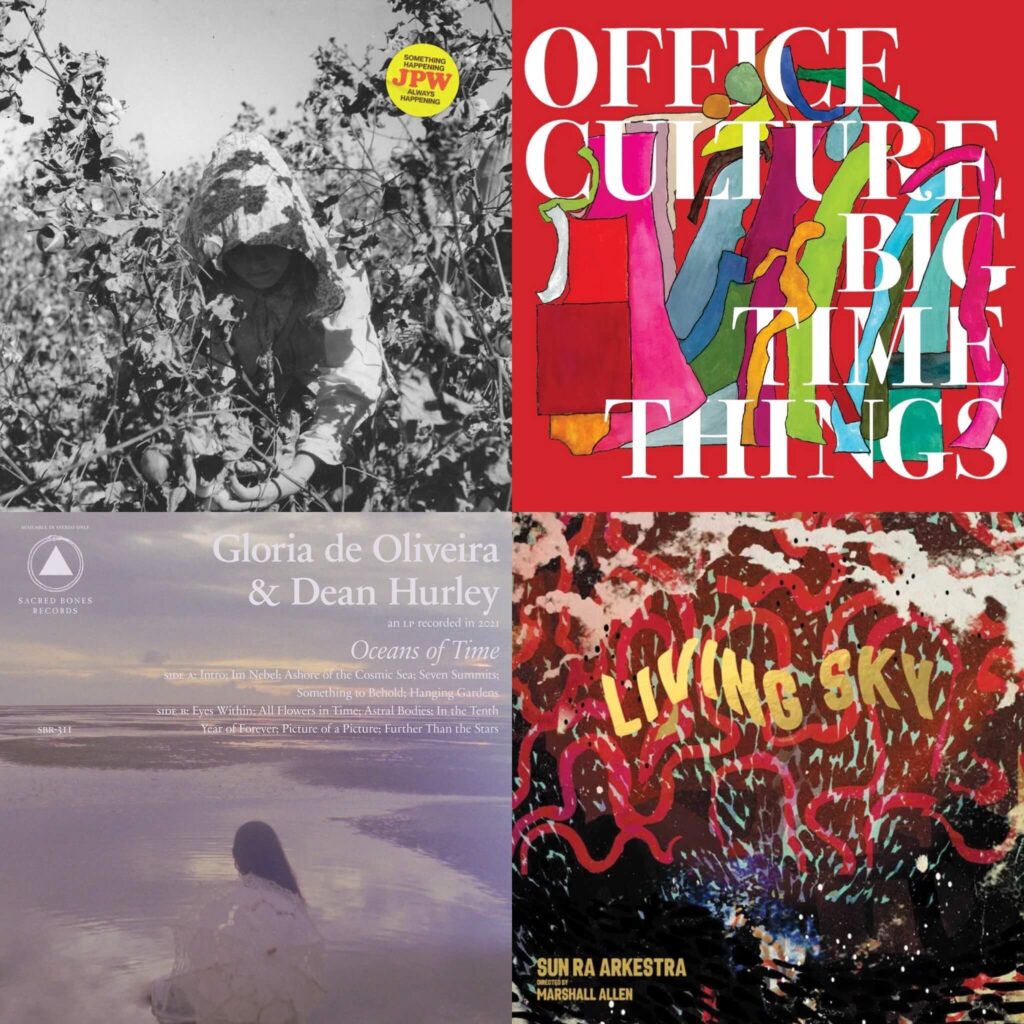 JPW—Something Happening / Always Happening: Aquarium Drunkard's own Jason P. Woodbury ventures into the heart of cosmic Americana with a high, tender voice and songs as serene as the Arizona desert. Jolts of organ, gently plucked guitars, and the sputters of the Rhythm Ace drum machine lend a timeless quality to his band's shimmering, mirage-like arrangements. Slow down and get lost in the haze.
Office Culture–Big Time Things: A windswept blend of sophisti-pop, blue-eyed soul, AOR vibes, art-pop, and sweeping strings from Winston Cook-Wilson and crew. Cribbing from the greats–including Steely Dan, Joni Mitchell, and Talk Talk—Cook-Wilson paves his own road with Big Time Things.
Gloria de Oliveira & Dean Hurley—Oceans of Time: A dream-pop vision, blurry and gorgeous. Oceans of Time finds David Lynch sound designer Dean Hurley teaming with German-Brazilian singer/songwriter Gloria de Oliveira. Moody and spectral, their songs range from dramatic expanses ("Im Nebel") to chillout tent bliss ("Something to Behold"). Of special note is "All Flowers in Time," a cover of an unreleased Elizabeth Fraser and Jeff Buckley song that aches with chilly grace.
Sun Ra Arkestra—Living Sky: Last year the Sun Ra Arkestra, under the direction of 98-year-old bandleader Marshall Allen, released Swirling, its first studio effort in more than two decades. Thankfully we didn't have to wait long for another: recorded in a single day at Rittenhouse SoundWorks in Philadelphia, this set is more subdued and melodious, with the Arkestra taking on Ra originals, classical motifs and standards. That the Arkestra endures is one of music's great feats, and Living Sky is a welcome addition to the mighty catalog.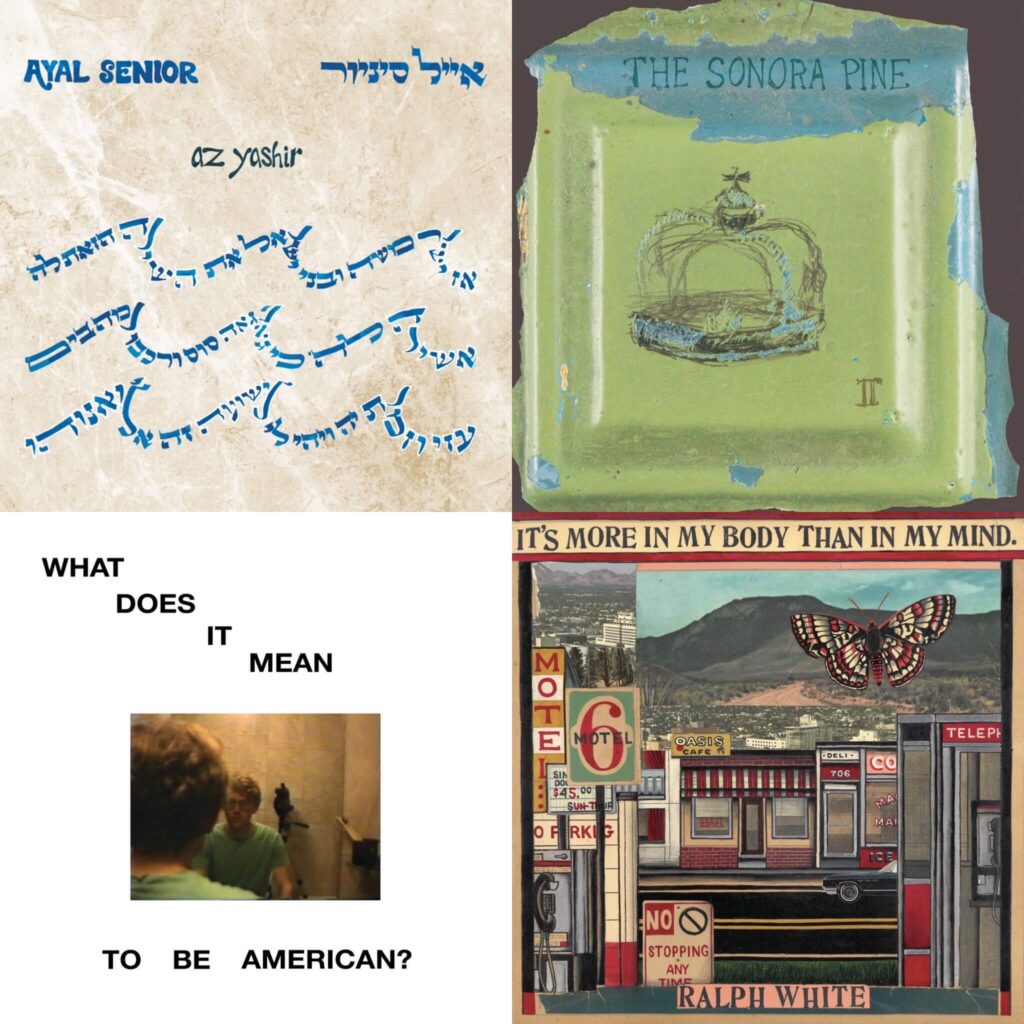 Ayal Senior—Az Yashir: Quietly released in May, the latest album from Toronto's Ayal Senior fleshes out fingerstyle guitar instrumentals into beaming rays of sunshine sound. With the help of pedal steel player Kurt Newman, Badge Époque drummer Jay Anderson, and producer Sandro Perri, these self-described "devotional blues and space rags" become mesmerizing acoustic meditations.
The Sonora Pine—II: The term "lost classic" is tossed around perhaps too much these days, but we can make an exception for this 1996 LP. Featuring Tara Jane O'Neill, Samara Lubelski and Kevin Coultas, II is a moody masterpiece that you could slot alongside early Cat Power, Dirty Three and Codeine. O'Neil's skeletal/skillful guitar blends beautifully with Lubelski's eerie drones, Coultas' kit work recalling Jim White's at times. It's loose but locked in, with moments of undeniable beauty blossoming out of the mix.
Robert Stillman–What Does It Mean to Be American: On his latest album of piano, reeds, and percussion, expat composer Robert Stillman probes the notion of American identity. A beautifully rendered work, laced with pastoral jazz-inspired piano, cooing saxophone and clarinet melodies, and clattering percussion, it's threaded through with conflict—stately horns begin to curdle into more chaotic and frenzied tenors. Stillman continues to cement his singular body of work here, playing a blues equal parts nostalgic, deluded, and radical.
Ralph White-It's More in My Body Than in My Mind/ Something About Dreaming: The venerable Worried Songs released two albums from multi-instrumentalist/banjo virtuoso Ralph White in 2022—the biggest secret in the folk peculiar. Despite hailing from Texas and residing in Arizona, the music within the grooves of these records would be right at home in the inaccessible hollers of Kentucky or North Carolina. Like his former collaborator and wanderer compatriot, Michael Hurley, Ralph White enters the realm of the Avant Garde in his manipulation of the traditional structure of folk music—pushing it to the frontier where familiar meets experimental.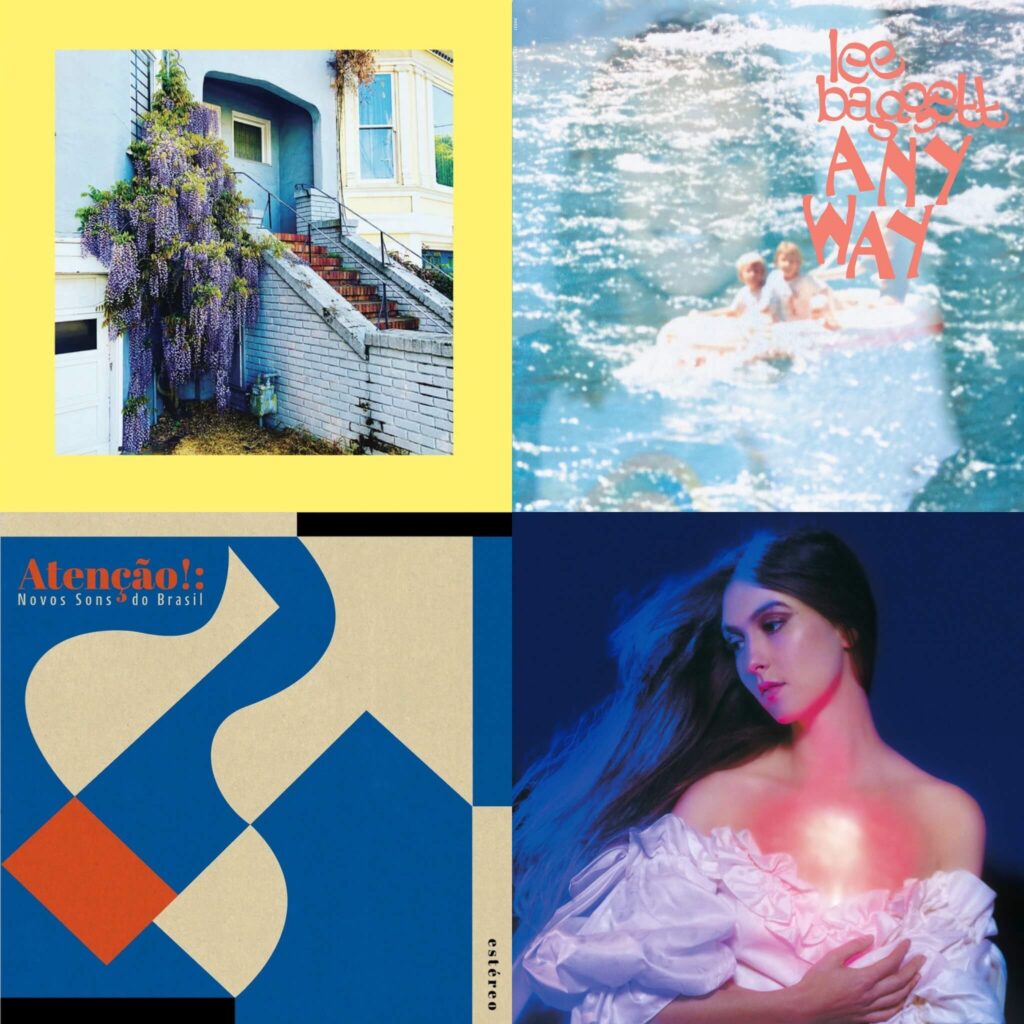 The Reds, Pinks & Purples-They Only Wanted Your Soul: Another year, another terrific gem from Glenn Donaldson's seemingly bottomless archive of jangly, bittersweet melodies. They Only Wanted Your Soul is a mini-LP, partially sourced from a now out of print, early Reds, Pinks and Purples EP. The collection includes among his best material, such as "Saw You at the Record Shop Today", a sort of anthem emblematic of Donaldsons's infectious indie pop.
Lee Baggett-Anyway: Last year's mysterious Lee Baggett debut was supposedly recorded "sometime between 1979 and yesterday". This sophomore effort sounds even more appropriate for that description. The seasoned west coast journeyman continues on a rollicking tear, with Anyway's songs shifting between their self-proclaimed seaside melancholy and grandiose, arena rock riffs on tracks like "Fruit Dog", a jam disguised as an homage to old friend Phil Elverum.
Atenção!: Novos Sons do Brasil: A wide-ranging collection showcasing the modern sounds of Brazil, this collection from Aquarium Drunkard and ORG Music finds artists like Chico Bernardes, Ana Frango Eletrico, Sessa, Tim Bernardes, O Terno (joined by Shintaro Sakamoto and Devendra Banhart) and others pulling together threads of psychedelic rock, downtempo jazz, and folk, braiding those strands together with the rich traditions of bossa nova or Tropicália that saturate the country.
Weyes Blood—And In The Darkness, Hearts Aglow: Like a modern day Judee Sill, there's a spiritual core to Natalie Mering's pomp. Abetted by swelling orchestrations and crisp, '70s-evoking folk-pop arrangements. "Mercy is the only cure for being so lonely," she sings on opener "It's Not Just Me, It's Everybody," offering comfort and empathy in the face of the modern scene of catastrophe.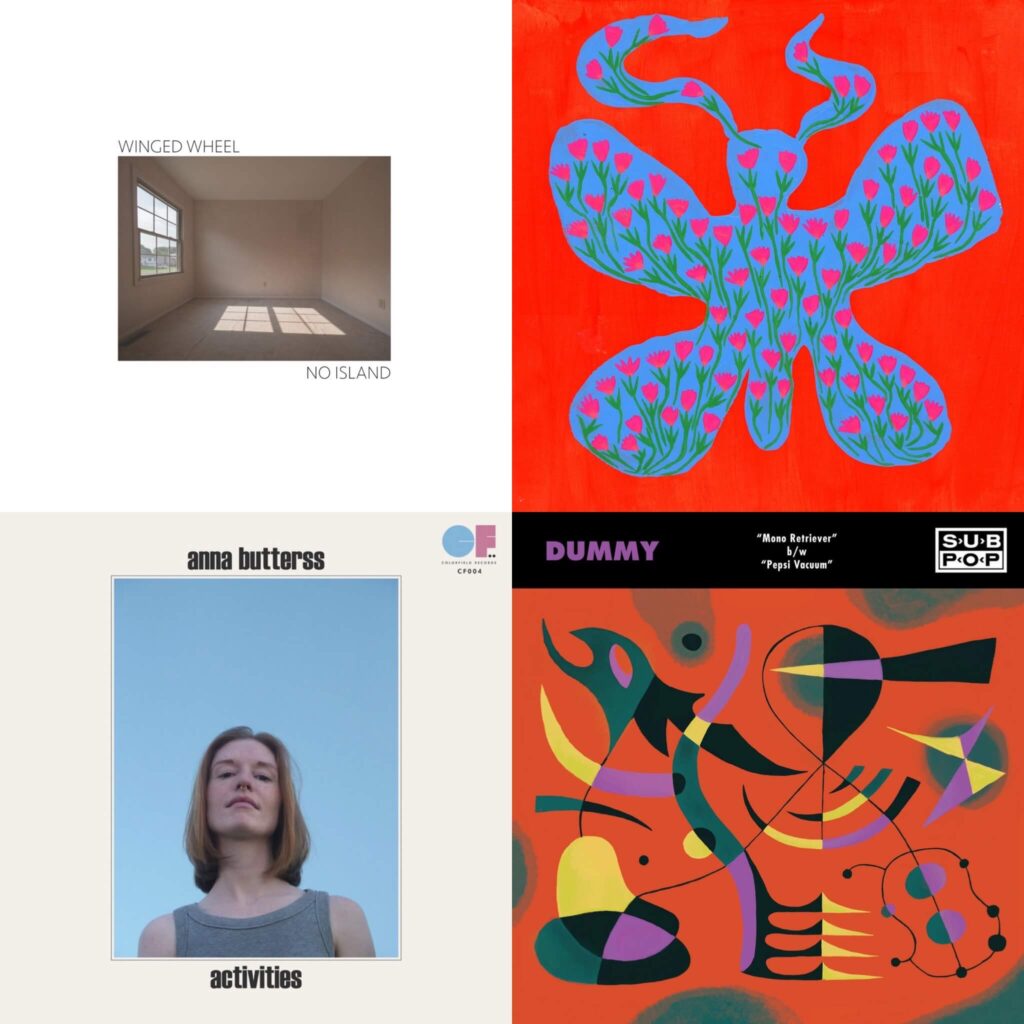 Winged Wheel—No Island: Winged Wheel brings together four subterranean lifers – Fred Thomas (Idle Ray, Tyvek), Cory Plump (Spray Paint, Expensive Shit), Whitney Johnson (Matchess, Damiana), and Matthew J. Rolin (Powers/Rolin Duo). Motorik variations set the foundation, before swirling guitar leads are layered over waves of distortion, slippery synths, and garbled samples, all guided by Johnson's serene vocals. A blissfully endless bummer.
Dehd—Blue Skies: Spending more time in the studio than with previous releases, Dehd's fifth album explores spaces that the band had only hinted at before. "Window," the lyrics of which give the album its name, is an example of a song that soars into less charted anthemic territory, while "Bad Love" is the kind of song that deserves to be played to death on the radio, its infectious chorus a key refrain of this year. It's a record that inhabits a diverse set of worlds, all of them sounding more and more like a band hitting its stride.
Anna Butterss–Activities: On her solo debut, Activities, Anna Butterss embraces expansive electro-tinged jazz. Revealing the full depth of her musicianship, she performs the record almost entirely herself, utilizing a gamut of upright and electric bass, guitar, piano, Rhodes, analog and digital synths, drums, drum programming, percussion, flute, and vocals. An equally adventurous and mellow affair, the artist deftly improvises her way through layers of steamy tropic percussion, subterranean house grooves, and faded, prismatic chillers.
Dummy—Mono Retriever/Pepsi Vacuum: Released as part of Sub Pop's Singles Club, this barnburner from Dummy rings through with righteous Stereolab zest, a protest anthem about corporate greenwashing. "Pepsi Vacuum" employs a more floating approach, its corral vocals evoking a moment of peace.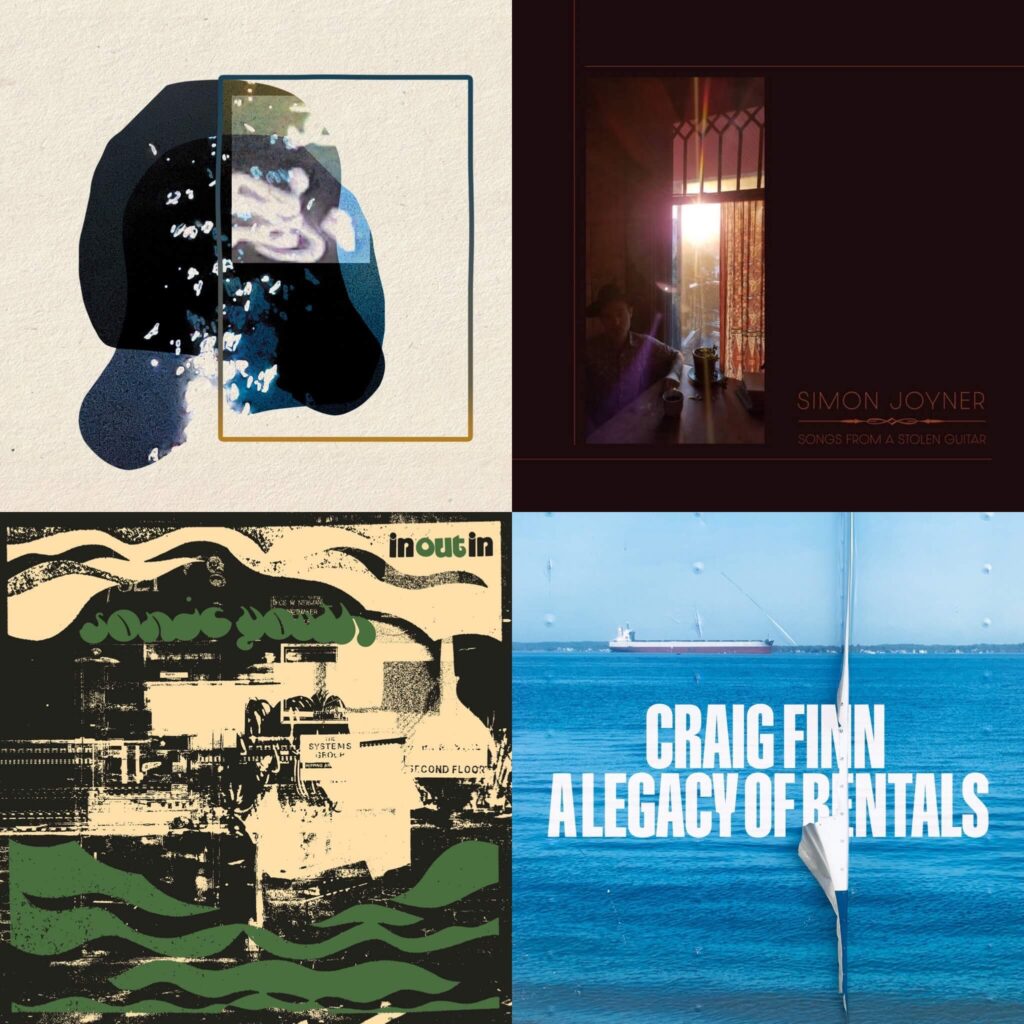 Natural Flavorsz—Homage: One of the most blissed out listening experiences you can have in 2022. Or any year! Piano, synth and lap steel all come together for an album that drifts along wonderfully but never feels aimless; there's a forward momentum even in its mellowest moments. Terry Riley takes on In A Silent Way?
Simon Joyner—Songs From a Stolen Guitar: Rolling out of Omaha where he overseas Grapefruit Records, Simon Joyner is in fine form on Songs From a Stolen Guitar. His songs are populated by world weary characters and the music sounds that way too. With producer Michael Krassner and a sympathetic band easing him along, he shines his flashlight into dark corners and finds something beautiful to illuminate.
Sonic Youth—In/Out/In: The Sonic Youth Vaults continue to offer delights. Culled from spontaneous recording sessions and soundchecks during the band's final decade, In/Out/In focuses on the jammier side of SY, with five instrumentals that range from motorik groovers to scorched earth feedback.
Craig Finn—A Legacy of Rentals: Alternating between tender singing and spoken dictation, The Hold Steady's Craig Finn sounds perfectly at home in the golden-hued tones of A Legacy of Rentals. As is the case with his other solo efforts outside of his hard rocking band, the mood here is quiet but vast, evocative of the widescreen expressiveness of Jimmy Webb. Finn paints vivid scenes of characters on the margins, easing into the narratives and imbuing them with a deep sense of humanity.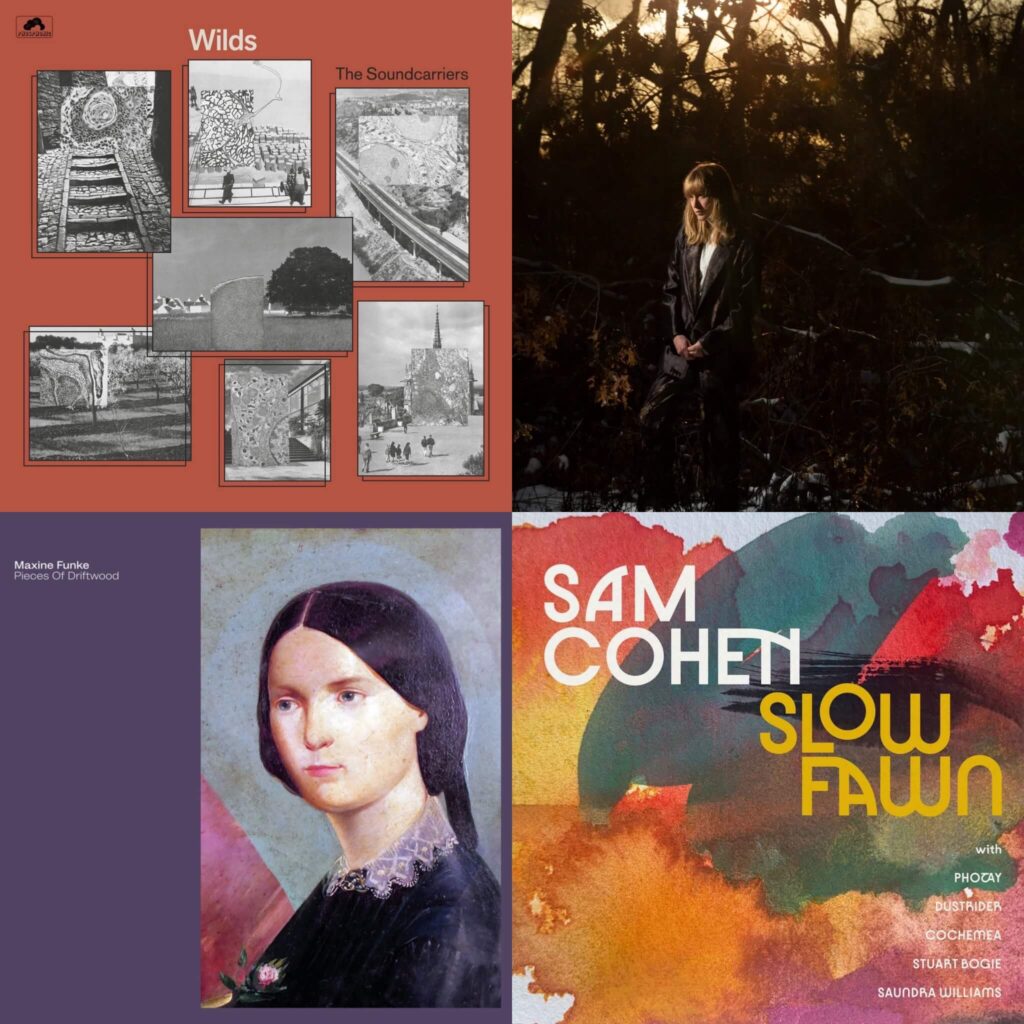 The Soundcarriers-Wilds: Wilds marks the welcome return of the Soundcarriers, their first release in nearly a decade. The Nottingham-based four piece sounds refreshed and cinematic as ever on these nine tracks. Recalling Françoise Hardy or the late Gal Costa, vocalist Leonore Wheatley's understated melodies pair perfectly with the band's woozy, Tropicalia-inspired soundscapes.
The Weather Station—How Is It That I Should Look at the Stars: Tamara Lindeman looked to Toronto's jazz/improvisational community to help her realize this autumnal sixth album, threading delicate runs of flute and clarinet through her spare arrangements and founding them on the thump of acoustic bass. Amid this nocturnal atmosphere, Lindeman's voice runs clear and clean and melancholy, whether regretting broken relationships or mourning a disappearing natural world.
Maxine Funke-Pieces Of Driftwood: A generous and gorgeous collection of non-album singles, compilation tracks, and unreleased material from the monumental New Zealand talent (featuring fellow travelers Alastair Galbraith and P Wits on a handful of tracks). Some of her most intimate and confessional work alongside her most experimental, Pieces Of Driftwood makes for a great entry point for newcomers and a cause for celebration for obsessive devotees alike.
Sam Cohen—Slow Fawn: The sessions that birthed Slow Fawn served as a kind of spiritual christening for Sam Cohen's studio in upstate New York. Inspired by Terry Riley's A Rainbow in Curved Air and featuring collaborators like Cochemea, Photay, and others, it reflects Sam's desire to "create a world without friction, where you could float and feel joy." Combining dashes of jazz, synthesized new age, and Cohen's tender and open-hearted songs, it's a portent of much more goodness to come from that space.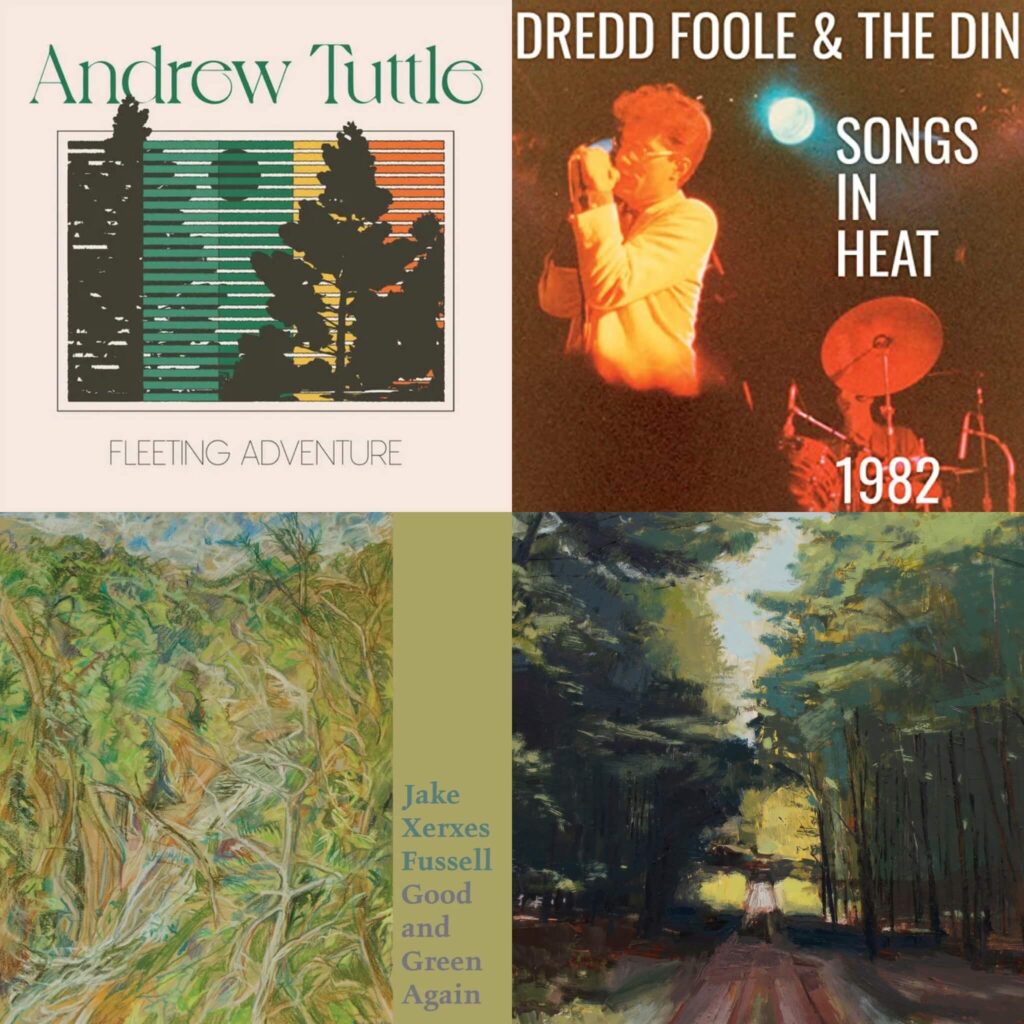 Andrew Tuttle—Fleeting Adventure: Banjo-forward ambient from Down Under! Fleeting Adventure is fantastic example of Covid-era lockdown creativity and collaboration, with a globe-spanning selection of players (Steve Gunn, Aurélie Ferrière, Michael A. Muller, Joe Saxby) all adding their skills. Tuttle gives his friends plenty of space, finding a soothing and spacious realm to explore.
Dredd Foole & The Din—Songs In Heat 1982: The unclassifiable Dredd Foole (aka Dan Ireton) has floated wraith-like around various Boston scenes for decades — but he got his start with The Din, a band that is better known as the legendary Mission of Burma. Their first session is gathered here, along with a selection of live tracks recorded later the same year. It's thrillingly unhinged stuff, free rock madness, with Foole leading Burma into the abyss, going for broke, taking no prisoners.
Jake Xerxes Fussell-Good and Green Again: From the outset of his self-titled debut, Jake Xerxes Fussell has made clear his mission—the careful interpretation of traditional American music. On this record, Fussell steps out of this mold slightly to record three stunning instrumentals. The record is modestly and excellently produced by James Elkington but the remarkable picker's confidence-laden vocals steal the show throughout.
Small Sur-Attic Room: A deeply personal record capturing slivers of life from Bob Keal—father, teacher, woodworker, songwriter. Throughout, we are graced with flutters of saxophone, pedal steel atmospherics, and fiddle drones. With collaboration as key, the assembled ensemble for Attic Rooms crafts masterful soundscapes for Keal's words.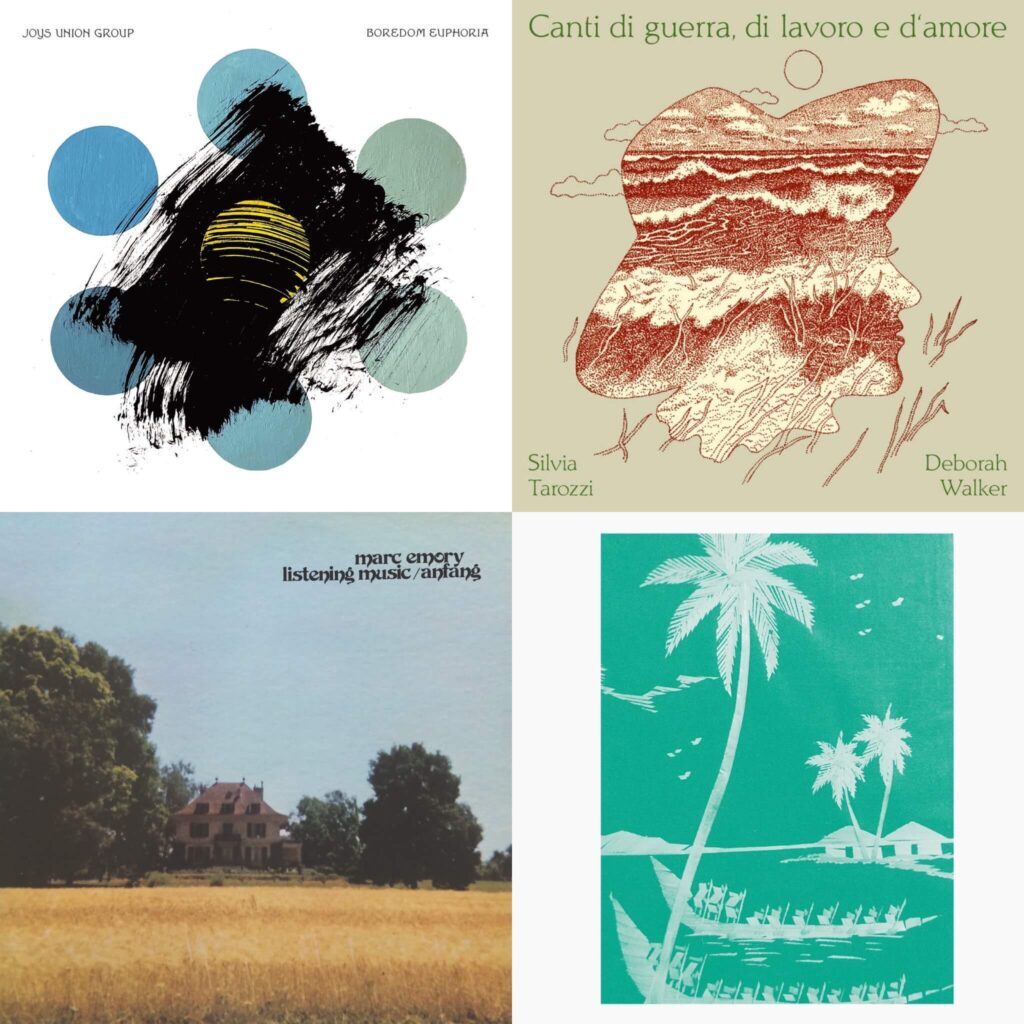 Joys Union Group—Boredom Euphoria: A marvelous slice of New American Kosmische — absolutely spaced-out but somehow still deeply earthy. Boredom Euphoria kicks off with a gorgeous free-range drift, sounding a bit like a New Age take on the becalmed side of electric Miles. But the album isn't all becalmed — Michael C. Sharpe's tension-filled drumming ensures that things don't devolve into ambient goo.
Silvia Tarozzi & Deborah Walker–Canti di guerra, di lavoro e d'amore: One of the year's more unexpectedly arresting releases, Canti di guerra, di lavoro e d'amore (Songs of war, work and love) finds the duo of violinist Silvia Tarozzi and cellist Deborah Walker adapting folk music from their native Emilia, Italy, and crafting a stunning display of the timeless and limitless power of their instruments and of the voice. The women transmute the songs of rural, wartime hardship into powerful and tender works of contemporary classical folk—pristine and delicate yet fierce and unwavering. This is an absolutely gorgeous piece of work.
Marc Emory—Listening Music/Angfang: A recovered gem from the deep mines of private press guitar soli. Though Marc Emory's music was little heard in when it was initially released in the mid '70s, these tunes are every bit the equal of their Takoma brethren. Come for Emory' s delicate compositions and fingerpicking, stay for the laid-back charm of his vocals and songwriting—if anything, time has only deepened the music's inherent mystique.
Mike Cooper-Oceans of Milk and Treacle: Stepping back from the free-folk jazz that made him an icon in the seventies, Cooper has spent the second half of his career exploring the near infinite routes his National Tri-Cone Resonator can conjure. Oceans takes the listener to the furthest reaches of the imaginary South Pacific, landing somewhere bordering field recordings and Sun Ra at his most otherworldly.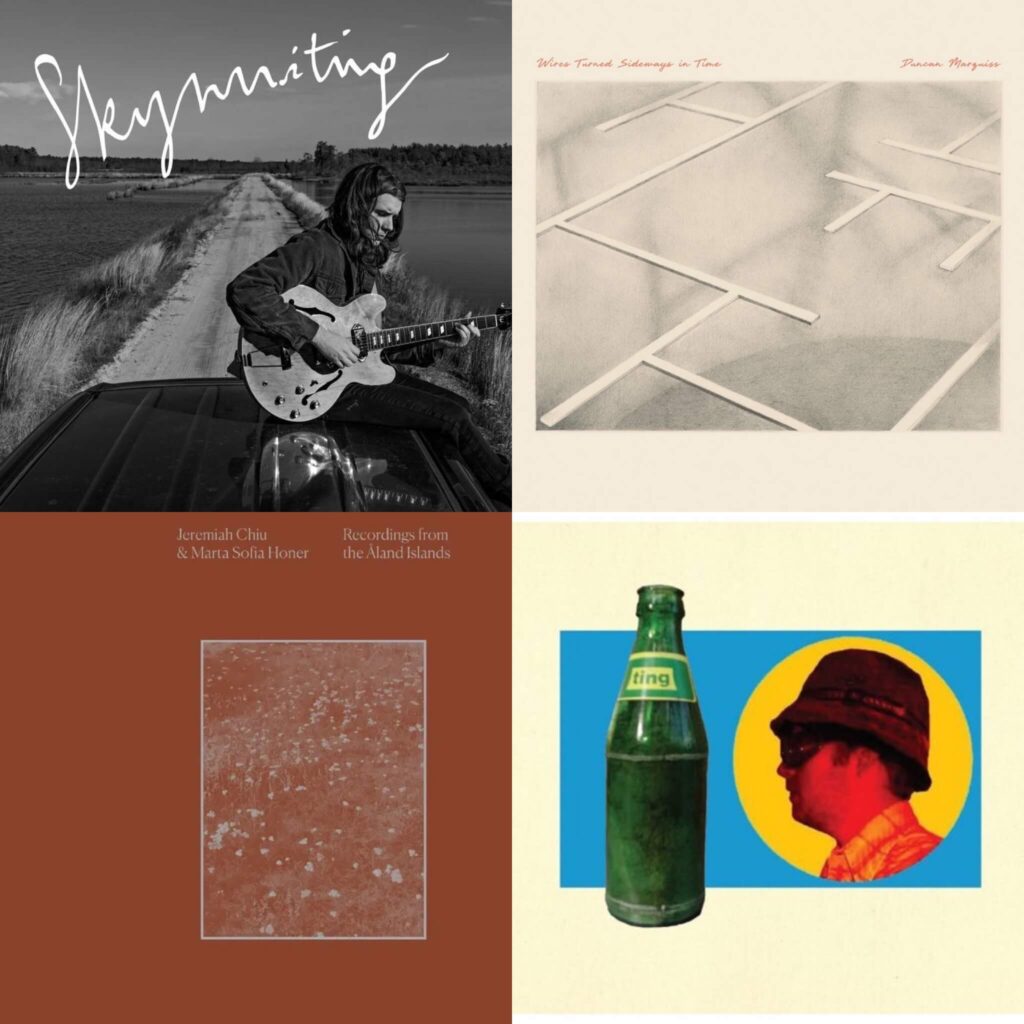 Zachary Cale—Skywriting: Cale's best, most powerful album since Duskland convenes a full band to put a cosmic, psychedelic gloss on his introspective songs. "Come on Easy" shimmers with layered guitars and pulses with motorik drums, a rupturing lick puncturing its easy-going vibe. But it's spirally, world-bending "Page by Page," that takes you out of body, in dueling guitar lines that sound like Television, but country.
Duncan Marquiss—Wires Turned Sideways In Time: A winning kraut-folk hybrid, the seven instrumentals that make up Wires Turned Sideways In Time are inventive, textured and often just plain beautiful. Formerly with the underrated Phantom Band, the Glasgow-based Marquiss proves himself to be a masterful synthesist — the press materials promise a blend of two Michaels (Rother and Chapman) and, amazingly, Duncan delivers.
Floating Action—Ting: Floating Action's Seth Kauffman dug out this 2006 home-recorded record this year, and it's a great joy to know the vibe has always been there. A one-man band, he sings (and backs himself up on) his patented blend of blue eyed soul while playing guitars, upright-fender-washtub basses, violin, lap steel, organ, piano, harmonica, drums, gong, tambourine, maracas, agogo bells, cowbell, guiro, llama toenails, cuico, and a trashcan lid. Dubbed out jams, Black Mountain blues, and woozy, psychedelic croons ensue.
Blondie—Against the Odds 1974-1982: Combining girl group cheer with irreverent rock & roll and a killer fashion sense, Blondie burst out of the New York City punk scene and took to the pop charts. But Numero Group's proves they didn't come out of nowhere, collection embryonic recordings alongside the group's first six albums. The result is a collection that showcases Blondie as one of rock's most enduring acts.
Vintage Crop-Kibitzer: Vintage Crop is not the first Aussie band to mine the serrated riffs and sardonic banter of post-punk, but it's one of the best and most exuberant. "The Bloody War" turns morose about bitterly damaged war veterans ("he's a footnote/he's nothing now"), but mostly this album bubbles over with giddy anarchy. Jack Cherry is periodically gobsmacked by just how clever he can be—and so are we.
Anna Tivel-Outsiders: Anna Tivel's seventh full-length album is a quiet, literate triumph, her delicate curving melodies framed in guitar strums, washes of keyboard sound and twitchy, glitchy beats. She has a fine voice, too, confiding and fluttery and prone to break into little whispers in your ear. But the best thing about Anna Tivel is her skill with a lyric, on best display in "Black Umbrella," which is a crime story, a tragic anecdote and a poem about misdirected youth, all in five buoyant minutes.
Chronophage—S-T: More fluid and melodic than 2020's Th'Pig'Kiss'd, this Austin post-punk/garage outfit flirts with the poised, stylish edges of the genre, more Monochrome Set or Blue Orchids than the Fall. "Black Clouds" is rumpled romantic yowl, rackety with drums and scrambling guitar, but "Summer into Fall" runs is pure girl-group pleasure, bounded by buzzing bass and draped with lavish piano runs.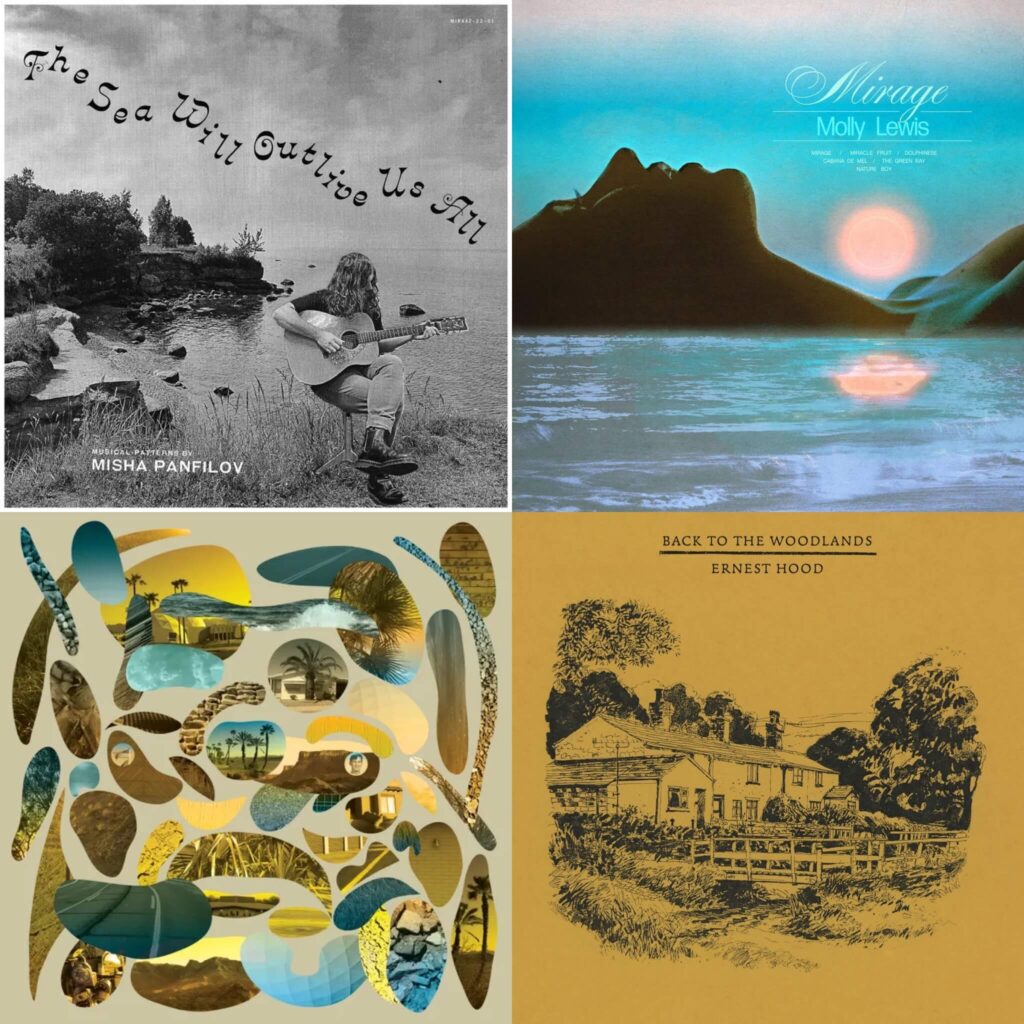 Misha Panfilov–The Sea Will Outlive Is All / Momentum / Penza Penza: These are only three of the maybe half-dozen records that Estonian sound sorcerer Misha Panfilov released this year, but it's a worthy representation of his relentless musical outpouring. Across solo and sextet spiritual jazz outings, and a side projecting embracing Zamrock-inflected funk and dubby, psychedelic fuzz, Panfiolv continues to be one of the most creatively engrossing artists working today.
Molly Lewis-Mirage: Molly Lewis's second EP in as many years continues her singular take on spellbinding, Pacific exotica. Along with her own patented whistling, shades of imagined western scores and floating bossa nova emerge with the talented cast of players like keyboardist Roger Manning. Rounding out Mirage is a flawless cover that was tailor made for Lewis: Eden Ahbez's "Nature Boy".
Pedro The Lion—Havasu: A companion piece to last year's Phoenix, Havasu digs deeper into David Bazan's southwestern adolescence, with mournful, precisely observed songs about moving homes, trying out early romance and finding true love—though admittedly with an instrument. That's the topic in the best song of the set, "New Drumset," which traces Bazan's journey from indifferent clarinet player to impassioned percussionist, and, near the end, lets things rip with unadulterated joy.
Ernest Hood—Back To The Woodlands: A previously unreleased album discovered by Freedom to Spend alongside reissuing Hood's transportative work of music and community art, 1975's privately pressed Neighborhoods. A natural world companion to that monumental opus, Woodlands is a forest floor's worth of nourishing zither, field recording, and synthesizer detritus. As rejuvenating and refreshing as a light rain shower on a sunny summer's day.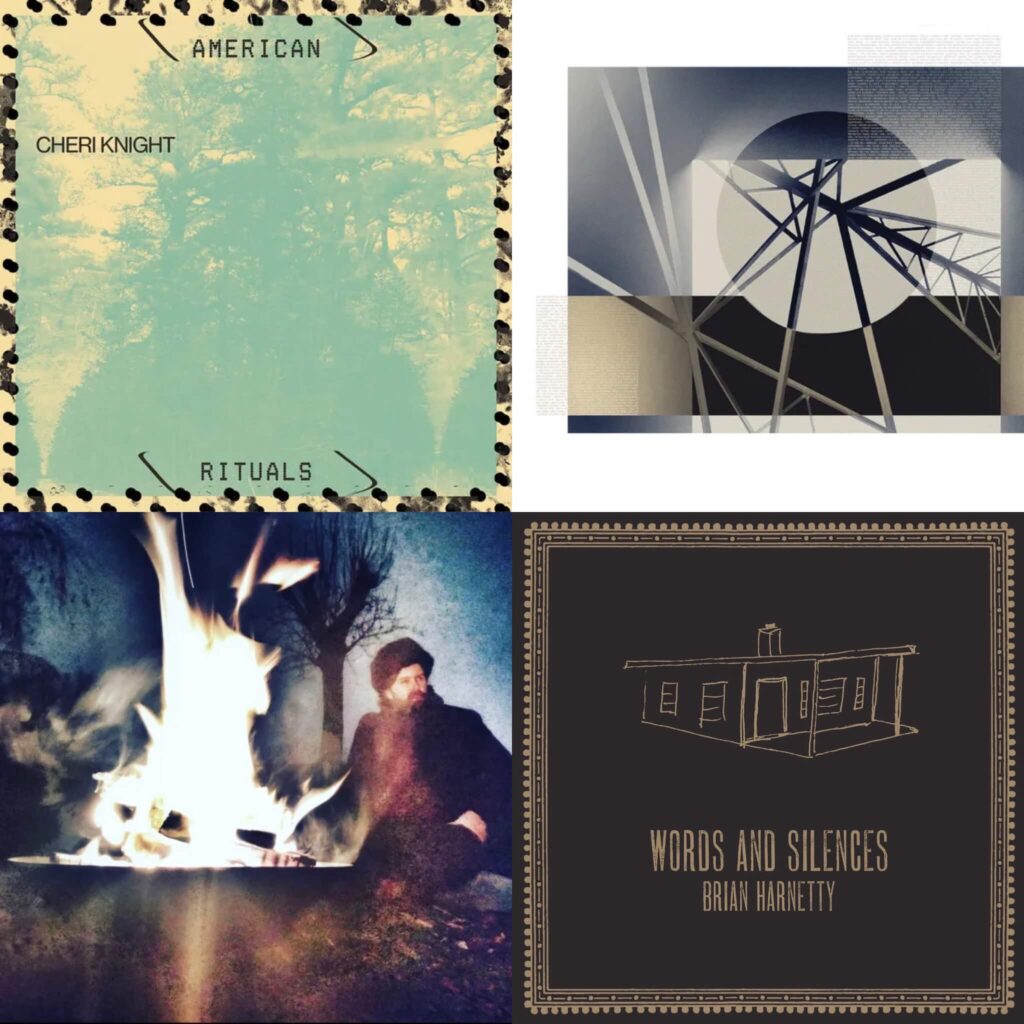 Cheri Knight—American Rituals: Recorded and released in the early '80s, the songs featured on Cheri Knight's American Rituals collection speak to the fertile experimental scene of Olympia, Washington. Equally indebted to minimalism and post-punk, these matric compositions utilize repetition and vocal abstractions to create entrancing musical spaces.
Brian Eno—FOREVERANDEVERNOMORE: His first full vocal album since 2005's Another Day on Earth, FOREVERANDEVERNOMORE finds Eno in a solemn and reverent mode, his voice lowered by time. The focus this outing is on climate change and the precarious future humans face on the planet. The result is heavy, and haunting, and remarkably personal.
David John Morris—Wyld Love Songs: A companion piece to 2021's Monastic Love Songs, this drum machine-led set from Red River Dialect member David John Morris roils with naturalism, spiritual weight, and a curious sense of humor. Part folkie rumination, part art-pop collage, it's a record that feels, to quote his song "Pebble," "both edgy and gentle."
Brian Harnetty—Words & Silences: An intimate recording combining compositions by Brian Harnetty with recordings of Cisteritan monk and writer Thomas Merton, recorded alone at his Kentucky hermitage in 1967, Words & Silences layers Merton's gentle reflections with reeds, piano, and horns and flutes. A welcome respite from the non-stop noise of our age.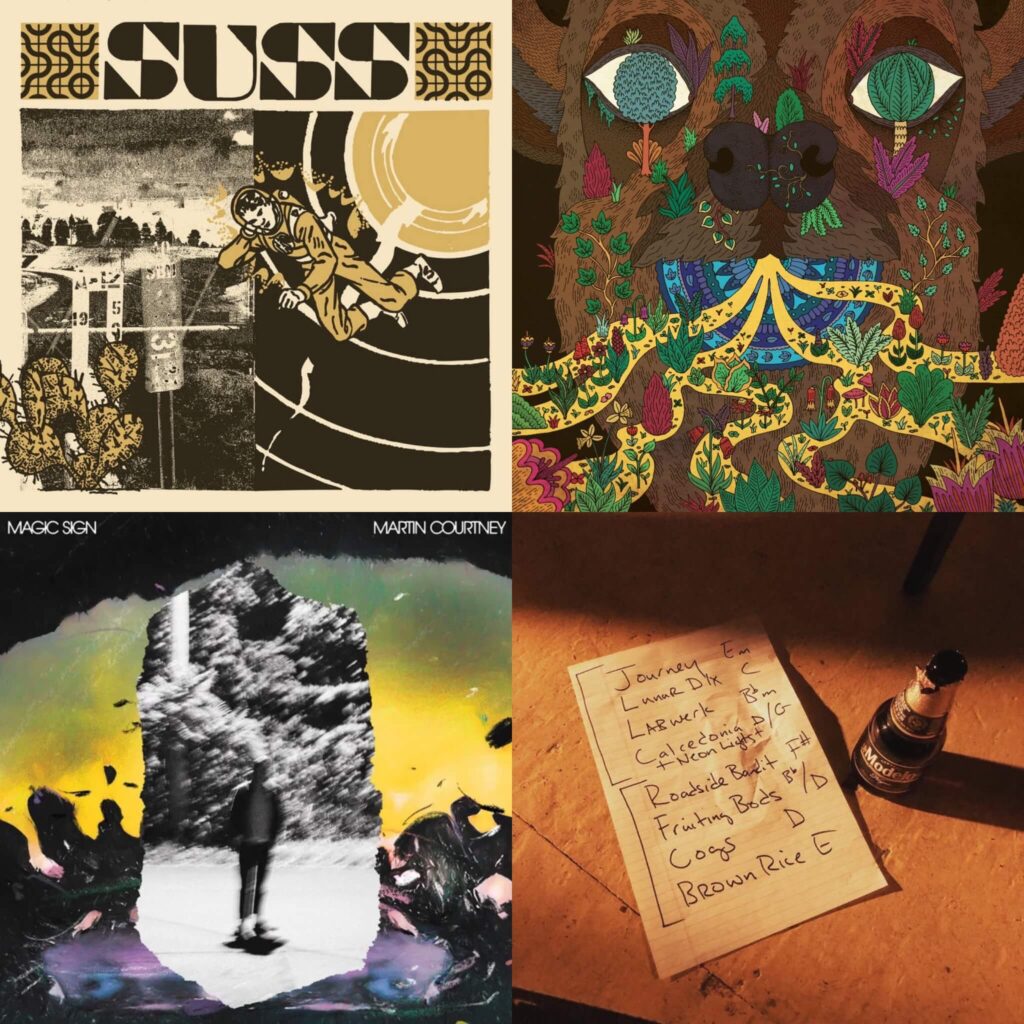 Suss—Suss: Though the passing of synthesist Gary Lieb looms over the ambient country combo Suss, this collection assembles four EPs—Night Suite, Heat Haze, Winter Was Hard, and Across the Horizon—into a majestic double album, full of slow motion twang, suspended synth drones, and gorgeous swells of pedal steel. This is country music mutated and stretched along a vast horizon, open music for open souls.
Elkhorn—Distances: Elkhorn guitarists Jesse Shepherd (acoustic) and Drew Gardner (electric) lean into the rhythmic possibilities afforded by not one but two guest drummers on Distances: the Virginia-based Ian McColm and DC percussionist Nate Scheible. The result is an expansive set of tunes like "Wilderness," which floats along a determined but peaceful groove before taking a left turn into knottier territory.
Martin Courtney—Magic Sign: Real Estate leader Martin Courtney takes a solo drive on Magic Sign, spinning chiming indie pop and classic singer/songwriting tunes which roll out of open windows. A low-key, low slung charmer, one that rewards multiple listens.
Prairie Wolf, Live at the Aztlan Theatre 7​/​16​/​2022: This Wolf's song to the moon is a real swooner. Featuring a handful of originals from this Colorado trio (which features AD's own Tyler Wilcox) alongside compositions by Kraftwerk, Golden Brown, and Don Cherry, a percolating drum machine pushes along the strands of steel, guitar, keys, and synth in this live set. Best of all, it kicks off with an incantatory and illuminating reading of "Journey In Satchidanada," which suggests Sandy Bull meditating at sundown on Alice Coltranes' immortal epic.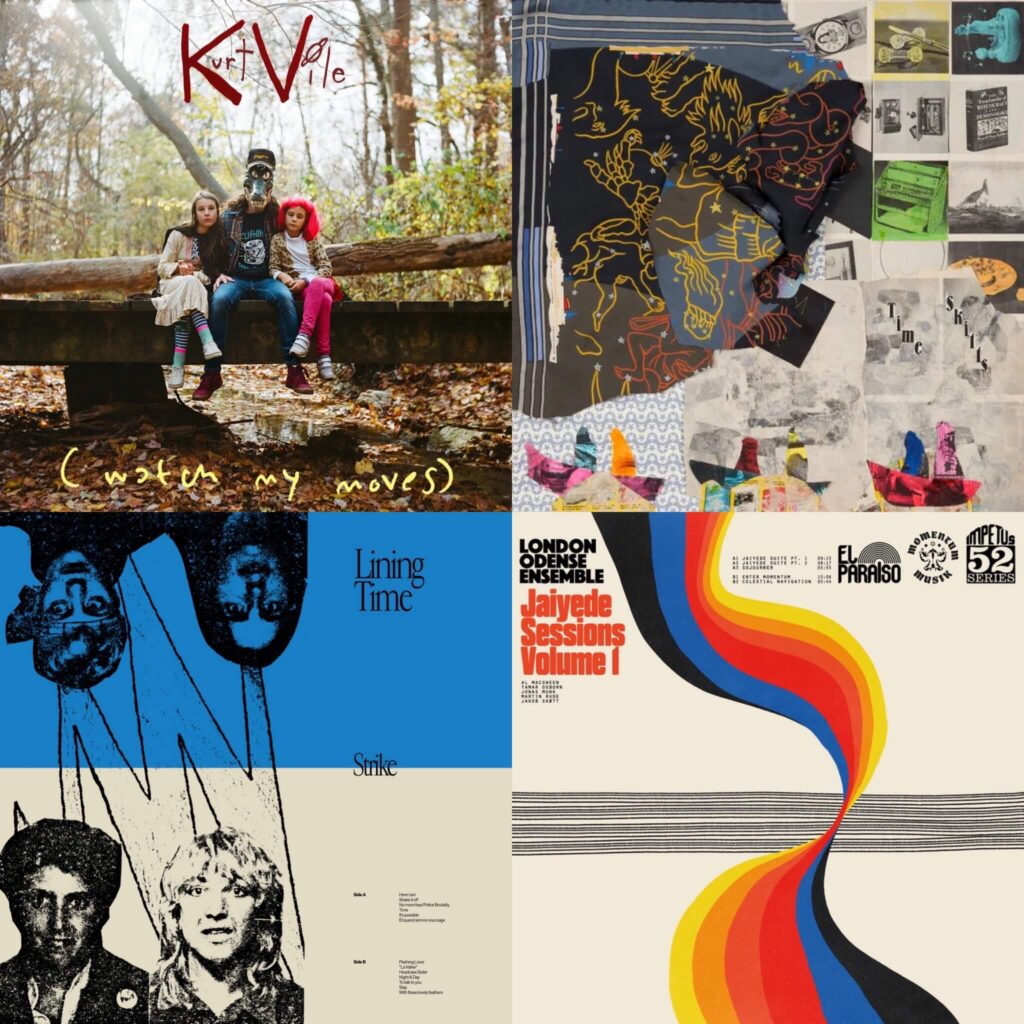 Kurt Vile-(watch my moves): KV gets called up to the majors and moves back to a home studio to crank out his most inspired record in years. Perfectly bridging his early fried "Philly's Constant Hitmaker" days with his more recent and polished efforts, (watch my moves) is a homespun slice of naturalism that proves he can still go to outer space whenever he wants.
Animal Collective—Time Skiffs: It was a good year for AnCo fans—in addition the great Panda Bear/Sonic Boom outing reset, we got Time Skiffs, a fine collection of dubby ambiance, squiggly melodies, and layered vocal harmonies. From overt pop epics like "Prester John" to motorik groovers like "Car Keys," this album bends space and time effortlessly.
Lining Time–Strike: Recording at Dartington College of Arts in the southwest of England in 1982, Lining Time was a choral quintet that feel as fresh and radical now as they must have in the exploding expanse of avant-garde being poured out in their time. The occasional guitar, percussion, or reeds accompany the five women's otherwise accapella voices as they join in joyously experimental expression—harmonizing, overlapping, and conflicting with one another for a fierce, feminist statement of folk art.
London Odense Ensemble–Jaiyede Sessions Vol. 1: The London Odense Ensemble comprises saxophonist Tamar Osborn, pianist Al MacSween, and Danish duo Martin Rude (guitars/bass) and Jakob Skøtt (percussion/samples). On their debut mind meld, they flex out across five sprawling tracks of psychedelic spiritual jazz that nod toward Alice Coltrane, Electric-era Miles, 70s fusion, Pharaoh Sanders, and all manners of kosmische expedition. A trip well worth taking.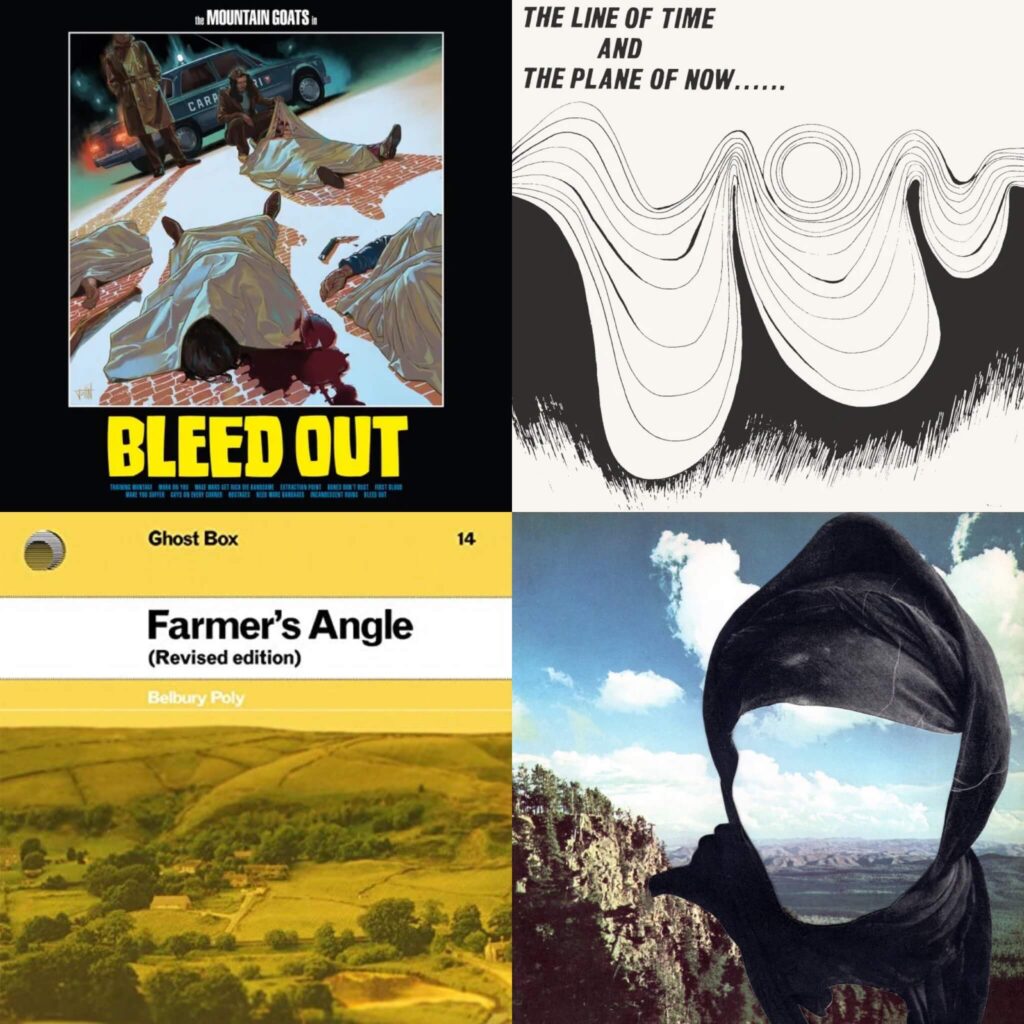 Mountain Goats—Bleed Out: The menfolk are out of control on the Mountain Goats' latest, an album inspired by Darnielle's COVID-lockdown binge on action films. Bleed Out teems with tough guys—and though it is characteristically sharp and literate—it rocks with a blast of adrenaline. "We're going to need more bandages," barks Darnielle, and indeed, carnage seems inevitable.
Shira Small–The Line of Time and The Plane of Now: Eccentric soul, indeed. Reissued by Numero Group (though not as part of that series), Shira Small's 1974 private press psychedelic folk-soul miracle was recorded for a senior project at the Harlem-born Small's Quaker boarding school in Newtown, Pennsylvania. Encouraged by her music teacher, the project was distributed in a quantity of 500 to the school's students and faculty. Never to record again, Small captured an impossible glimpse of magic, like on "My Life's All Right," where the piano seems to lift itself off the tape and join you in listening to it.
Belbury Poly-Farmer's Angle: Kicking off a complete reissue campaign of the influential (yet still overlooked) Ghost Box label comes a new version of its very first release, the 2005 debut EP by Belbury Poly, aka the label's co-founder Jim Jupp. Playful and pastoral electronic library works, tinged with a half-remembered childhood darkness usually inflicted by late-night television—the trailblazing pattern under the plow.
Mike Baggetta, Jim Keltner, Mike Watt—Everywhen We Go: 2019's Wall of Flowers felt like a one-off in the best sense, a chance meeting between three players—avant-jazzer Mike Baggetta, punk journeyman Mike Watt, and session legend Jim Keltner—hunkered down to make magic and then disperse. But Everywhen We Go proves lightning can strike twice. Convened once again at Big Ego studios with producer Chris Schlarb, the trio sidesteps easy genre categorization, skirting through spaghetti western soundscapes, ambient washes, and freak out rock.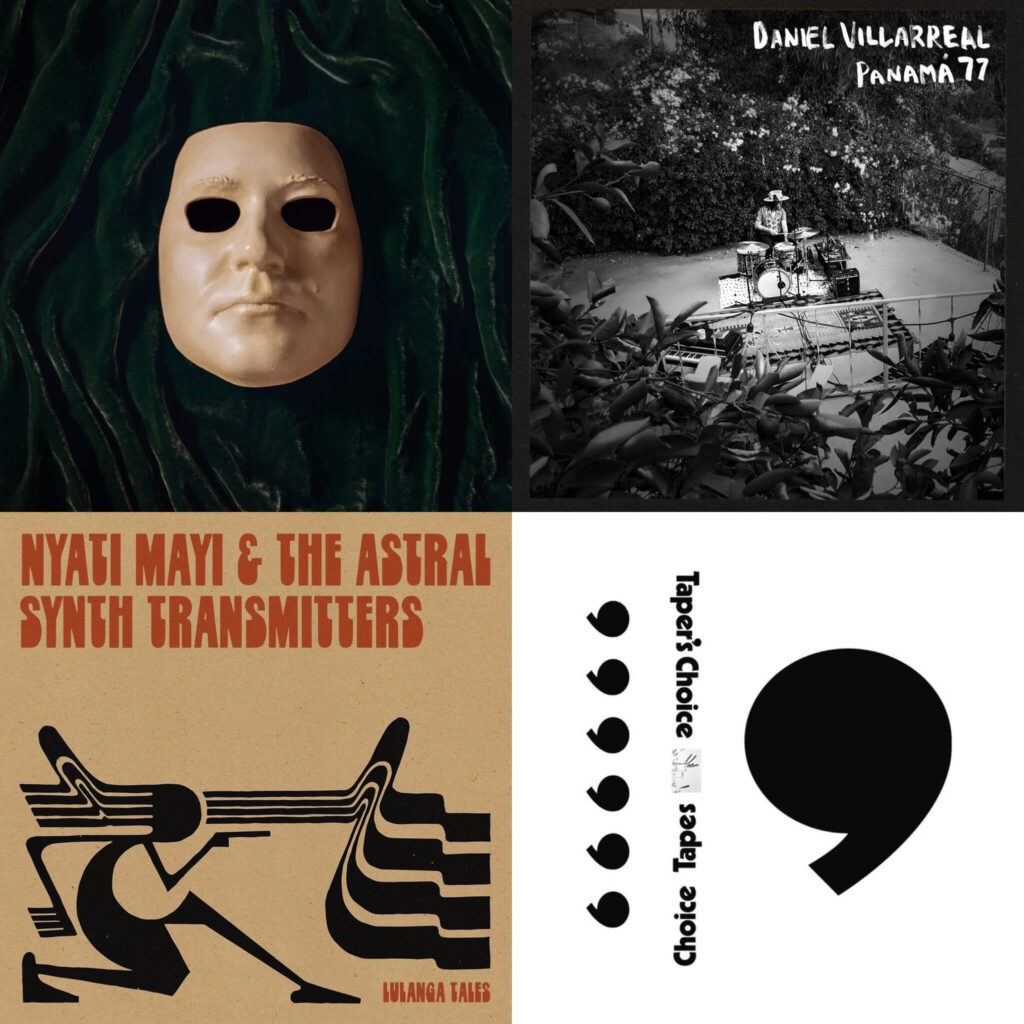 Alex Izenberg—I'm Not Here: A baroque folk-pop gem. Singing over David Longstreth of Dirty Projector's dappled string arrangements. Izenberg exudes gentle melancholy, positing "Real love will stone you." Informed by the teachings of Alan Watts and the melodicism of Harry Nilsson, this is a stunner from Izenberg, his best work to date.
Daniel Villareal–Panama 77: The debut album by Panamá-born, Chicago-based drummer and DJ Daniel Villarreal, arrives right on time—emitting earthy and humid spiritual jazz. Freewheeling and unmoored by genre, Villarreal and his cast of collaborators, all of whom helped compose the tracks they play on, revel in an improvisatory spirit which transcends the overdub and post-production elements of the recording process, resulting in something that feels truly organic and alive.
Nyati Mayi & The Astral Synth Transmitters–Lulanga Tales: A Brussels-based collaboration between the Congolese born Mayi and local producer/crate-digger soFa, Lulanga Tales leaps past categorization from go. Mayi's raspy, serpentine, and operatic vocal stylings drizzle over the sinewy strings of his titular DRC-native zither instrument and glisten in a mirage of soFa's rippling waves of synth and space-dub electronics. The two create a musical world unto themselves, emitting a hypnotic, phantasmal dub and a cosmic voodoo tenor. Griots traveling the liminal space.
Taper's Choice–Vol.'s 1-4: In an age of Grateful-Dead-as-couture, it is surprising more haven't tapped into the jam well. The fearsome foursome of Choice (with members of Real Estate, Vampire Weekend, and Darkside) has inspired an ecosystem around them, hungry for the spread. The special sauce here is keyboard freak Zach Tenorio-Miller. He brings an otherworldly element, in both skills and sound, equal parts every-Dead-pianist and Page McConnell, with a strong dash of Garth Hudson.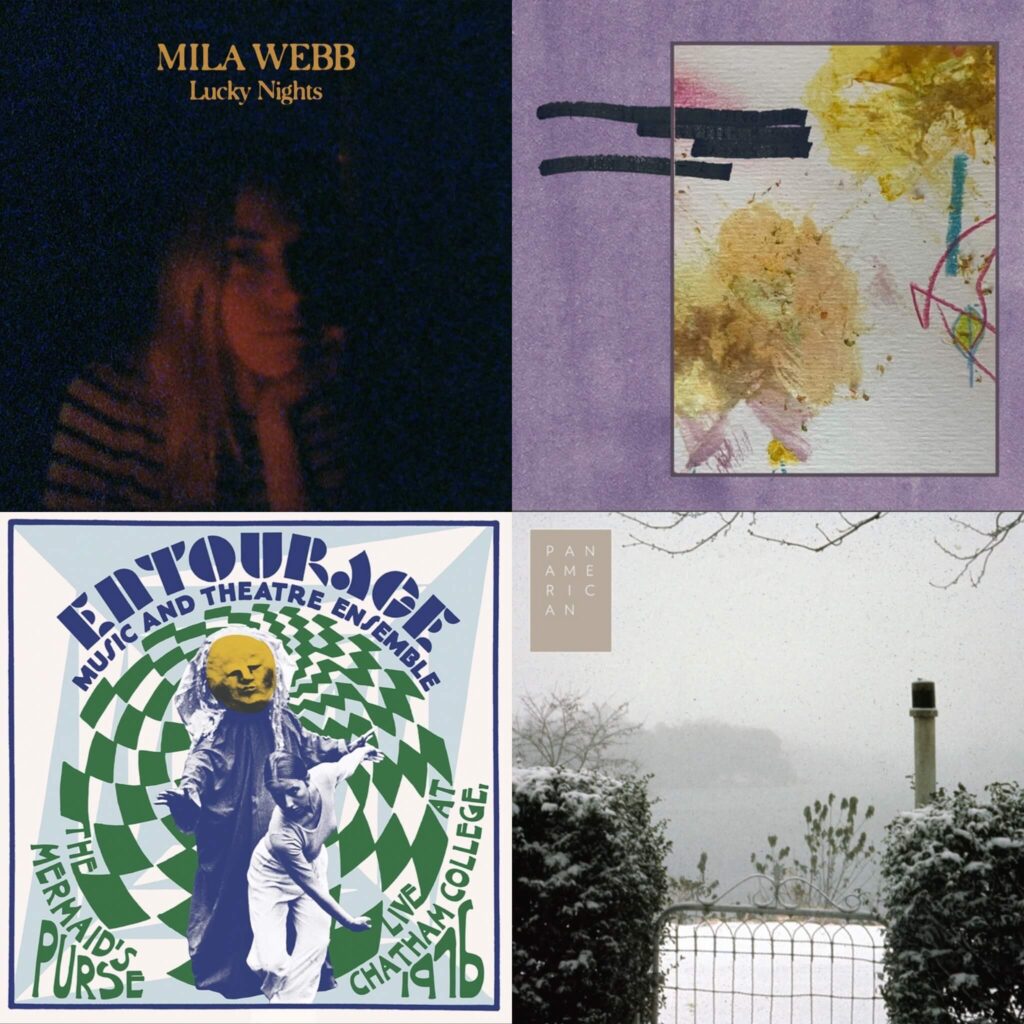 Mila Webb–Lucky Nights: Webb's debut EP showcases a heavy arc with Lucky Nights. Webb's plaintive, harmonious voice is the centerpiece here, with a production that gives her the space to explore the emotional tumult endured.
Fuubutsushi–Birthingbodies EP: The three-song collection (the title is not some joke: Bandcamp sales went/go to reproductive health services) shows a new side to the quickly-prolific quartet. The EP is sparser, with more breathing room than the group's four releases over the past two years. Whatever it is—ambient, jazz, experimental—ts fifteen minutes suspends time, turning a quarter-hour into an entire season.
Entourage Music and Theater Ensemble: Mermaid's Purse: Braiding strands of progressive folk, proto-ambient minimalism, and ECM jazz textures with choreography and elaborate costumes, Entourage Music and Theatre Ensemble wove ethereal tapestries of ritual and impressionistic wonder through their performances. Mermaid's Purse unearths a rare live recording of the Entourage at the height of their enigmatic powers, enveloping their audience in a fleeting, surreal ceremony of dreams.
Pan*American—The Patience Fader: The Patience Fader exists in a parallel universe. Here, long, radiant guitar tones intersect in slow-moving patterns, translucent wheeze of harmonica drift in from parts unknown and gentle, melancholy melodies emerge from the stillest, serenest musical elements. You have to stop everything and listen to experience it, but you'll be glad you did.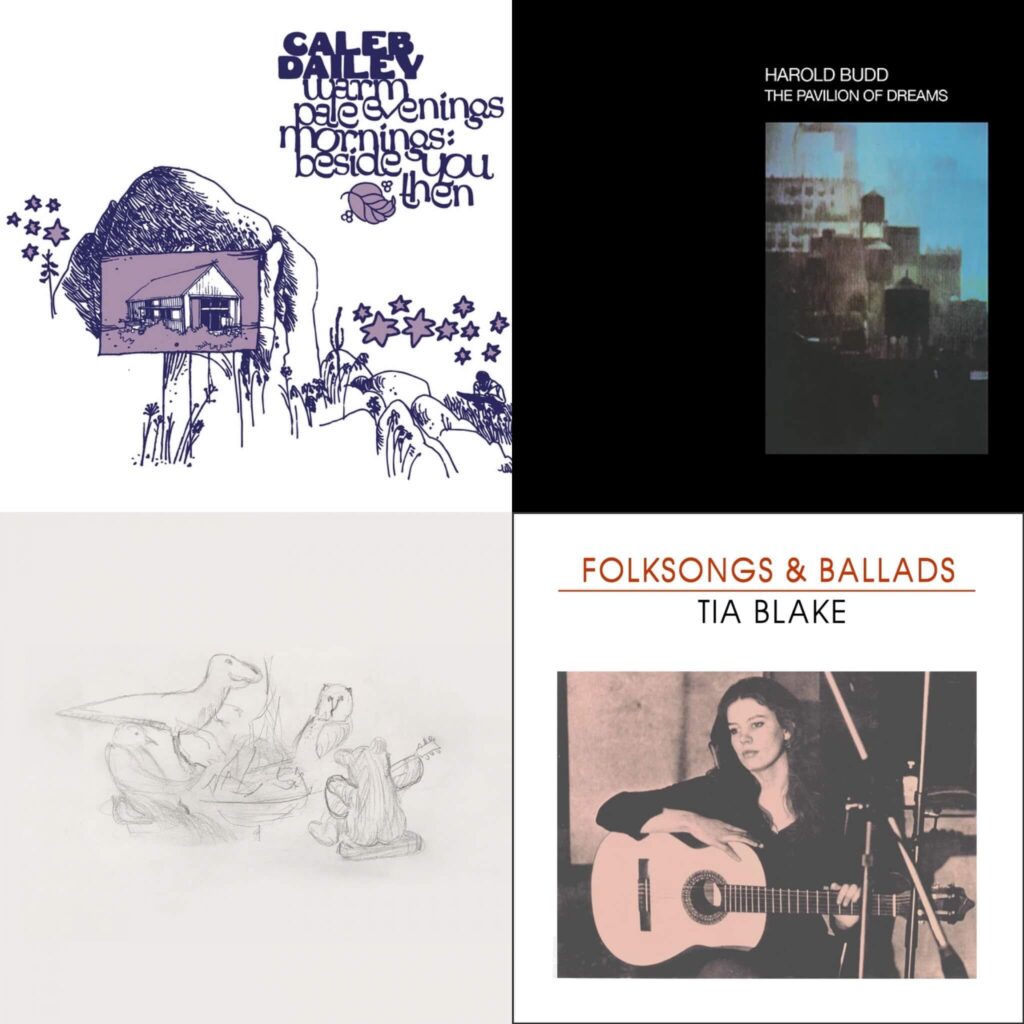 Caleb Dailey—Warm Evenings, Pale Mornings: Beside You Then: Moone Records founder Caleb Dailey goes country with this debut long-player under his own name, a collection of folk and country standards by Gordon Lightfoot, Gram Parsons, Chips Moman and Bobby Emmons, and Blaze Foley. But don't expect anything traditional; backed by members of Little Wings, Soft Shoulder, Gene Tripp, Giant Sand, and the Notwist and players like Micah Dailey, Koji Shibuya, Nicholas Krgovich, and John Dieterich of Deerhoof, Dailey makes his own kind of Western music—wide open but bracingly intimate.
Harold Budd—Pavilion Of Dreams: A long overdue reissue of Harold Budd's defining masterpiece, originally released on Brian Eno's Obscure label. Featuring Marion Brown's quicksilver saxophone and appearances from Michael Nyman, Gavin Bryars, and others, Pavilion Of Dreams is dead center at the rare convergence of 1970's academic experimentalism, Eno's ambient music, modern classical minimalism, and languid jazz—the alpha and omega for Budd himself and the countless composers he continues to inspire.
Big Thief—Dragon New Warm Mountain I Believe In You: Recorded in four different sessions and studios with the group's four members pulling in different directions, Dragon is a classic sprawling double album of first thought, best thought inverted American folk music. An unkempt, dust off the cobwebs, throw everything at the wall and see what sticks, post-isolation exercise in the joy of making music with friends—their Basement Tapes.
Tia Blake And Her Folk Group-Folksongs & Ballads: Originally released in France in 1971 and recorded when Tia Blake was only nineteen years old, Folksongs & Ballads is a shockingly direct and elegant take on some well known and obscure traditional songs. Joined by a small group of expressive guitarists, a flutist, and a dobro player, Blake's voice is the main attraction—plaintive, unadorned, and incredibly moving. A truly special record that deepens with each and every listen.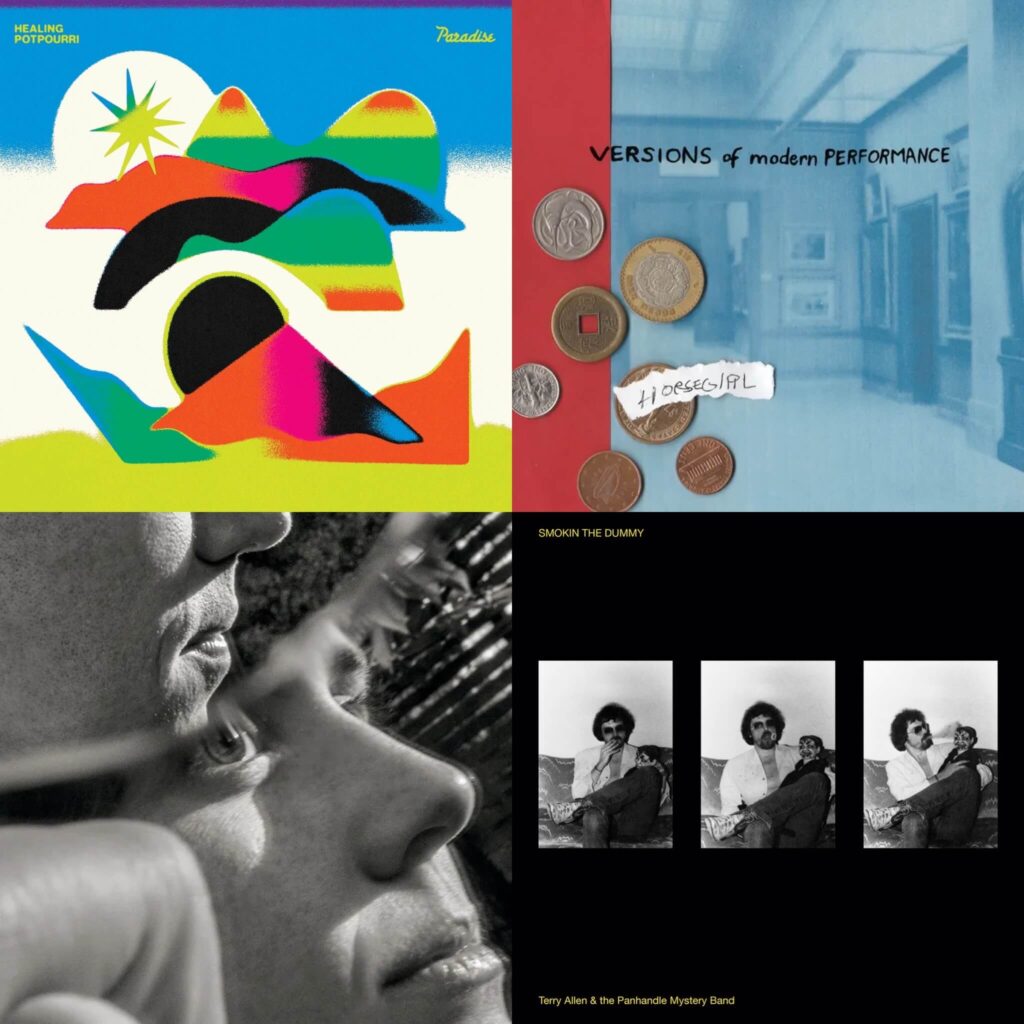 Healing Potpourri-Paradise: Heavy High Llamas vibes on this third record by Healing Potpourri, in which bandleader Simi Sohota added Sean O'Hagan to the fray as co-producer. With bubbling synths, infectious chamber pop melodies and songs about childhood pianos, Paradise spins an original tapestry of optimistic sonic escapism amidst Sohota's lyrical themes of pandemic-era trepidation.
Horsegirl—Versions of Modern Performance: Three young women barely out of their teens make a hypnotic racket out of feedback-addled guitar tone, thundering drumbeats, nodding bass and multi-layered dream-like singing. Their sound might bring you back to late-period Sonic Youth or more distant forebears in Elastica and Lush, but it is also fresh and wild and vividly its own thing.
Jana Horn-Optimism: Citing Raymond Carver, Broadcast, Denis Johnson, and Sibylle Baier as influences, the solo debut from the Texas is a small wonder that resides at that intersection of those titans. An austere affair of hushed voice and guitar, with sparse and effective accompaniment, Optimism offers a first glimpse at an assured young talent that can as easily juggle the buoyancy of the title track as the God-fearing biblical epic "Jordan."
Terry Allen And The Panhandle Mystery Band—Smokin The Dummy, Bloodlines: Paradise of Bachelors continues their archival work through the career of the iconoclast artist and country music ("What country?") legend with fine reissues of his third and fourth records. Scaling back the conceptual conceits of his first two albums, Dummy finds Allen and the Panhandle Mystery Band at their most rocking, while Bloodlines is a sensitive exploration of familiar Allen subjects: family, faith, and violence. Another essential piece in a life's work of incredible depth that continues to come more into focus and deepen.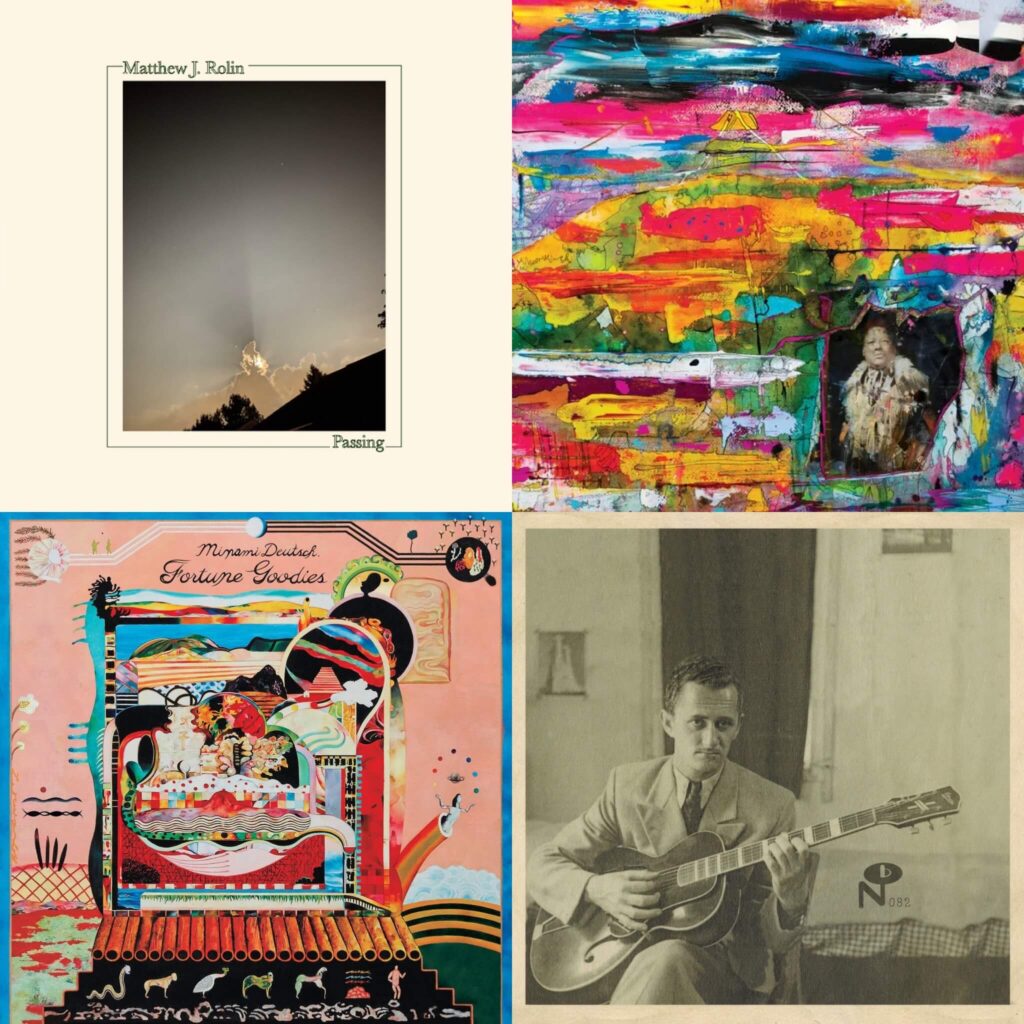 Matthew J. Rolin—Passing: Matthew J. Rolin's nimble fingerpicking flows like an acoustic dream throughout Passing. As each fleeting composition shifts away from the expansive cascades of twelve-string, we're ushered into new jeweled chambers of Rolin's music, which continue to evolve. Rippling with texture and atmosphere, Passing a beautifully hermetic meditation on impermanence and the temporal peace of one moment giving way to the next.
Medicine Singers—Medicine Singers: This exhilarating collaboration between the Eastern Medicine Singers powwow group and guitarist Yonatan Gat thunders triumphantly. Alongside guests like the late jaimie branch, Thor Harris, Ikue Mori, Laraaji, and others, Gat and the Singers pair overblown guitars with traditional group vocals. Check out their cover of Link Wray's instrumental "Rumble" for a taste of how good this medicine is.
Minami Deutsch-Fortune Goodies: With their namesake translating to "South Germany," Minami Deutsch wear their krautrock influences firmly on their sleeve. The Japanese groovers come from the same label as the likes of Kikagaku Moyo, and their third album Fortune Goodies rides Neu! adjacent motorik beats into cosmic, minimalist soundscapes.
Branko Mataja—Over Fields and Mountains: Utilizing his own production techniques and crafting his own instrument, Branko Mataja taught himself guitar to soothe the ache of displacement with melodic impressions of his native Yugoslavia. These dreamy, elegiac guitar meditations come from a place of memory, loneliness, and longing for a distant homeland never to be seen again.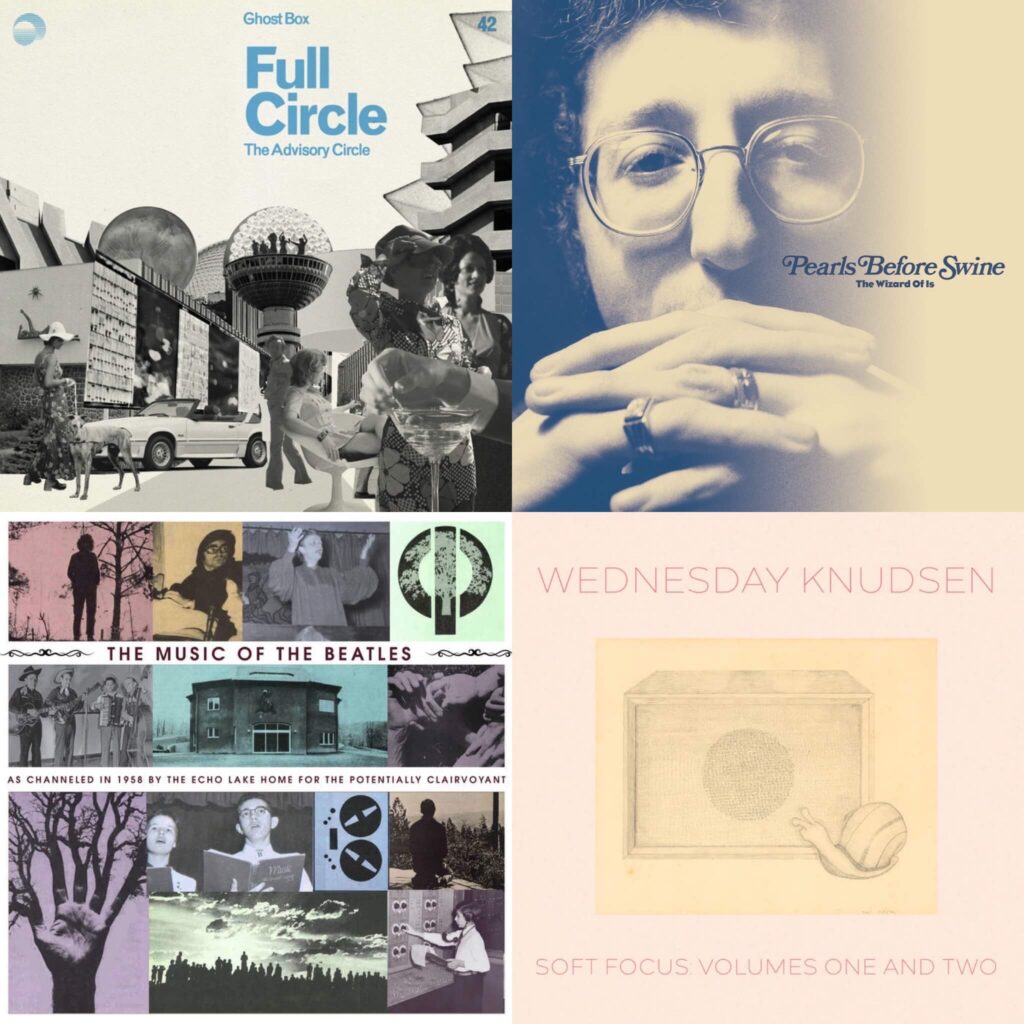 The Advisory Circle-Full Circle: The latest dispatch from Cate Brooks' Advisory Circle is a dramatic widescreen vision of a utopian environment, played out across four enthralling acts. Compositional, lush, and melodic—an elegant encapsulation of the vintage and cutting edge electronic aesthetic Brooks has refined and mastered across the past two decades.
Pearls Before Swine—The Wizard of Is: A treasure trove of Pearls Before Swine rarities from the tape archives of the group's late leader: home demos, studio outtakes, alternate versions, illuminating covers (including devastating takes on Joni Mitchell's "For Free" and Dylan's "Oh Sister"), and '70s live recordings. An intimate and enlightening trip through the mind of Tom Rapp and his one of a kind lysergic American folk music.
The Music of the Beatles as Channeled in 1958 by the Echo Lake Home for the Potentially Clairvoyant: On a great episode of the Weird Studies podcast centered on Sgt. Pepper's, host JF Martel and Phil Ford posited the record as a musical egregore, a magical operation that changes future and past alike. This record, assembled lovingly by Hallelujah the HIlls and released on April Fools Day, takes that notion even further, suggesting that in 1958, a group of musicians pre-cognitively channeled the Fab Four's best loved songs. Suspend your disbelief and sink into the artifice.
Wednesday Knudson—Soft Focus Vol 1-2: Transcendent pastoral atmospheres and abstractions. Knudsen's woodwinds and keyboards bloom slowly into tiny environments where wordless vocals float like dawn mist off a meadow. Imagine walking with Harold Budd and Virgina Astley after a gentle rain and you're just about there.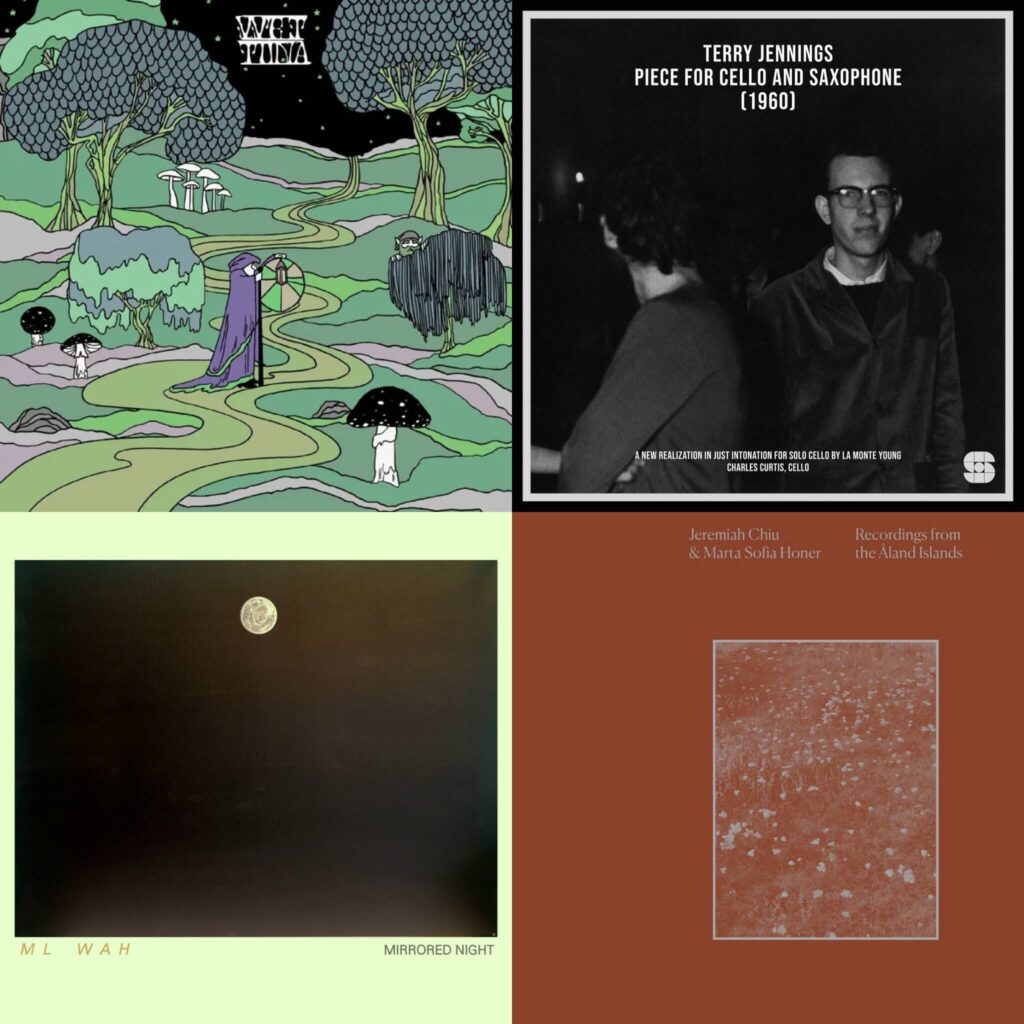 Wet Tuna—Warping All By Yourself: A fresh helping of the heady aural elixir brewed up in the wooly woodland world of Wet Tuna. Getting deep down in the funk this time around, Matt "MV" Valentine and his merry band of mainstays reset your inner switchboard and slap a pair of 3D glasses on your third eye. Warping All By Yourself will send you grooving hard into the deep fried vibes and dubbed-out rural climes of the Tuna-verse in Spectrasound. Happy trails!
Terry Jennings—Piece for Cello and Saxophone: An unsung hero of early minimalism and a formative influence on the Velvet Underground, Terry Jennings was a denizen NYC's avant garde during the 1960s. Piece for Cello and Saxophone is his resurrected masterpiece—a glacial chorale of sustained drones shifting between shades of light and dark, harmony and dissonance, peace and disquiet. This is dream music of the highest order, extending time before dissolving it entirely into the void.
ML Wah—Mirrored Night: Luminous piano improvisations from the cosmically attuned hands of ML Wah (aka Matt LaJoie). LaJoie's lunar hymns take listeners deep into the night to a place of peace and comfort, where we're never quite alone. If Joanna Brouk and Laraaji are mainstays in your listening, this one's for you.
Jeremiah Chiu & Marta Sofia Honer—Recordings from the Åland Islands: Evoking the archipelago of tiny island off the coast of Finland, where days and nights of perpetual sunshine color the world with an almost disorienting sense of peace. Recordings from the Åland Islands is music of time and landscape, slowly shifting and giving home to lives and histories playing out all around it. An utterly transportive listen.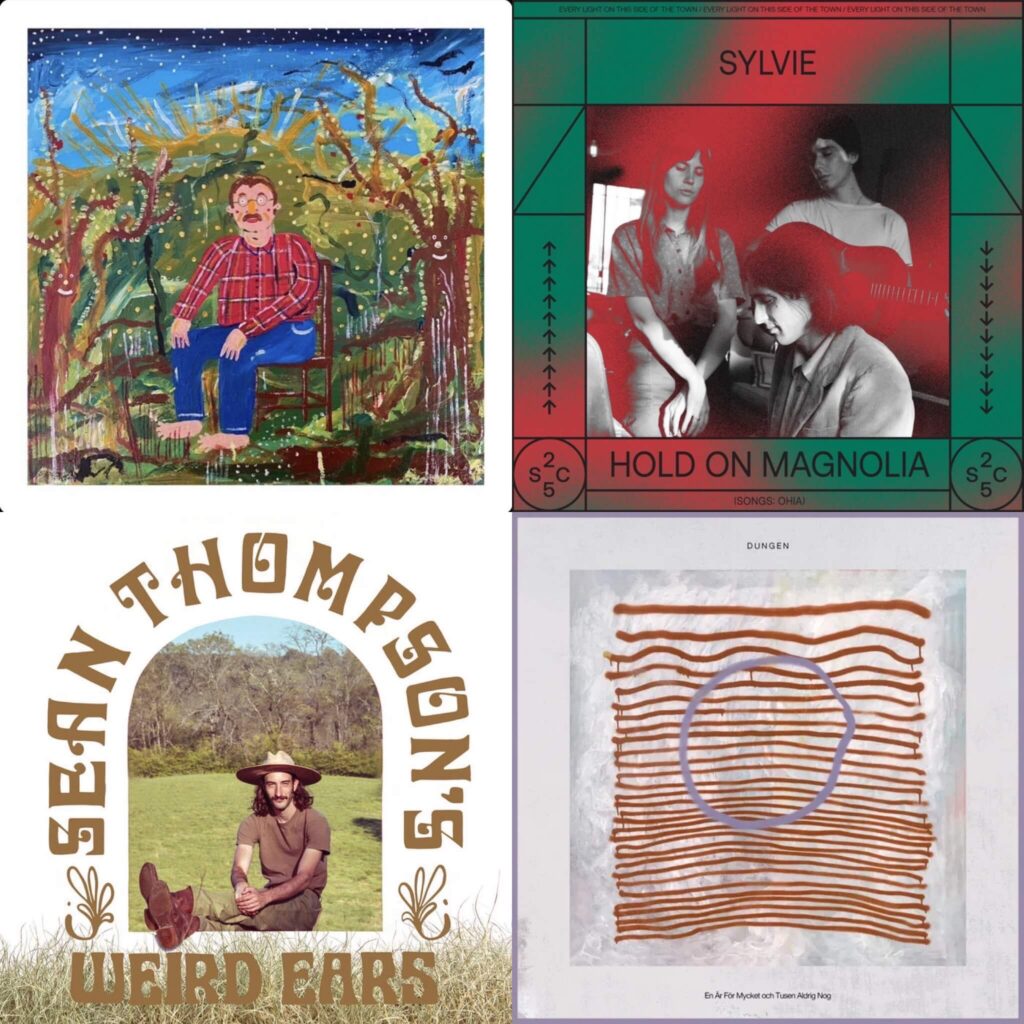 Joseph Allred-The Rambles and Rags of Shiloh: Quite possibly the greatest living guitar player, Allred has crafted an emotive record of inherited memory. There are moments that conjure what an Appalachian Segovia may sound like, but most important is the degree of authenticity that Allred displays. Rambles and Rags of Shiloh is not regional impressionism, but a sincere offering from someone with this music in their bones.
Sylvie-Hold on Magnolia/Stealing Time/Further Down the Road: A trio of singles by the group that sounds the closest to the facsimile of an unknown folk ensemble from the turn of 1970. The Molina homage is endearing, and the Schwab-penned tunes make clear that the ensemble has a serious knack for original offerings. Keep an eye out for the full-length debut that hopefully awaits us in 2023.
Sean Thompson's Weird Ears-Sean Thompson's Weird Ears: "Our own Nashville West" is how Curation Records described Sean Thompson's Weird Ears (the first non-Californian on the label's roster). A former member of Promised Land Sound and established session player (Spencer Cullum and Steve Gunn among others), Sean Thompson's Weird Ears outfit crafts rootsy Americana and Dead-like improvisational grooves that dazzle, all the while navigating themes of the simple pleasures of everyday life.
Dungen-En Är För Mycket och Tusen Aldrig Nog: Though scoring old films and a live recording have kept the output flowing, En Är För Mycket och Tusen Aldrig Nog is Dungen's first studio offering in seven years. A testament to leader Gustav Ejste's prolific creative drive, the record (translation: One Is Too Much and A Thousand Is Never Enough) is a sonic delight in a way that only Dungen can deliver. The palette touches on the more melodic side of last offering Allas Sak, while moments of the second half dive headfirst into the cosmic, fuzz-drenched depths of their Swedish psychedelia roots.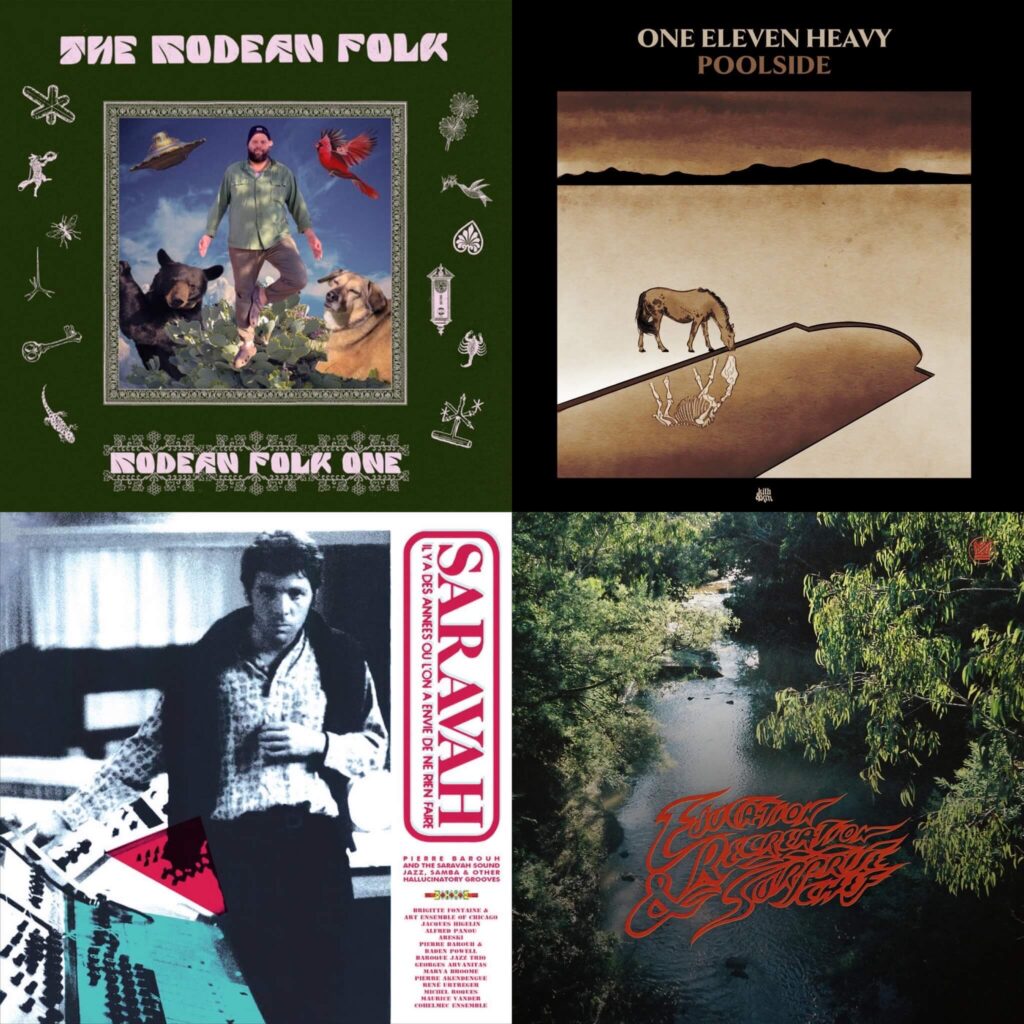 The Modern Folk One-Modern Folk One: A blend of field recordings, astral zones, freak outs, leisurely jams, and rustique concrète from the ever-prolific Josh Moss. Though not really the first Modern Folk outing (far from it) it's as good a hopping on point as any.
One Eleven Heavy—Poolside: Everyone's favorite transatlantic chooglers One Eleven Heavy return with their third deep-fried heater, Poolside. Bandleaders Nick Mitchell Maiato and James Toth are joined this outing by new members Guy Fowler on bass and Jake Morris on drums, but the feel is consistent with the 111H format: the leads spiral out, the band shambles and gets down, and the mood feels frisky. A welcome return.
Pierre Barouh and the Saravah Sound: In the '60s and '70s, Pierre Barough's Saravah out of France released a dynamic blend of jazz, soul, pop and Afro-Brazilian music. This collection from We Want Sounds collects and binds 16 of the label's essential recordings.
Surprise Chef—Education & Recreation: On Education and Recreation, Australian quintet Surprise Chef digs into the laidback ethos of breezy coastal funk. Like a '70s surf soundtrack with drum breaks, the twelve pieces assembled for their third record finds them charting the ebb and flow of tidal groove with an added emphasis on the need to get up and move.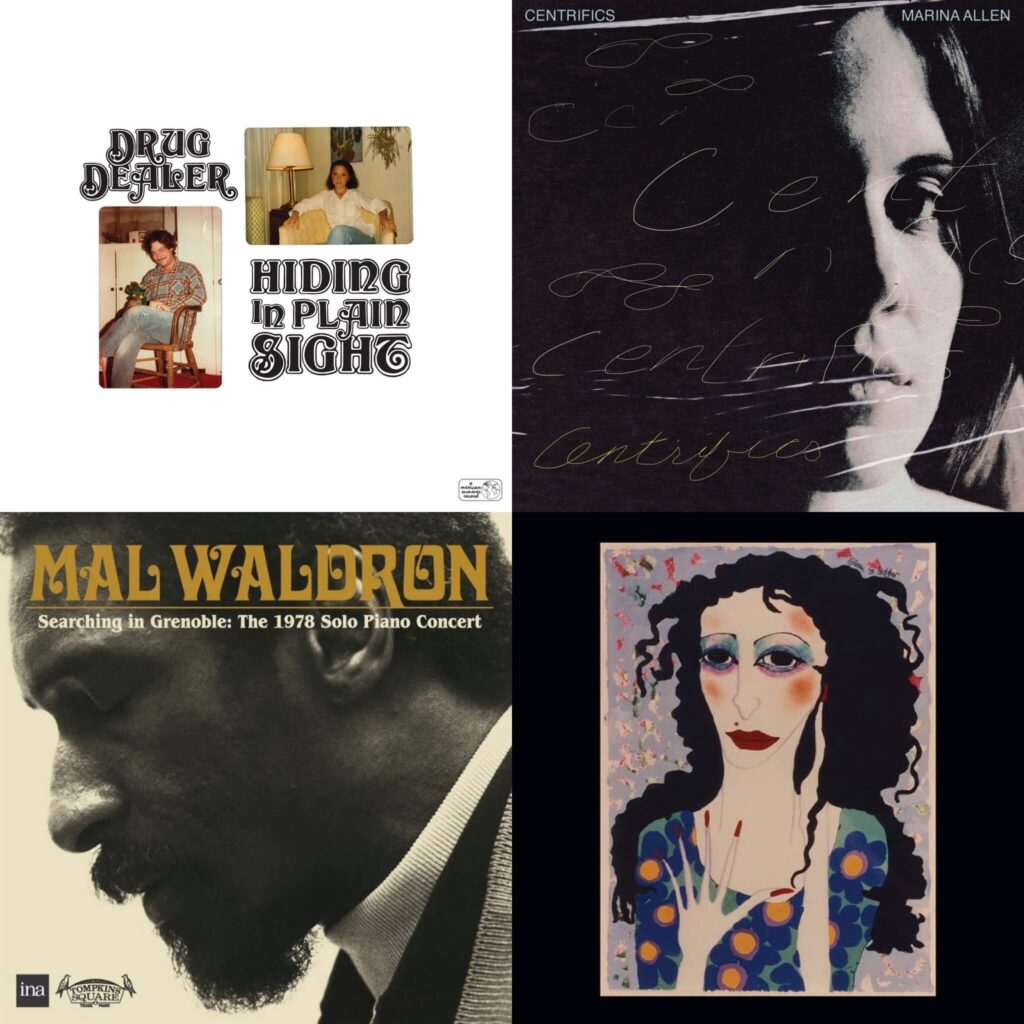 Drugdealer-Hiding In Plain Sight: Making no exception to the prominent use of all-star guest vocalists on any Drugdealer record (this time around: Tim Presley, Kate Bollinger) Hiding In Plain Sight subsequently brings Michael Collins' own voice to the forefront. Drawing not only on light west coast psychedelia but funky power pop balladry, it's Drugdealer's most mature effort to date.
Marina Allen-Centrifics: Pensive balladry with a confident and composed edge, Marina Allen's second record is a singer-songwriter tour de force. Equally nodding to songwriting of the ilk of Carole King and Paul Simon, Allen's songcraft of Centrifics (particularly on stunning tracks like "New Song Rising") is exemplified by its deep archive of subtle, orchestral beauty.
Mal Waldron-Searching in Grenoble: Perhaps better known for his session work with the likes of Coltrane and Dolphy, jazz pianist Mal Waldron was a skilled and competent leader of countless solo and collaborative recordings. This recently unearthed 1978 solo concert (sourced from Radio France tapes) is a perfect introduction to Waldron's skill as a masterful pianist: some of his greatest, post bop originals ("Soul Eyes") to more familiar jazz standards. The first of many new archival gems, we hope.
Picture Music-Picture Music: A reissue of a 1987 self-titled cassette, Picture Music is ambient jazz for winter's late evening strolls. Working within a framework of minimalism and experimental soundtrack work (for perceived commercial use), these eleven tracks were concocted live by four Australian musicians in the mid-eighties. Recommended for when the sun goes down.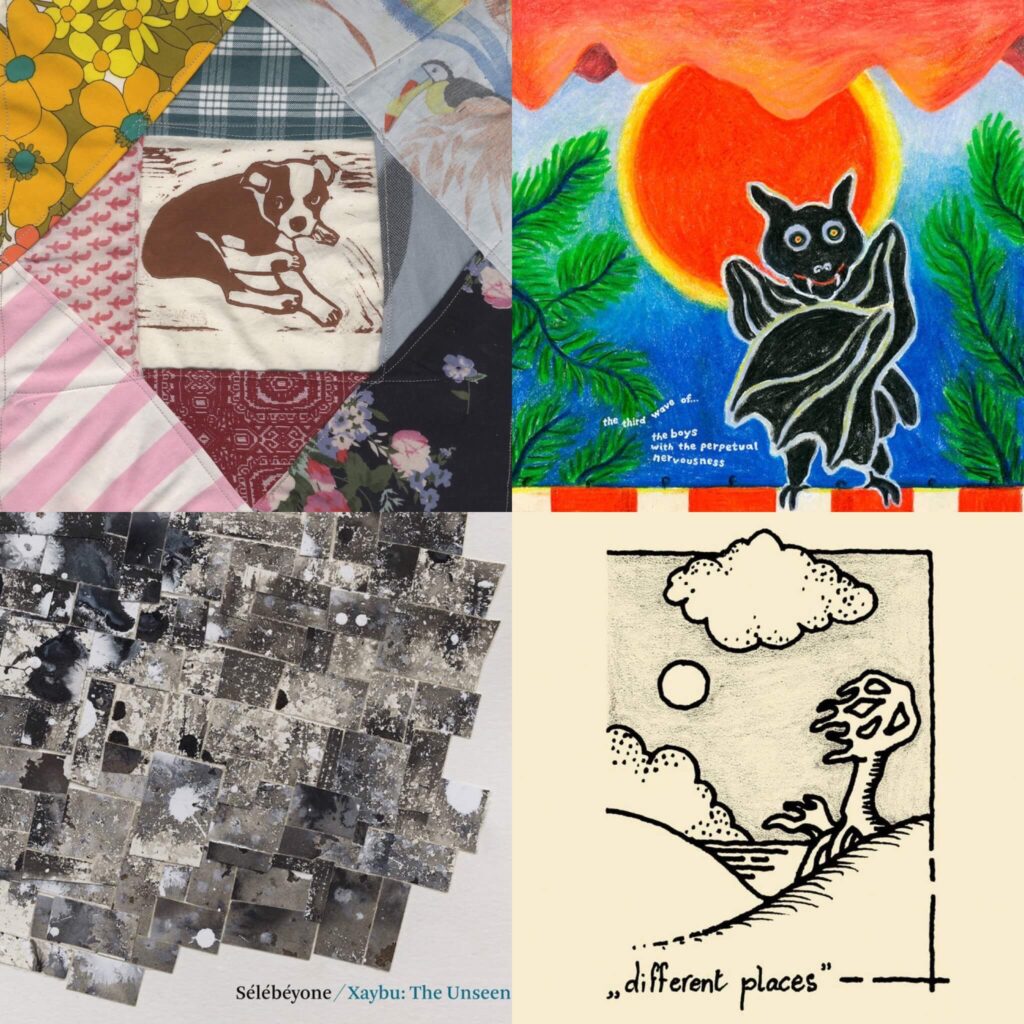 Mapache-Roscoe's Dream: A record over the bond of a shared, beloved dog is the perfect microcosm for the warm, insouciant nature of Mapache's brand of coastal country. Inviting and therapeutic, the Los Angeles guitar-vocal duo here craft sprawling ballads reminiscent of seventies, gritty Beach Boys soul.
The Boys With The Perpetual Nervousness-The Third Wave Of…: Sun-kissed jangle pop perfection on the third effort from this Spanish-Scottish duo. While the Feelies reference is apt, these lush songs are equal parts Teenage Fanclub and Velvet Crush. On a record that reels you in with instantly catchy hooks, catch an occasional curveball like "Isolation", a twangy duet with guest vocalist Mary Lou Lord.
Sélébéyone—Xaybu: The Unseen: Sélébéyone, a cross-continental collaboration with members from the U.S., Europe and Senegal, concocts a chilly, cerebral mix of free jazz saxophone, hip hop, spoken word and heated Dakar chants. Sampled conversations with Jackie McLean and Billy Higgins link this music to classic jazz, but enlightened lyrics about the black experience and exuberant raps in gravelly Wolof take it into its own poetic, hard to classify space. It's a puzzle, but an intriguing one.
Enno Velthuys-Different Places: Continuing their reissue campaign of the overlooked and mysterious Enno Velthuys, Dead Mind Records lovingly brings us the last work (released on cassette in 1987 in a minuscule quantity) of the Dutch synthesizer artist before he faded away into reclusivity and obscurity. Stunning slowly unfurling work from the solitary master, with more melancholy than the usual ambient or New Age release of the era—recorded at a time when he became disillusioned with the underground cassette network and with his mental health sadly deteriorating.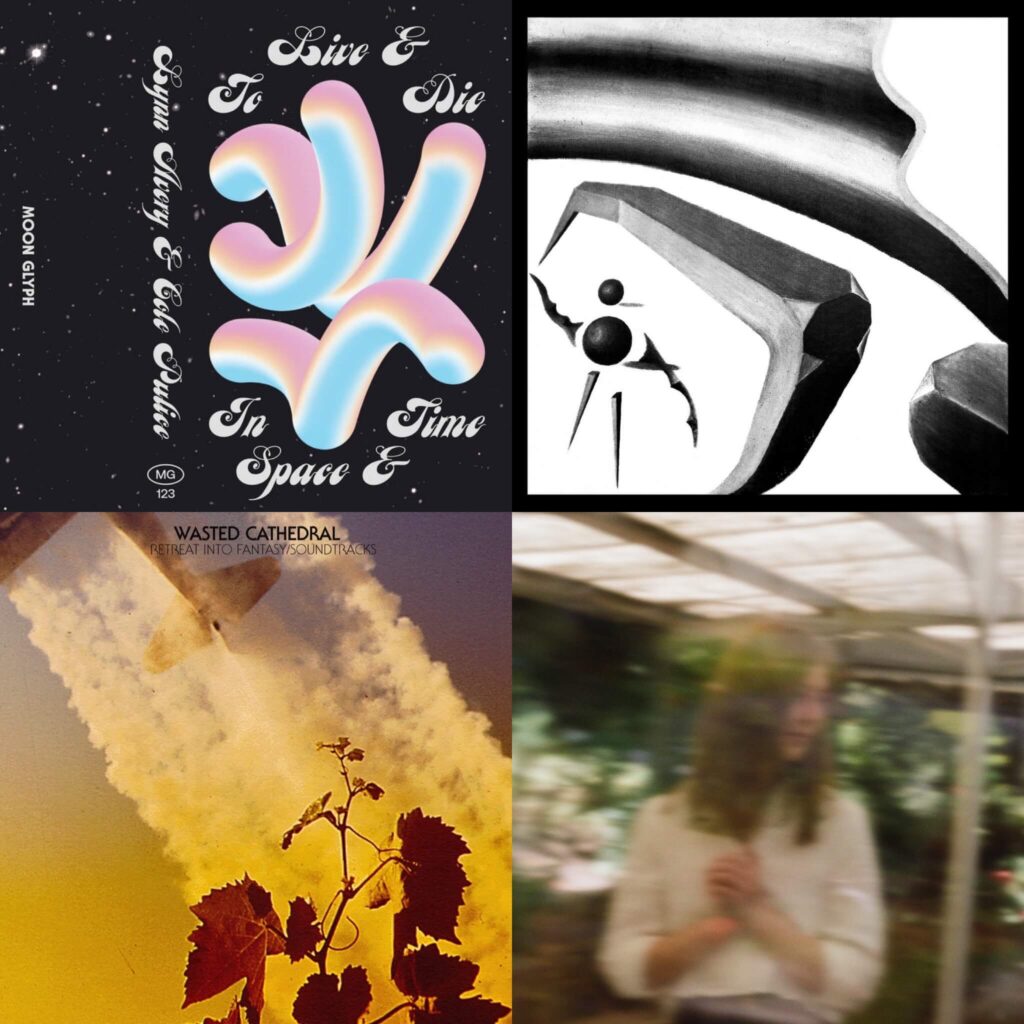 Lynn Avery & Cole Pulice-To Live & Die In Space & Time: The lovely debut from the Minneapolis expat duo of Lynn Avery (Iceblink) and Cole Pulice is a gorgeous and serene cosmos of synthesizers, piano, and tenor saxophone. Exploratory ECM jazz tethered to contemporary electronic ambience—the exact sort of rich listening fans of Avery, Pulice, and the Moon Glyph label have come to know and love.
Carl Erdmann-Bizzarrophytes: Recorded on a Tascam reel to reel tape machine in late-70s Roswell, New Mexico by an oil field geologist, Bizzarophytes conjures the finest in fried privately pressed instrumental psychedelia. Oscillating between self-taught sitar workouts and glistening guitar soli, Erdmann taps into a unique tone of searching—disparate yet sustained. A desert-baked version of Ravi Shankar's Alice In Wonderland score.
Wasted Cathedral-Retreat Into Fantasy Soundtracks: Landlocked imaginary film music of the highest order, assembled from disintegrating synths, samples, and loops. Dubbed and decayed, minimal and colossal—imagine The Parallax View scored by Thief-era Tangerine Dream.
Carla dal Forno-Come Around: After nearly a decade of moving, recording, and touring, Carla dal Forno returns to her Australian home and continues her impressive run of solo records with a sublime third album released on her own Kallista Records. Combining post-punk minimalism with studied pop structure and confessional songwriting, Come Around's crystalline instrumentation is adorned with dal Forno's unshakeable voice. Don't miss the unexpected and hypnotic take on The United States Of America's "The Garden Of Earthly Delights."
Contributors: Justin Gage, Jason P. Woodbury, Tyler Wilcox, Chad DePasquale, Jesse Locke, Ben Kramer, Jennifer Kelly, Kaley Evans, Mark Neeley, Josh Neas, Jarrod Annis, James Rooney
'Tis thee season. Aquarium Drunkard is powered by our patrons. Keep the servers humming and help us continue doing it by pledging your support via our Patreon page.