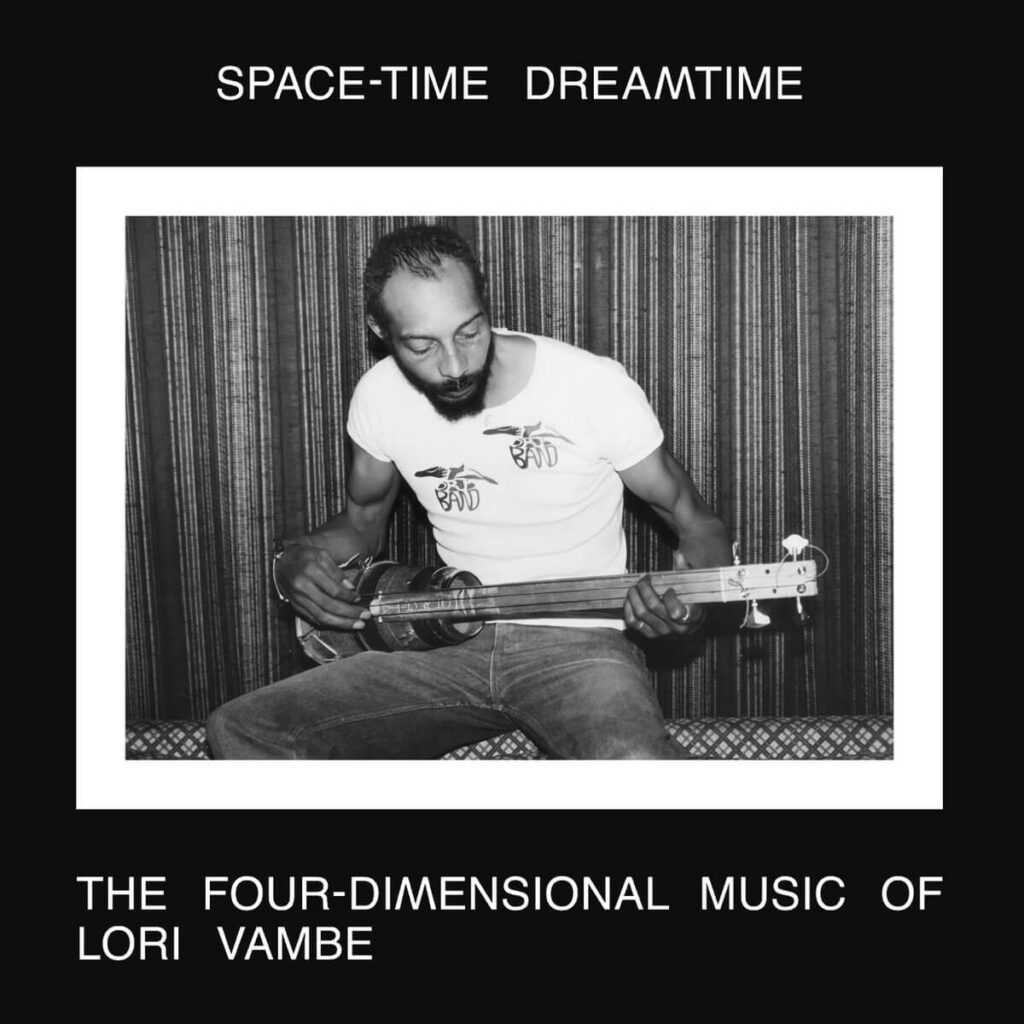 Do drummers dream of playing stringed umbilical cords? One definitely did, and that's the Zimbabwe-born, London-raised Lori Vambe. A self-taught drummer, inventor, and sonic experimentalist, Vambe released two private-press albums in 1982—Drumgita Solo and Drumland Dreamland—featuring the hypnotic, trance-inducing playing of the drumgita, an instrument of Vambe's own creation, conceived in a "dream-vision" where he played an unknown instrument that extended from his own umbilical cord. The works, now reissued for the first time via Strut as the merged Space-Time Dreamtime, share the lost treasures of this dimension-shifting sonic explorer.
On Drumgita Solo, Vambe combines his stringed-percussion instrument—a sort of droning, buzzing guitar sound—with layered drums, tape effects, reversed sound, and overdubs in an effort to investigate space-time. Whatever result he may have found, the music's effect is absolutely transportive—mesmerizing in its repetitive, mantra-like quality and slyly avant-garde approach. The songs are raw and slightly blown-out, exuding an almost bluesy foundation amongst its purely experimental intention.
On Drumland Dreamland, Vambe occasionally patches in improvised performances by Brazilian concert pianist Rafael Dos Santos, creating jazzy dirges that cascade and dash across the meditative rumble of hand drums and shakers. Some telepathic current runs through the playing, zagging in unexpected directions and dazzling in its daring. But dig the solo drumgita excursion on that album's "Drumelody (Two)"—here, Vambe reaches a level of transcendence scarcely heard, let alone on an instrument of one's own making. It's reminiscent almost of Bola Sete's "Ocean Waves" in terms of focus, virtuosity, and restraint. But where Seta had his eye sets on the immensity of the aquatic, Vambe was playing toward a celestial destination that had heretofore only been seen behind closed eyes. | c depasquale
Keep reading. Aquarium Drunkard is powered by its patrons. Keep the servers humming and help us continue doing it by pledging your support via our Patreon page. For heads, by heads.