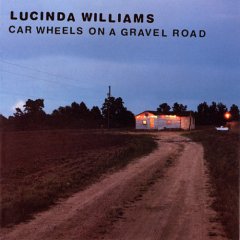 1998's Grammy award winning, genre classic,
Car Wheels On A Gravel Road
is
Lucinda Williams
opus — it's her absolute masterpiece. These meticulously crafted sad, southern stories and instrumentation ultimately took three different cities, and three different producers, to get
right
. Beginning in Austin, then moving the recordings to Nashville with
Steve Earle
helming the controls, and finally setting up shop in Los Angeles with producer Roy Bittan. It's the L.A. sessions that became the final album we know today.This
two disc reissue
, some eight years later, gathers alternate takes of studio cuts and a second disc of live versions from the supporting tour of that year. Theses alt versions shed some light on various other directions the mood and atmosphere of the album could have taken. But what would have been preferable is a second disc entirely made up of the session outtakes from the various locations and producers. Maybe the folks at Universal are saving those for a future Lucinda box set release, who knows.
Update: Bruce from Some Velvet Blog emailed me this per the reissue: "Here's a cool back story. The live concert was from a WXPN summer festival that I booked back when Lu toured on that album. What happened was the A&R guy who did the re-issue wanted to do something cool and they were going through the vaults and found a box with these tapes in them and all the box said was Lucinda-WXPN. So, they threw it on, and it was this concert. There was no label, nothing. So the A&R guy asked around about WXPN which led to a call to me. We did the multi-track recording of the show, but never actually did anything and it sat on a shelf until I said they could go for it and use it."
+ Lucinda Williams available through eMusic's 25 Free MP3 trial offer.