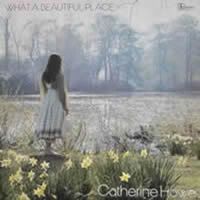 Are you down with the Numero Group? If not, get hip, as they are just one of the many, many great labels that have sprung up the past few years specializing in obscure reissues and deep-crate compilations. I spent much of 2006 exploring these label's vast and eclectic catalogs.
Numero Group's latest prject is a remastered reissue of '70s English folkie Catherine Howe's debut album What a Beautiful Place. I think they nail it in their desription of the the album lauding it as "a pastoral blend of English countryside folk and London orchestral pop, not unlike Bryter Layter or North Star Grassman And The Ravens."
The pastoral folk coming out of albion at the time all shares that somewhat spooky and ancient vibe that appears on so many of the albums of the era (see Burt Jansch, Nick Drake, Sandy Denny, etc).
DOWNLOAD:
MP3: Catherine Howe :: It's Not Likely
MP3: Catherine Howe :: In The Hot Summer
———-
Purchase: Catherine Howe – What a Beautiful Place
www.catherinehowe.co.uk ++ www.numerogroup.com
——————————————————————————————————
+ Visit The Hype Machine for additional Catherine Howe MP3s.