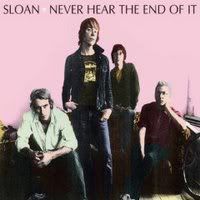 My exposure to Nova Scotia's power-pop outfit
Sloan
was a reverse and catch-up affair as they have steadily flown below the radar in the U.S. — even in "indie" terms. Perhaps the flood the past four years of Canadian artists is what finally made myself (and other holdouts) take notice.
Now being released (stateside) on NC's Yep Roc label, Sloan return with Never Hear the End of It — a 76 minute, 30 song affair. Before placing the disc in the changer, at 30 songs, I wondered if the album's title was the tell-tale sign of things to come; i.e. a never-ending, droning disc. Thankfully it is for the most part an entirely engaging album. With four distinct songwriters in the band the album flows like a consistent pop nugget juggling varied elements depending on the song(writer). RIYL: Power Pop
DOWNLOAD:
MP3: Sloan :: Who Taught You To Live Like That?
MP3: Sloan :: Can't You Figure It Out?
———-
Amazon: Sloan – Never Hear the End of It
www.sloanmusic.com ++ www.myspace.com/sloan
+ Sloan available through eMusic's 25 Free MP3 trial offer.
——————————————————————————————————
+ Visit The Hype Machine for additional Sloan MP3s.