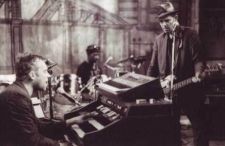 Other than Democrazy I have actively sought out anything and everything Damon Albarn has laid his name to, and chances are I will eventually get around to that collection as well. This being so, like many, I was transfixed by the news in 2006 that Albarn was working on a new collaborative project with the likes of Tony Allen, Paul Simonon, and Simon Tong from the Verve — with Danger Mouse on board wearing the producer's hat.
Nevermind the haters who didn't appreciate Mali Music or cannot get past Parklife, The Good, The Bad And The Queen wholly succeeds in it's own right furthering Albarn's continually evolving muse. Lyrically the album touches on contemporary topical subject matter harkening back to Albarn's '90s UK observations, only here we are privy to a mature, dare I say, wiser narrator whose observations are not longer pinned in by the English channel, nor dominated by desire to   appear clever.
Elsewhere: Read pitchfork media's review of The Good, The Bad And The Queen in Bristol, England.
Download:
MP3:The Good The Bad And The Queen :: History Song
MP3:The Good The Bad And The Queen :: Kingdom of Doom
————-
Amazon: The Good The Bad And The Queen
website ++ myspace
+  Explore eMusic's 25 Free MP3 trial offer.
––––––––––––––––––––––––––––––––––
+ Visit The Hype Machine for additional MP3s.