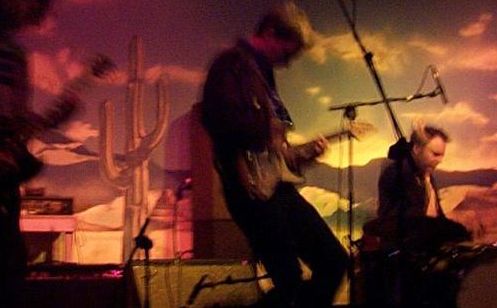 I would like nothing more than to share with you the new Bill Callahan track "Diamond Dancer" off the single I received in the mail from Drag City a couple of weeks ago; but being a single release that would entirely defeat the purpose. So, if you're a Smog fan, go buy that shit. While I am not certain why Callahan ditched his longtime nom de plume, I am certain that his upcoming Drag City release Woke On A Whaleheart (April release) is one of my most anticipated albums being released this Spring.
But enough about Whaleheart, let's talk about Smog's 2003 album Supper. Supper did not enter my consciousness until late 2006 when I picked it up on a whim at the record store in the mood to hear more Smog. It has since found itself in heavy rotation in 2007. I knew it was a winner from the first tune when I heard Callahan's east Texas drawl sing "you spend half of the morning just trying to wake up, half the evening just trying to calm down." That line rang especially true here. If you're new to Smog, eMusic has the catalog if you want to immerse yourself in all things Bill Callahan before the new LP drops. Here are two from the Supper LP.
Elsewhere: You Ain't No Picasso posted a track off the upcoming Woke On A Whaleheart album
Download:
MP3: Smog :: Feather By Feather
MP3: Smog :: Vessel In Vain
——–
Amazon: Smog – Supper
www.dragcity.com ++ www.myspace.com/toomuchtolove
+ Smog catalog available through eMusic's 25 Free MP3 trial offer.
–––––––––––––––––––––––––––––––––
+ Visit The Hype Machine for additional Smog MP3s.