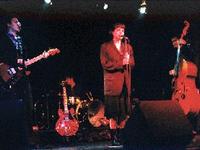 Watching the Neko Case: Austin City Limits DVD got me thinking about Kelly Hogan who accompanies Case on vocals throughout the performance.
Hogan, like myself, is an Atlanta ex-pat who left the south in 1997 for Chicago where she continues to pursue music. I have always made an effort to keep tabs on her career, as her old band, The Jody Grind, was my first "club" show as a fifteen year old back in Atlanta in 1990. Sadly, not long afterwards, two of Hogan's bandmates were killed in a freak touring van accident. Hogan went on to follow her muse and play with several other bands, most notably Atlanta's The Rock*A*Teens before leaving for Illinois. It was in Chicago that she started playing with my favorite of her various incarnations thus far, The Pine Valley Cosmonauts.
Check out this great cover they did of The Magnetic Fields "Papa Was A Rodeo" on their 2000 Bloodshot released album Beneath The Country Underdog. While I like the Magnetic Fields, I think this is a prime example of the cover trumping the original.
Related: Neko Case :: Buckets of Rain (Bob Dylan)

Download:
MP3: The Pine Valley Cosmonauts :: Papa Was A Rodeo (cover)
MP3: The Magnetic Fields :: Papa Was A Rodeo
———-
Amazon: The Pine Valley Cosmonauts – Beneath The Country Underdog
+ Beneath The Country Underdog available at eMusic via the 25 free MP3 offer
————————————————————————————
+ Visit The Hype Machine for additional Pine Valley Cosmonauts MP3s