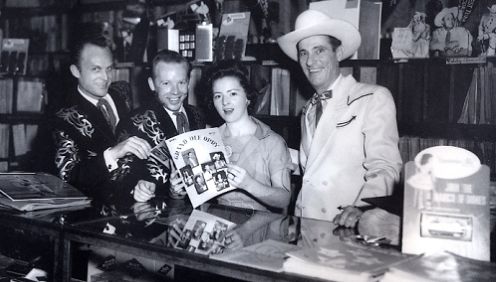 The pairing up of music legends with contemporary popular musicians is nothing new, but rarely has it been done so well, and with as much class as the new self-titled Charlie Louvin album. Almost three months into 2007, the Tompkins Square label has quite possibly unleashed the most interesting duets album of the year.
The Louvin Brothers legacy, and the canon they left behind, is both the stuff of legend as well as time-tested fodder for upcoming generations of musicians. This new album of duets is, if anything, a testament to that fact spanning the likes of musicians ranging from George Jones, Elvis Costello, Will Oldham, Jeff Tweedy, Bobby Bare Sr., and a host of others. All here for the opportunity to play with, and pay their respects, to Charlie Louvin and his brother Ira.
Thankfully the younger artists, represented on the set, play and perform to the material, never grandstanding, with Louvin always at the forefront. This is an amazing document of an 80 year old Louvin owning the sound he helped invent.
Aside: Not 100% on board with Costello's (par for the course) delivery on "When I Stop Dreaming." While I genuinely love Costello's own music, I can't say I love his approach when covering country music (see: Gram Parsons' tribute, etc.), as his vocal delivery does not seem to be the most fitting conduit to channel the vibe of the music. Thoughts?
Previously: The Louvin Brothers :: Satan Is Real

Download:
MP3: Charlie Louvin & George Jones :: Must You Throw Dirt In My Face
MP3: Charlie Louvin & Will Oldham :: Knoxville Girl
———–
Amazon: Charlie Louvin – S/T
+ Visit The Hype Machine for additional Charlie Louvin Mp3s
——————————————————————————–
+ Download Louvin Brothers at eMusic via the 25 free MP3 offer