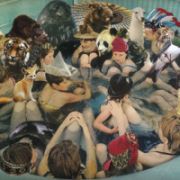 Panda Bear's Person Pitch is one of the more interesting advance albums I have heard so far this year. Interesting and rewarding in the sense you can let it wash over your headphones time and again, catching something entirely new each time in the gauzy, narcotic headspace that exists within the LPs span of 45 minutes.
Imagine listening to Pet Sounds in a dream, a dream in mono, with your subconscious randomly filling in bits and pieces from the past 40 years of popular music. While Beach Boys references are certainly ad nauseam in the description of music, this album absolutely warrants such comparison. That, and healthy use of the adjective 'psychedelic.' Have a listen.
Panda Bear is Animal Collective's Noah lennox. The album will be released via Paw Tracks March 20th.
Download:
Video: Panda Bear :: Bros
MP3: Panda Bear :: Bros
———
Purchase: Panda Bear – Person Pitch
+ Visit The Hype Machine for additional Panda Bear MP3s
——————————————————————————————————————————
+ Download Animal Collective via eMusic's 25 free MP3 trial offer