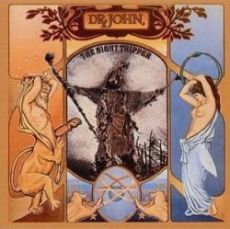 [ I ran out of time last month to get through all the New Orleans posts I wanted to do prior to Fat Tuesday, so here is one that was all lined up in the trick bag. ]
Released in 1971, Sun Moon & Herbs walks that thin line between the backwoods, psychedelic, voodoo blues of Gris Gris and the return to New Orleans r&b that the Doctor would soon explore on his next LP, 1972's Gumbo.
Still working under the guise of his ju-ju peddling Nighttripper alter-ego, Dr. John's pot is full here with guests including Mick Jagger, Eric Clapton, Bobby Whitlock, and about twenty other folks lending their talents to the mix. The LP sways between the loose, out there, swamp blues he all but invented in the late sixties, but also finds itself firmly anchored by traditional song structures that would not seem out of place on the albums he would go on to record during the rest of the decade.
Elsewhere: Check out this 1970 television spot of Dr. John and his ju-ju minions performing in a recording studio. Freak! The current psych/folk/weirdo set have nothing on this guy.
Previously: Dr. John :: Gris Gris (1968)

Download:
MP3: Dr. John :: Black John The Conqueror
MP3: Dr. John :: Familiar Reality-Opening
——–
Amazon: Dr. John – Sun Moon & Herbs

+ Visit The Hype Machine for additional Dr. John MP3s
——————————————————————————————————————————–
+ eMusic has Dr. John tunes available for free download