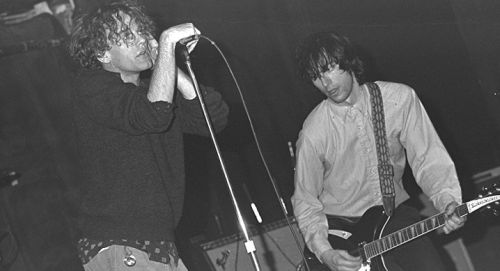 One of my all-time favorite bands, Athens, GA's R.E.M., is getting the Rock & Roll Hall of Fame treatment tonight, and you can watch it live, without commercial interruption, via AOL's Spinner. Tune in to the stream this evening at 8:30 p.m. ET
Here are a couple of tracks off the Chronic Town EP that started it all back in 1982. The EP can now be found on the Dead Letter Office compilation.
Elsewhere: Listen to R.E.M.'s cover of John Lennon's "# 9 Dream" recorded for the upcoming Amnesty International curated album Instant Karma: The Campaign To Save Darfur. This is the first R.E.M. song to feature Bill Berry in ten years.
Download:
MP3: R.E.M :: Wolves, Lower
MP3: R.E.M :: Stumble
——–
www.remhq.com ++ www.murmurs.com
+ Visit The Hype Machine for additional R.E.M. MP3s
——————————————————————————————————————————–
+ Check out eMusic's 25 free MP3s no risk trial offer