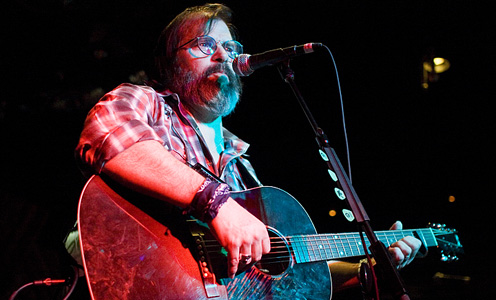 According to the Austin grapevine, Steve Earle flew in strictly for the single solo show he did at The Parish Room Friday evening before heading back to NYC to continue working on his upcoming album. Thank you, Steve Earle.
Armed with only an acoustic guitar, Earle discreetly took the stage at the packed New West showcase, and with a single strum of his guitar quieted the at-capacity crowd. The obvious collective reverence for the man was deafening. Pulling his set list from his vast, ever-expanding, catalog, Earle dedicated the evening to his mentor & friend, the late, great Townes Van Zandt. Being so, the night was peppered with classic Townes anecdotes from one of the people who knew him best (the tale about Townes teaching Earle to ski on LSD was particularly good.)
Towards the end of Earle's set, his wife, musician Alison Moorer, joined him on stage to duet "Comin' Around," which was originally recorded with Emmylou Harris in 2004. Afterwards Earle broke into a rousing acoustic rendition of "Copperhead Road;" alas, no one missed the bagpipe intro. All in all, Earle's set was a definite 2007 SXSW highlight.
Below: Here is one of my favorite Earle love songs, "I Thought You Should Know," off, ironically, one of my least favorite Earle LPs; 2004's The Revolution Starts…Now.
Photo credit: Chromewaves. Taken Friday evening, between 11-12 pm, stage left.
Download:
MP3: Steve Earle :: I Thought You Should Know
———-
Amazon: Steve Earle – The Revolution Starts…Now
www.myspace.com/steveearle ++ www.steveearle.net ++ www.newwestrecords.com

+ Visit The Hype Machine for additional Steve Earle MP3s
——————————————————————————————————————————-
+ Steve Earle albums can be download via eMusic's 25 free MP3 offer