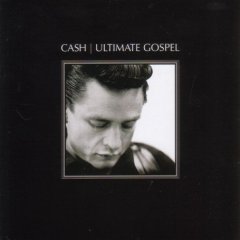 When I think I of Gospel music, two things from my childhood immediately come to mind: 1) the old-timey Gospel vinyl records my grandparents would play on their aged, multi-disc, turntable after church while preparing lunch, and 2) the Elvis and Johnny Cash Gospel records I got to know through my parent's record collection.
The Presley and Cash recordings, while both reverent, had enough rebellion and grit to them to demand my attention. Both men, Southerners, knew fire and brimstone well, and had lived on both sides of the Good Book. That duality, that friction, instantly pulled me in.
It was not until a got a bit older that I really began to appreciate just how versatile, how multi-faceted these artists were. Not only did they practically invent Rock & Roll, but they also cut Country & Western records, Gospel records, Christmas records, etc., etc., and all at a furious pace; albeit, admittedly, an amphetamine driven pace.
Johnny Cash's Gospel collection rounds up twenty-four of the man's cuts (no doubt recorded while the spirit was on him) over the years on this one disc (similar to the Elvis Ultimate Gospel collection). All but three of these tracks have been available via other albums and comps, but this single disc offers just about all the revival Cash one might ever need.
Download:
MP3: Johnny Cash :: Were You There (When They Crucified My Lord)
Video: Johnny Cash :: I Walk The Line (Live: 1959 at the Town Hall Party)
–––
Amazon: Johnny Cash – The Ultimate Gospel
www.johnnycash.com ++ www.elvis.com ++ www.myspace.com/johnnycash ++ mp3s
+ Visit The Hype Machine for additional Johnny Cash MP3s
––––––––––––––––––––––––––––––––––––––––––—
+ Check out the man in black via eMusic's 25 free MP3s trial offer