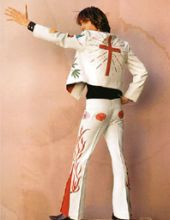 I would love to one day see the documentary film equivalent of Ben Fong-Torres' definitive Gram Parsons biography Hickory Wind; unfortunately Fallen Angel isn't it.
Whereas Hickory Wind read like something out of Tennessee Williams novel, with its tales of Parsons wealthy Southern background, plagued with booze, suicides, and other calamities, Fallen Angel plays like a by-the-numbers rock & roll biopic just barely scraping the surface of its subject matter.
Parson's father kills himself –> Parsons gets into music, Parsons rebels; kicked out of Harvard –> Parsons moves to NYC and starts a band –> Parsons moves to California, Parsons joins the Byrds, Parsons fired from Byrds/starts Burrito Brothers –> Parson meets Keith Richards, Parsons fired from Burrito Brothers –> Parsons meets Emmy Lou Harris, records album, tours –> Parsons goes to the desert and dies –> Parson's casket stolen from LAX and torched in Joshua Tree National Forest. The End.
While interviewed, German director Gandulf Hennig appears long on passion, yet short on financial resources. In spite of this, Hennig does a fine job securing interviews with key players in the Parsons circle including relatives, various hangers on, managers, as well as colleagues and friends such as Keith Richards, Chris Hillman, and Emmy Lou Harris. It's a shame these interviews could not have brought more life to the film.
Watch: The Fallen Angel trailer via You Tube
Download:
MP3: The Flying Burrito Brothers :: Hot Burrito # 1 FIXED
MP3: The Flying Burrito Brothers :: Hot Burrito #2 FIXED
———-
Amazon: Gram Parsons – Fallen Angel
+ Download music via eMusic's 25 free MP3 no risk trial offer
––––––––––––––––––––––––––––––––––––––––––—
+ Visit The Hype Machine for additional Gram Parsons MP3s
––––––––––––––––––––––––––––––––––––––––––—

I was pleasantly surprised by David Fincher's use of Donovan Leitch's hauntingly off-kilter "Hurdy Gurdy Man" in his new film Zodiac. It just about perfectly nails the atmosphere of both the film and the era in which it takes place. Spooky.
Download:
MP3: Donovan – The Hurdy Gurdy Man
———
Amazon: Donovan – The Hurdy Gurdy Man
+ Download music via eMusic's 25 free MP3 no risk trial offer
––––––––––––––––––––––––––––––––––––––––––—
+ Visit The Hype Machine for additional Donovan MP3s