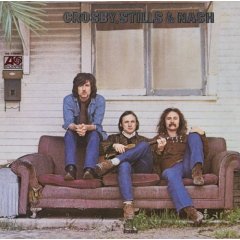 It's no secret I have an interest in the late sixties, early seventies Laurel Canyon/L.A. music scene; even today, living in Los Angeles, you occasionally catch a glimpse of its past, be it an aging bungalow, a street, or the hills themselves.
Being long before my time, in an effort to get closer to the tunes themselves, I have consumed a number of books, biographies and random accounts of the era, as the contrasting shades of light and dark in the music, an obvious reflection of the times, fascinate me.
An example of this contrast can be found on CSN's 1969 self-titled debut. On it, David Crosby penned a pretty tune by the name of "Guinnevere" that has long sent chills down my spine. I would listen over and over, trying to catch exactly what it was that both intrigued me, and yet a the same time, felt so engulfed in a dark cloud.
Upcoming: Heads up, look for the Crosby, Stills & Nash unreleased demos, from 1969, posted here in the near future.
Download:
MP3: Crosby, Stills & Nash :: Guinnevere
——
Video: Crosby, Stills & Nash :: Suite: Judy Blue Eyes (live 1969)
——-
Amazon: Crosby, Stills & Nash – S/T (2006 reissue)
+ Download music via eMusic's 25 free MP3 no risk trial offer
––––––––––––––––––––––––––––––––––––––––––—
+ Visit The Hype Machine for additional Crosby, Stills & Nash MP3s