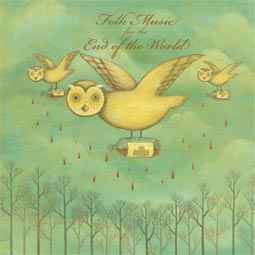 As previously reported, Yer Bird Records just released their excellent, newly compiled folk comp entitled, wait for it, Folk Music for the End of the World! How great — and fitting — is that title?
Even better than the comp's title (not to mention the album artwork by Kathleen Lolly) is the compilations artist lineup; featuring all new and/or unreleased material from the likes of J. Tillman, O'death, Travel By Sea, Matthew Ryan, Paleo and a whole slew of others.
——
1. Paleo – Swimming in Money | 2. Chris Bathgate – A Flash of Light Followed By | 3. Alina Simone – Gunshots | 4. Chauchat – Smokin' Paint | 5. Hayden – Message From London | 6. Allyn Latorre – On the Banks of the River | 7. J. Tillman – Barter Blues | 8. Oweihops – Sad Little Drunks | 9. Sarah White – Part of the Story | 10. Elephant Micah – Korean Sunset | 11. Nic Garcia – Torn Up in the Machine | 12. O'death – Angeline | 13. The Hotel Ghost – Lay Me Down | 14. Travel By Sea – Too Much Too Quickly | 15. The Gunshy – No One Remembers the Drunk | 16. Matthew Ryan – Gone For Good | 17. Hezekiah Jones – Mississippi Sea
Download:
MP3: Matthew Ryan :: Gone For Good
MP3: Travel By Sea :: Too Much Too Quickly
——-
Purchase: Folk Music for the End of the World
www.yerbird.com ++ travel by sea ++ j. tillman ++ o'death ++ matthew ryan ++ paleo
+ Download individual artists via eMusic's 25 free MP3 no risk trial offer
––––––––––––––––––––––––––––––––––––––––––—
+ Visit The Hype Machine for additional catastrophic folk songs
––––––––––––––––––––––––––––––––––––––––––—
Ryan Adams :: Banana Jam
Ryan Adams fanatics will no doubt have noticed the change to the artist's website the past 24 hours. Now when one visits the site they are greeted by a steady stream of falling bananas, a bit of french, and a wordless, continous jam. Anyone know if this "song" has an official name? Until then, here is a rip of it — which I'm calling "Banana Jam"; dig that.
Update: Thanks to A.D. reader, "Newton," the name of below track is entitled "21st Centrury War."
Download:
MP3: Ryan Adams :: Banana Jam
——-
www.ryan-adams.com