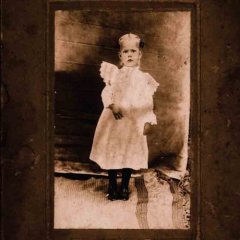 If you just read the above headline and asked yourself, "Wait, a reissue? Didn't that album just come out a few years ago?" You would indeed be correct, as Sun Kil Moon's Ghosts of The Great Highway was released in 2003 on Jet Set Records, who apparently dropped the ball and let it go out of print.
Not to fear. Mark Kozelek's own Caldo Verde label saves the day and re-releases the neo-classic complete with a bonus disc of extra tracks. An admitted sucker for all things Kozelek related, I picked this up a couple of weeks ago while record shopping at Amoeba on Sunset.
Bottom line: Pick up this album if you don't already own it. When I say "neo-classic," I mean it. It's quite possibly Kozelek's finest moment in terms of song quality and overall album cohesiveness. The bonus disc (consisting of alt versions and acoustic renderings), while nice, is not "essential," but a nice add on considering the reissue sells for the same price as the original.
Below: Listen to this alternate version of "Carry Me Ohio." off the bonus album. The original version happens to rank as one of my favorite Kozelek penned tunes.
Elsewhere: Captain's Dead has a Sun Kil Moon show from 2004 available for download
Download:
MP3: Sun Kil Moon :: Carry Me Ohio (alternate version)
——-
Amazon: Sun Kil Moon – Ghosts of the Great Highway (Reissue)
www.sunkilmoon.com ++ www.markkozelek.com ++ www.myspace.com/markkozelek
+ Download Sun Kil Moon via eMusic's 25 free MP3 no risk trial offer
––––––––––––––––––––––––––––––––––––––––––—
+ Visit The Hype Machine for additional Sun Kil Moon MP3s