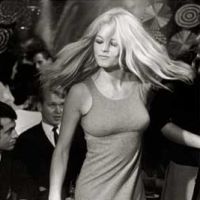 Due to an overwhelming response, via email, to the bootleg sixties freakbeat compilation featured last week, here is part II. Stay tuned for the rest. Tracks up for a very limited time only.
————-
Last week in Austin I was often asked what I've been listening to lately. My reply was/is: this excellent, yet shitty sounding, bootleg compilation of vinyl rips of 1960s French Freakbeat tracks I happened upon about a year ago.
Unfortunately, that is about the extent of my knowledge of the recordings as little information was to be found scouring the net. Although, I did like Metroactive Music's apt description: "A rare bootleg collection that explores mid 1960s mod-influenced psychedelia of French bands that were paying strict attention to their British brethren, most notably The Small Faces." Anyone with an ear and appreciation for sixties garage will absolutely love this stuff.
The above photo is of Brigitte Bardot, so you had better brace yo'self.
Previously: Sixties French Freakbeat :: Part I
Download:
MP3: Les Bowlers :: Je Me Moquerai De Toi
MP3: Les Sparks :: Souris
MP3: Les Gaelic :: Gardez les Cheveux Longs
MP3: Five Travellers – Story of Wonder
————-
+ Download garage/freakbeat via eMusic's 25 free MP3 no risk trial offer
––––––––––––––––––––––––––––––––––––––––––—
+ Visit The Hype Machine for additional Garage and Freakbeat MP3s