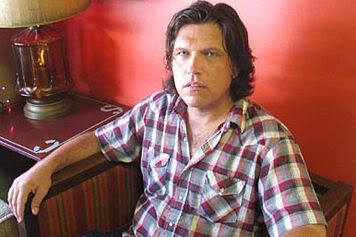 This one goes out to mister J Reed.
Richard Buckner, aided by backing band Six Parts Seven, made it happen last night at The Echo on Sunset. The artist's trademark warble and heart wrenching lyrics were in full swing as he worked his way through material ranging from 2006's Meadow (album #8) as well as choice cuts culled from his expanding back catalog.
While Six Parts Seven did an fine job backing him up, it was not until they left the stage, and Buckner was left alone, that the true magic of the evening began to unfold. There is something in the man that commands an audience's rapt attention, and it is no more evident than his solo acoustic renditions. The power of Buckner's subtlety is truely something to behold; If you have the opportunity, catch the man on this current tour.
Below: Listen to "Lucky," my favorite track off Buckner's last full lenth, 2006's Meadow — A great Buckner album aided by Guided By Voices alums Doug Gillard and Kevin March. Need I say more?
Elsewhere: Passion of The Weiss reviews the Magnolia Electric Co./Son Volt show I attended Tuesday night, but was too tired to review myself.

Download:
MP3: Richard Buckner :: Lucky
——-
Amazon: Richard Buckner – Meadow
www.richardbuckner.com ++ www.myspace.com/rchrdbcknr ++ more buckner tracks

+ Download Richard Buckner via eMusic's 25 free MP3 no risk trial offer
——————————————————————————————————————————–
+ Visit The Hype Machine for additional Richard Buckner MP3s