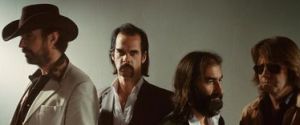 As mentioned earlier, I was pretty ecstatic when "Get It On" and "No Pussy Blues" surfaced on the Internets earlier in the year. It was as if Nick Cave hopped in a time machine and set the gears for 1982. Super raunchy. Shortly afterwards I received an advance of the LP and have been thoroughly digging since.
The thing about this album, and I discussed this with a friend the other night, is that Grinderman is really a record for existing Cave fans. Others need not apply. Comprised of fellow Bad Seeds Warren Ellis, Martyn Casey and Jim Sclavunos, it is not so much a new band, but an offshoot of the band's collective personality. From what I have read, a number of these tracks were tested for the Bad Seeds but the vibe was not right; hence the birth of Grinderman.
Download:
MP3: Grinderman :: Get It On
MP3: Grinderman :: No Pussy Blues
———
Amazon: Grinderman – S/T
www.myspace.com/grinderman ++ www.nickcaveandthebadseeds.com
+ Nick Cave available through eMusic's 25 Free MP3 offer.
——————————————————————————————————————————-
+ Visit The Hype Machine for additional Grinderman MP3s.