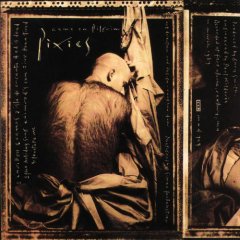 Last Tuesday night, while driving west on Sunset from Los Feliz through Hollywood, en route to see Magnolia Electric Co. open for Son Volt, I listened to The Pixies debut EP Come On Pilgrim, in it's entirety, for the first time in years. I was consumed by it, and listened again, twice, on the way back home.
If I was reminded of anything, it is that Come On Pilgrim, Surfer Rosa, and Doolittle make up up a triumverate unmatched by The Pixies latter (while still very good) efforts.
Bossanova and Trompe Le Monde certainly have their moments, not to mention, a place in my heart, but these original three releases document a band at their creative zenith carving out a sound in the late 1980s all their own.
Below: Listen to "Ed Is Dead" off Come On Pilgrim and note Joey Santiago's guitar sound and tone. It helped define the Pixies, and still sounds remarkably the same with his current band The Martinis, today.
Related: The Pixies :: Loud Quiet Loud – A Film About The Pixies
Related: Cool As Kim Deal :: Title To Come
Related: Frank Black :: Los Angeles Revisited
Download:
MP3: The Pixies :: Ed Is Dead
———
Amazon: The Pixies – Come On Pilgrim
www.pixiesmusic.com ++ www.myspace.com/pixies ++ more pixies mp3s
+ Download The Pixies via eMusic's 25 free MP3 no risk trial offer
––––––––––––––––––––––––––––––––––––––––––—
+ Visit The Hype Machine for additional Pixies MP3s