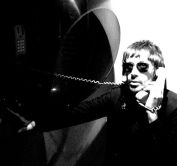 RE: Pop Levi – Let's just get it out there: The T. Rex inspired production and latter era Robert Plant vocals cannot be ignored; it's the 800 lb. gorilla in the living room. But get past the obvious inspration-on-sleeve references and you're left with a fun rock record — i.e., the kind you can just "put on" without having to think about it. Just let the wah-wah pedal wash over you.
Our local rag, the L.A. Weekly, appropriately deemed Pop Levi as: "Like every kind of great pop you ever heard – and all at once!" OTM.

Between Levi's The Return to Form Black Magick Party and David Vandervelde's Moonstation House Band, 2007 seems to be the latest reclamation of glam-rock distilled through this latest batch of twenty-something rock & rollers. The return of cock-rock: 21st century stye.
Download:
MP3: Pop Levi :: Blue Honey
MP3: Pop Levi :: Sugar Assault Me Now
—
Video: Pop Levi :: Sugar Assault Me Now
Video: Pop Levi :: Blue Honey
———
Amazon: Pop Levi – The Return to Form Black Magick Party
www.poplevi.com ++ www.myspace.com/poplevi ++ more pop levi mp3s
+ Download Pop Levi via eMusic's 25 free MP3 no risk trial offer
––––––––––––––––––––––––––––––––––––––––––—
+ Visit The Hype Machine for additional Pop Levi MP3s