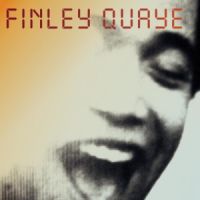 I can't even begin to answer that question, as 1997's Maverick A Strike is the only album I have owned; though a quick perusal of Amazon shows Quaye has released a number of albums over the past ten years, including a collaboration with William Orbit. Innarestin.
Somewhat surprisingly, this album has aged pretty well, not something that can be said for a lot of popular music from the same year. I remember thinking it's blend of reggae based soul and electronica sounded extremely fresh the first time I heard it pouring out of a PA before a show at a club in Boulder March of 1998.
Kaya was my favorite Bob Marley album at the time, and Quaye's re-working of the lyrics for "Sun Is Shining" on his "Sunday Shining" were immediate, familiar and exactly what I wanted to hear at the time.
So what is Quaye's story these days — did he fade into obscurity after Maverick A Strike, or just way off my radar? How have his other albums turned out? Below are the first two tracks off the debut — if you're into these, check out the full album.
Download:
MP3: Finley Quaye :: Ultra Stimulation
MP3: Finley Quaye :: Sunday Shining
—
Video: Finley Quaye :: Sunday Shining
——–
Amazon: Finley Quaye – Maverick A Strike
www.finleyquaye.com ++ www.myspace.com/finleyquayeusa ++ more finley quaye mp3s
+ Download tunes via eMusic's 25 free MP3 no risk trial offer
––––––––––––––––––––––––––––––––––––––––––—
+ Visit The Hype Machine for additional Finley Quaye MP3s